This post may contain affiliate links. Affiliate links come at no extra cost to you. These links allow me to share the products I authentically recommend (and use) and support Live Simply by receiving a small commission.
UPDATED April 2019 to reflect the lunch boxes and accessories that I'm currently loving and using to pack lunches for my children. 
Yesterday, I received the summer email that parents either love or dread, "Welcome to the new school year!"
I'll admit, I was a bit giddy about receiving this email. For some reason, the start of a new school year feels like a fresh start in life. A time when new schedules are formed and new habits begin. Just writing those words excites me! Let the school year begin, I'm ready!!
With the school year about to begin, today is a good time to chat about packing lunch, particularly my favorite lunch boxes and accessories.
Simplify School Lunch Packing
Over the years, I've developed strategies that help me simplify packing my kids' lunch. I created the Simplified School Lunch Kit to end the school lunch overwhelm and share all my simplifying strategies and lunch plans. It's possible to simplify and even enjoy lunch packing! 
Here's what you'll find in this kit:
ready-to-use lunch plans

a food prep guide

my stress-free approach to planning and packing lunch

nourishing recipes my kids love
20 fully-packed lunchbox printable cards to make building a school lunch super easy
I've found that having the right tools (and the right tools may be different for each person), is essential to making the daily task of packing healthy, real food lunches doable. Think of packing lunches like cooking real food. If you have a good skillet, spatula, and stove-top, the act of making a home-cooked dinner is doable, but if you take away those tools, you probably won't have any motivation to cook at home. When you have tools that make packing real food lunches easier and approachable, most of us are more likely to actually pack a daily lunch; whether the daily lunch is for us or our kids.
When Piper started kindergarten, back in 2015, I was determined to find a lunchbox that would make packing daily lunches easy and enjoyable. I tried out a ton of different lunchbox options (and wasted a lot of money in the process).
After months of experimenting, I found a lunchbox that we absolutely love! A box that we're still using today (4 years later!). Over the years, I've added to my lunchbox cabinet. Each additional item, from an extra lunchbox container that contains a thermos to accessories, helps me pack nourishing lunches on a regular basis.
School Lunchbox Video Chat
All My Favorites Explained
I've created a download for you which includes all my favorite lunch gear.
My Must-Have School Lunch Gear

1. Lunchbox
I use two different lunchbox options, depending on what I pack…
PlanetBox (stainless steel box, pictured above) makes several different bento-style boxes. My favorite box is called the Rover, which is the largest lunchbox. This lunchbox isn't cheap, but it's well worth the expense. I've used our boxes for 4 years. The PlanetBox Rover holds an entire lunch, 4.5 cups of food, and comes with two stainless steel containers that fit inside the box.
Omielife Box (plastic, colorful box pictured below) is a leak-proof bento box with a built-in thermos container. This box is perfect for a hot lunch and a few sides. It can be purchased on Amazon.
2. Lunchbox Accessories
There are some accessories that make packing a lunch so much easier and super fun for kids.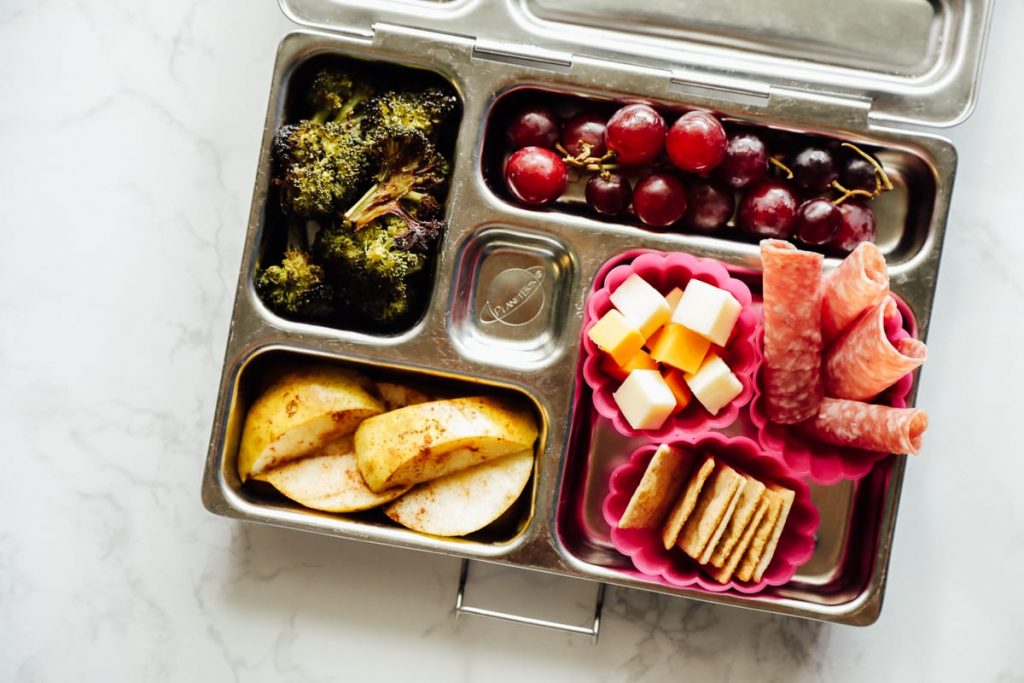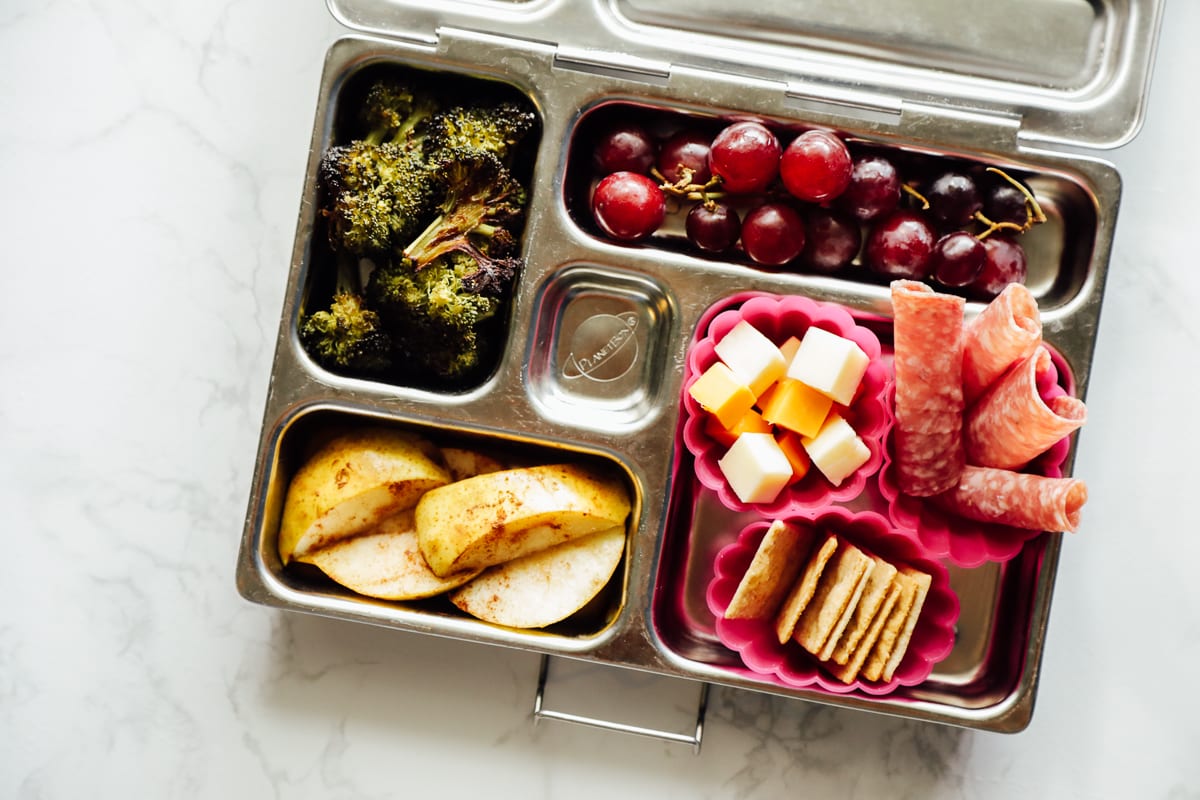 3. Lunch Bag
I also use the PlanetBox fabric lunch bags for the Rover. The colorful bags are specifically designed for use with the boxes, so everything fits perfectly. The bag that fits the Rover has pockets to hold extra baggies and small containers, and a water bottle. A flat ice pack also fits perfectly in this bag, which we'll talk about next.
For the Omielife Box, I purchased "regular" cloth lunch bags from the Target value bins at the beginning of the school year. The box fits great in a regular lunch bag.
4. Reusable Water Bottle 
Both kids have a stainless steel water bottle for school lunch. Last year, I switched my kids over to HydroFlask water bottles (the same brand I use). The 16-ounce water bottle is my preferred size for kiddos. I use a 32-ounce size HydroFlask bottle. A reusable water bottle is great for packing water, smoothies, or juice.
5. Reusable "Snack" Bags
Resuable bags are great to use when I send food in a thermos and need additional containers or bags for extra goodies, as we talked about above. The bags are reusable (no plastic bags are needed to pack lunch and no extra waste) and so easy to clean.
If the bags get dirty, I wash them in the sink or toss them in the washing machine. After four years of use, our bags are still in great condition.
6. Ice Pack
Most of the time, except when I send a thermos, the kids enjoy their food at room temperature since their classrooms don't have refrigeration. To keep the food safe to consume, particularly delicate foods, I usually pack a flat ice pack in the PlanetBox cloth bag.
I know there are many great options for packing real food lunches! I would love to hear about your favorite lunch-packing supplies.
See my lifestyle in real life