Today, we're going to talk about the best lunch box gear for kids. All the things that make packing a nourishing, real food lunch possible.
When I asked reader friends over on Instagram about when kids go back to school, I was surprised by the even split between August and September. No matter when your child starts school, I hope today's chat will help you navigate which tools work best for packing real food lunches.
Packing a nourishing lunch is similar to cooking real food. If you have a good skillet, spatula, and stove-top, the act of making a home-cooked dinner is possible, but if you take away those tools, you probably won't have what you need to prepare food. In the same way, when you have tools to make packing a nourishing lunch possible, you're more likely to actually pack a daily lunch and find enjoyment in doing so.
The Best School Lunch Gear
1. Bento-Style Lunchbox 
A bento-style lunchbox makes packing lunch an easy and enjoyable experience.
It's hard to pack variety in the lunchbox when you depend on baggies. With a bento-style lunchbox, you can easily pack a variety of food and smaller, grazing-style portions.
Bento-style boxes are also easier for kids to use because they don't have to fuss with multiple baggies in a lunch bag. When it's lunchtime, a child simply needs to unzip their lunch bag, open the bento box and all the food is accessible and ready to enjoy.
There are many bento-style lunchbox options on the market, and I've tried many of them. I've narrowed the options down to what I consider to be the best of the best.
This is the stainless steel, bento-style box my kids use for the majority of their lunches.
A Planetbox is a major investment, but worth every penny since a box is made to last for years. (My kids have been using the Planetbox Rover for 5 years now.) I've found Planetbox to be the best, longest-lasting, and easiest-to-use bento box on the market. The Planetbox doesn't keep food warm/hot, so if you want to pack warm food you'll need to purchase a thermos or a separate lunchbox that's designed to do so.
There are several Planetbox options to choose from, based on what size you need…
The Shuttle is the smallest Planetbox option. I purchased the Shuttle many years ago, and I found it be too small. I don't recommend spending any money on this option because it's simply too small to grow with a child. This lunchbox holds 3.5 cups of food and features 2 compartments.
For preschool and elementary school kids, the Planetbox Rover is the way to go.  This is the box my kids have used since preschool. The PlanetBox Rover features 5 compartments, is large enough to hold 4.5 cups of food, and comes with leak-proof "dipper" containers that fit inside the box.  The compartments are not leak-proof, so if I want to pack something like yogurt or applesauce, the dipper containers are ideal.
For older kids or adults, the Planetbox Launch is the perfect size. This box holds  7 cups of food and features 3 large food compartments.
All three options come with a set of magnets, which I let my kids change out at the start of the school year so they feel like they have a fresh, new lunchbox each year.
Most lunch bags don't fit the Planetbox due to the unusual size and shape of the boxes (unusual compared to most lunchboxes on the market). This means you need to use the Planetbox bag. You can purchase a "kit" from Planetbox, which includes magnets, the lunchbox, and lunch bag. This is definitely the best way to go.
This is a bento-style box with a built-in thermos. This lunchbox features 4 compartments, including the removable thermos compartment.
I use this box when I want to pack hot lunch components: beans and rice, soup, leftovers, pasta and sauce, etc. The thermos also works well for keeping food cold (i.e. yogurt and frozen fruit). This box doesn't appear to hold a ton of food, but I've found looks to be deceiving.
The box holds enough food to satisfy both my 7 and 9 year-old. That said, the box does look very childish, so older kids may not love the kiddie look. This box is also plastic (BPA-free). And the lid on the thermos can be difficult to remove, so a young child will need some assistance with opening and even closing the thermos lid.
That said, this is the best option I've found for an all-in-one thermos/bento-style lunchbox. If you have older children, I suggest purchasing a stand-alone thermos that you can pair with the Planetbox or some reusable baggies when you want to pack a hot lunch.
This box can be used without a lunch bag, because it has a handle that allows a child to easily carry the box itself. However, we all know that kids can be rough on lunch gear. Because of this, I'm paranoid about sending this box as-is. I always pack the Omielife inside a lunch bag. Unlike the Planetbox, most lunch bags work with the Omielife.
Other Bento-Style Lunchbox Options 
If the Planetbox and/or Omielife don't meet your current lunchbox needs, I recommend checking out Yumbox (a plastic, leak-proof box) and LunchBots (stainless steel and comes in a variety of sizes). Both options are bento-style boxes that are cheaper than a Planetbox and may be packed alongside a stand-alone thermos, if needed. If you go with a LunchBot, I recommend the colorful lid option (linked above) and also purchasing the LunchBot carry bag as it will fit a thermos and LunchBot container. 
2. Accessories for the Lunchbox 
Certain accessories make packing real food in the lunchbox easier for you and also fun for the kids. Here are the accessories I love and recommend:
Planetbox Mini Dipper: If you choose a Planetbox, a mini dipper container will come with the box. I use this container in both the Planetbox and Omilife. Even if you choose a different bento-style lunchbox, I recommend picking up dipper containers that will fit in your lunchbox. A small container is the perfect way to pack sauces, guacamole, and anything liquid.
PlanetBox Big Dipper: This container works perfectly in the Planetbox Rover and there's a square option for the Planetbox Launch. The big container allows you to pack yogurt, applesauce, and other foods that need to be in a leak-proof container. The Big Dipper also fits in the Omielife, if you remove the thermos. If you go with LunchBots, you'll want to use their dipper containers since they're made to fit the various box sizes. YumBox doesn't require any dipper containers since the box is leakproof.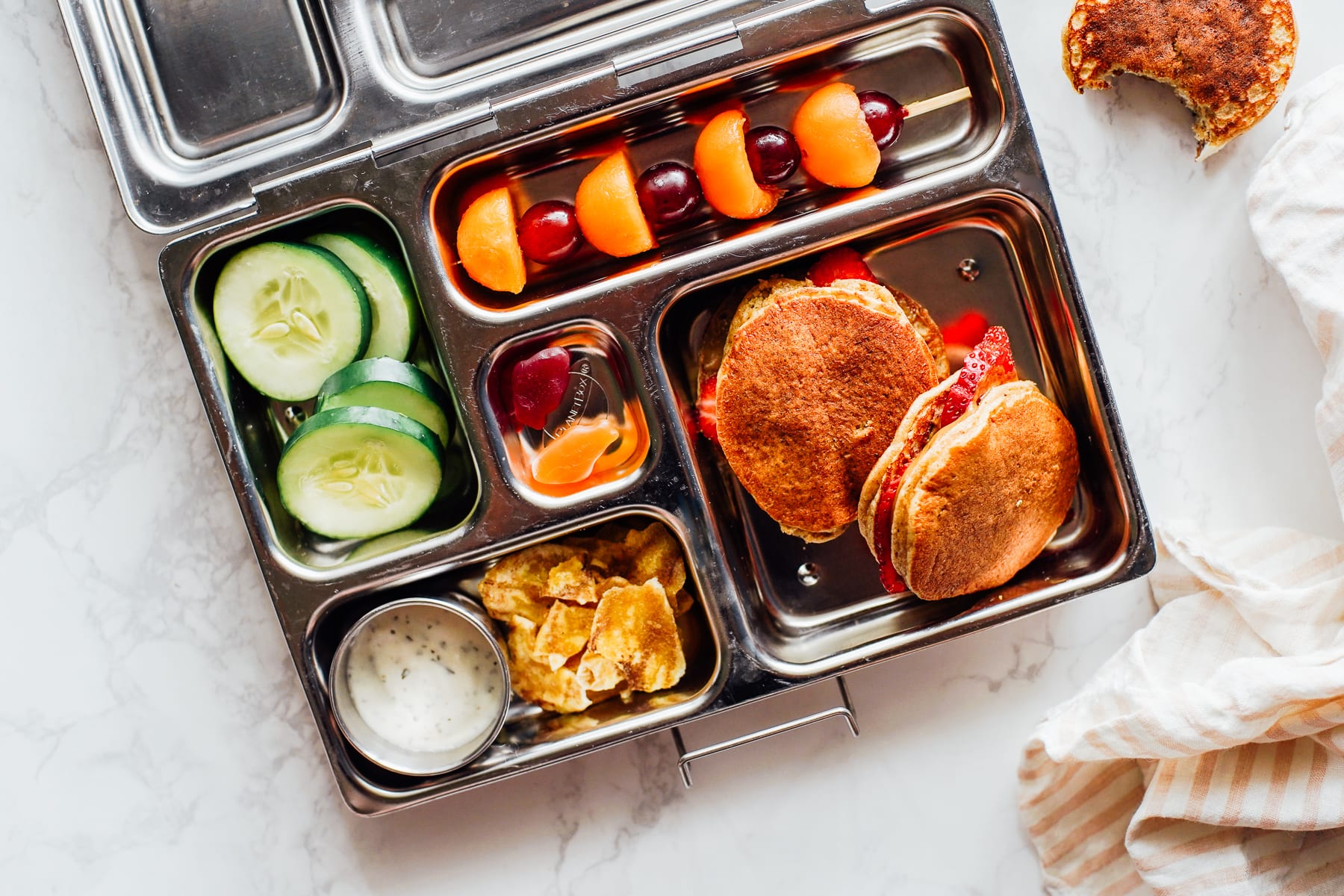 Silicone Muffin Cups: These are great for dividing up the lunchbox if you want to pack even more variety. For example: I may use a silicone muffin cup to keep a few sliced cucumbers together, so I can use the same compartment to pack a few cheese cubes. I also find the muffin cups add color to the lunchbox, which is fun for the kids. Planetbox also makes

their own version of silicone dividers

.

Bamboo Skewers: Skewers are a fun addition to the lunchbox. Add fruit to a skewer, meatballs, french toast bites (small pieces of french toast), fruit, turkey and cheese. The possibilities are endless. It doesn't take long to add food to a skewer, and the kids love the extra fun nature of "food on a stick."
Reusable Silverware: If you're going to pack leftovers, rice, yogurt, or anything that requires silverware, I recommend purchasing a dedicated set just for the lunchbox.
Snack Bags: Reusable bags are a great option for sending extra food that may not fit in the lunchbox, like: cut veggies, apple slices, crackers, popcorn, etc. I also love Lunchskins, which aren't reusable but still a great alternative to plastic bags. Stasher bags are a great option if you're looking for silicone bags.
3. Reusable Water Bottle 
A reusable water bottle keeps you from purchasing disposable water bottles or juice boxes. My kids take a water bottle daily to school alongside their lunchbox. The bottles are usually filled with water. If your kids are used to a juice box, you could send diluted juice in a water bottle, and slowly increase the amount of water while decreasing the amount of juice.
I've tried a number of different water bottle brands over the years. Here are my top recommendations for kids…
HydroFlask: The stainless steel water bottle my kids currently use. The 16-ounce water bottle is my preferred size for kids. The standard lid can be hard for young kids to open, so I recommend purchasing a lid with a straw.
Life Factory: A glass water bottle with a silicone sleeve. My kids attend a Montessori school, where the use of glass is encouraged. I realize this is the exception versus the norm. If you don't mind sending your kids with a glass container, and your school is okay with this choice, Life Factory bottles are a fantastic option.
S'well: A stainless steel option that's more affordable than the HydroFlask and comes in a variety of cute designs. The lid on the S'well bottle is much easier to open than the traditional HydroFlask lid, and it's attached to the bottle so you don't have to worry about it getting lost.
When packing food in the Planetbox, I recommend adding a flat ice pack to the lunch bag. The Planetbox lunch bag has a built-in sleeve that makes it easy to add an ice pack.
When using the Omielife, or a stand-alone thermos, I recommend skipping the ice pack since it may interfere with keeping the food in the thermos warm/hot. In this case, think about packing side items that may be served at room temperature versus food that needs to be chilled.
School Lunch Gear Facebook Live Video
A few months ago, I went live on Facebook and shared my favorite lunch gear via video. If you want to see all the gear we just talked about, in action, this video is for you.
Tip: Practice with New Lunch Gear
Before sending your child off to school with new gear (a lunchbox, container, water bottle, reusable silverware, etc.), practice with the item at home. Don't expect your child to know how to use something or understand that an item needs to be returned home (such as a container) on their own. Practice how to open the lunchbox, how to put a container back in the lunchbox, and how to open the water bottle. A chill weekend is the perfect time to pack a "mock lunch" and practice with new gear. 
Older kids probably don't need this extra practice. Instead, talk to your child about the new gear, modeling how to use it, so they understand what needs to be returned home (such as containers and reusable baggies) or how to open a new water bottle lid.
Tip: Keep Your Lunch Gear Organized
One of the stressors that can come with packing lunch is trying to find the gear you need when you need it. Maybe you want to pack a Ranch dip, and you need to get out door ASAP, but you can't find a container for the Ranch. Or, maybe you can't find your child's water bottle. This all leads to frustration and stress.
To reduce the likelihood of this happening, and the stress that follows, I recommend keeping all your lunchbox gear in one spot. For me, this is in a cabinet above our fridge. This includes: lunch bags, lunchboxes, and water bottles. 
And I keep all my lunchbox accessories in a clear bin, in the same cabinet. This bin includes: Post-It notes with written messages, lunchbox containers (the PlanetBox dipper containers), reusable bags, napkins, silverware, bamboo skewers, and silicone muffin cups.
Keeping everything in one spot makes it easy to grab what you need, pack lunch, and put everything back.