Easy-to-make, kid-approved, husband-approved, freezer-friendly, and lunchbox-friendly. This ground beef taquitos recipe checks all the right boxes ✅.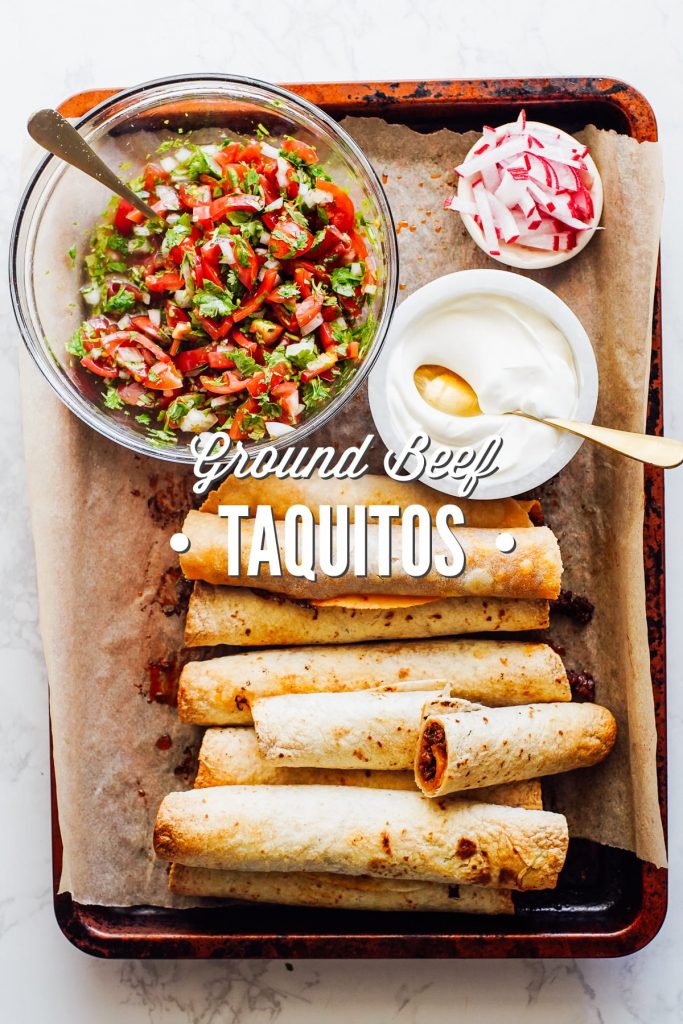 I'm a sucker for any kind of Mexican food or Mexican knock-off food. There's something about the tortillas, the meats, the beans, the warm spices. It all makes me so happy and hungry.
Side note, my grandmother on my dad's side of the family had family roots in Northern Mexico. She passed away just after I was born, so I never got to meet her, listen to her stories, and enjoy her cooking. I always wonder if my deep love for Mexican-style food has a family tie, too. Maybe, maybe not.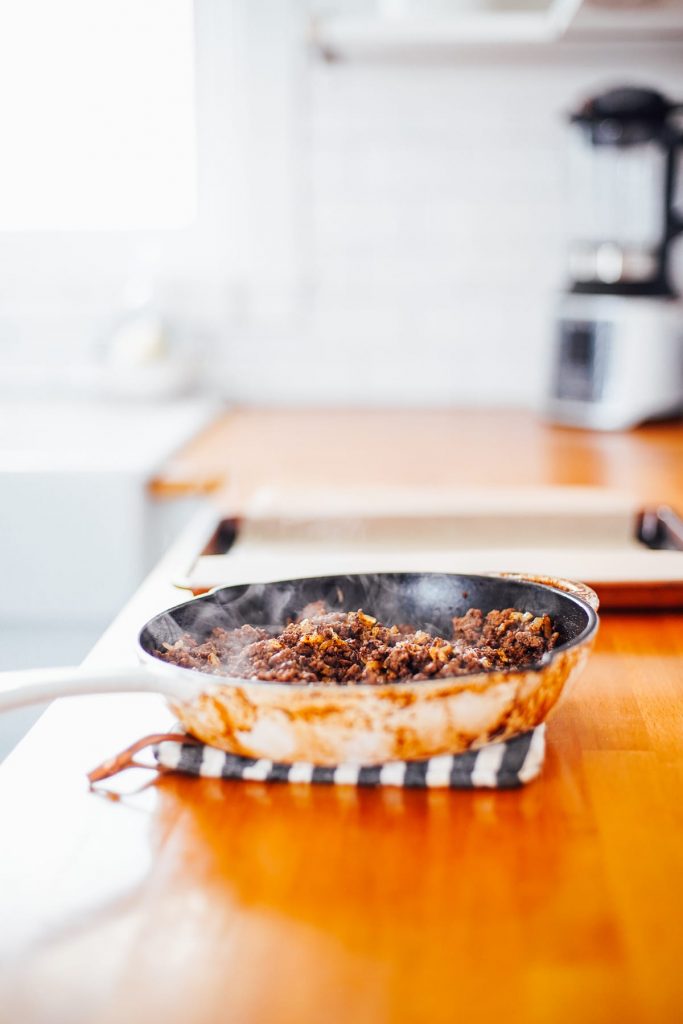 What are Taquitos?
Taquitos are a Mexican dish, made with small tortillas that are rolled around a filling like meat and cheese and then fried to create a crispy shell. Meat, cheese, fried until crispy = AKA: the best food ever!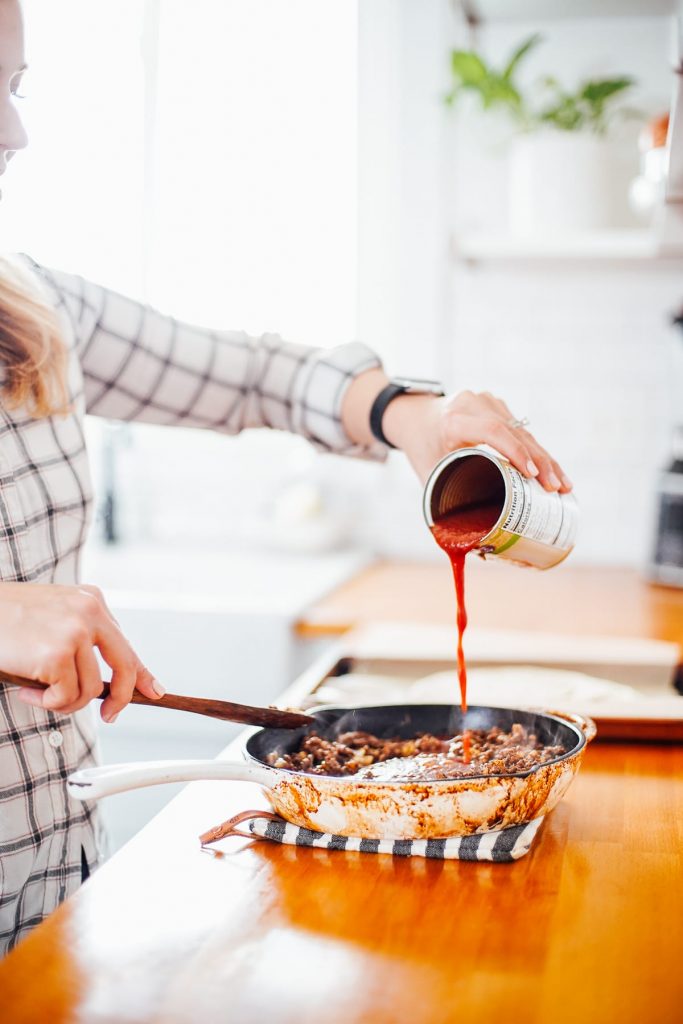 Why Bake Taqutios?
Today's recipe takes a detour from the authentic frying technique. Instead of frying the ground beef taquitos, we're going to bake them on a sheet pan in the oven. Not only is this method far less messy, it's also easier to make since there isn't any flipping and frying.
To create that classic crispy exterior of a taquito, it's vital to brush the rolled taquitos with a small amount of oil (I use olive oil or avocado oil) before baking.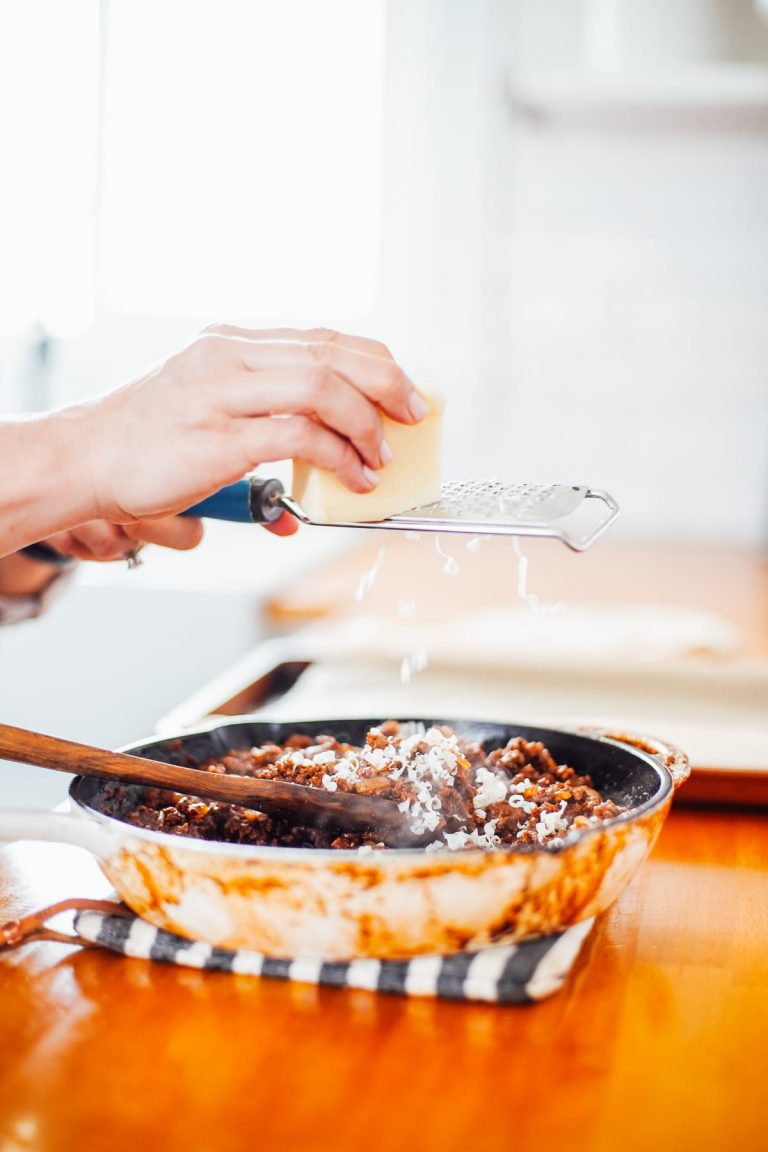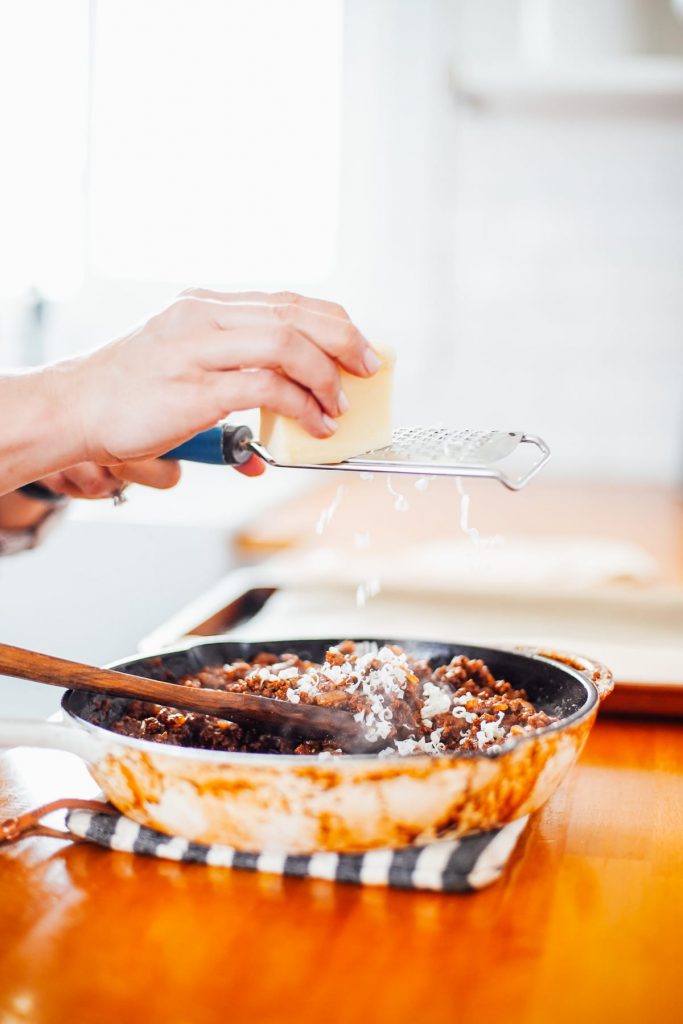 How to Make Ground Beef Taquitos
Taquitos can be made with different fillings: beans, chicken, ground beef, pulled pork or beef, sautéed veggies, and cheese. To my understanding, authentic taquitos are usually made with meat and cheese.
In keeping with this delicious simplicity, today's recipe take on taquitos is made with ground beef, a few seasonings, tomatoes, and cheese. All of this goodness is then rolled up in tortillas, which are then brushed with oil and baked. Easy, right?!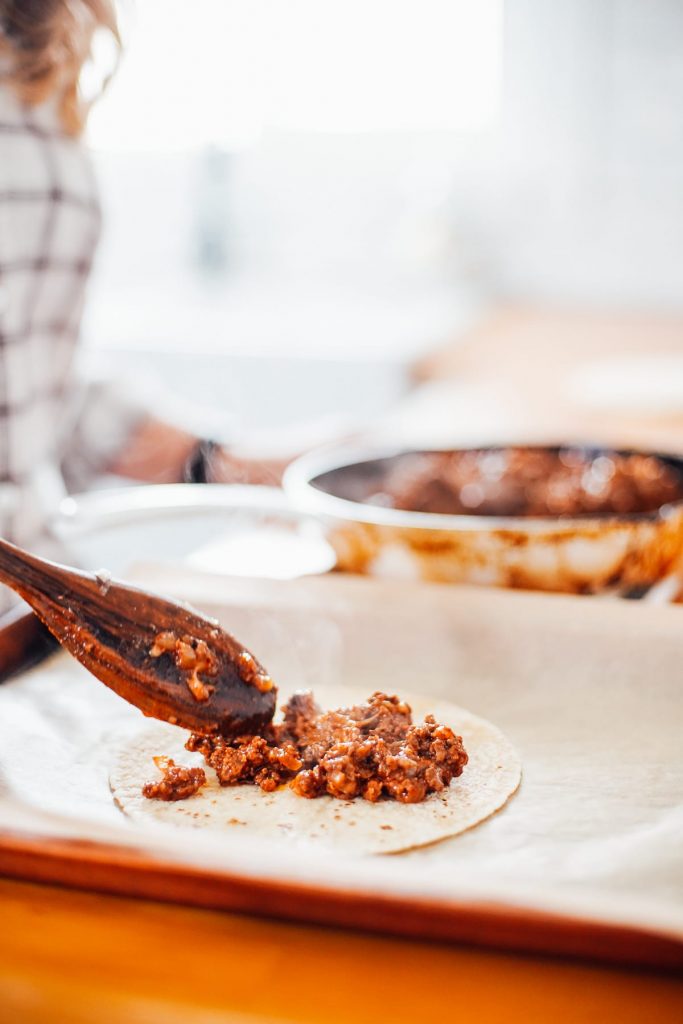 Step By Step Instructions
1st: Brown ground beef and diced yellow onion together in a skillet.
2nd: Once brown, add seasonings for flavor: garlic, chili powder, cumin, paprika, and salt.
3rd: Add tomato sauce or crushed tomatoes to the ground beef mixture and stir. I usually have extra crushed tomatoes in my fridge from making pizza sauce each week–perfect for this recipe.
4th: Add shredded cheese to the mixture and stir.
5th: Spread the filling evenly amongst 10 tortillas (8 inches in size) and roll up each tortilla.
6th: Brush the tops of the tortillas with oil (or use a spray like Chosen Foods Avocado Spray) and bake in the oven for 20 minutes, until crisp and golden on top.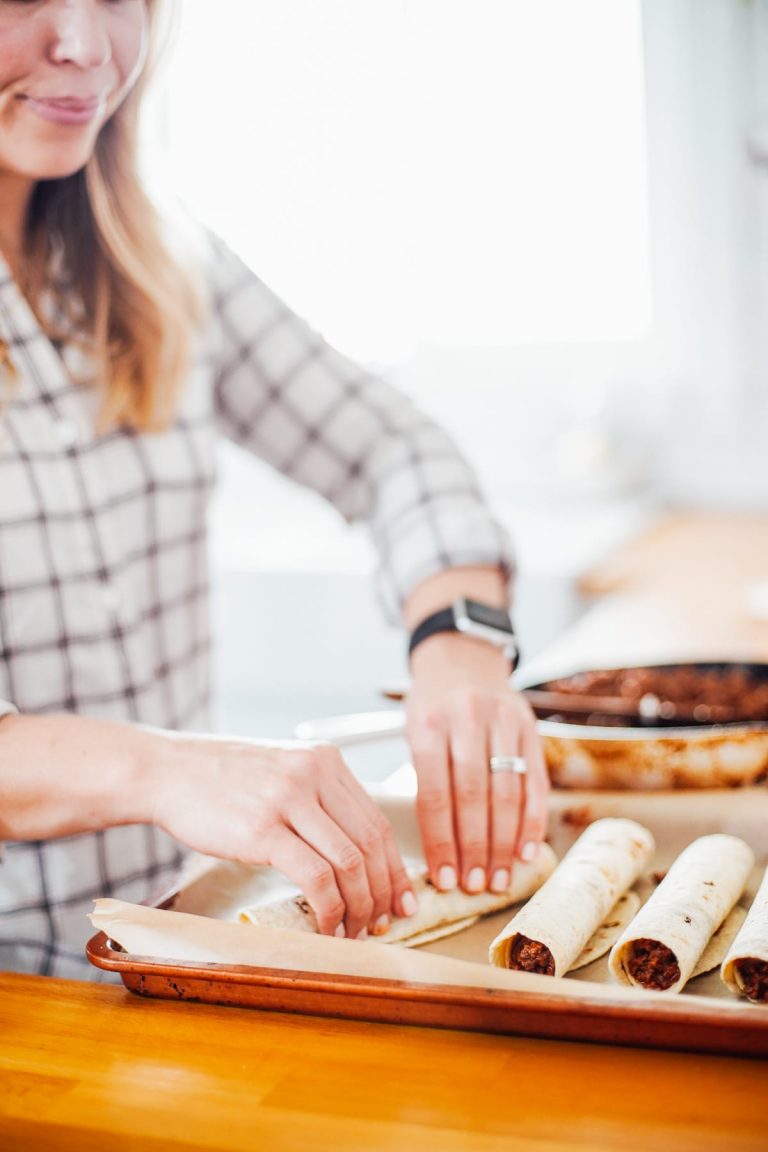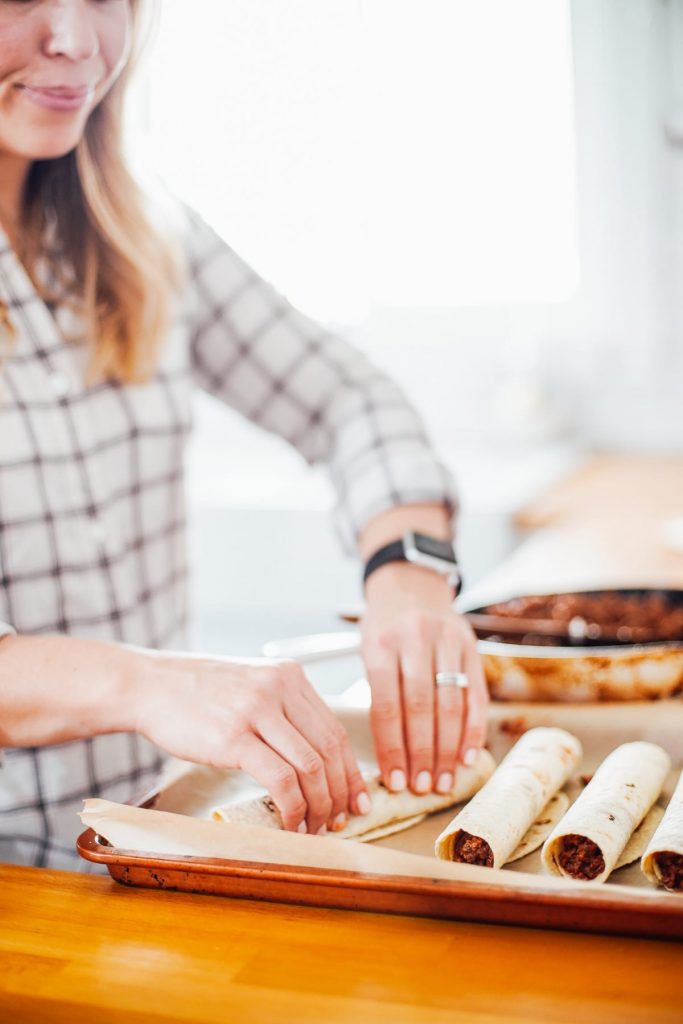 Freezing Taquitos for Future Meals and the Lunchbox
One of the reasons I love this recipe is because of how easy it is to prep a bunch of taquitos in advance and freeze for future dinners or the lunchbox.
To freeze, prepare the ground beef filling and let it cool before filling the tortillas. Fill the tortillas, then freeze on a sheet pan for 2 hours. Once frozen, add to a freezer-safe bag and store for up to 3 months.
To cook from frozen, preheat the oven to 375F. Place taquitos on a parchment-lined baking sheet and brush or spray with oil. Bake for 25 minutes or until heated through and brown on top.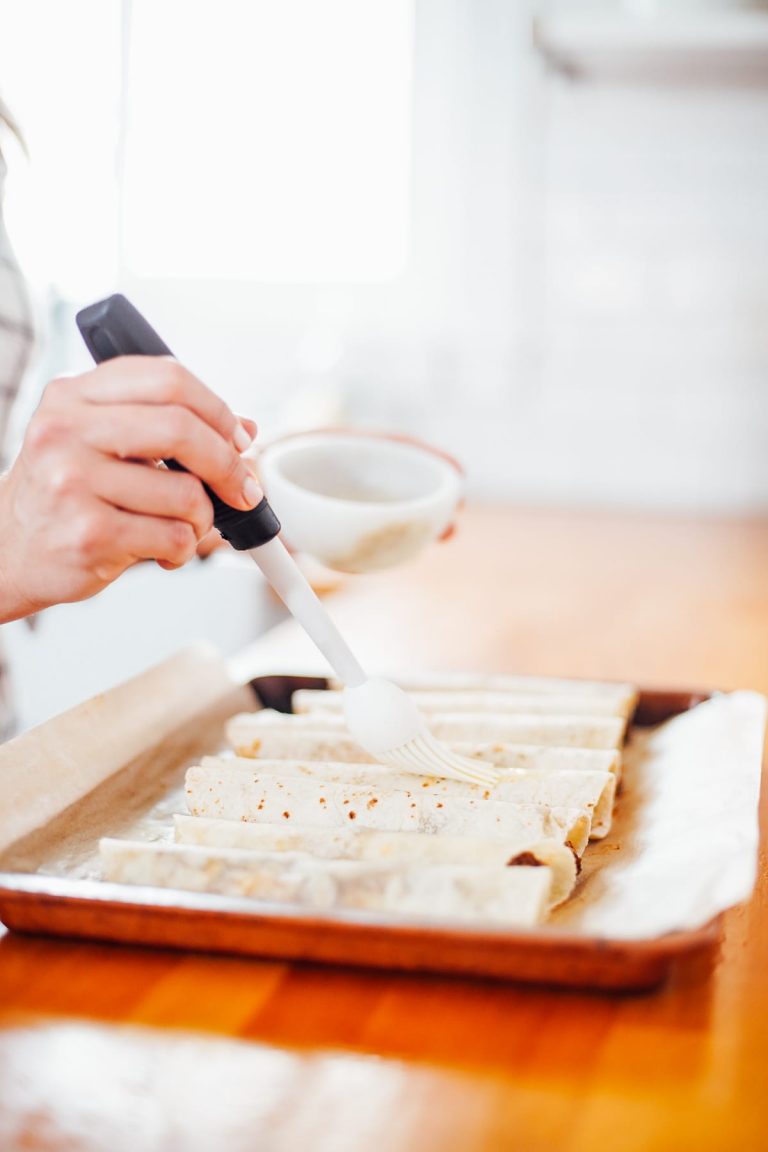 If you'd prefer, you can cook the taquitos before freezing, then thaw in the fridge before use and warm the taquitos in a skillet with oil.
I recommend doubling this recipe, freezing half and serving the other half for dinner. This is what I call "cook once, eat twice." It's a great strategy to use when you want to eat real food and save time in the kitchen.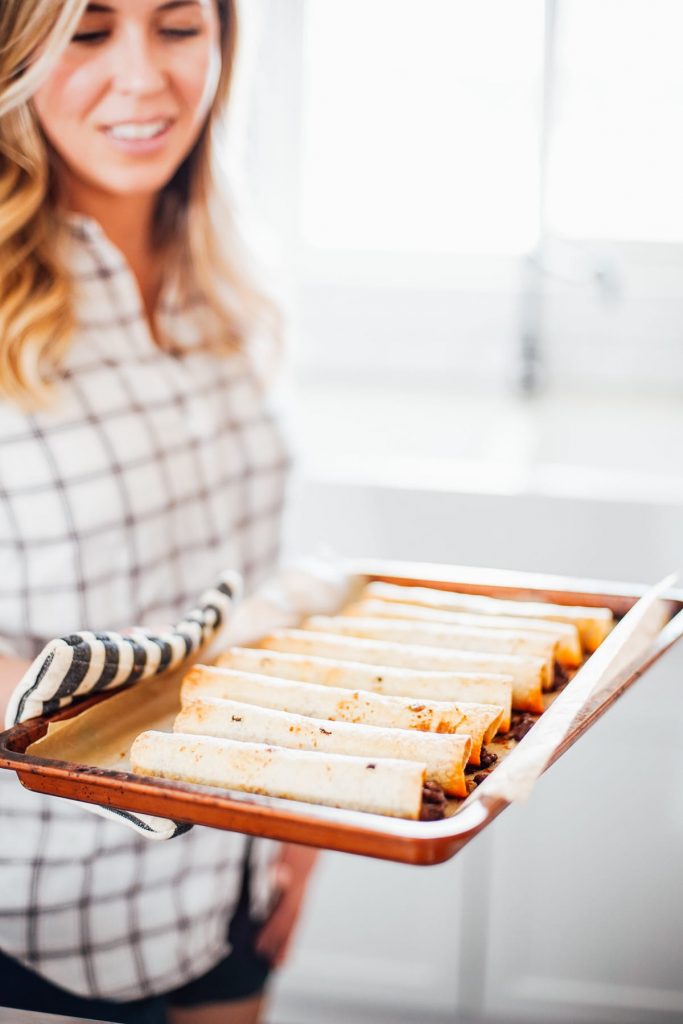 How to Serve Taquitos
Of course, I'm always looking for ways to up our veggie intake around here and use what I get from the farmer's market. I love to serve taquitos with a variety of veggie toppings. Here are my favs…
Chopped radishes tossed with lime juice and salt: this combo takes the spicy edge off the raw radish.
Guacamole or avocado slices
Salsa: we're big fans of this fermented salsa (a great way to eat your probiotics and preserve tomatoes)
Cilantro
Sour cream
Shredded lettuce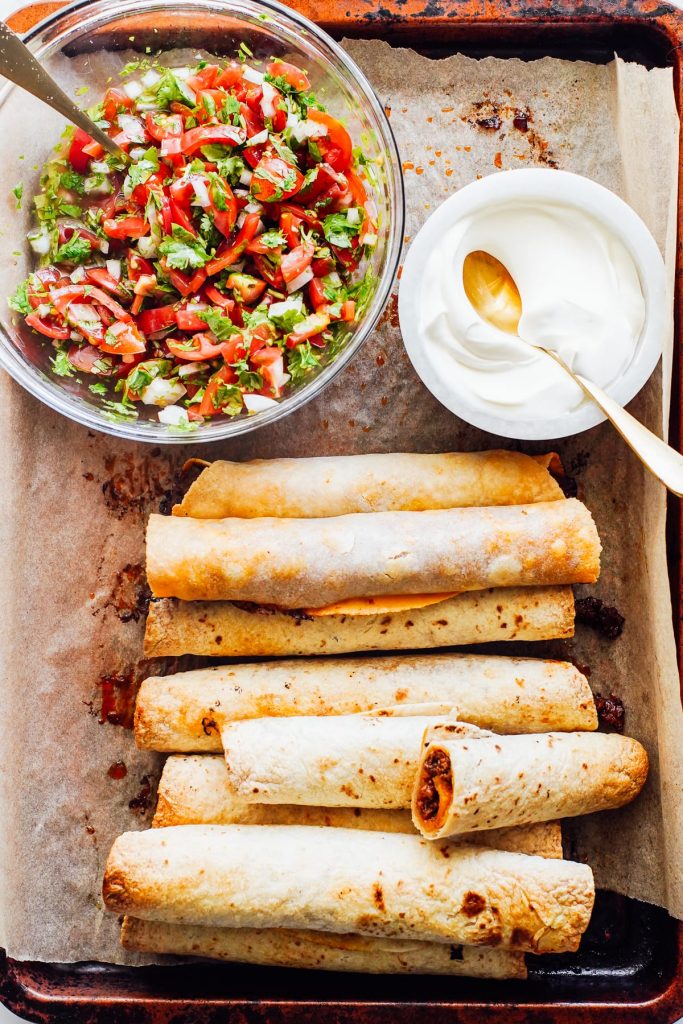 Taquitos in the Lunchbox
Prep-ahead foods are my sanity-saver when it come to packing school lunch. This is why we spend an entire section on food prep in my school lunch course. Things like pizza muffins, sweet muffins, pancakes, quesadillas, and soup are regularly on my lunchbox meal plan because they can be prepped in advance and frozen for a rainy day when I don't feel like making something and don't have leftovers to offer. Taquitos have recently been added to this list.
I serve taquitos at room temperature in the lunchbox, with an ice pack. There's no need to warm them up. If you prefer to warm the taquitos, cut the taquitos in half or quarters and place in a thermos (this is the one I have). I usually add a side of salsa, guac, or sour cream for dipping (in a little dipper container in this lunchbox).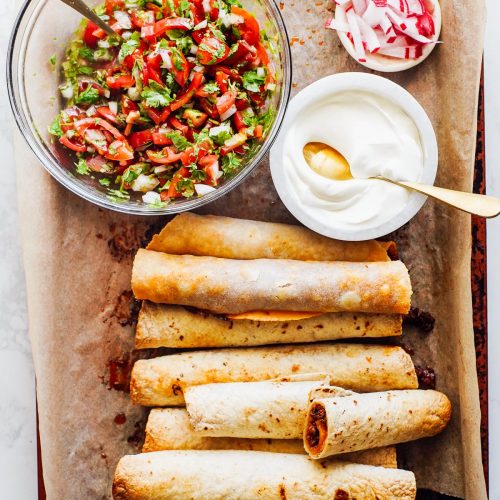 Baked Ground Beef Taquitos
Easy, kid-approved, healthy, oven baked ground beef taquitos. This recipe checks all the right boxes. Plus, freezer-friendly!
Ingredients
10

8-inch

flour tortillas

I've used both regular flour tortillas and gluten-free tortillas from Siete. You may need to warm the gluten free tortillas first to make them pliable.

1

lb

ground beef

1/2

cup

finely diced yellow onion

2

garlic cloves

minced

2

tsp

chili powder

1

tsp

salt

1/2

tsp

black pepper

1/2

tsp

ground cumin

1/2

tsp

paprika

8

ounces

no salt added tomato sauce

OR crushed tomatoes (I usually go with crushed tomatoes leftover from making pizza sauce)

1

cup

shredded cheese of choice

cheddar, monterey jack, etc.
Instructions
Preheat the oven to 400F and line a sheet pan with parchment paper.

In a large skillet, brown ground beef and onion. Once brown, add the seasonings: garlic, chili powder, salt, pepper, cumin, paprika. Cook for a couple of minutes, until fragrant. Add the tomato sauce and stir.

Remove from the heat source. Stir in the shredded cheese.

Spoon some filling in a straight line near one edge of the tortilla, and roll tightly from that end. Place on the prepared sheet pan. Repeat until all the filling is used up.

Lightly spray or brush the tops of the tortillas with oil. For a spray, I like Chosen Foods avocado spray. For brushing, I use olive oil or avocado oil.

Bake for 20 minutes or until beginning to brown and crisp on top. Serve with toppings: radish slices, avocado slices, guacamole, salsa, sour cream, green onions, shredded lettuce, slaw, or cilantro.

To freeze for a future meal: Prepare filling as above and let cool before filling tortillas. Place the taquitos on a parchment-lined sheet pan and freeze for 2 hours. Once frozen, wrap them in the parchment sheet and place in a plastic bag for up to 3 months in the freezer. To cook from frozen, preheat oven to 375F. Place taquitos on a parchment-lined sheet pan and spray or brush with oil. Bake for 25 minutes or until heated through and brown and crisp on top.
Notes
Variations: Once you have the method down, you can customize the filling to your liking: change up the ground beef for shredded chicken or add some diced zucchini or spinach to the ground beef mixture. So many ways to change things up. 
Nutrition
Calories:
281
kcal
Carbohydrates:
29
g
Protein:
12
g
Fat:
13
g
Saturated Fat:
4
g
Cholesterol:
32
mg
Sodium:
741
mg
Potassium:
298
mg
Fiber:
2
g
Sugar:
4
g
Vitamin A:
315
IU
Vitamin C:
2
mg
Calcium:
70
mg
Iron:
3
mg