This post may contain affiliate links. As an Amazon Associate I earn from qualifying purchases.
Happy Monday. And a very Happy Bathroom Cleaning Day!
Wait, were you expecting something a bit more of a pick-me-up: coffee (a homemade Frappuccino) or warm muffins?
Ah yes, I can see the confusion, but hold on, don't go. I promise, today's recipe will put an extra "hooray" in your Monday. Yep, Monday can and should be filled with double hoorays, especially when the day starts with homemade toilet bowl cleaner.  A toilet bowl cleaner that will end every smell and stain that's ever brought you down. And did I mention this toilet bowl cleaner only requires five natural ingredients? Oh yea, Monday just got a whole lot better.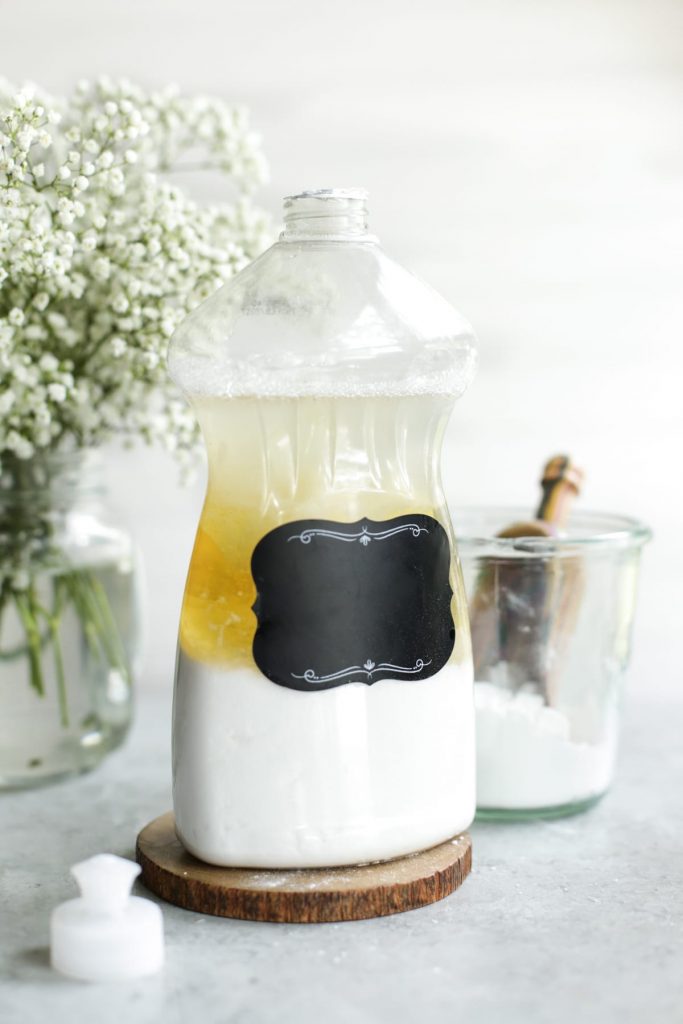 I've been playing around with the idea of a toilet bowl cleaner for a number of months. I don't mean to gross you out on this lovely Monday morning, but I need to be honest.  The toilet bowl is probably the most neglected object in our entire house. It's such a random little place to clean that a cleaner designed just for the toilet bowl, while desperately needed, has been way down on the "I need to figure out how to make this" list. Finally, I decided enough was enough. I was ready to take the plunge into creating a homemade toilet bowl cleaner.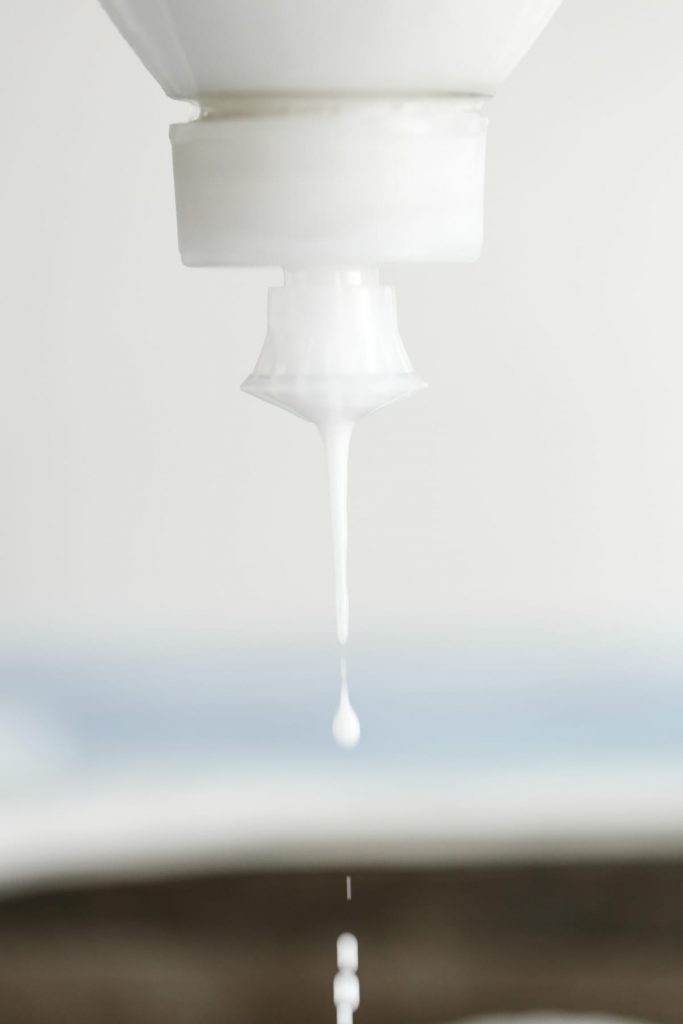 My first recipe started out as toilet bowl cleaner tablets. How cool is that idea? The "lazy" woman's approach to cleaning the toilet.
My genius idea came to an end when Piper noticed the experimental tablets on the top of the oven one evening and proclaimed, "Yummy! Cookies!" I immediately rushed over, "No, those are for the toilet." The statement obviously went right over his five year-old head. Piper looked at me and with excitement added , "Oh cool, toilet cookies." I could just picture the weeks that would follow– My kids, in the bathroom, secretly trying to taste the "toilet cookies" from the "cookie" jar.  Sure, the homemade tablets were natural: baking soda, hydrogen peroxide, vinegar, and essential oils, but I didn't want to take the risk of "toilet cookies" becoming a bathroom temptation. Yuck!
Today's recipe is a result of a lot of trial and error, and lessons in chemistry, such as: vinegar and baking soda cancel each other out and result in basically a water solution. Anyway, I'm getting way too "sciency" for a Monday conversation. Here's what you really need to know…
After much experimenting, I'm excited to finally share a DIY Toilet Bowl Cleaner that fights odors and leaves even the dirtiest (cough cough) toilet bowls sparkling clean. Let's take a look at the basic ingredients before we get back to the Monday morning coffee and whipping up a bottle of this homemade cleaner. I told you Monday was going to be amazing!
Baking Soda: Baking soda is one of the most effective cleaning ingredients available. This inexpensive ingredient can be used to raise my favorite banana bread and clean a toilet. Pretty amazing stuff! When used as a homemade cleaner, baking soda absorbs odors and scrubs away stains due to its abrasive properties. I use Bob's Red Mill Baking Soda for baking, but go with the cheaper bulk bag of Arm & Hammer for cleaning.
Castile Soap: One of my favorite multipurpose DIY ingredients. Castile soap is a concentrated vegetable-based soap with easy to recognize ingredients.  I use castile soap for everything from  homemade laundry detergent to hand soap and face wash. If you'd like even more cleaning power Sal Suds, castile soap's big cousin, will provide the extra shine you're looking for.
Essential Oils: Many essential oils are known for their natural cleaning power (antibacterial and antiseptic) which is why I add a couple of my favorite cleaning oils to this recipe. The essential oils also add an amazing fresh scent to the toilet bowl.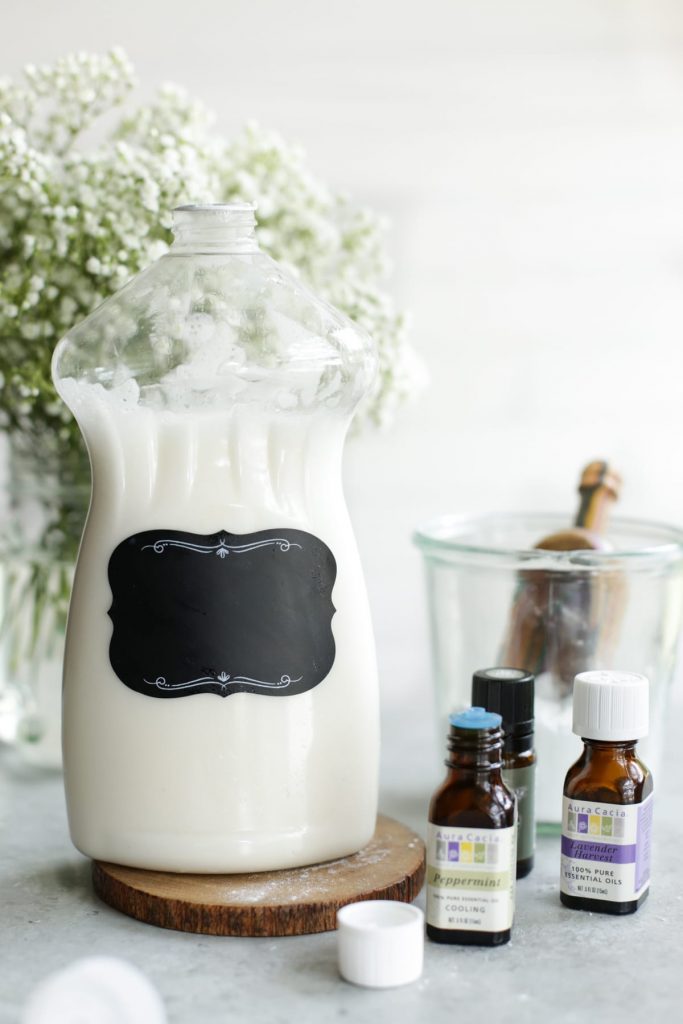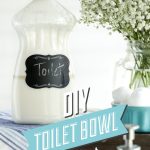 DIY Toilet Bowl Cleaner
After much experimenting, I'm excited to finally share a DIY Toilet Bowl Cleaner that fights odors and leaves even the dirtiest (cough cough) toilet bowls sparkling clean.
Instructions
Using a small funnel, add the liquid ingredients: water and castile soap to a squirt container or bottle. Then, add the baking soda. Shake to combine the ingredients, except the hydrogen peroxide.

Place the top on the bottle (make sure the squirt top is closed!). Shake the bottle vigorously until the ingredients are combined.
Recipe Notes
To Use: Squirt the interior sides of the toilet bowl with cleaner. Allow the cleaner to rest for 5-15 minutes, then scrub the toilet bowl with a cleaner brush. Store the cleaner at room temperature and vigorously shake before using. Separation of the ingredients is normal.
The "where to buy" links provide links to the actual products I use. As always, I recommend shopping around online and at local stores for the best prices and products you love. Find my favorite DIY ingredients and tools, here.
Important Notes:
This recipe can be doubled.
Originally this recipe called for 1/4 cup hydrogen peroxide in the mix. Hydrogen peroxide and baking soda, when combined, needs to be de-gased regularly to avoid a gas buildup (and an "explosion" of the ingredients when a bottle is opened). To avoid this possible issue, I've adjusted the recipe. Instead of adding the hydrogen peroxide (a great disinfectant) to the cleaner bottle, I recommend squirting the cleaner in the toilet bowl,  scrubbing the toilet, and then spraying straight hydrogen peroxide (straight from the bottle with a spray nozzle attached). Allow the hydrogen peroxide to sit for a few minutes before flushing. You can also use vinegar in place of the hydrogen peroxide.
This method allows the toilet cleaner can sit for days and days without needing to be opened, and you'll still get the disinfecting qualities of hydrogen peroxide.
More DIYs You May Like: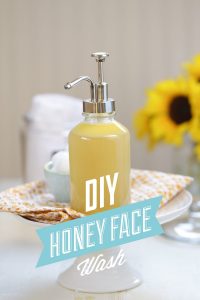 DIY All-in-One Bathroom Cleaner