I'm currently sitting in the passenger's seat of Dustin's truck, listening to our two kids in the backseat talk about their soon-to-be cruise experience.
That's right! We're headed to Ft. Lauderdale to enjoy a seven day cruise with twenty-three family members. I haven't seen many of my cousins since we were young teenagers, and now we're all grown adults. It's amazing how fast time flies!
When this post goes live, we'll just be getting back from our cruise, which means that I should have a gorgeous tan right now and feel completely relaxed (lol, that's the hope…we are cruising with kids 😉 ).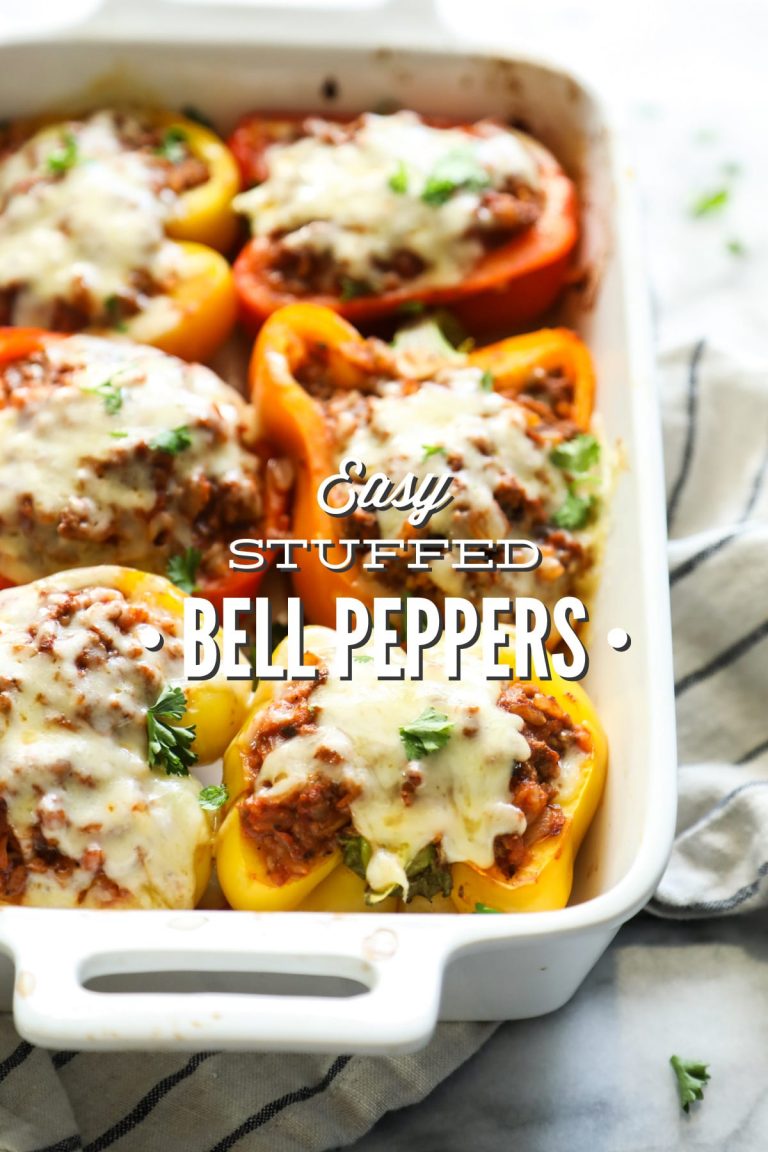 I'm bringing my big camera on the cruise, so hopefully I'll have some great photos (and some video footage) to share with you in a couple of weeks.
Okay, okay, enough about my hopeful tan and relaxed state of mind; let's talk about some stuffed peppers.
One of our goals for Live Simply in 2017 is to share more super easy, family-friendly, nourishing meals. I was so pleased with the great recipes that went up in 2016, and it's my desire to continue to provide high-quality, well-tested, and simple real food recipes here on Live Simply. Along with equipping us (because we're on this real food journey together) with simple and delicious (real food) recipes, we're also working on a couple of resources to continue simplifying our real food lifestyle.
Today's recipe, Easy Stuffed Bell Peppers, is the perfect way to start the new year (along with the green smoothie from earlier this week). This recipe is super easy to make, can be prepped a day in advance (or placed in the freezer and baked in the oven), and relies on simple real food ingredients. Because that's how we roll around here: easy, real, and family-friendly. And, of course, we have lots of do-it-yourself recipes and tutorials coming this year, too.
Once the peppers are baked, they may be served with fresh cilantro, a dollop of sour cream, a few avocado slices or jalapeño slices, or garnished with lettuce or shredded cabbage. The possibilities are endless!
This recipe is a great base recipe to keep on your meal plan rotation, and then offer variety with different toppings each time you make the peppers.
I'd love to hear how you customize your peppers. Let's eat!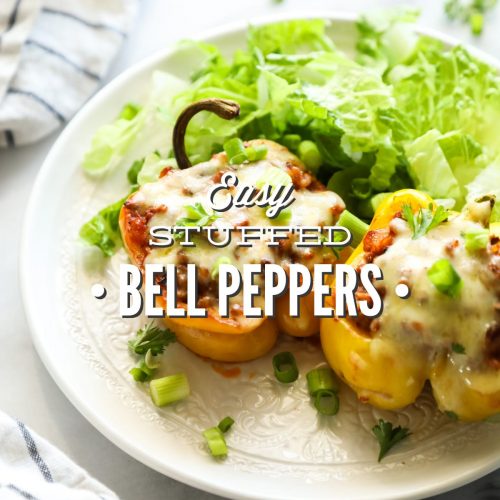 Easy Stuffed Bell Peppers
A simple real food meal made with basic, yet flavorful ingredients: rice, ground beef, tomato sauce, peppers, and spices.
Ingredients
4

bell peppers

any color

1

TB

extra virgin olive oil

1/2

cup

finely diced yellow onion

3

garlic cloves

minced

1

lb

ground beef

1

15-ounce

can tomato sauce

1

TB

Worcestershire sauce

I like Annie's brand

1

tsp

salt

1

tsp

black pepper

1/2

tsp

oregano

1/2

tsp

dried basil

1

cup

cooked rice

3/4

cup

shredded Monterey Jack cheese
Instructions
Wash the peppers and slice off the tops. Discard the seeds and membranes. Level the bottoms if necessary to stand up in your baking dish. Alternatively, you can prepare the peppers as pictured, by slicing the peppers in half and discarding the seeds and membranes.

Place the peppers in a baking dish with a lid (or use foil when the lid is needed). Set aside.

Preheat the oven to 350F.

Add olive oil to a large skillet. When hot, saute the onion and garlic until softened and translucent.

Brown the ground beef, draining the extra fat if necessary. I brown the ground beef in the same skillet as the onion and garlic.

Add the tomato sauce and all the seasonings to a bowl, and mix well to combine.

When the beef is cooked through, stir in the sauce and cooked rice to coat all the ingredients (including the onions and garlic).

Evenly stuff the peppers, packing the filling in if necessary.

Cover and bake the peppers for 30-35 minutes, until the peppers are cooked to your desired texture, testing with a knife inserted in the side.

Sprinkle cheese over the stuffed peppers and return to the oven, uncovered, for five minutes to melt the cheese.
Notes
I recommend using leftover rice in this recipe. Prep the rice in advance for dinner on a separate night, and reserve 1 cup for the peppers. 
Red and yellow peppers should require about 30 minutes in the oven. Green peppers are firmer, so they will need about 35 minutes. 
You can make and freeze the peppers in advance. Freeze the unbaked peppers (without cheese), then thaw them in fridge for 24 hours. Bake the peppers once thawed. Add 5 minutes to the cooking time, then add the cheese as above.
Nutrition
Calories:
501
kcal
Carbohydrates:
22
g
Protein:
27
g
Fat:
33
g
Saturated Fat:
13
g
Cholesterol:
99
mg
Sodium:
1401
mg
Potassium:
660
mg
Fiber:
2
g
Sugar:
6
g
Vitamin A:
3890
IU
Vitamin C:
154.7
mg
Calcium:
204
mg
Iron:
3.3
mg