This post may contain affiliate links. As an Amazon Associate I earn from qualifying purchases.
Contributor post written by Renee from Raising Generation Nourished.
Did everyone make it to summer break okay? How have the few weeks of summer been going?
I always make this vision in my head before summer break starts of having this super relaxed, go-with-the-flow summer break. With a 2, 5, and 7 year-old…yeah right :).
We really do enjoy our summer break, and I don't schedule too much. I enjoy just letting the girls explore the outdoors and take a break from our traditional school year routine. They love it!
There are some really cool things to do in our area during the summer. So for about half the week we are off to visit the local splash pad, build sand castles at the beach, and play at the park. When little kids are busy in the summer, little snacks to hold them over to their next meal are a must. (Unless you enjoy the melting down 2 year-old type, or the whining 5 year-old thing.)
My goal for any snack time is to make every bite count. Sounds kind of "deep" for a post about snacks, but hear me out!
Have you ever given a 10 am snack of crackers or pretzels at the park, only to have the noon time lunch meal left half eaten or picked at? *raises hand* That is so frustrating!
I learned early on that since those little bellies don't hold much, my job is to make every bite count as a meal. So those little snacks at the zoo or beach can be looked at as a mini meal, or as an extension of the kids' lunch. I want a protein and/or fat at each snack to make it more substantial.
You know I wouldn't leave you hanging without some easy and healthy snack suggestions. Because I know your schedules are already filled up, here is a list you can rotate around to keep the kids getting a variety of nutrients while still keeping summer snacking fun and enjoyable.
10 Easy and Healthy On-the-Go Summer Snacks
1. In-Season Fruit and Cheese
This is my probably my "go-to" snack if I had to pick one from this list. Grabbing a quick banana and slicing a few handfuls of cheese takes less than a minute. Fruit, like bananas and apples, come in their own packaging, too. These fruits make travel easy. In the summer, we also grab some stainless steel travel containers for in-season berries or sliced pineapple, cantaloupe, and watermelon. If you have a little one with a dairy allergy, you can do fruit and coconut butter (like this), or fruit and nuts (seeds if you have nut allergies).
2. Ants on a Log
A classic, right? And kids love this stuff!  If you have peanut allergies and can't handle other nut butters, such as almond or cashew butters, you can use Sunbutter. One of my girls was in a nut-free classroom this year and we used coconut butter for ants on a log, too.
3. Homemade Granola Bars
Blah. Homemade?! I thought this post was about quick and easy snacks??
I get it! Hear me out though…
If you have a Saturday with an hour or two where you will be at home, and maybe doing some other kitchen prep or cleaning, pop a batch or two of granola bars in the oven or freezer, and then store them in the freezer for later. It's so nice to pull them out as you are running out the door to the park.
Recipes to Try
No-Bake Trail Mix Granola Bars
Homemade Protein Granola Bars
Molasses Protein Snack Bars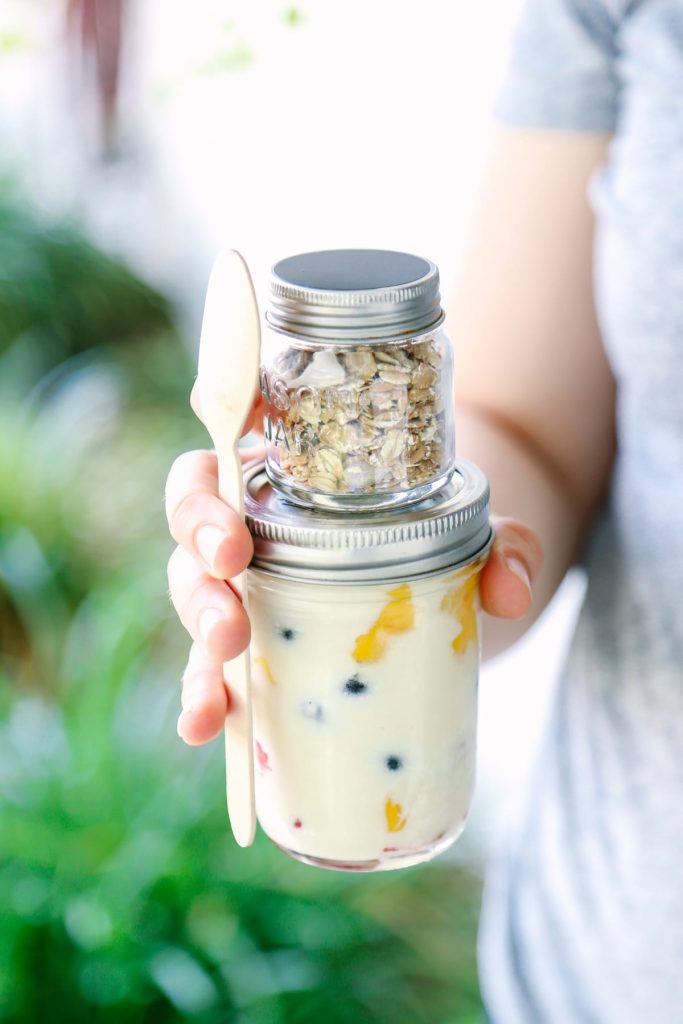 4. DIY Fruit-on-the-Bottom Yogurt Cups
Those little fruit and yogurt cups at the store are so convenient, but man, are they full of sugar. I have seen some with 20 grams or more of sugar per serving. That is definitely not something I need my already- high-energy girls consuming.
To make your own fruit and yogurt cups, simply put fruit and raw honey or maple syrup at the bottom of some travel containers, or mason jars, with lids and pile on the yogurt. My girls take theirs without the honey, because it's just what they are used to, but if you have kids that are used to the store-bought kind, the little drizzle of honey will go a long way in making the switch without any resistance.
I like to use frozen berries for these because when they thaw they're squishy, and they stir in the yogurt just like store-bought fruit and yogurt cups. You can also pack a small container of granola to stir in if you have some on hand. I usually have this grain-free granola and simple cinnamon granola on hand in the summer for cool, no-cook breakfasts.
5. Breakfast Cookies
Just like the homemade granola bars, I know a baked good seems daunting to use for a snack, but when you make a double batch for breakfast on a weekend and then freeze the rest, it's nice to grab a snack filled with nutrient-dense ingredients. And the kids (well, at least my kids) think they are pretty hot stuff for getting to have a "cookie" for a snack.
Recipes to Try
Carrot Cake Breakfast Cookies
Lemon Breakfast Cookies (Gluten-Free)
Molasses Protein Breakfast Cookies (Gluten-Free)
Cranberry Walnut Snack Cookies (Gluten-Free)
The Ultimate Breakfast Cookie (Gluten-Free)
Cinnamon Raisin Breakfast Cookies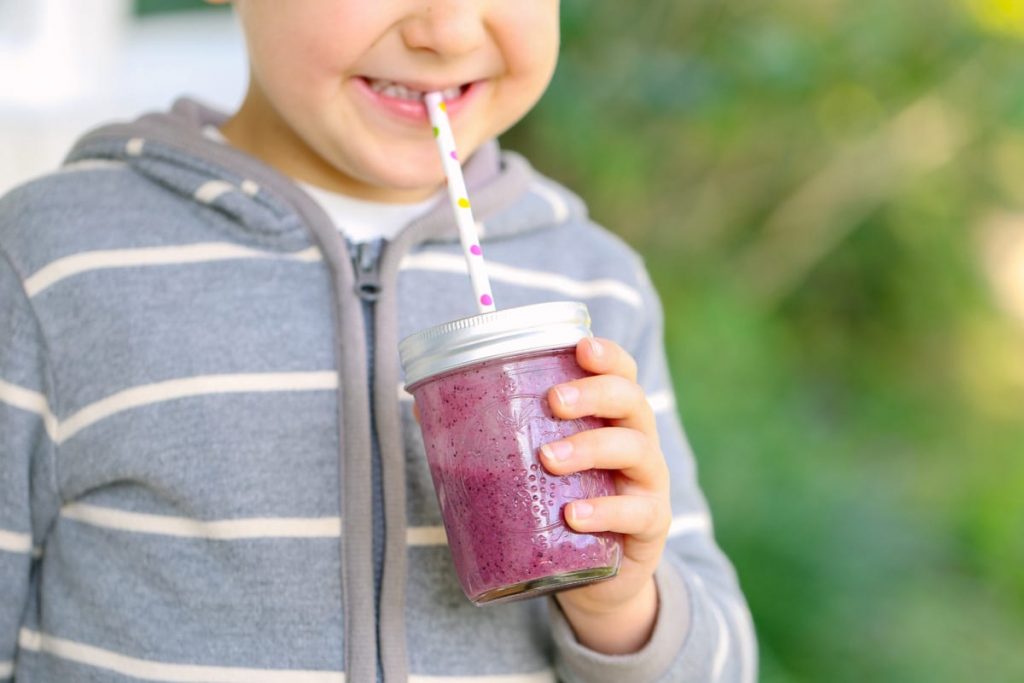 6. Easy Nutrient-Dense Smoothies
I have basically one smoothie recipe. Period. I don't have time to fuss around with fancy new recipes when I have a hungry 2 year-old hanging on my leg. I have one smoothie recipe that I change up the fruit for, and…voila: a new smoothie flavor! It's a nice way to get a little extra veggies in the kids without complaint, and if you have leftovers, smoothies make great popsicles.
7. Fruit and Nut Bars/Bites
We love the convenience of Larabars in our house, and I do totally keep a stash on hand just in case, but did you know how simple (and inexpensive) homemade fruit and nut bars are to make? All you need is some dried fruit and nuts, and a food processor! You can make them into "bites" or "bars" from there, and they freeze really well for later.
8. Crackers and Hummus or Guacamole
You can keep the healthier store-bought crackers in the house, such as: Mary's Gone Crackers or Jovial's Sourdough Crackers (check your local conventional or health food store), or you can make your own. I have a routine of popping these grain free crispy plantain crackers in the oven every Sunday and they last for the week between my family of five. It's 5 minutes of hands-on prep, and they definitely make my kids smile. Let your kids dip their crackers in a dip that has some protein and fat, such as: guacamole or hummus, for a great snack.
And by the way, while my kids love our homemade kid-friendly guacamole, I am totally cool with some of the store-bought versions in a pinch that have decent ingredients, like: Wholly Guacamole (both our regular small grocery store and Costco carries this brand) and some of the flavors of Sabra Hummus. Just check those ingredient labels – some of the flavors have some iffy ingredients.
9. Veggies and DIY Ranch Dip
I'm always amazed at how much my family loves a big container of cut-up veggie sticks and a container of 5-Minute Ranch Dip served family-style at the beach or park. The kids hover over this stuff like a pack of wolves. Pick a variety of colors and textures to make this snack really fun.
10. Quick-Prep Trail Mix
Don't complicate this thing. There are many days when I just take a couple of handfuls of whatever nuts or seeds I have in the house, sprinkle in some coconut shreds and a handful of raisins, and call it good. Snacks don't need to be fancy! My kids love having their own little stainless container for on-the-go, and these work well in the car, too. If you have older kids who are used to more of a store-bought version of trail-mix, add a tablespoon or two of Enjoy Life Chocolate Chips.
Favorite On-the-Go Snack Containers
These containers, pictured throughout the snack suggestions above, are ideal for packing on-the-go snacks during the summer, and work great for packing small lunches and condiments during the school season. These containers are an up-front investment, but they are definitely worth the extra money because they are super easy to wash and reuse, and they last year after year.