This post may contain affiliate links. As an Amazon Associate I earn from qualifying purchases.
When it comes to the skin, oil breeds more oil, right?! At least that's what I was taught for years. And because of this teaching, which I initially learned about in some teenage beauty magazine, I spent my teenage and early adulthood years purchasing facial products to rid my skin of the dreaded o word: oil. To be honest, the expensive products I used almost seemed to create more oil on my face, which resulted in acne flare-ups, frustration, and scars. It was a vicious cycle.
A few years after changing our eating habits, I began to question the products my family used (read my full story). The first product that came into question was my makeup. Why I went with makeup I don't know, but for some reason makeup was my first priority when it came to sourcing better products. I made the switch to homemade foundation powder, and I couldn't believe just how easy it was to make something for my body at home, in my own kitchen.
Soon, I moved on to laundry products (I know, it was a crazy random progression with no rhyme or reason) and started making laundry soap, or sourcing more natural laundry soap from the store (during the busy seasons of life). The discovery that homemade (or more natural store-bought products) actually worked was astonishing to this former Tide-Lovin, Clinique-wearing gal. I think that's the danger of our present processed-everything society: we've ventured away from even knowing how to care for ourselves. Just knowing we can make something (like bread, foundation powder, or soap) is incredibly empowering, and allows us to be more informed consumers when we purchase store-bought products.
Back to skincare and the dreaded o word: oil…
As I began to research and make products for my home and body, I discovered something fascinating about skincare and oils. Many of our ancestors used oil to moisturize their skin. As it turns out, oil isn't such a bad word. In fact, the right oil (or oils) can be pretty amazing when it comes to nourishing the skin! Even major news sources and celebrities have started sharing the long-standing practice of using oil as a moisturizer. According to an article via The Huffington Post, Hillary Preston shares, "When oils are applied to the skin, they are absorbed directly into the top layers of the epidermis, where they instantly go to work to improve the lipid barrier function."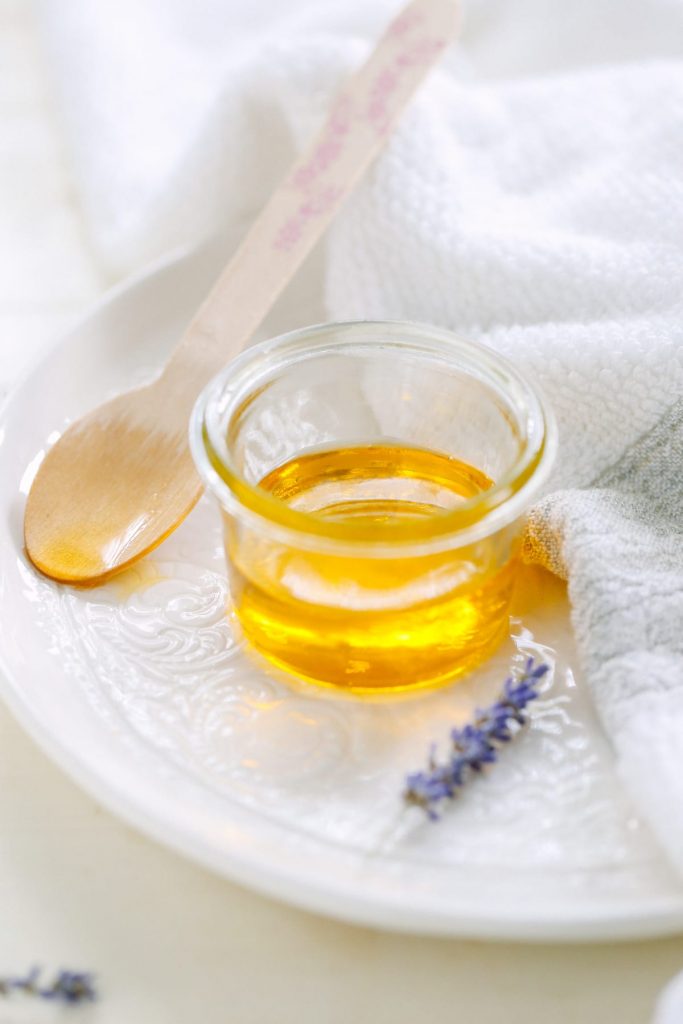 A few months ago, I decided to make the switch from using my homemade lotion (I still use it on my body–I was just exploring other moisturizing options for my face) to a simple three ingredient moisturizing oil combo. I'll admit, the idea of applying 100% oil to my face was slightly terrifying. Plus, I live in an extremely hot and humid state: Florida! I had visions of frying eggs on my face…seriously! But, I took the chance and started using an oil moisturizer. After just a couple of days, I was hooked! The oils easily absorbed into my skin, and my skin felt moisturized and looked great. I mentioned in my fall skincare routine post that I was using an oil moisturizer, and many of you asked about my recipe, so let's take a look at what I'm using…
Argan Oil: Argan oil is extracted from the fruit of the argan tree in Morocco. Argan oil is rich in fatty acids, vitamin E and A, and antioxidants. These "secret weapons" make the oil a moisturizing skincare option. Here's an excellent article from the Alternative Medicine Review about argan oil. Alternatives to argan oil, include: jojoba, grapeseed, apricot, and sweet almond oil.
Rosehip Oil: Rosehip oil is extracted from the South African rosebush seeds. I added this oil to the argan to help reduce my scars and blotchy skin (from sun damage and my second pregnancy). Rosehip oil is rich in fatty acids, linoleic acid, and Vitamin C and A. Rosehip oil is also very light, so it won't leave behind a thick, greasy layer when applied to the skin. This article from the Huffington Post provides insight into the benefits of this ancient oil. For some people roseship oil can cause breakouts (especially if you're already dealing with acne), so it's important to know your skin before using this oil choice. I've also used tamanu oil as a replacement for the rosehip oil with good success. You can learn more about other oil options, here.
Essential Oils: In addition to the two moisturizing oils, I add a few drops of essential oil. At the moment, I'm using frankincense essential oil in my oil moisturizer. According to Plant Therapy, "Frankincense (Carteri) has the ability to rejuvenate the look of mature skin and can be used in serums or creams for the face." I've listed a few other essential oils in the recipe (below) that I've played around with over the past few months.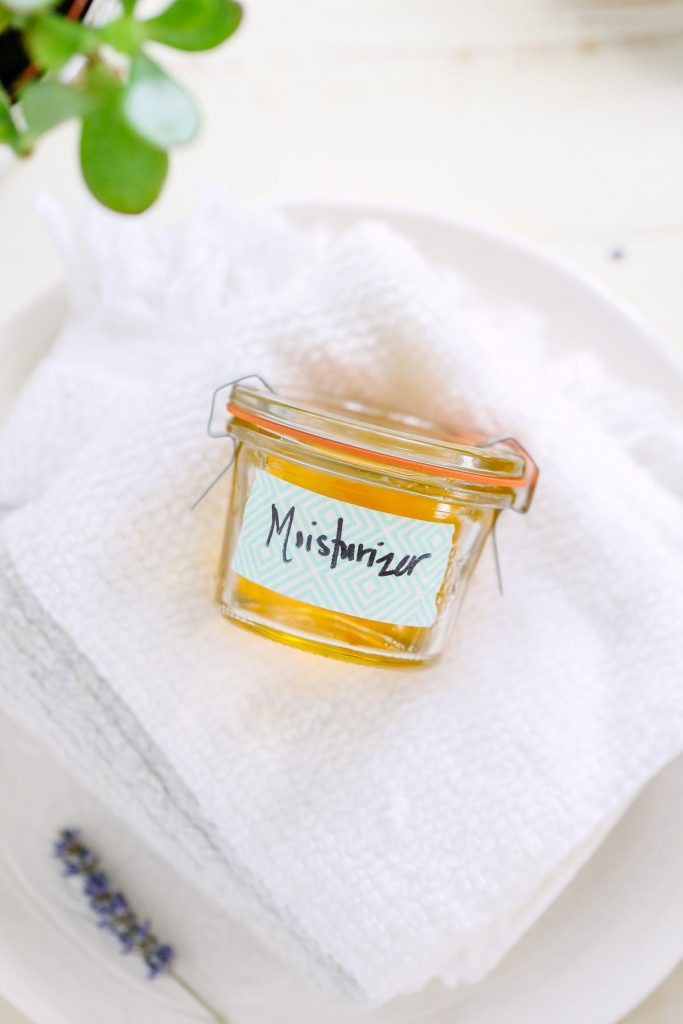 Easy Argan and Rosehip Oil Moisturizer
The oils easily absorbed into my skin, and my skin felt moisturized and looked great. I mentioned in my fall skincare routine post that I was using an oil moisturizer, and many of you asked about my recipe, so let's take a look at what I'm using…
Ingredients
1

TB

argan oil

see other options in the "notes" below.

2

tsp

rosehip oil

see other options in the "notes" below.

10

drops

skin-nourishing oil

such as: frankincense, lavender, bergamot, or carrot seed.
Instructions
Mix all the ingredients together in a small storage jar (a bottle with a dropper works well for application). Shake the bottle to combine the ingredients. These are the oils and ratios that I prefer for my skin. Before using any oil(s), I recommend checking out the article in the notes for more information about the various oils that can be used for your skin type.
Ingredient Notes
This recipe makes a very small amount of moisturizer since a little bit goes a long way. If your skin tolerates coconut oil, you may want to check out this easy moisturizer recipe. Also, here's another version of a moisturizing oil combo I've enjoyed in the past.