This post may contain affiliate links. As an Amazon Associate I earn from qualifying purchases.
This recipe is used as a lotion, hence the name. The final product is technically a body butter– a thick moisturizing cream versus a pumpable lotion. Both body butters and lotions are used to moisturize the skin. I've written a complete guide to body butter (including what it is and options for customizing your own body butter, over here.) If you're looking for a softer lotion you may want to try this silky smooth lotion. Also, I've recently updated some of the photos in this post, so if you're coming over here from Pinterest, the images may look a bit different :). 
April has brought valuable lessons. Let's review a few:
1. Don't keep your glass 2-gallon jar of Kombucha hidden in a dark pantry. Your husband unknowingly will break it, sending sticky Kombucha rushing across your floor like a mighty river. Due to the shattered glass you'll have to throw away the beloved SCOBY. Wearing black for several days is totally acceptable.
2. Chicks are even worse than having full-grown backyard chickens. Remember the time I shared "5 Reasons to Not Keep Chickens?" Well, chicks are a whole new game. If your children won't leave your home with chickens, chicks mean they will want to set up a fort, camp out and study their every move, 24/7. I'm determined we will leave the house one day.
3. Coconut oil is not the cure-all. Gasp, I know. That statement is practically heresy in the natural living community. Toothpaste? Coconut oil. Smoothies? Yep, coconut oil. A boo-boo? More coconut oil. We use it for everything! I've learned the magical white oil isn't always suitable for every need.
Since you're probably a tad bit shocked by the coconut lesson, let's talk. I feel the need to explain such an outrageous statement before being eternally cast-off from all things crunchy.
A couple of years ago, I decided it was time. Time to ditch the toxins found in our bathroom. From lotions to body wash to makeup, the amounts of toxins I put on my body was astounding. With the urge for simplicity and natural living, I started developing my own replacements for things like foundation powder and lotion.
One of my very first DIYs was a simple homemade moisturizer using coconut oil. After a few weeks, I was amazed at how nourished my skin felt.
Fast forward to March of this year. I've always dealt with extremely sensitive skin, but last month I noticed my skin was showing signs of extreme irritation. Multiple break outs, daily peeling, and dry skin patches. I immediately turned to a blogger friend, a guru on the topic of homemade skincare.  Her advice was reassuring, but I knew it meant kissing my beloved coconut oil good-bye, at least during this season of life.  So, why the change?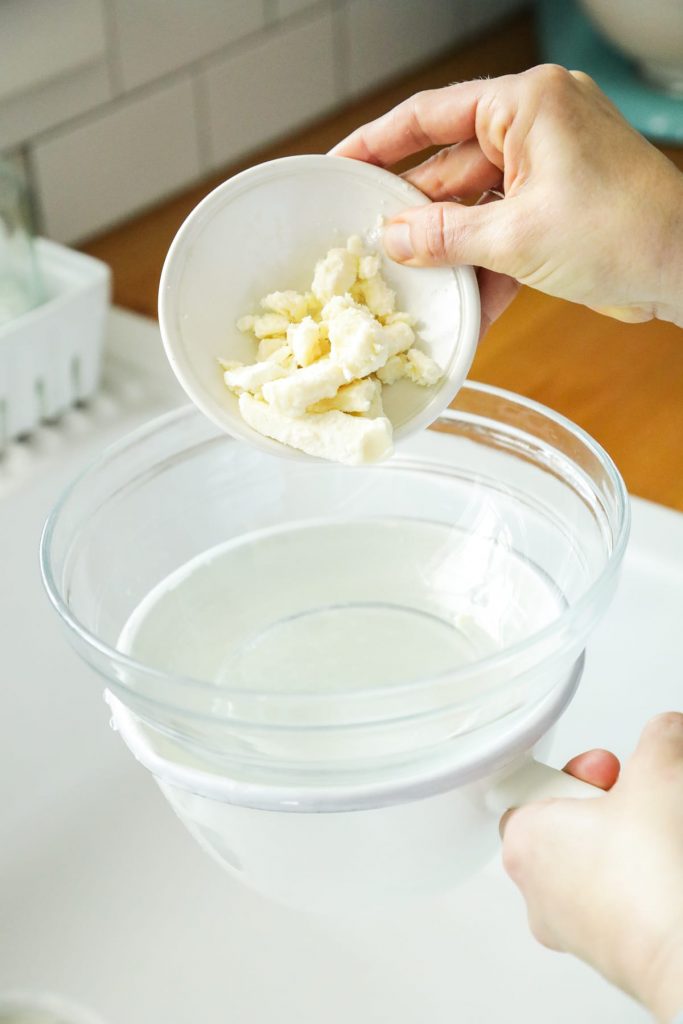 Our skin changes and goes through seasons. I wouldn't advise anyone to eat a grass-fed burger, daily, over the course of two years. Although it would be super tempting. Our bodies need diversity in the food we eat. Same with skincare. Our skin often needs different ingredients for various stages and seasons of life. My skin was clearly letting me know it needed a change from the daily coconut oil applications. After looking into my options for DIY products, I developed this simple homemade lotion recipe. An ultra-moisturizing lotion that does not use coconut oil.
Please hear me out, I'm not saying there's anything wrong with coconut oil or my coconut oil recipe (it's fabulous). I simply needed a skincare change during this season of life.
I've been hesitant about sharing this recipe. Silly, right? Why wouldn't I share? The simple answer is that this recipe uses a number of essential oils. I chose to add essential due to their healing nature.
Skin-safe essential oils are easily absorbed by the skin for nourishment, and provide antibacterial and antiviral properties. Even though essential oils are wonderful additions to homemade products (when used safely), I've noticed a trend in the blogging community, one I find a bit concerning: The intense selling of particular brands of essential oils and the development of recipes and usage "tips" just to sell oils.
I'm not here to sell you on essential oils. I add "where to buy" at the end of many ingredients in my recipes to provide a resource for the actual product(s) I enjoy and use, because there are certain products I love. I'm not telling you to buy the products; rather, I believe it's helpful to provide a visual representation of the products and brands I like to use.
Plain and simple: I'm here to share life with you and my quest to make it simple, real and natural. 
With a heart to share what I'm now using on my face and body, I bring you a homemade ultra-moisturizing lotion. Made with moisturizing shea butter, a nourishing skin oil, and few drops of essential oils (optional). A simple moisturizer that's super thick and luxurious, but easily absorbed by the skin.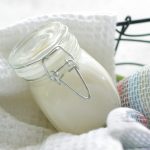 Homemade Ultra-Moisturizing Lotion (without Coconut Oil)
After looking into my options for DIY products, I developed this simple homemade lotion recipe. An ultra-moisturizing lotion that does not use coconut oil.
Instructions
In a double boiler (a glass bowl over a pot filled 1/4 the way full with water), over medium-low heat, melt the shea butter. Add in the nourishing skin oil. Turn off the heat.

Pour into a bowl (I use my Kitchen-Aid bowl). Place in the fridge or freezer and allow to cool and return to a solid (not hard) form. This takes about 15-20 minutes, depending on location.

Once opaque and slightly firm, remove the bowl from the freezer. Add in the essential oils. Using the whisk attachment on your mixer, whip the mixture. You can also use a whisk or fork versus a mixer. This takes just just a few seconds. Don't over-whip. Scoop into a jar and store at room temp. Apply to both body and face as desired.
Recipe Video
Recipe Notes
*The essential oils listed are what I originally played around with and used. Feel free to use other skin-friendly essential oils--either just one or a combo--for a total of around 26 drops (or less). You can also make this lotion without using any essential oils. If you'd like to play around with other essential oils, you can read about more options in my body butter tutorial, here. 
Feeling Greasy? Some folks find that body butter is a bit too greasy to apply all over the body. The good news is that there's a simple solution for this issue…arrowroot flour/starch. A small amount of arrowroot flour/starch may be added to the liquid oil before pouring the oil into the melted butter(s). If you're interested in adding arrowroot, I'd try adding 1 teaspoon to this recipe. You can see how to do this in my body butter tutorial, here. 
Modification Possibilities: 
Try skipping the melting stage in this particular recipe. Simply whip the nourishing oil and shea butter together, adding more oil if needed. I've done this before when I didn't have any time to melt and cool the ingredients.