Do you want to know how to make foaming hand soap? It's easier than you think, and you'll save money in the process. You only need 2 ingredients and 2 minutes, following 2 easy steps. (We're going with the 2 theme today, because who has time for complicated natural living.) 
Back in 2014, I shared a DIY liquid hand soap recipe. Today, that post has over 290 comments and is internet famous. One of the most asked questions is "How do you make foaming soap out of liquid soap?" Today, I'll show you just how easy it is to turn a liquid soap into your very own DIY foaming hand soap!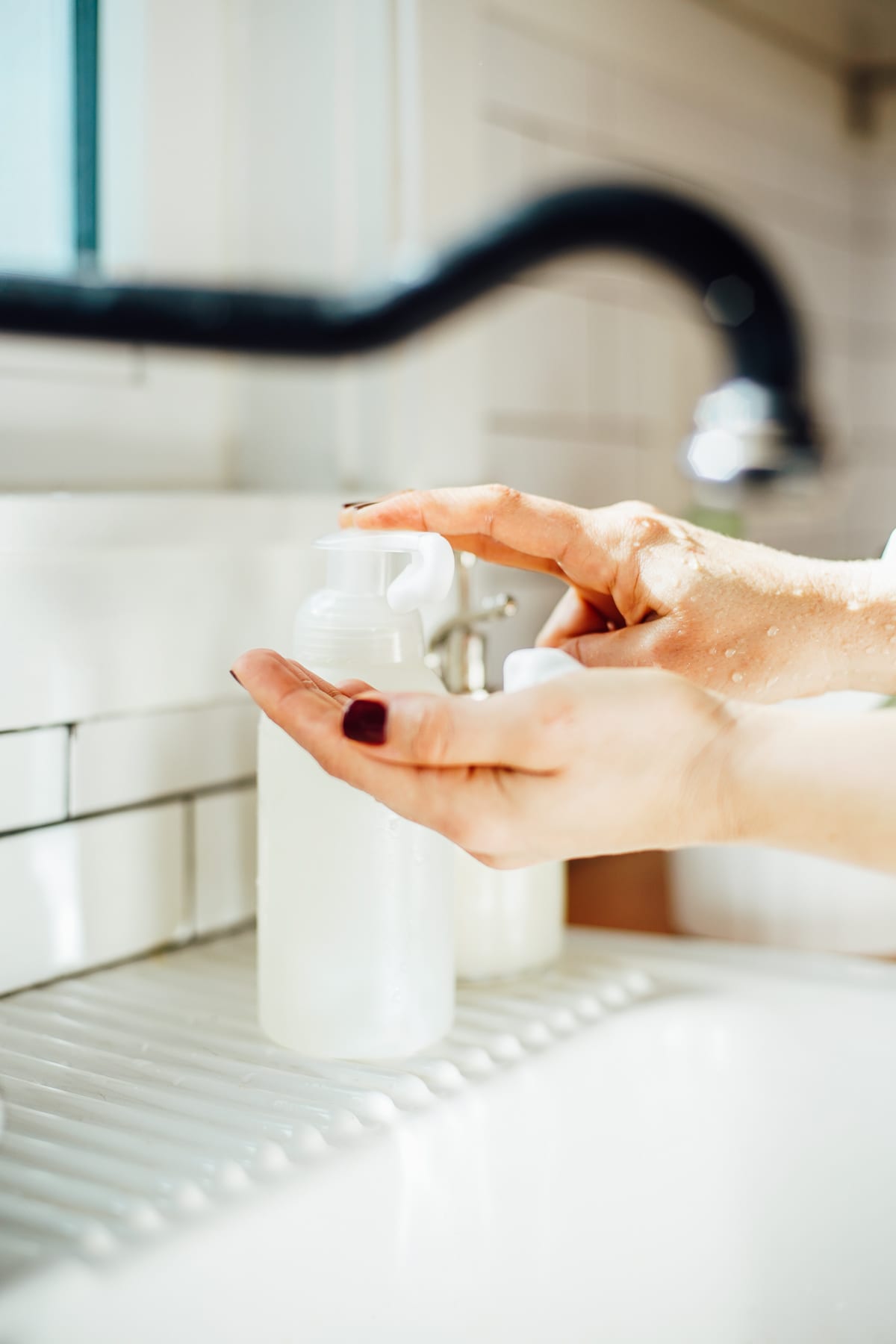 Why make your own foaming hand soap?
If you want to ditch toxins and use natural products, the first place to start is with the products you use every single day. Make changes to the products touching your skin and circulating in your home the most often. (11 natural cleaning swaps anyone can make…)
One of the top ingredients to avoid in cleaning and skincare products is "fragrance." This sneaky word isn't a single ingredient; rather, "fragrance" can be made up of thousands of different chemicals, some of which are of known concern, like phthalates. What makes fragrance so tricky is that companies are not required to disclose the ingredients that make their "fragrance" due to trade secret laws. This is why you'll only find the word "parfum" or "fragrance" listed on the ingredient list. Fragrance can be found in most store-bought hand soaps.
Another concern, particularly with hand soap is the use of triclosan. According to a release by the FDA, Antibacterial Soap, You Can Skip It, Use Plain Water, "Many liquid soaps labeled antibacterial contain triclosan, an ingredient of concern to many environmental, academic and regulatory groups. Animal studies have shown that triclosan alters the way some hormones work in the body and raises potential concerns for the effects of use in humans. We don't yet know how triclosan affects humans and more research is needed."
I'm going to use caution and avoid the use of commercial soaps for hand washing in our home. 
An easy way to ditch toxins, like fragrance and triclosan, is to pick up a bottle of castile soap. What is castile soap? 
Castile soap isn't a new fad. It's been around since the 11th century and was first made in the Aleppo of the Levant region (modern day Syria). The Crusaders learned about this soap which was, eventually, duplicated in Europe without success. That is, until a region in Spain (called Castile) was able to get the recipe right and successfully made what we know today as "castile soap." The soap became popular with Spanish royalty and eventually by the 1500's made its way to England. 
Castile soap is…
Super Versatile: Castile soap is super versatile. You can make both cleaning and body products with castile soap. Explore 7 money-saving ways to use castile soap.
Inexpensive: You can purchase a 32-ounce bottle of castile soap for about $17. Yes, this is more expensive than a bottle of foaming hand soap, but it will last you for months and make multiple refills of foaming hand soap! Castile soap is highly concentrated so a little bit goes a long way and it's designed to be diluted. 
Non-Toxic: Castile soap is made with easy to recognize, simple, non-toxic ingredients. This is why you can use it on your skin and home surfaces.
There are many different brands of liquid castile soap available. I personally use Dr. Bronner's unscented castile soap for making foaming hand soap and liquid hand soap.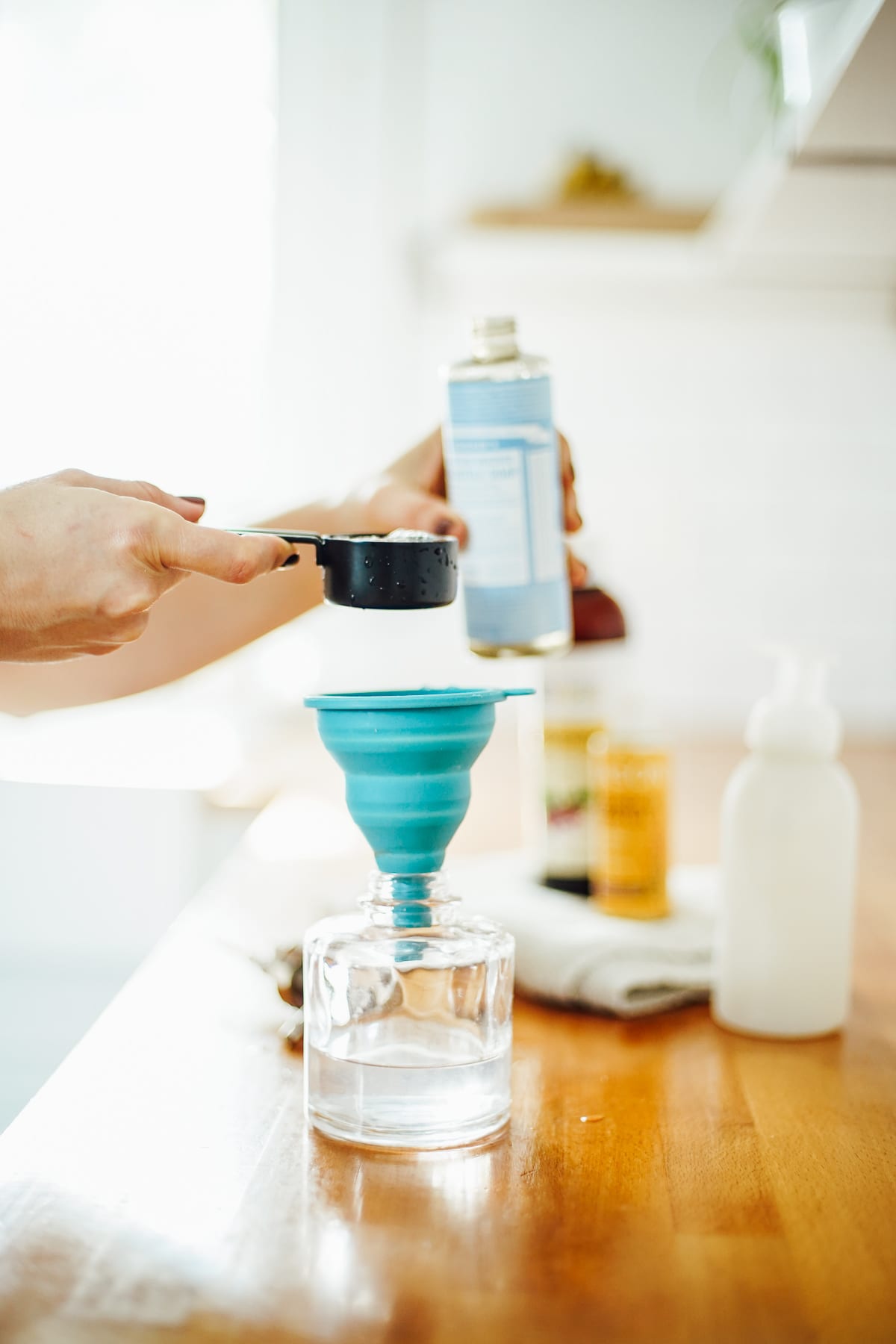 How do you make homemade foaming hand soap?
It's incredibly easy to make your own foaming hand soap. If you're new to natural cleaners and skincare products, this DIY recipe is a great place to start because it's so easy to make and only requires 2 simple ingredients. 
Foaming Hand Soap Ingredients
Foaming hand soap pump container: Reuse a foaming hand soap container or purchase a new reusable foaming hand soap bottle from Amazon or your favorite home store, like this. Look for an 8 ounce, 12 ounce, or 16 ounce bottle. 
1 cup liquid castile soap: Any scent variety. I personally use unscented. 
1 Tablespoon nourishing carrier oil: Any kind of nourishing skincare oil: olive oil, grapeseed oil, jojoba oil, or sweet almond oil. This is optional. Castile soap can dry out hands on its own so I like to add a nourishing carrier oil for the moisturizing benefits. Stay away from virgin coconut oil (the stuff used for cooking) since it will clog a soap dispenser. Alternatively, you can use vitamin E oil or vegetable glycerin.
Few drops of essential oil (optional): Choose your favorite essential oil, like Lavender, tea tree, peppermint, citrus, etc. if you'd like to add a natural scent that also adds beneficial cleaning properties. (Benefits of using essential oils for cleaning.) 
1 cup water: Distilled water is best for longevity and safety. Distilled water (or water that's been boiled for 15 minutes and cooled) removes bacteria, impurities, and contaminants. If you choose to use tap water, you'll need to use the soap very quickly, within a week or two. For this reason, I recommend going with distilled water as the soap will safely keep for about a month.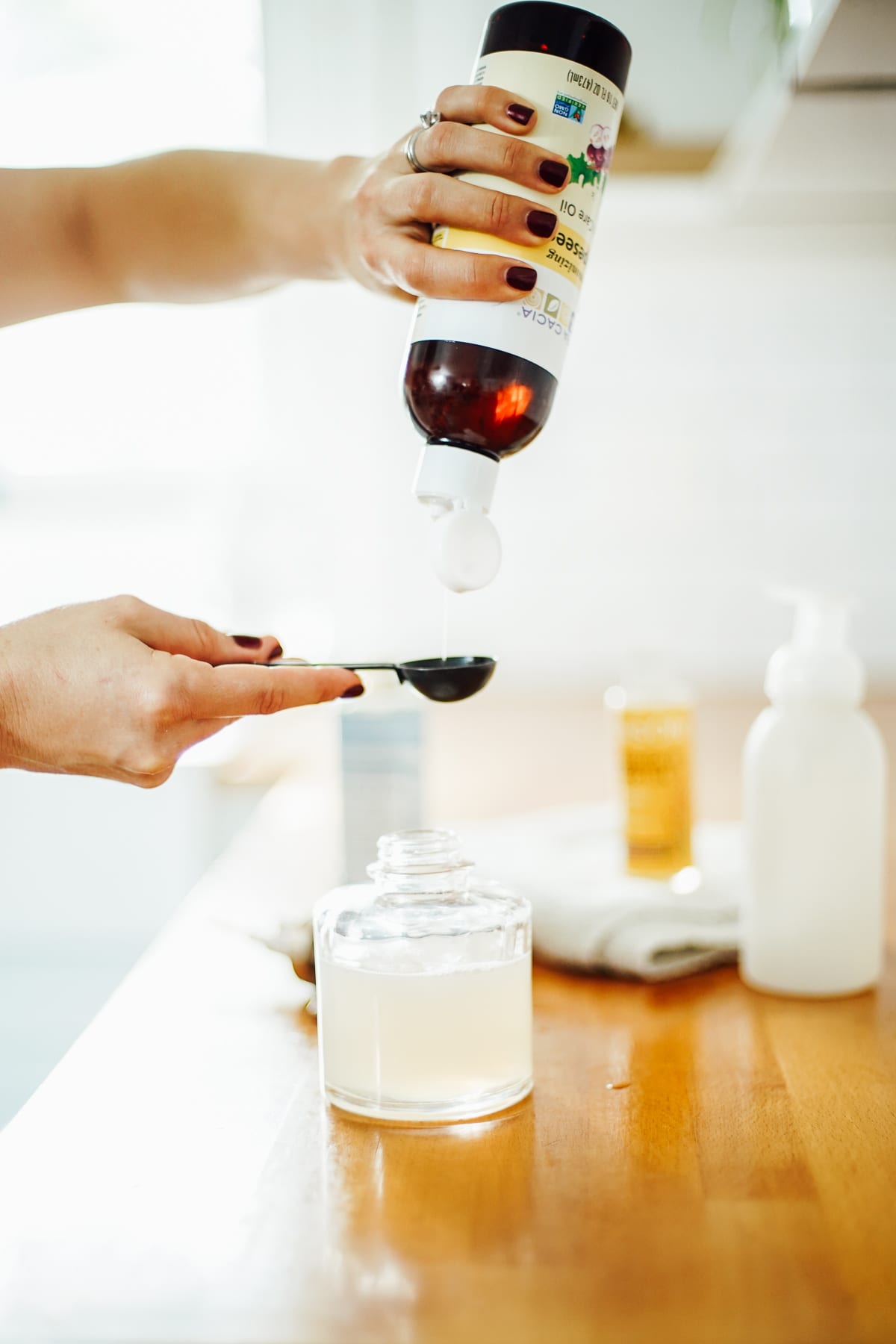 Instructions
Add water to a foaming hand soap pump, followed by the liquid castile soap, carrier oil of choice, and essential oil. 
Place the lid on the foaming hand soap bottle and shake to combine the ingredients. 
Pump the soap on your hands and lather. (Yes, this hand soap will lather thanks to the foaming hand soap dispenser!)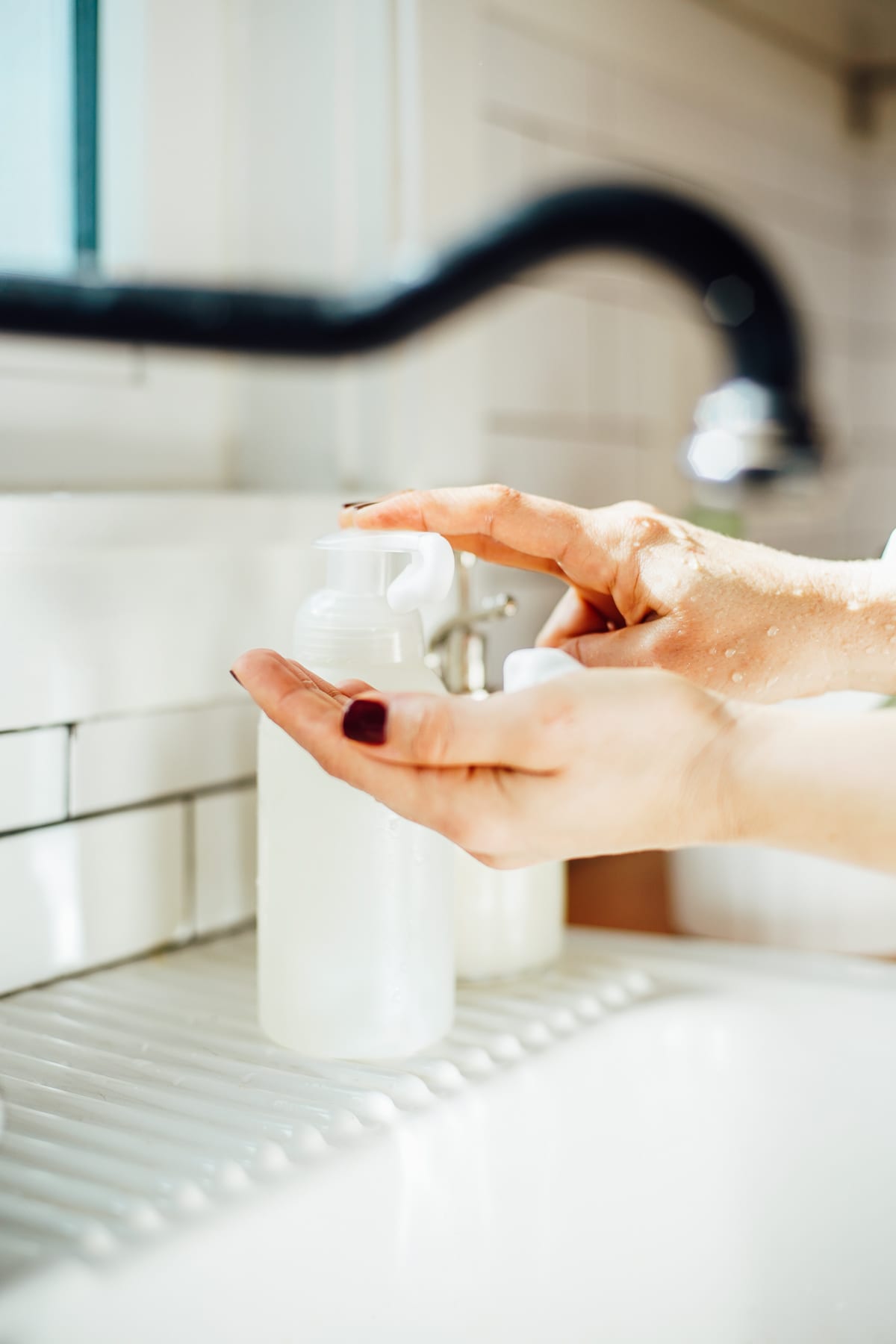 How do you make foaming soap out of liquid soap?
If you have a natural hand soap that you just love, but would like to convert that liquid soap to a foaming hand soap, you'll simply need to purchase a foaming hand soap container. Add the liquid soap to the foaming hand soap dispenser and you now have your own foaming hand wash! If the soap is super thick, you may need to dilute it with water.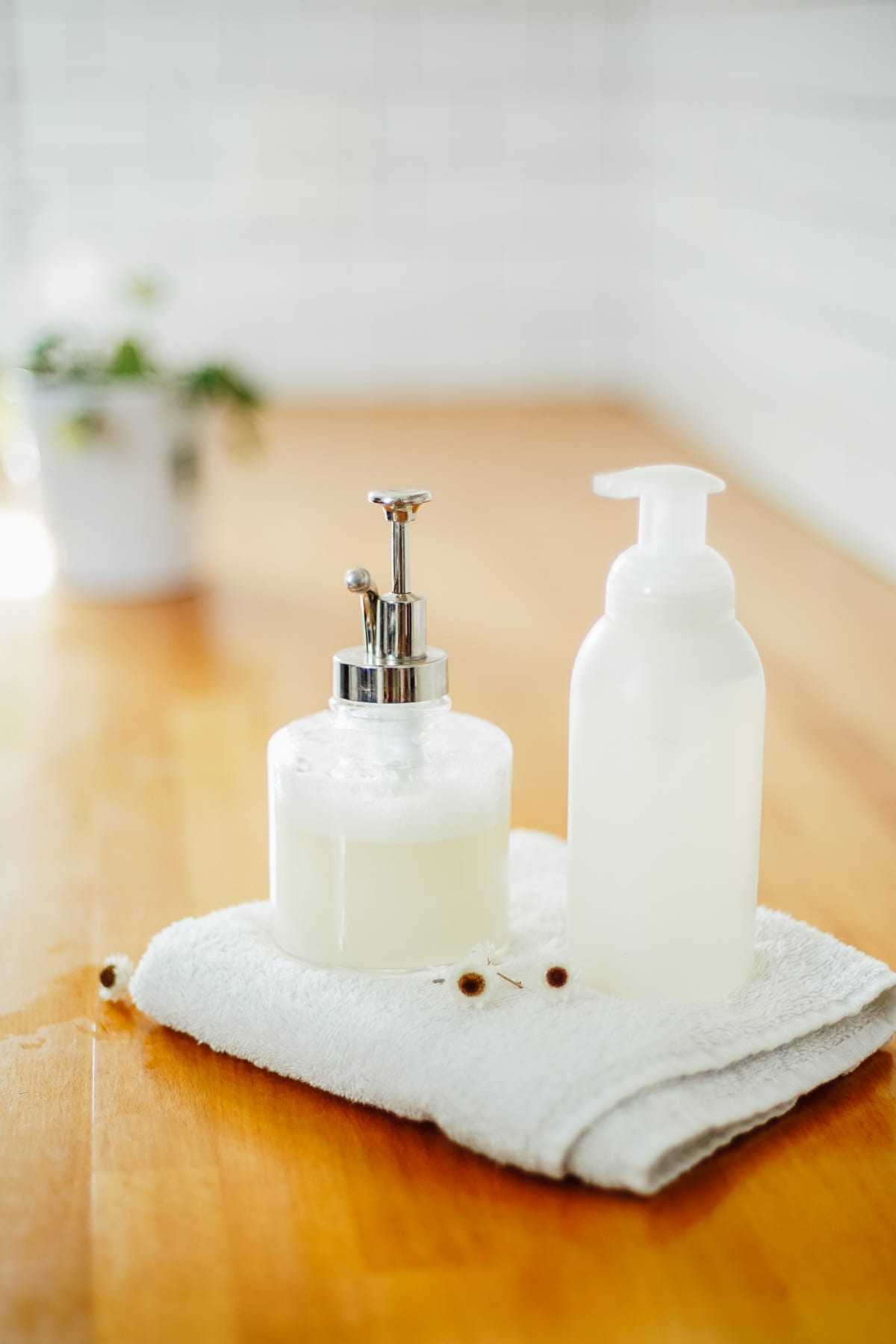 What makes foaming soap foam?
If you've read my post on how to make hand soap, you'll notice the ingredients are the same. The only difference between liquid hand soap and foaming hand soap is the bottled used to dispense the soap.
The soap container is what takes a liquid soap to foaming and even increases the lather for a natural hand soap like castile soap. You can also make DIY foaming body wash using liquid castile soap and a foaming soap dispenser container.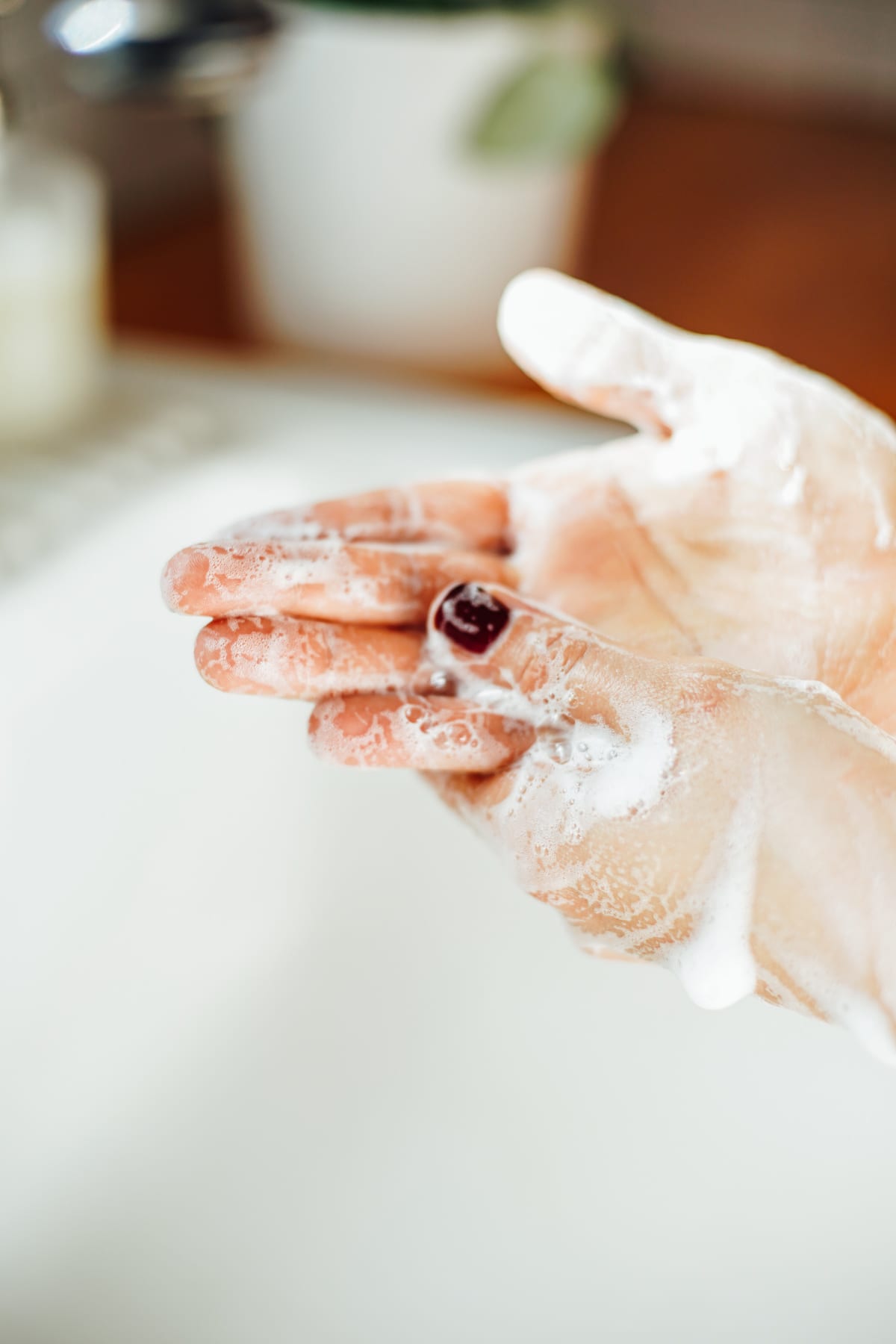 Favorite refillable foaming hand soap bottles:
Mason Jar Glass Dispenser: If you love the mason jar look and you're looking for a glass bottle, this is the best option. Try this 16-ounce dispenser with labels or this 16-ounce dispenser.
Plastic Dispenser: If you have kids using this hand soap in the bathroom or kitchen, a plastic container may work best. Try this 12-ounce dispenser or this 8-ounce dispenser. I've seen people drop a couple of Lego pieces at the bottom of the container for a fun "kid touch." 
Mason Jar Foaming Dispenser Tops: If you have extra mason jars sitting in your pantry, turn one of those mason jars into a soap dispenser by adding a foaming top like this.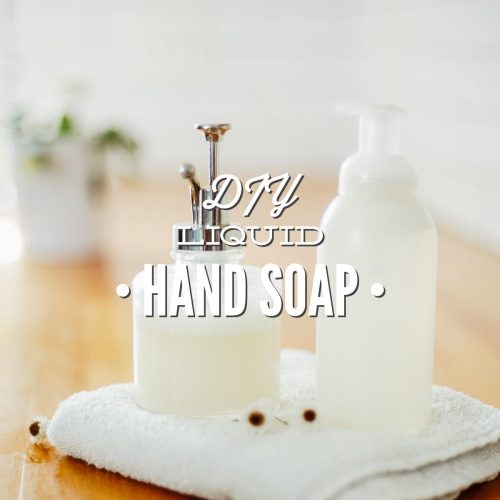 DIY Foaming Hand Soap
Can you make your own DIY foaming hand soap? Yes and you only need a couple of ingredients to do so! Easy, non-toxic, and super effective!
Ingredients
1

cup

water

distilled water is the best

1

cup

liquid castile soap

any variety of castile soap, scented or unscented

1

TB

olive oil

almond oil, grapeseed oil, vegetable glycerin, or jojoba oil (optional)

essential oil

(optional for scent), just a few drops of your favorite essential oil: lavender, citrus, peppermint, etc.
Special Equipment
Instructions
To a foaming soap dispenser, add the water first (to prevent bubbles) then the liquid castile soap followed by the oil. Shake the ingredients together.

Shake the soap dispenser before using, then squirt a small amount on your hands as needed, rinsing with water.

If you use distilled water, the soap will last at least a month. If you use tap water, use quickly within a week or two.
Notes
The idea is equal parts water and castile soap. Adjust the amounts according to the size soap dispenser you're using, reducing the oil as needed. 
What type of soap dispenser should you use? 
A foaming soap dispenser must be used. You can refill an old foaming hand soap dispenser, like a Mrs. Meyers bottle, or buy a new bottle off Amazon or a home store. Either option works, just be sure it's a foaming soap dispenser. My favorite foaming hand soap dispensers:
4 More Ways to Use Liquid Castile Soap