How many different bottles of cleaning and beauty products sit under your kitchen sink right now?
If you peeked under my sink a few years ago, you would have counted at least 12 "different" products. I never sat down to calculate how much money I spent on all those products (most of which I didn't use), but I'm sure the annual cost was quite significant.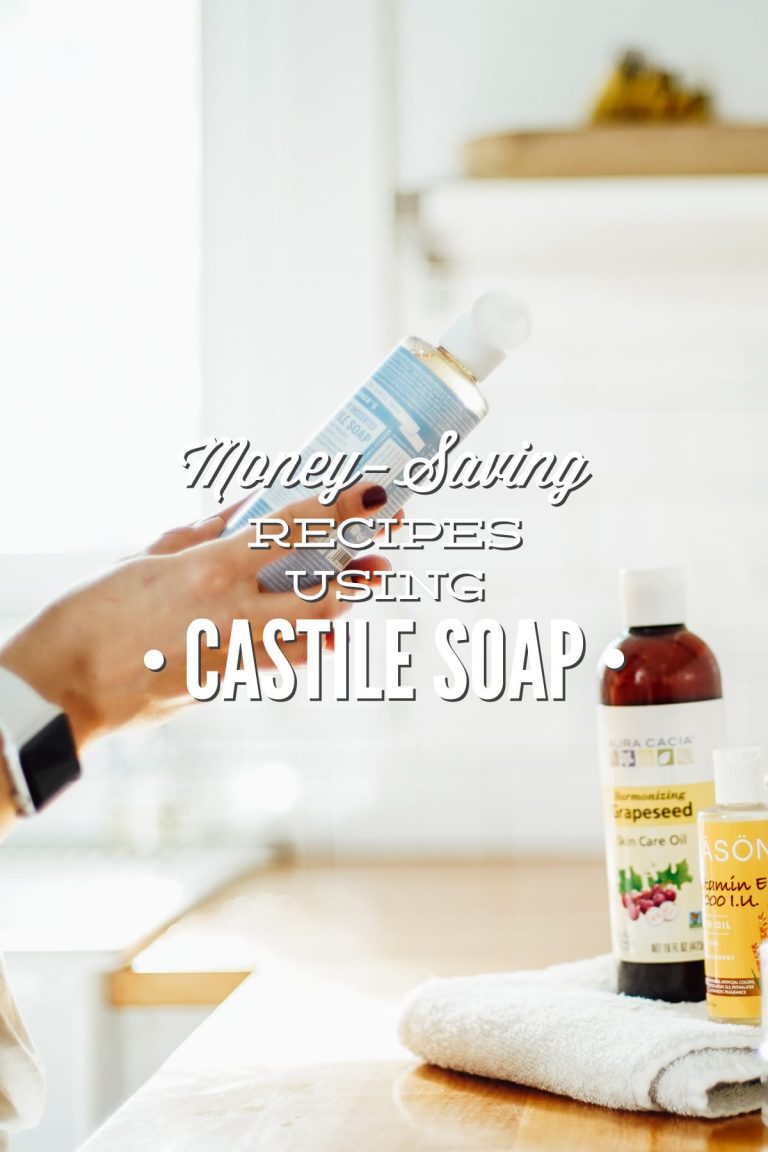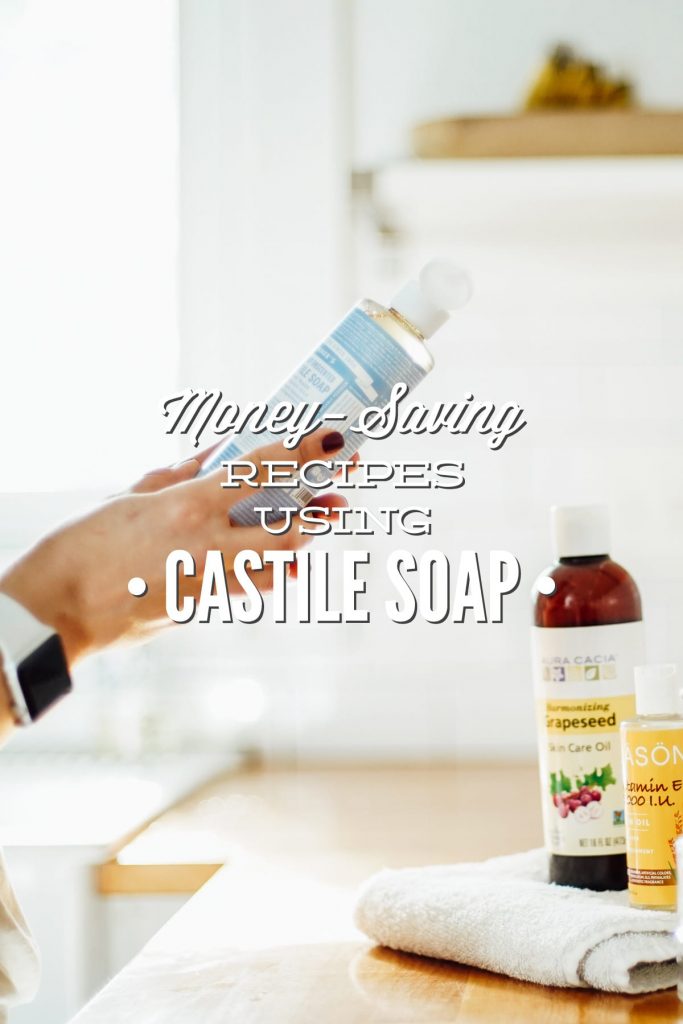 After making changes to the way we eat (going from a diet of highly processed food to one of healthy, real food), I started to question the cleaning products used in home. I was curious (just as I was about food): what ingredients were used to create my favorite cleaning products? Why did my favorite beauty products smell a certain way? What ingredients were used to make the products sprayed in my home and layered on my body and were they safe? I also started to question whether so many different cleaning products were essential.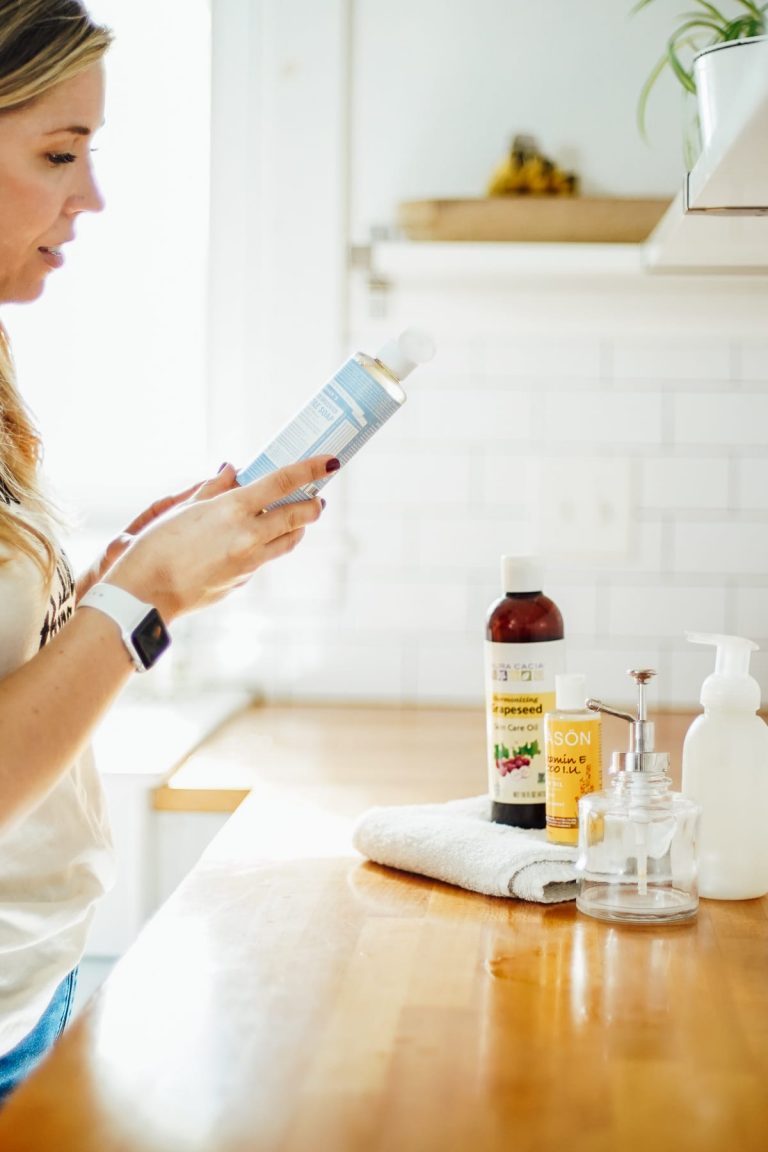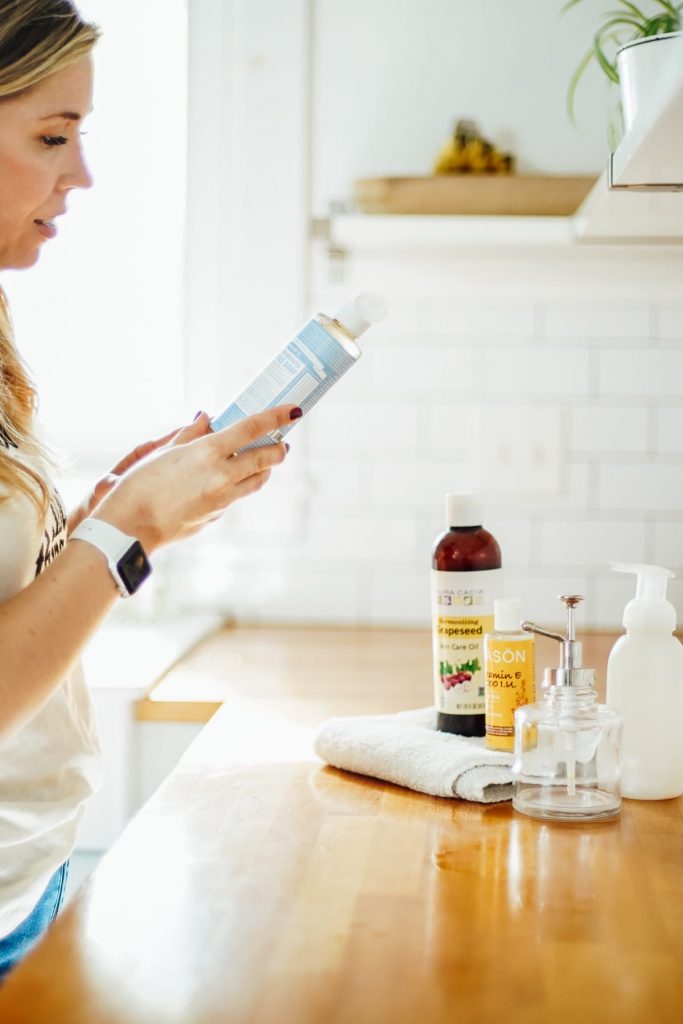 I was shocked to learn that cleaning and body products are not required go through rigorous testing or approval. In fact, cleaning companies are not required to disclose their ingredients (beauty product are required).
When you take a deep dive into researching these products and ingredients, it can be concerning to read about the impact they have on the body. For example, "fragrance" is considered a trade secret that is commonly found on the ingredient list (if disclosed) of products. This ingredient (which can be made with hundreds of different chemicals, including phthalates which disrupt hormones) is top secret and incredibly concerning in terms of toxic ingredients. This is just one example of the concerning ingredients that can be used to make a product.
Sure, maybe a small amount of these ingredients aren't harmful (as companies say), but when you consider how many products we use in a day (or week or month), we aren't using a trace amount of these chemicals in our homes and on our bodies. We're burdening our systems with all these ingredients and the cumulative effect of using so many potentially-toxic chemicals.
You'll find a lot of natural and green marketing words used to describe cleaning and body products today. These terms have no regulation, so full transparency of ingredients is all we have to help us navigate products and make informed choices.
A company should be completely transparent about their sourcing and ingredients, particularly a company that claims (on a website or packaging) to be "natural" or "non-toxic." There should be nothing to hide. Instead, such a company should be proud to disclose their ingredients. This includes companies making both body and cleaning products.
At the time (remember, this was 9 years ago), there weren't many transparent brands on the market making ready-to-use, multi-purpose cleaning products, so I decided to research the idea of making my own products. My research led to the discovery of a natural product that cleans anything and everything: castile soap.
What is Castile Soap?
Castile soap is a plant-based soap made from vegetable oils (olive, coconut, palm) and plant oils. Here's the exact definition and ingredient list from Dr. Bronner's (a popular castile soap brand).
"Castile soap is a concentrated vegetable-based soap with easy to recognize ingredients:Water, Organic Coconut Oil, Potassium Hydroxide, Organic Palm Kernel Oil, Organic Olive Oil, Lavandin Extract, Organic Hemp Oil, Organic Jojoba Oil, Lavender Extract, Citric Acid, Tocopherol."
Want to learn more? In this guide, learn everything you need to know about this traditional soap, how to use it, 7 amazing benefits, the best brands, and warnings.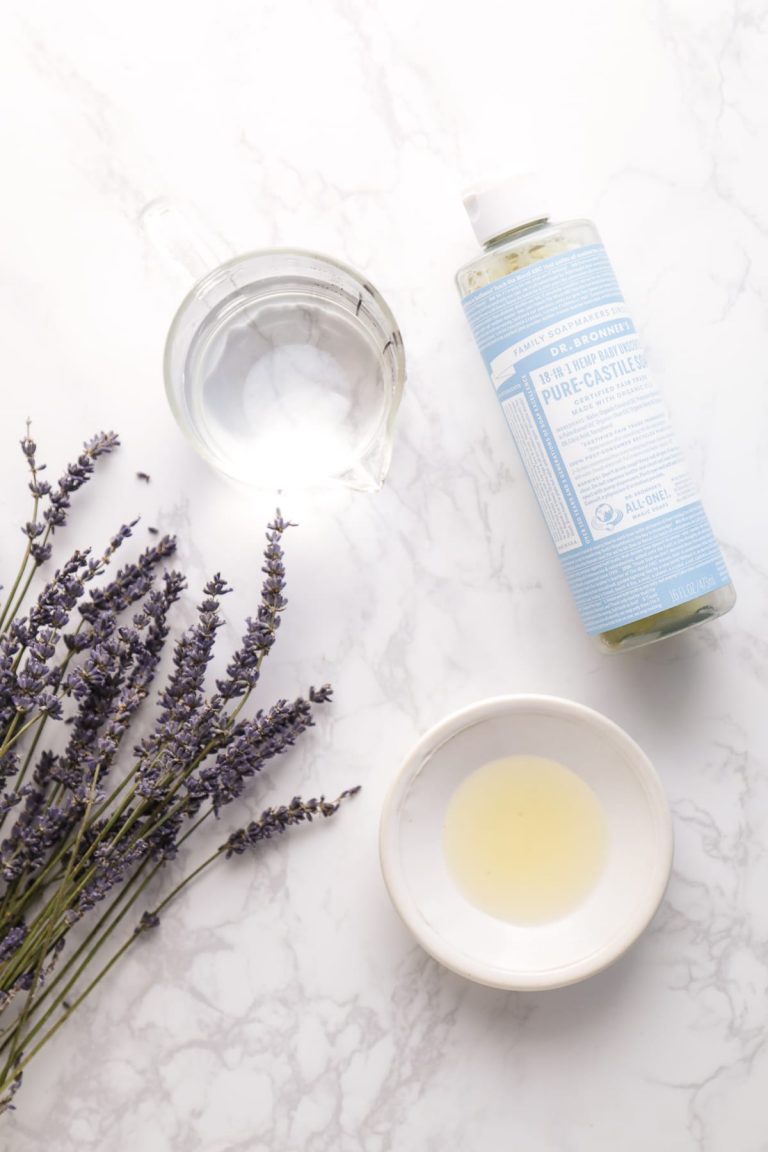 History of Castile Soap
Castile soap isn't a new fad. It's been around since the 11th century and was first made in the Aleppo of the Levant region (modern day Syria). The Crusaders learned about this soap which was, eventually, duplicated in Europe without success. That is, until a region in Spain (called Castile) was able to get the recipe right and successfully made what we know today as "castile soap." The soap became popular with Spanish royalty and eventually by the 1500's made its way to England.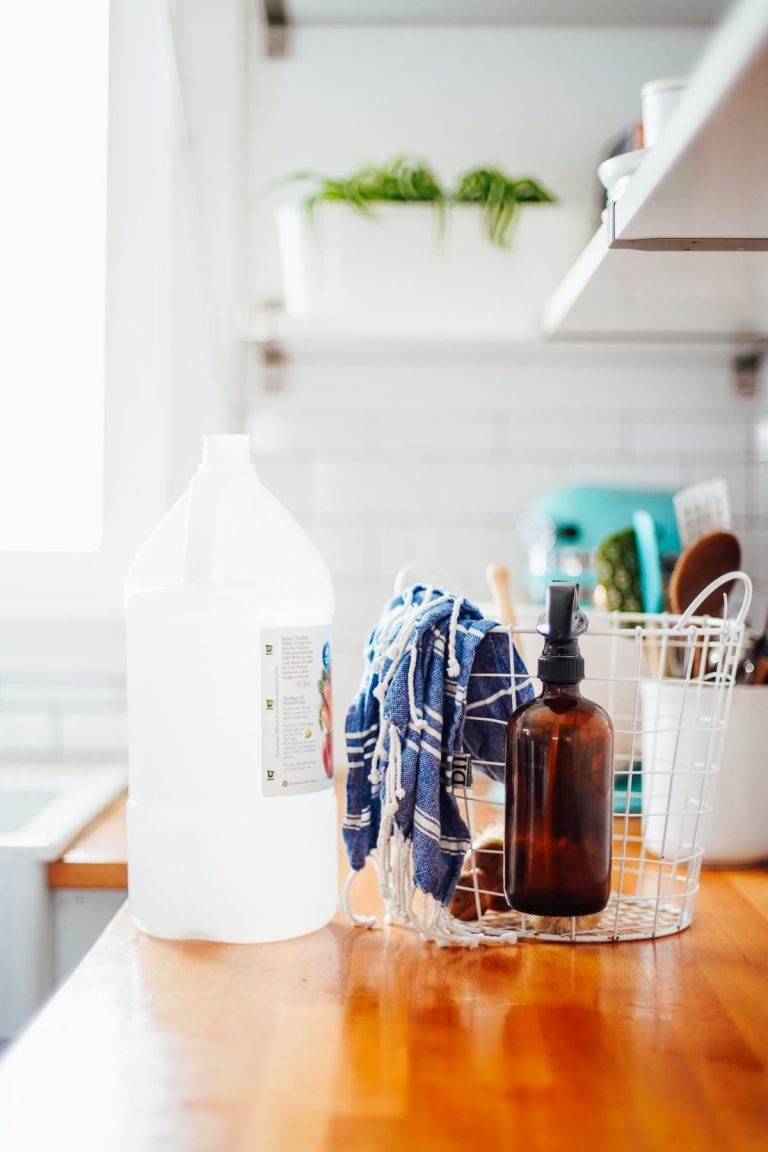 3 Reasons to Use This Soap
Besides being an ancient and traditional soap, there are several reasons why castile soap is awesome…
Super Versatile: Castile soap is super versatile. You can make cleaning and body products with the same soap.
Inexpensive: A 32-ounce bottle of castile soap will cost $17. Yes, this is more expensive than a bottle of all-purpose cleaner, but it will last you for months! Castile soap is highly concentrated so a little bit goes a long way.
Non-Toxic: Castile soap is made with easy to recognize, simple, non-toxic ingredients. This is why you can use it on your skin and the surfaces in your home.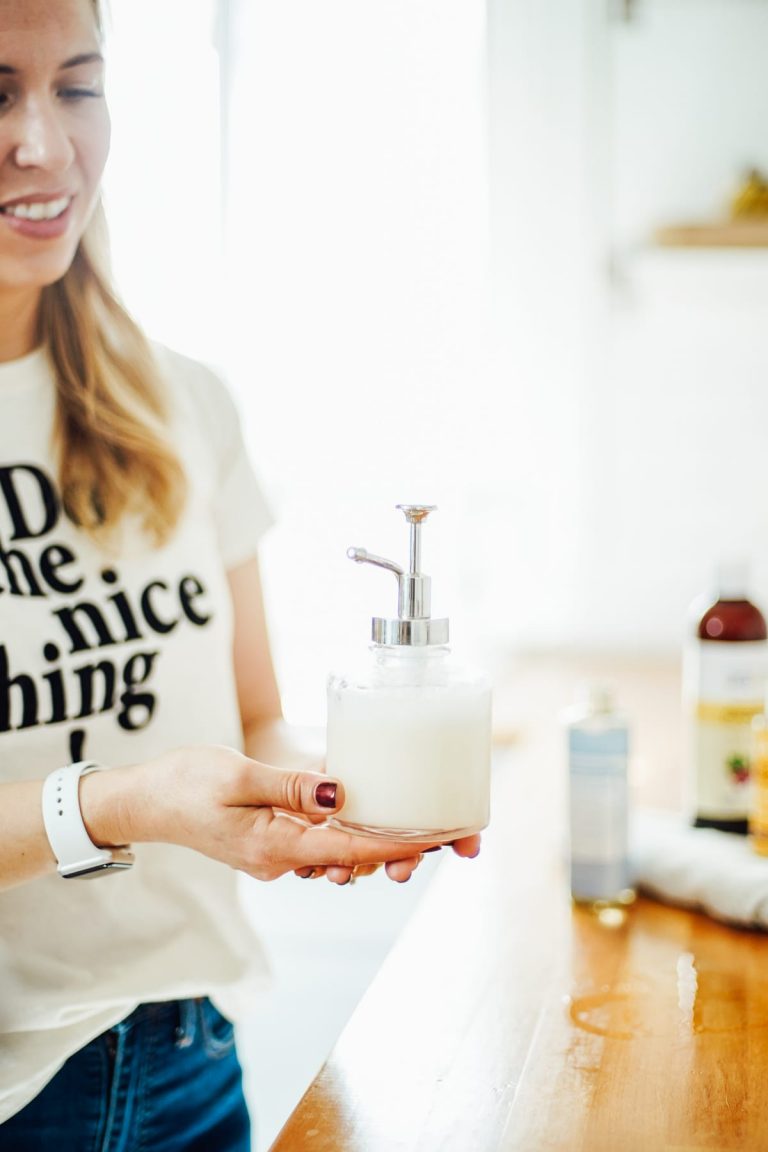 How to Use Castile Soap
When using castile soap to make household cleaners, there are a few things to keep in mind…
Dilute: Castile soap isn't meant to be used as-is, unless you're buying the bar soap for your body. It's intended to be diluted before use. This chart is a great cheat sheet.
Don't Mix Castile Soap with Vinegar: I see this all the time on Pinterest. Please do not mix your castile soap with vinegar. You will not make an amazing cleaner. You'll end up with a mess. When combined, vinegar (an acid) and castile soap (a base) cancel each other and create unsaponified soap. This reaction reduces the soap back to its original oils. If you try mixing the two ingredients you'll immediately notice the castile soap curdles and feels very oily.
Castile Soap is Safe for Most Surfaces: Unlike vinegar (which shouldn't be used on marble or granite or unsealed wood), castile soap is safe to use on most surfaces in your home. The only one caution I would advise is to avoid using castile soap on waxed floors to avoid build-up.
Castile Soap is Skin Safe: It's not only safe for most surfaces, but also safe to use on the skin. Just be sure to dilute.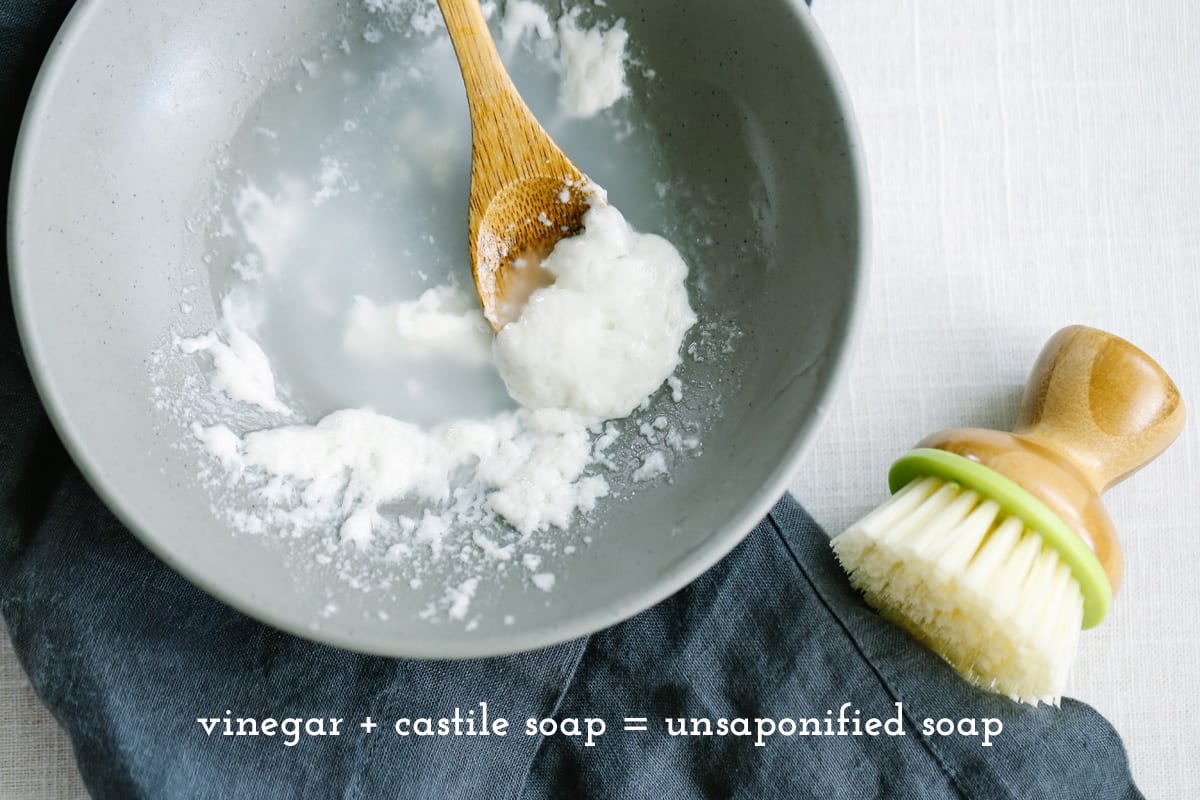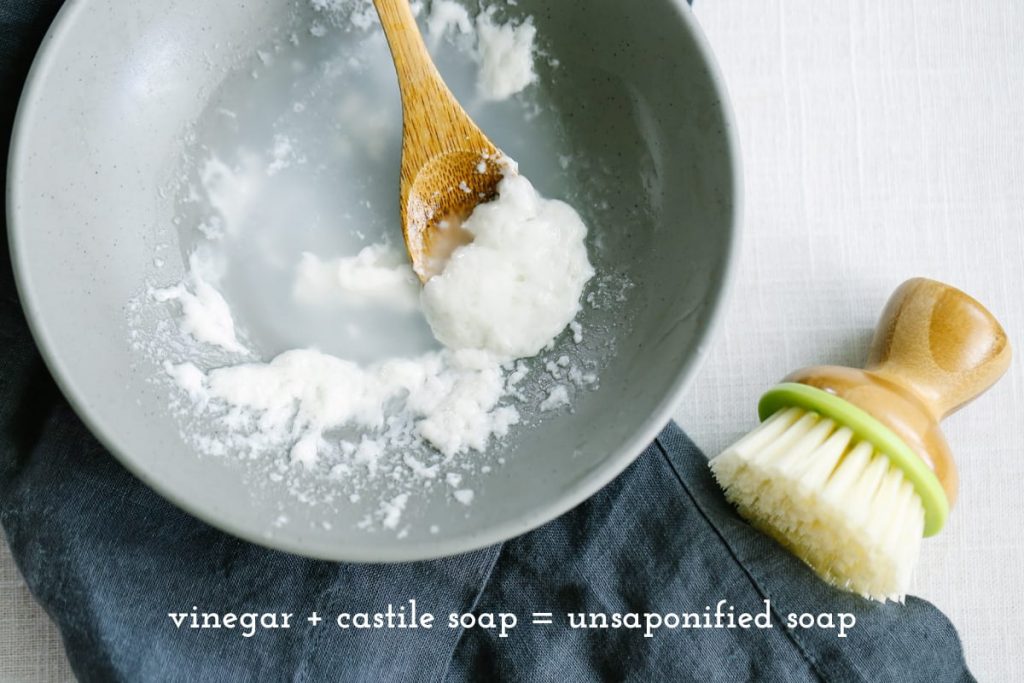 Where to Buy Castile Soap
You'll find castile soap in most stores, from Target to Walmart to Whole Foods and the down-the-street grocery store. Many times, castile soap won't be found in the cleaning section, so be sure to check the body care section. You can also buy castile soap on Amazon.
I recommend Dr. Bronner's brand. I've tried other brands in the past, but haven't been pleased with most options. Dr. Bronner's makes several options for scents. I prefer the baby mild since I can add my own essential oils (for scent or additional antibacterial properties) or just go free of any scent. If you want to try a scented castile soap (the scents are completely natural and not made with the hormone disrupting ingredients found in "fragrance"), here's what I recommend…
For cleaning products: Lavender, Tea Tree or Citrus
For beauty products: Lavender, Tea Tree or Baby Mild
7 Money-Saving Recipes Using Castile Soap
I don't make all of these products today (9 years after I learned about castile soap and started making products at home). There are quite a few store-bought options now on the market, so most of my skincare is from brands I love and trust. I still make the most of my own cleaning products with laundry soap being the one exception. I find that making my own cleaning products to be the most affordable option for natural cleaning.
This list is to give you an idea of all the different products you can make with one bottle of castile soap. Using this one ingredient to make multiple products saves money and allows you to know exactly what's going into your products.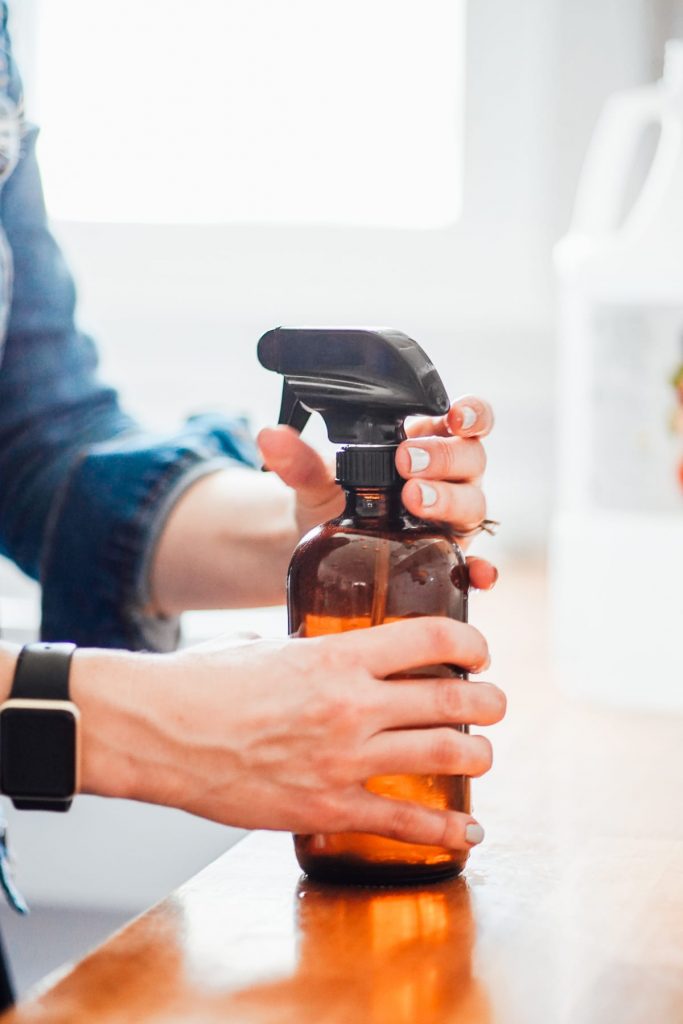 My favorite cleaning product that will clean nearly every surface in your home. Use this cleaner in your bathroom and kitchen, your sinks, stovetops, even your toilets.
Pour the water into the spray bottle (use a funnel, if needed). Add the castile soap and essential oil. Gentle shake the cleaner. This cleaner may be stored at room temperature.
With two active kiddos we go through a lot of hand soap in our house. A bottle of natural hand soap costs $3.99-$6 a bottle, depending on the brand. One 32-ounce bottle of castile soap makes approximately 8 homemade bottles of hand soap. If you don't like the liquid feel of this hand soap, use a foaming hand soap dispenser instead of a regular soap dispenser.
To the soap dispenser, add the water first (to prevent bubbles) then the liquid castile soap, followed by the oils. Shake the ingredients together. Shake the soap dispenser before using, then squirt a small amount on your hands as needed, rinsing with water.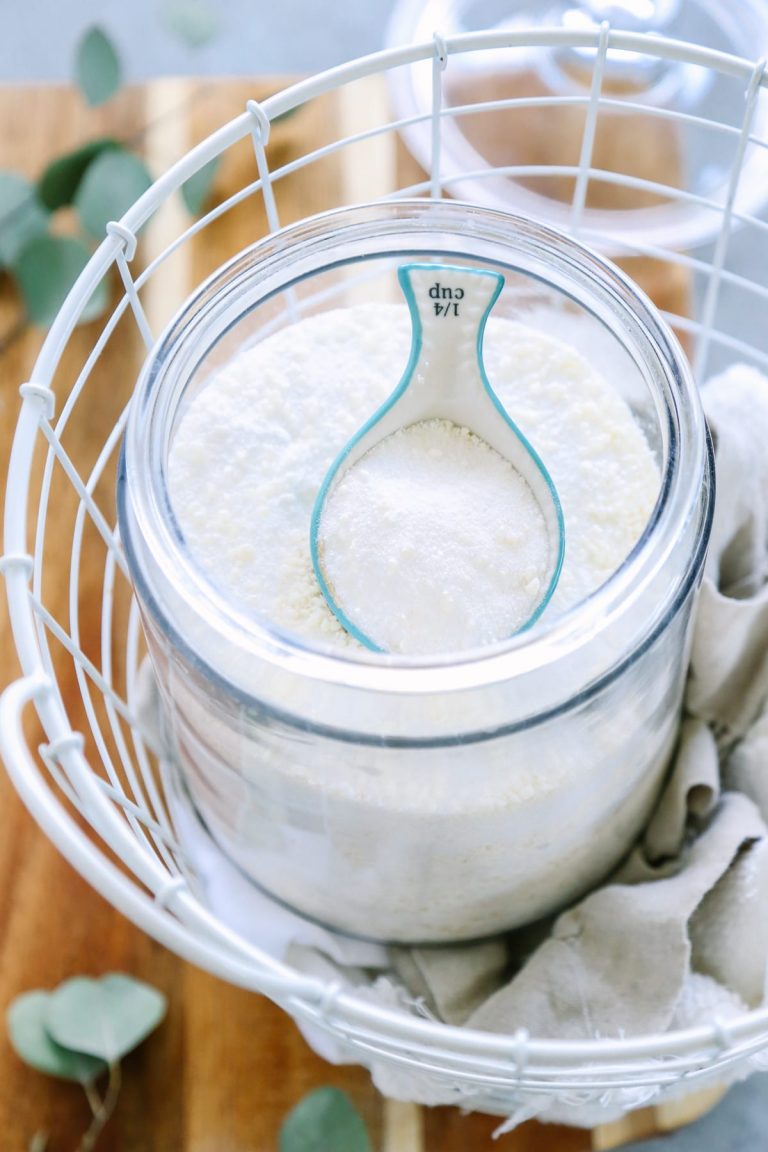 This homemade laundry soap is made with just a few basic ingredients: (bar) castile soap, borax, and washing soda. Yes, this is a powdered laundry soap. If you prefer a liquid soap, I recommend this recipe.
Cut the castile soap bars into small slices or chunks. Place the castile soap slices or chunks in a food processor bowl. Pulse the soap on high until the soap resembles large crumbs. Add the washing soda to the food processor. Place a towel over the top of the food processor lid, and pulse for 1 minute. After pulsing, the ingredients should be well combined. If you don't have a food processor, use a cheese grate and then mix the ingredients in a bowl. Pour the washing soda and castile soap into a storage container and stir in the borax. Add the essential oils, if using.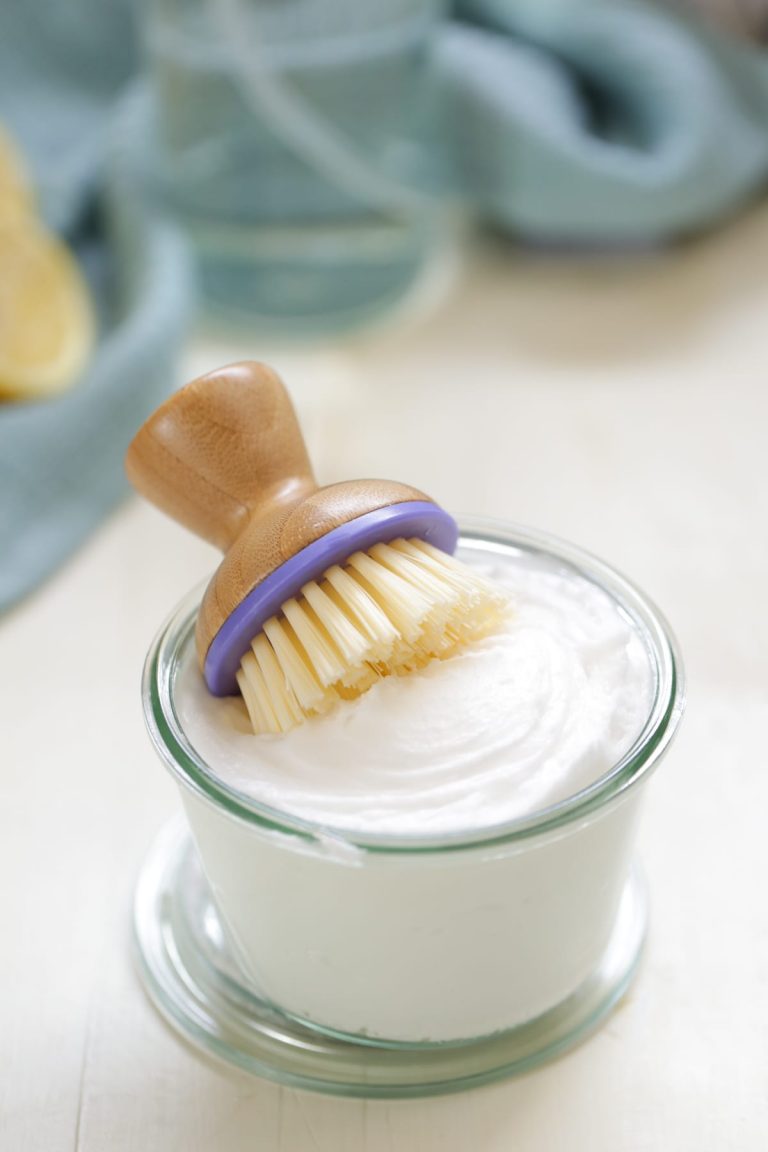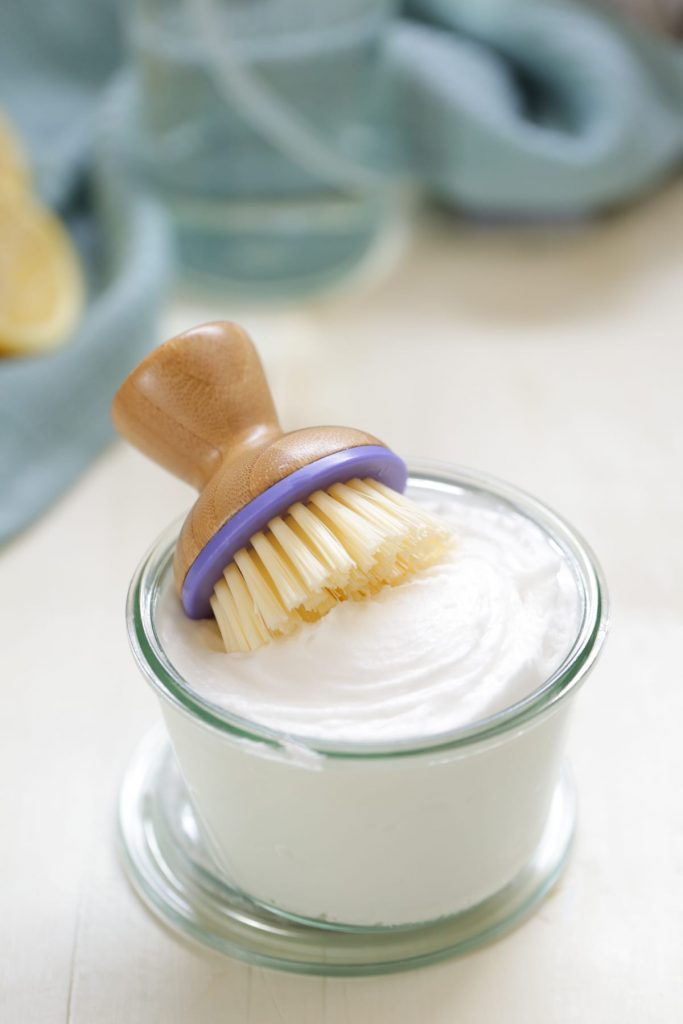 Need to scrub your bathtub or the kitchen sink? This scrub is the best! It will leave your tub and sinks sparkling like new.
In a medium-size bowl, combine the baking soda, castile soap, and hydrogen peroxide. Stir until the scrub cleaner looks like thick glue. Spoon the scrub cleaner in a large jar with a lid. Seal the jar. This cleaner will harden when exposed to air for a prolonged period of time. The scrub cleaner can be used immediately and kept at room temperature (in a sealed jar) for several months.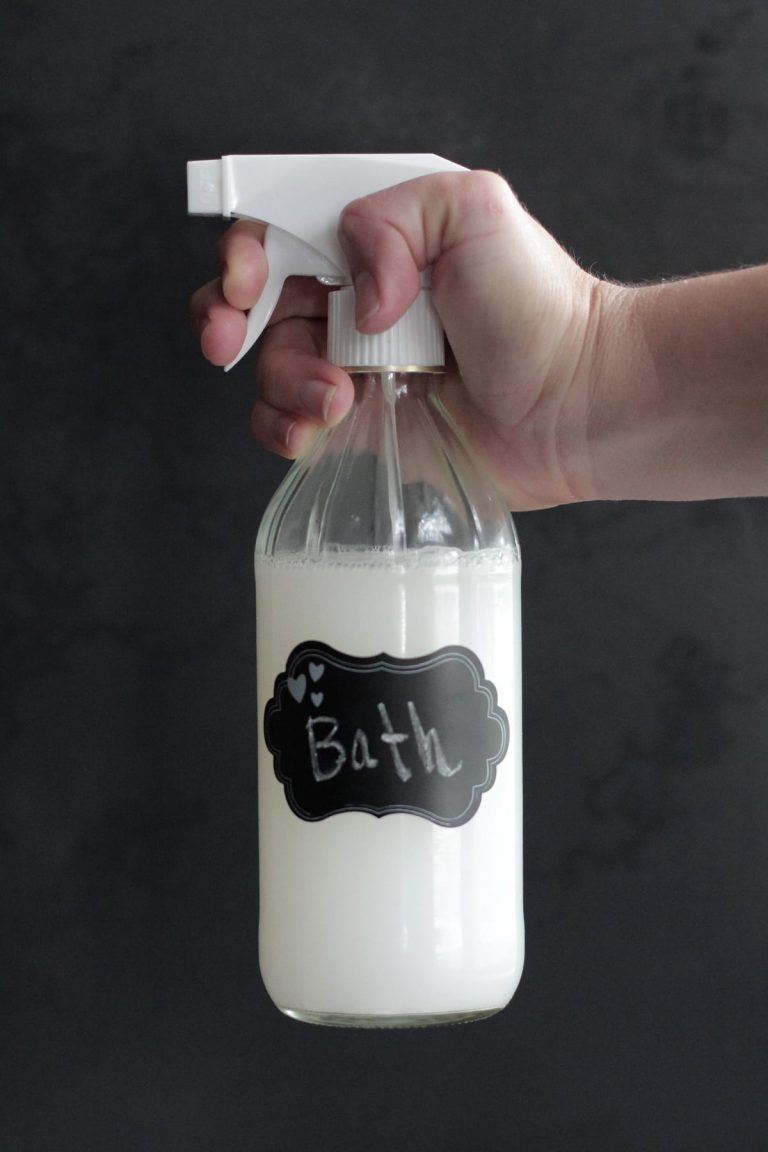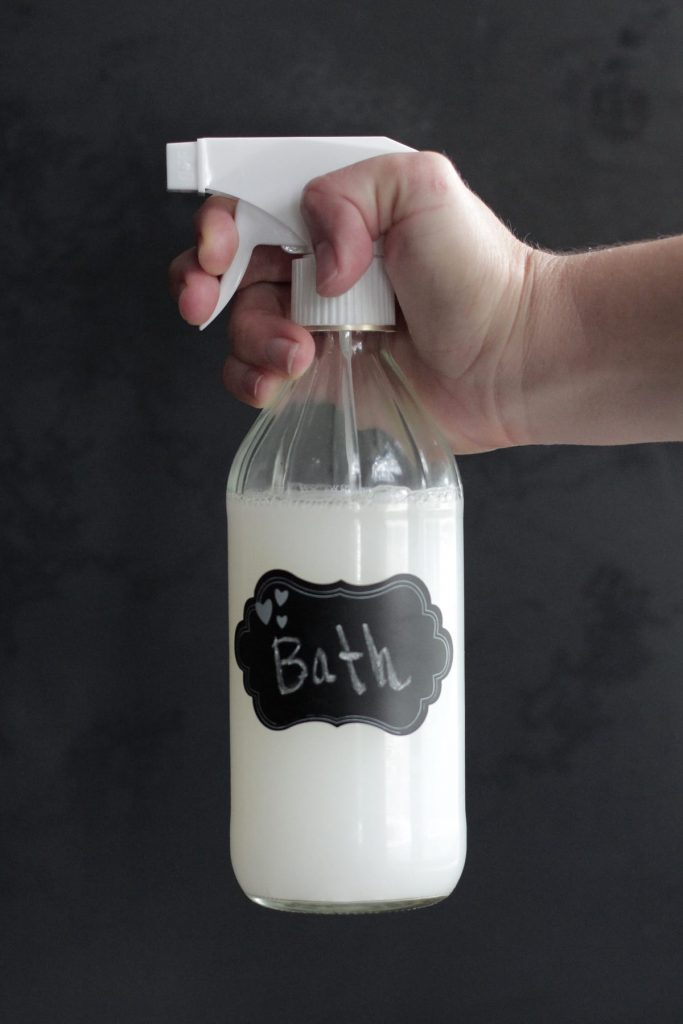 This inexpensive homemade bathroom cleaner combines the power of castile soap, baking soda, water, and disinfecting oils. One 32-ounce bottle of castile soap makes approximately 16 bottles of germ-fighting bathroom cleaner.
Pour the warm water into the bottle, followed by the baking soda. Shake the bottle to combine the ingredients. Add the castile soap and essential oils, gently shaking the bottle to combine. Use this spray to clean the tub, tile, toilet, and sink. Spray the surface, allow the cleaner to sit for a minute, then wipe with a damp cloth. Rinse the cloth as needed.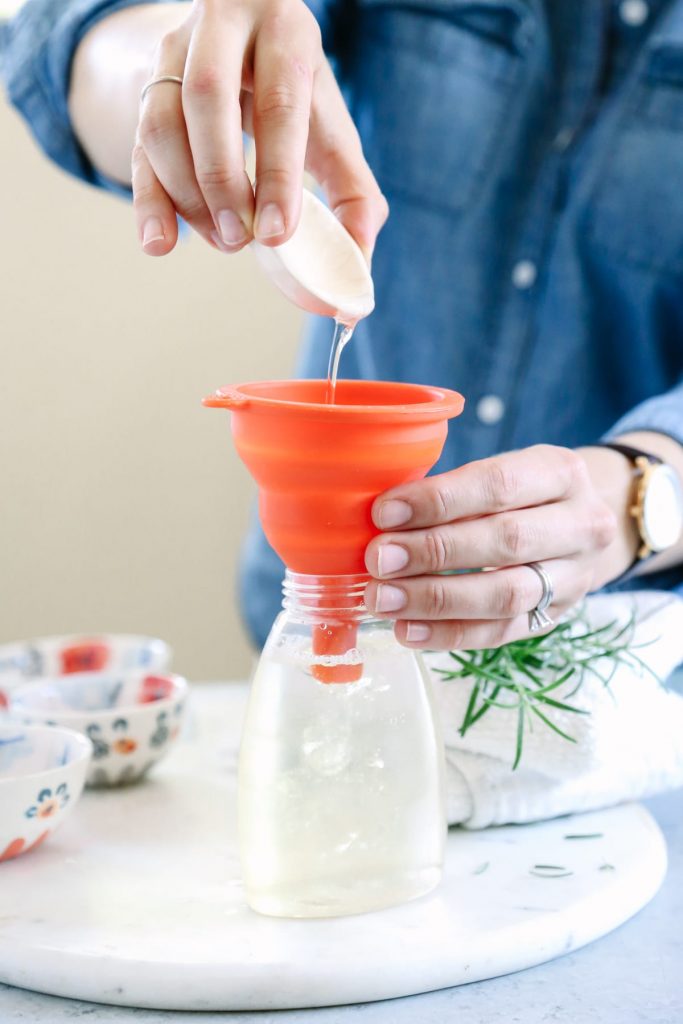 One 32-ounce bottle of castile soap will make multiple bottles of homemade body wash.
Combine all the ingredients in a foaming soap dispenser, adding the castile soap as the last ingredient. Gently shake the bottle, with the top on, to combine the ingredients.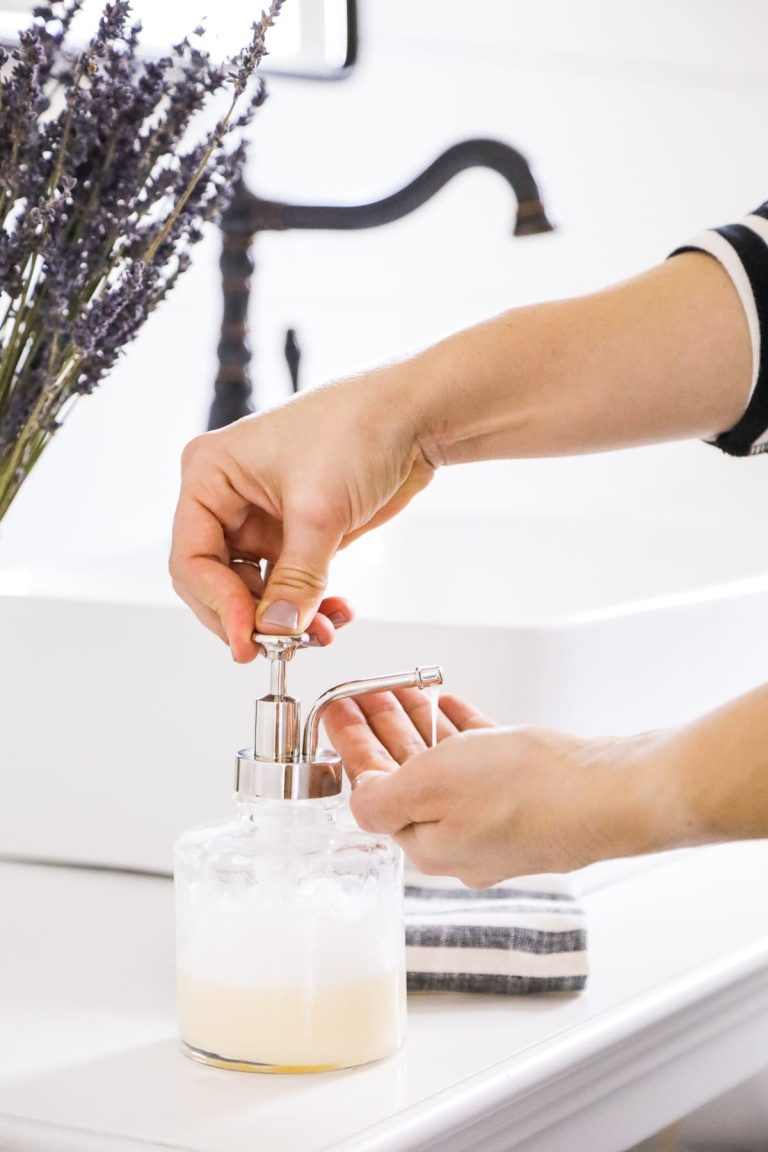 If you want to make your own face wash, using castile soap as the base is a great way to do this. One 32-ounce bottle of castile soap makes approximately 10 bottles of homemade face wash. You can customize this recipe to your liking so I'll provide you with the base recipe here and then recommend going to this post to see all the customizations options.
More Ways to Use Castile Soap
Here are a few more ideas for how to use a bottle of castile soap…