Pass the natural face wash, please! Honey face wash to be specific. Because today that is what we are going to make. This homemade honey face wash couldn't be any easier to make. It requires just 4 natural ingredients: castile soap, honey, water, and a nourishing skin oil. We'll talk about each ingredient today and then make this all-natural face wash.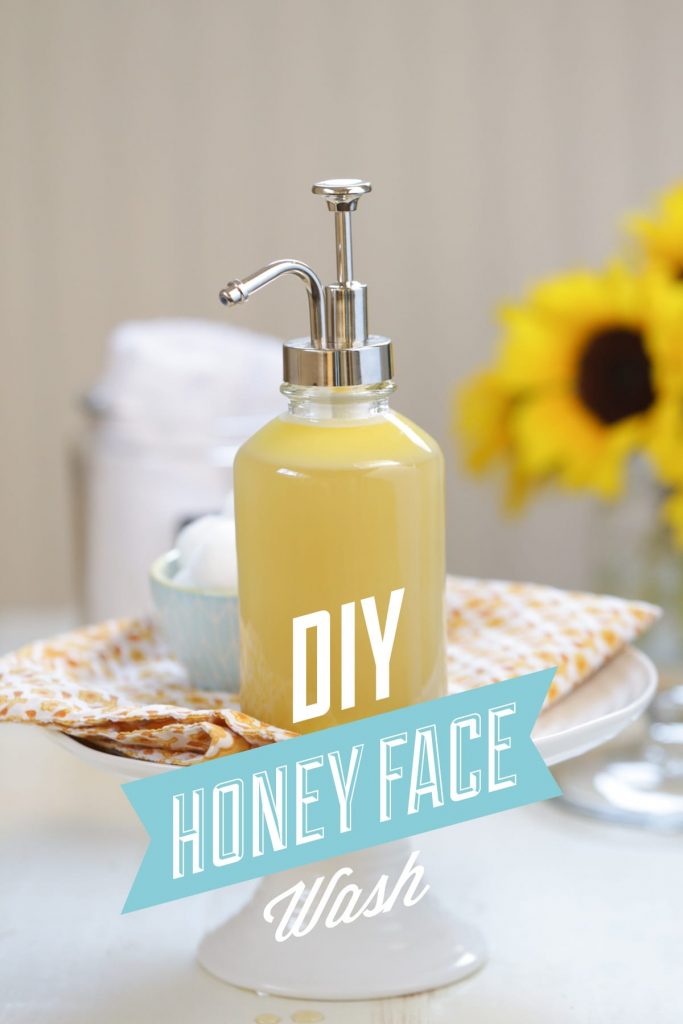 Why I created this natural face wash…
A few years ago, I decided to give oil cleansing a try. Oil cleansing is a simple method for cleansing the skin with a nourishing oil or a combo of oils. The idea behind oil cleansing is that oil dissolves oil, so massaging a nourishing oil into the skin and then washing it off will dissolve dirt and oils, leaving the skin clean and naturally moisturized. Personally, I've witnessed numerous benefits to cleansing my face with oil–clearer skin and a significant monetary savings, just to name a couple.
While I love oil cleansing, there's a big drawback, particularly at 11pm when all I want to do is remove my homemade foundation powder and crawl into my warm bed. So yes, call it lazy (or oil conservation), but there are many nights when I just want the ease and simplicity of soap and a two second lather over the sink. The work of massaging oil into my skin is just one extra step between the bed and my tired body.
Six months ago I gave into my inner soap craving and bought a natural soap at Whole Foods. I'm not anti-store-bought products. I still purchase shampoo and dishwasher detergent from the store. To be honest, I can't find a homemade version of either necessity that actually works without leaving my hair greasier than a potato fryer and the dishes looking like they haven't been washed since the Y2K scare.
The idea of purchasing ready-to-go soap from the store didn't trouble me, but my face sure did. Within a week of using the soap I noticed a big difference–pimples and dry skin became a quick issue.
The Whole Foods soap made its way from the bathroom sink to the shower (my body was fine with the soap, but my face didn't care for the product). To the recipe development book I turned. Within a couple of days I created a DIY homemade face wash using only four natural ingredients which I already owned.
The best part about this natural face wash is I don't have to worry about ingredients of known concern, which show up way too often in face washes (including "natural" face wash–a term that means nothing).
A few of the concerning ingredients found in face wash:
Fragrance: may contain up to 3,000 different chemicals to make a single fragrance, including phthalates to make the scent last longer, which producers don't have to disclose due to trade secret laws.
Parabens: Used to extend the shelf-life of face wash, but with reproductive health concerns.
Sulfates: Used to create suds in face wash, but also strips the skin of beneficial oils, which could even cause the skin to overproduce oils and breakout.
How to Make Homemade Honey Face Wash
Raw Honey
Raw honey is simply honey that hasn't been pasteurized. Due to the lack of pasteurization (heating), raw honey is naturally rich in antibacterial and probiotic properties. Honey is also gentle for sensitive skin, but tough enough to remove dirt and other impurities. Learn more about the benefits of washing your face with honey.
Castile Soap
One of my favorite multi-purpose DIY ingredients. Castile soap is a concentrated vegetable-based soap with easy to recognize ingredients. I use castile soap for everything from homemade laundry detergent to body wash and foaming hand soap. I recommend using either the Baby Mild Castile Soap or Tea Tree Castile Soap for facial cleansing. A 32-ounce bottle of liquid castile soap costs about $17, and one bottle will make about 10 homemade face washes. Explore natural ways to use castile soap.
Nourishing Skin Oil
Since oil dissolves oil, it's only natural to add a nourishing oil to a homemade face wash. Jojoba or sweet almond oil work well. The fourth ingredient is water, added to dilute the face wash and provide a bit of foaming action for your hands when mixed with the castile soap (castile soap needs to be diluted, ideally). This face soap will last a few weeks so I recommend using distilled or boiled water to prevent bacteria growth.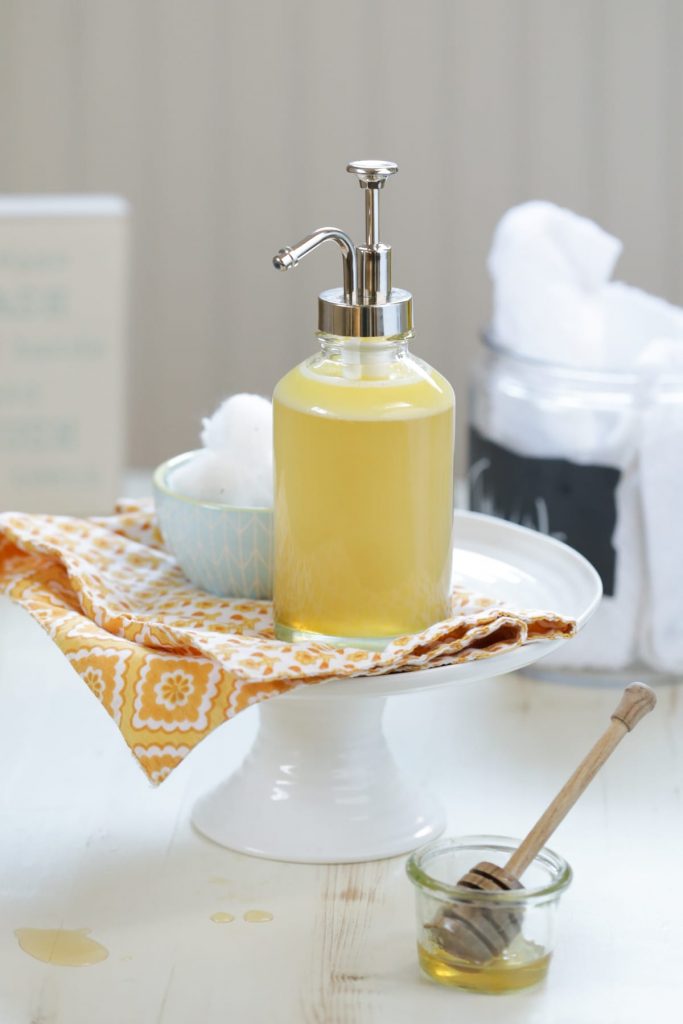 How to Use Honey Face Wash
A face wash is the first step in a natural skincare routine (note: some people like to remove makeup with a makeup remover first, then cleanse). For most people, using a face wash in the evening is essential after a long day to remove dead skin cells and makeup, and keep pores clear. In the morning, I've found that just splashing my face with warm water is plenty, unless I just completed a sweaty walk or workout. Here's how to use this honey face wash to cleanse your face:
Give the honey face wash a gentle shake to mix the ingredients (separation is normal for a natural face wash that you make at home).
Wet your hands with water.
Add a squirt of face wash to the palm of your hand.
Rub your hands together to create suds with the soap.
Use your palms to massage the soap on your face and down your neck. I usually spend about 30-60 seconds massaging my face with the cleanser. As you massage the skin, you'll loosen dead skin cells, dirt, oils, and makeup.
Wet a clean washcloth with warm water.
Use the washcloth to rinse the face wash from the skin, rinsing the washcloth and repeating as needed. This will remove makeup, dead skin cells, etc. and should leave the skin with a glowing complexion.
After cleansing, facial skin is ready for a spritz of toner (I love rosewater), any serums you may use (I use this A+ serum for hormonal breakouts), and a moisturizer (explore the best 8 natural face moisturizers).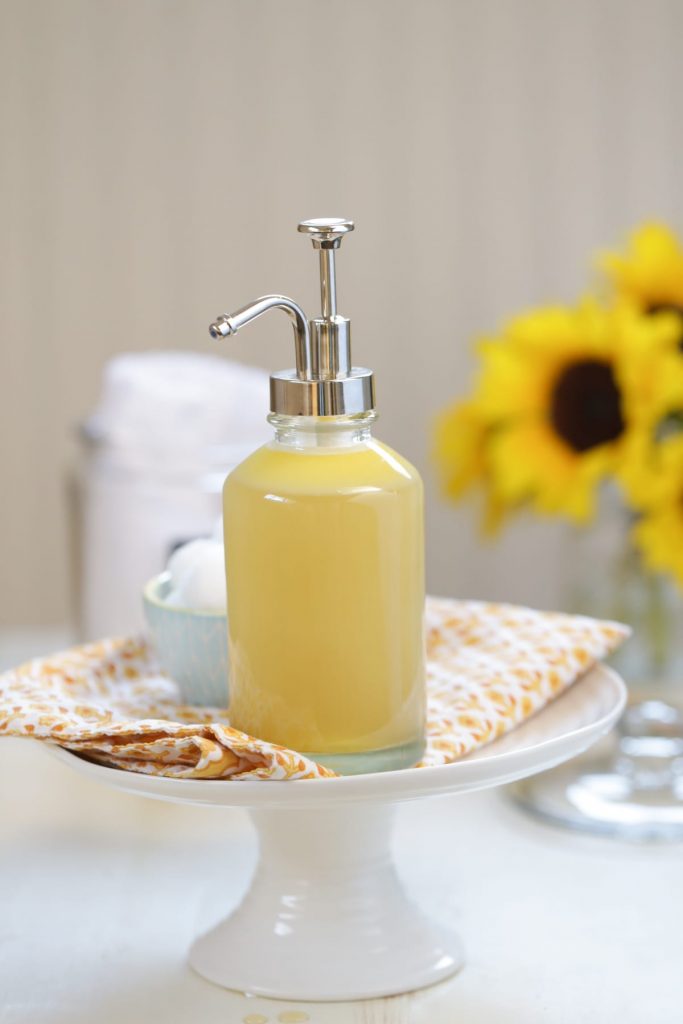 Is this honey face wash safe for all skin types?
I have sensitive skin that is more on the oily side and acne-prone. I have had good success with this face wash, which is why I share the recipe. Since sharing this recipe, over 7 years ago, many people have made and used this natural face wash with great success.
Of course, everyone's skin is different and finding what works for you, even if it works for someone else, takes patience and exploration. The great thing about this honey face wash is that it costs very little to make and you can use the ingredients (like castile soap and nourishing oil) to make other things if you find that you don't love this face wash (like natural cleaners and moisturizer).
If you have dry skin, the castile soap in this honey face wash may be drying for your skin type, which could cause the skin to produce excess oils and breakout. In this case, I love this aloe vera and honey face cleanser, which is very gentle and soothing and doesn't include castile soap. If you want suds, which you'll only get from a soap, you could reduce the amount of castile soap in this recipe as well.
Essential oils may irritate sensitive skin, so I've skipped using essential oils in this natural face wash recipe. If you prefer a scented face cleanser, you can add an essential oil that is soothing and less likely to irritate the skin, like lavender, and only use a few drops.
Convenience. Natural. Homemade. Money-saving. Time-saving. This DIY homemade honey face wash is the real deal with real ingredients and antioxidants to leave the skin with a healthy, natural glow.
Natural Face Wash Q&A
What can I use to clean my face naturally?
This homemade honey face wash recipe (above) is just one option for a natural facial cleanser. Back when I originally shared this recipe (in 2015), there weren't store-bought options made with nourishing, non-toxic ingredients. Today, there are great companies that have stepped up to make incredible non-toxic, natural, botanical skincare products. Check out my article, Best Natural Face Cleaners and Face Wash, for a round-up of the best homemade and store-bought face washes.
Which face wash is 100% natural?
The homemade honey face wash (recipe above) is about as 100% natural as you'll find. Other DIY face wash options that are 100% natural: honey and aloe face wash (just honey and aloe), cleanse your face with honey alone, and basic face wash made with castile soap. A few of my favorite natural store-bought face washes: OSEA Ocean Cleanser (use code livesimply for $10 off any $90 order), True Botanicals, Evan Healy Milk Cleanser or Tea Tree Cleanser, One Love Organics, and Blissoma Rejuvenating Gel Cleanser. That said, I challenge you to focus on using safe and nourishing skincare products rather than focusing on 100% natural. Just because something is natural doesn't mean it's the solution you're looking for. Poison Ivy is 100% natural and none of us are spreading that stuff on our faces. Just food for thought. Synthetic ingredients aren't bad, as long as they are proven to be safe.
How do you get a natural glowing face?
First, I'm not an esthetician (listen to my podcast with an esthetician about natural skincare), but I've taken a big interest in my skincare over the years. In my late 20's, after my second child was born, I developed severe hormonal acne. I felt embarrassed, ashamed, and unprepared for how to nourish my skin. I figured the acne would go away, but after a couple of years I was desperate for help and turned to all the resources I could find: a functional medicine doctor, estheticians, books, etc. It's taken me years to learn how to care for my skin and get a healthy glow (even family members today remark about how incredible my skin looks). Here's what I've found has helped me get a natural glowing face and skin:
sleep (7+ hours, my skin starts looking tired and dull when I don't prioritize sleep)
hydration (drinking half my bodyweight in water a day, another huge key to glowing skin)
using skincare products that nourish my skin
movement (sweating is one of the ways the body detoxes)
real food nutrition (including healthy fats and protein)
probiotic foods (not supplements, real probiotic foods, like yogurt, sauerkraut, kimchi, kombucha, etc.)
facials (I go for a facial every two months now, it's become essential for keeping my pores clear)
What are the best DIY/natural face washes for acne?
This is a question asked often in the comments. Again, I'm not an esthetician (listen to my podcast with an esthetician about natural skincare), but I personally struggled with acne for a number of years as an adult. Today, my skin has cleared along with much of the scarring (peels, micro needling, a nourishing skincare routine, and patience helped with the scarring over the years). From my research, honey and aloe are some of the best DIY natural face wash ingredients for acne-prone skin. Honey is antibacterial and hydrating (learn more about using honey to cleanse the face), and both are gentle on the skin and soothing. Aloe and honey don't strip the skin of natural and beneficial oils, which could cause breakouts and inflammation. I also love this Ocean Cleanser from OSEA for a store-bought option that exfoliates and cleanses the skin without stripping the skin of its natural and beneficial oils (use code livesimply for $10 off any $90 order).