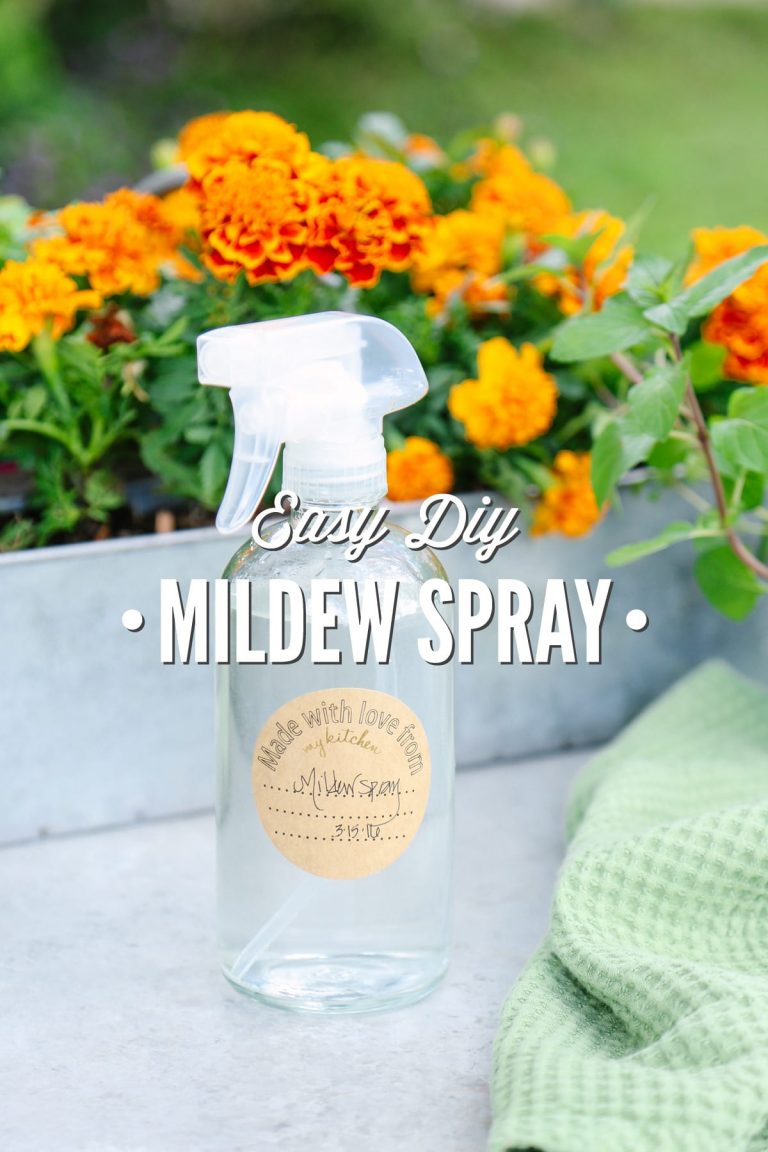 This post is sponsored by Four Monks Cleaning Vinegar. The opinions and photos expressed are completely my own. Thank you Four Monks Cleaning Vinegar for helping me get the word out about natural cleaning!
The beauty of natural cleaning ingredients is that each one serves multiple purposes within a home. This means the same bottle of vinegar, which is usually purchased for one sole purpose, may be used as a surface cleaner (just remember not to use it on granite or marble), daily shower spray, garbage disposal cleaner, and even laundry softener.
Nearly every ingredient added to a natural cleaning toolkit, from vinegar to castile soap, may be used in multiple ways to clean a home. This means natural cleaning, when you get past the initial investment, is also a budget-friendly lifestyle choice. That's what I call a major double win!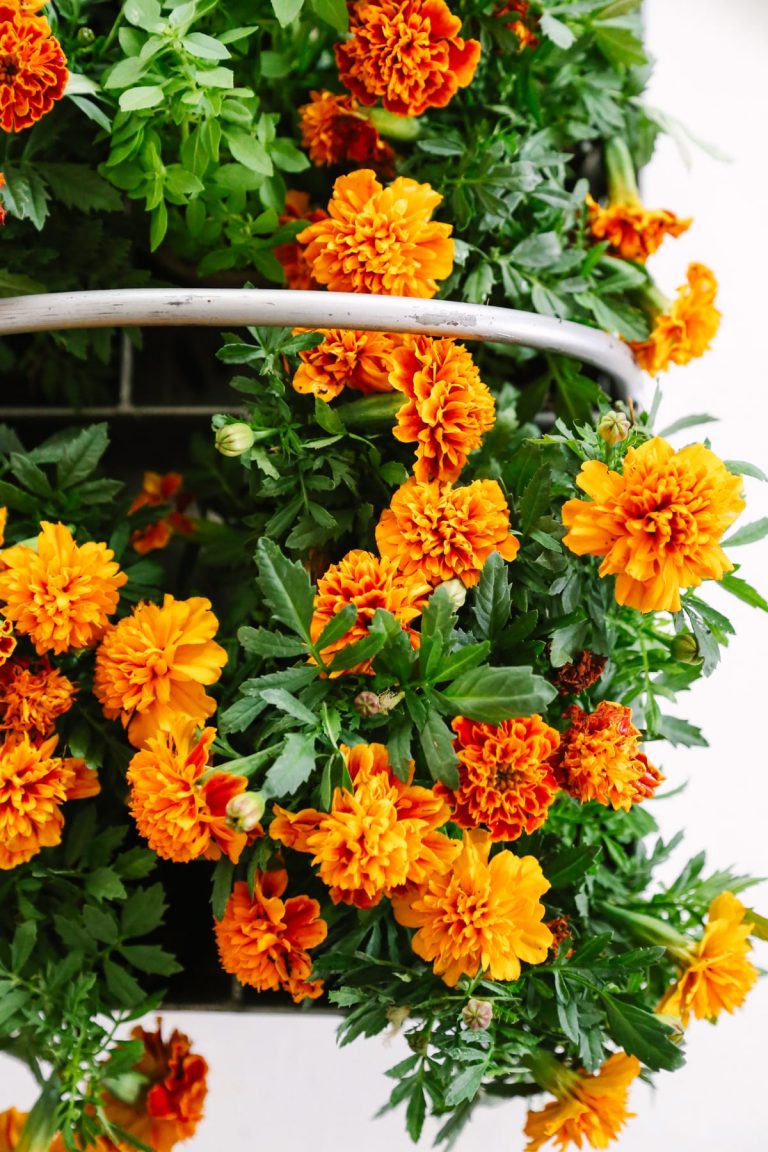 With the spring season upon us, my family is finally ready to get back outdoors (yes, it's pretty amazing how even in Florida our backyard time is reduced during the "winter"), and begin planting seeds and seedlings in the garden, sprucing up the outdoor seating (hello, pollen, dirt, and mildew), and cleaning up the kids' sandbox. One of the greatest issues we face every year around this time, as we begin to cleanup after months of neglect, is mildew.
In Florida, mildew is a regular nuisance, and there's no limit to the surfaces it will call home: outdoor and indoor garden pots, the sides of our raised garden bed, patio furniture, indoor bathroom tile, the side of our house, and the list could go on. If you move to Florida, you're automatically guaranteed year-round sunshine, gorgeous beaches, troll-size roaches, and mildew. And every Floridian sings, "A-MEN! A-MEN! A-MEN!"
This, my friend, is where the multi-purpose cleaning ingredient idea comes in to save the day, or at least my backyard cleaning extravaganza.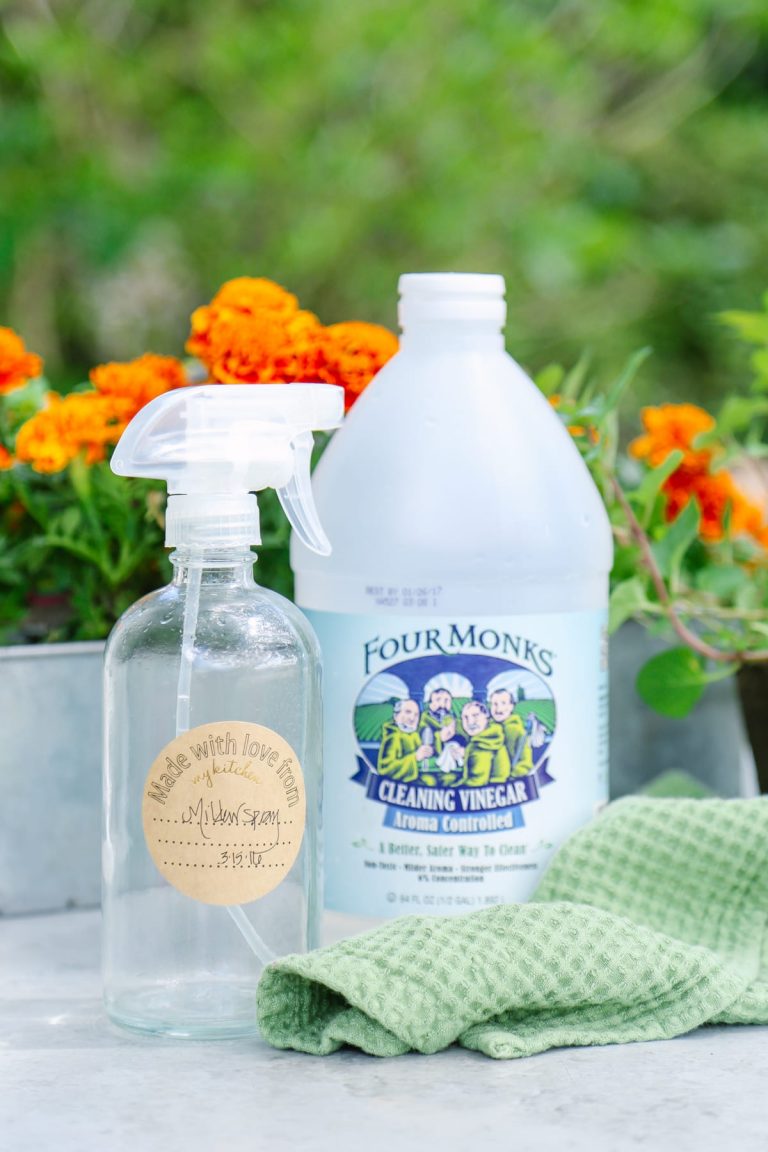 Over the years, I've experimented with a number of options for tackling the mildew that grows on outdoor surfaces, indoor flower pots, and even our bathroom tile. My experimentation has ranged from store-bought products to fancy do-it-yourself concoctions via YouTube.
Last year, after researching how to tackle the mildew build-up on outdoor flower pots and indoor shower tile, I decided to try using my liquid fabric softener (which as you'll remember only requires one ingredient: vinegar) to hopefully remove the mildew. I was so impressed with the final results that I've continued to use vinegar on other surfaces that regularly welcomed mildew. Sometimes, I'll also scrub a pot or tile with baking soda before cleaning it with my Easy DIY Midew Spray, just for an added POW-WHAM!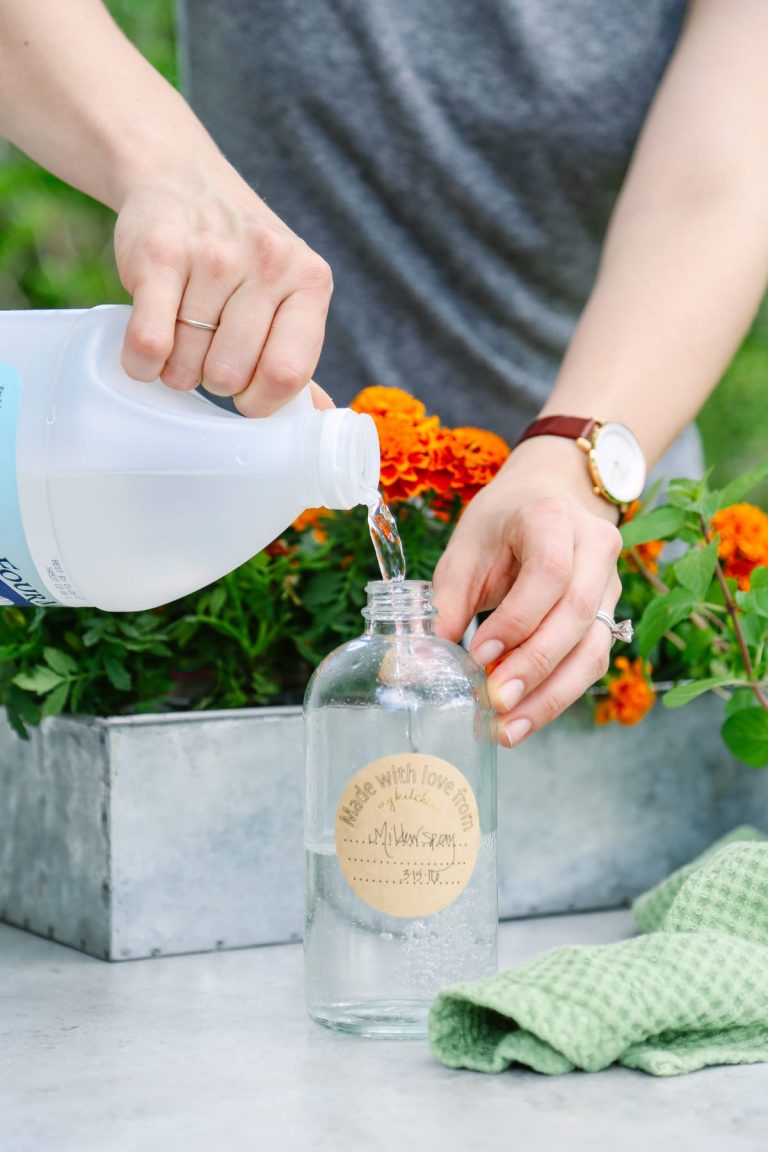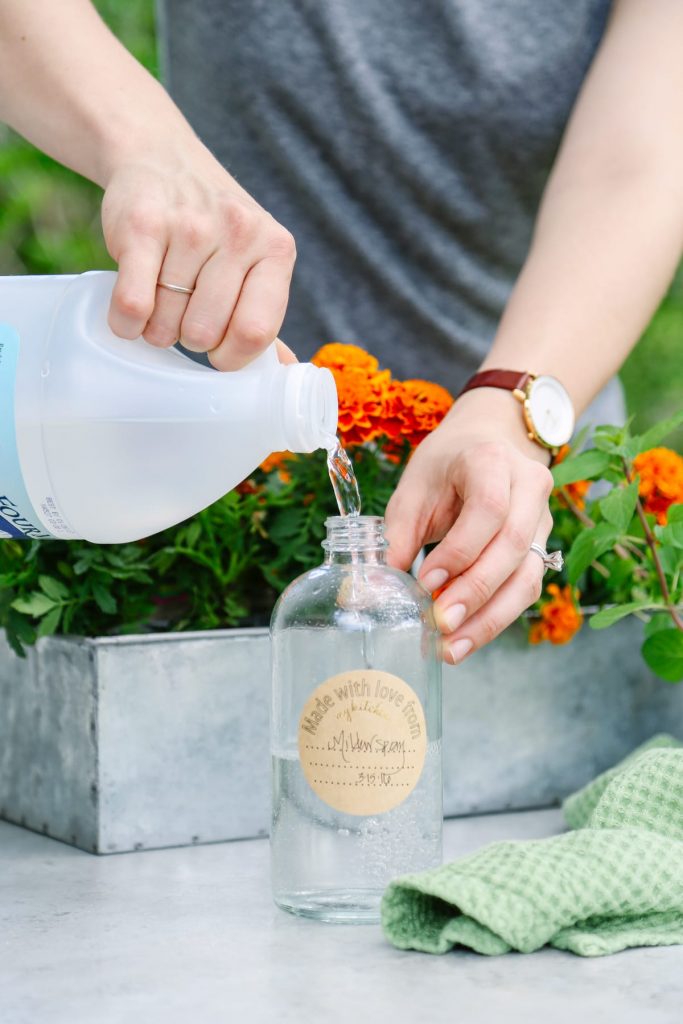 Do you see how the multi-purpose chat ties together now? Amazing, right?!
The same natural ingredient that I use to soften my family's clothes, may also be used to tackle mildew. In the recipe notes, I've included an additional step that calls for baking soda, as mentioned above, just in case any mildew has left behind a stubborn stain on your favorite garden pot. Remember, vinegar and baking soda don't get along when they're combined, so if you plan to try my baking and vinegar POW combo, use them separately.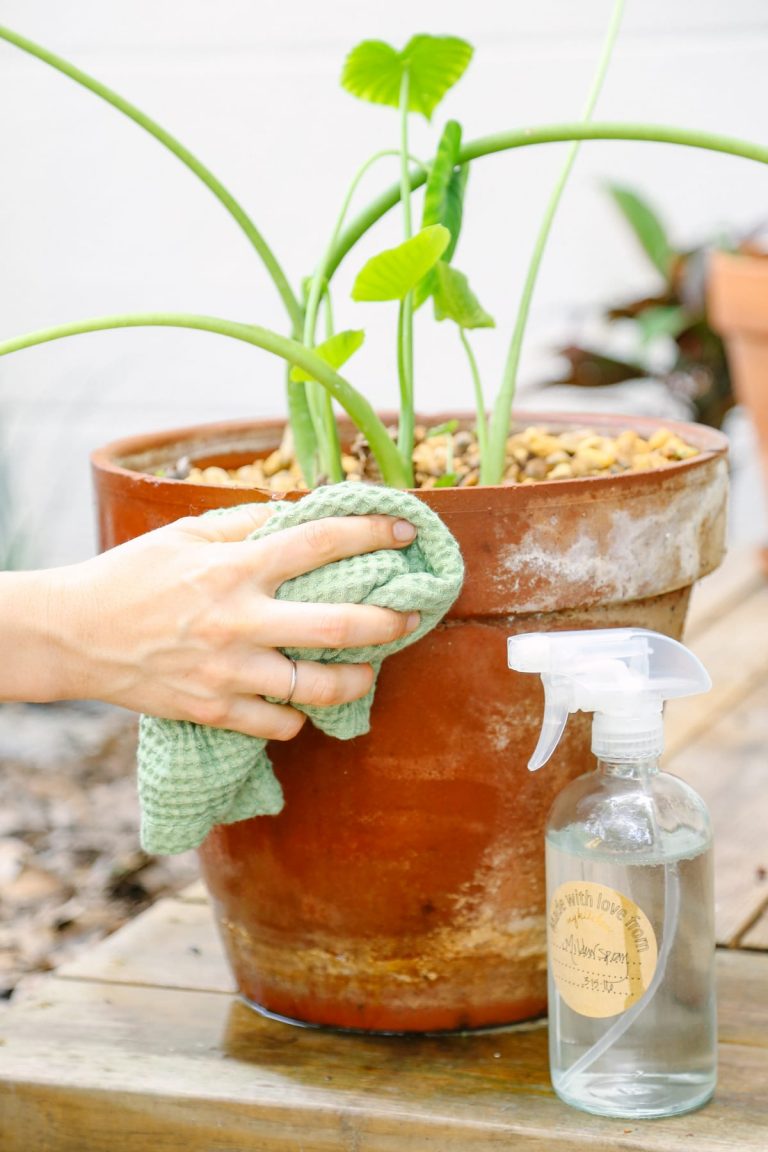 Happy spring cleaning!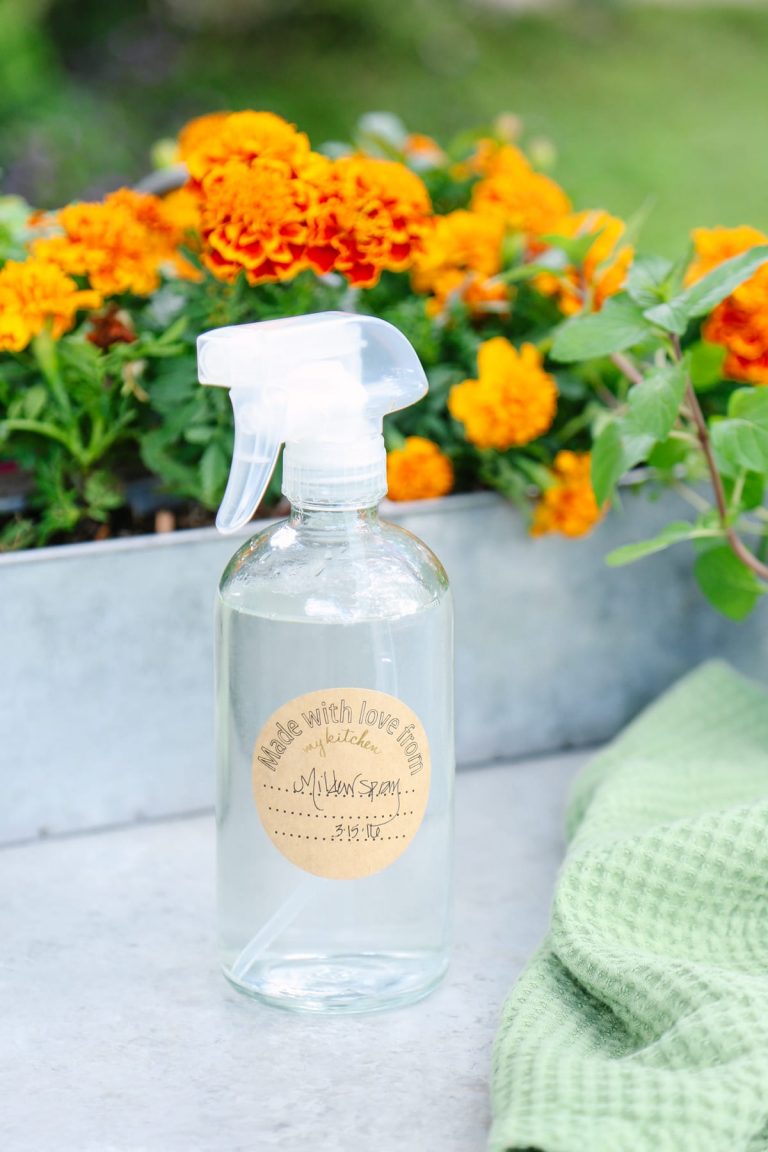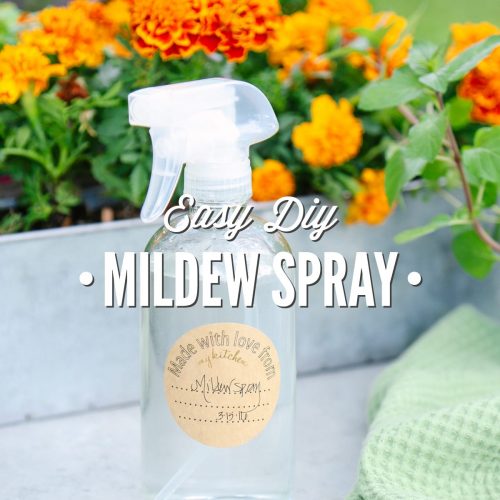 Easy DIY Mildew Spray
This, my friend, is where the multi-purpose cleaning ingredient idea comes in to save the day, or at least my backyard cleaning extravaganza.
Instructions
Add the alcohol and essential oil to a spray bottle. Shake the bottle to combine the ingredients.

Add the vinegar to the tea tree solution.

Spray directly on mildew, let rest, then wipe clean.
Notes
100% vinegar may be used in this recipe without the addition of the essential oil (and rubbing alcohol). I keep tea tree in my cleaning toolkit for homemade cleaning and beauty products, so I add it to this spray due to its antibacterial and anti-fungal properties. I've found that about 60 drops of tea tree is best for the problematic mildew areas in my home.
Vinegar shouldn't be used on some surfaces, like marble and granite.