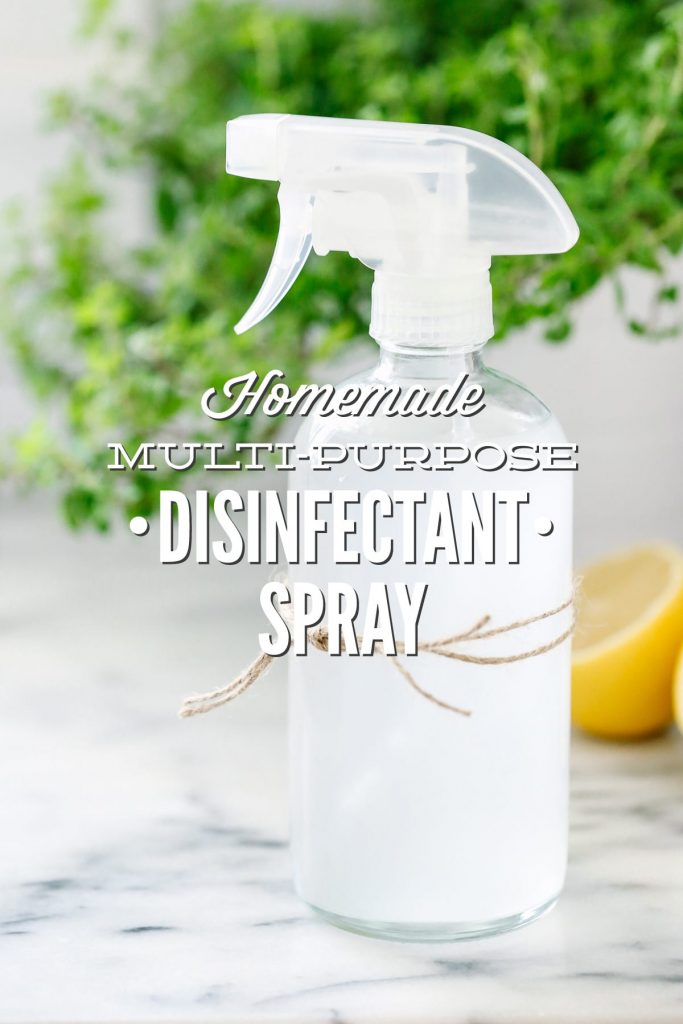 Two weeks ago, Mrs. Sniffles knocked on our "door." I tried to convince her to leave with my homemade remedies, but she insisted on staying, so for the last two weeks we've been battling an unwelcome guest and nasty sinus infections.
Mrs. Sniffles was sure to pack every "present" for her extended stay, too: runny nose, sore throat, tiredness, etc. Thankfully, after lots of rest, vitamin C, sore throat tea, elderberry syrup shots, and elderberry soda, Mrs. Sniffles finally decided to pack-up her remaining luggage and move on. Hallelujah! It's wonderful to have energy and a clear head again.
As it turns out, our family isn't the only family who's been affected by Mrs. Sniffles. She's quite the experienced traveler! The entire school district in Pinellas County (where we live) has been hit hard by her visits. Some schools have seen dramatic decreases in weekly attendance since January.
Right now is the perfect time to start talking about (and using) a light disinfectant spray. Or shall I say a replacement for the stuff  found on store shelves? I'm sure most of us have vivid memories of heavily-perfumed sprays due to their popular use in restaurant bathrooms, homes, and even classrooms.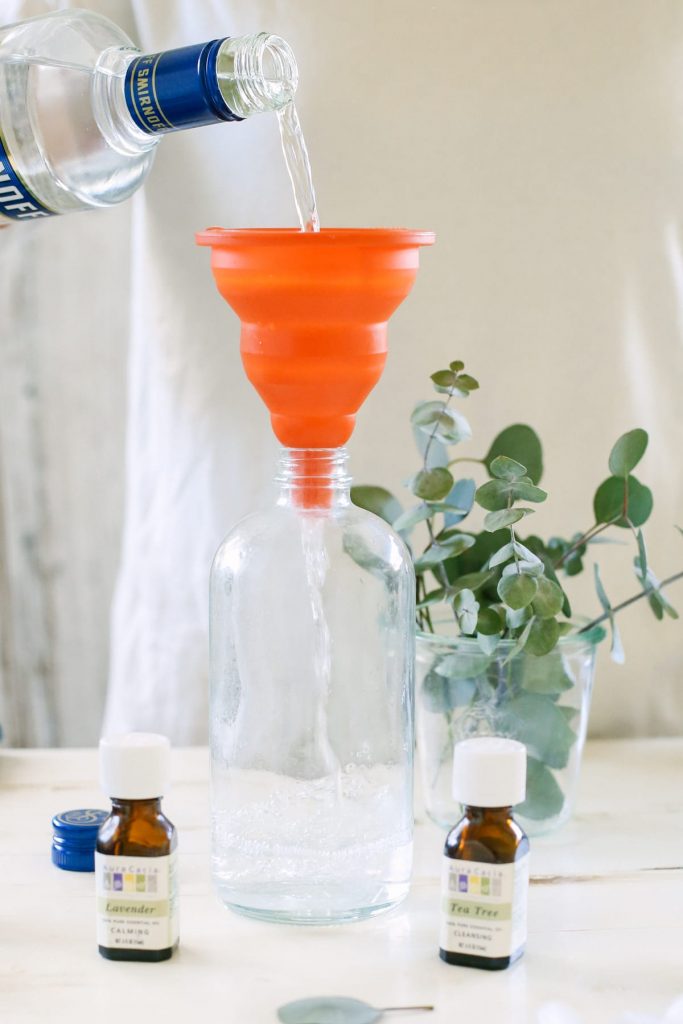 Just the other day I noticed a store-bought spray and its infamous, headache-inducing scent in the women's bathroom at Dustin's work. Honestly, I don't blame his work (or others) for using a store-bought spray, because marketing would lead me to believe that a store-bought solution, full of mystery ingredients, is the only way to properly clean and disinfect a room. Personally, I never once thought about what was in those sprays before our real food conversion, or even thought that a simple alternative may be sitting in my pantry or medicine cabinet.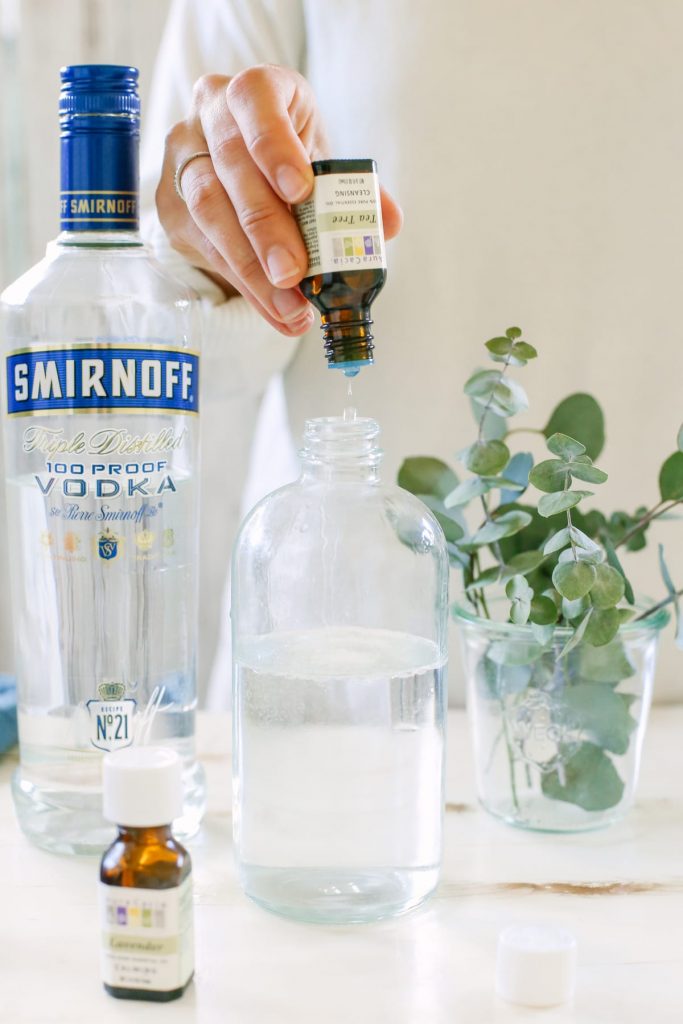 Alcohol may be used for much more than a strong cocktail. It's also a very handy DIY ingredient, as well as vinegar and particular essential oils.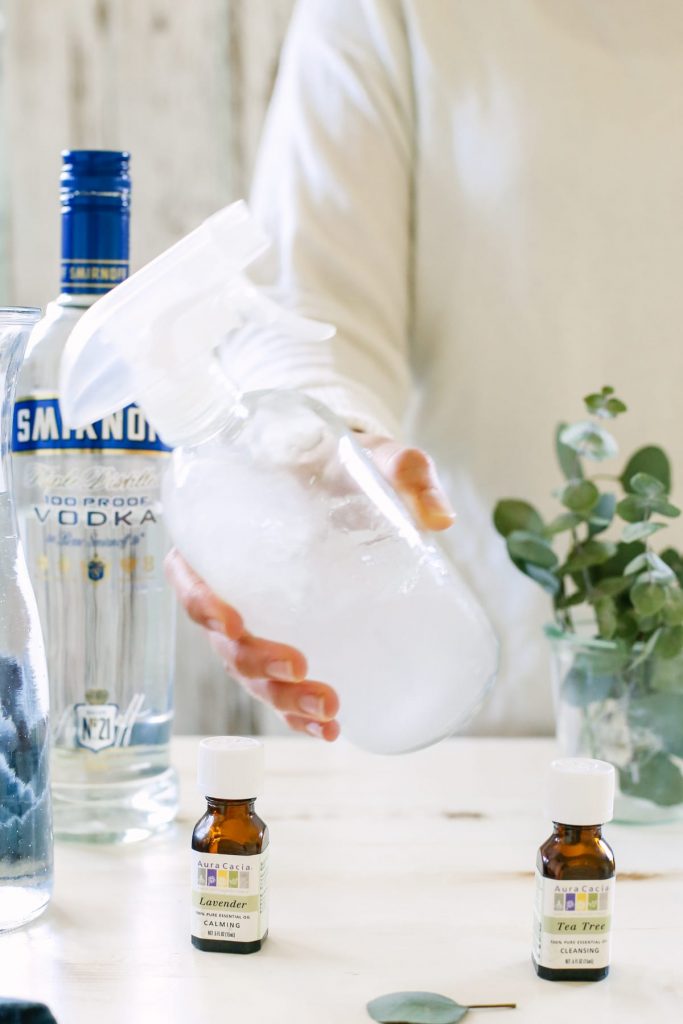 Disinfecting is an activity that's (generally) done after cleaning and, in my cleaning opinion, needs to be done much less often in the average home. "Disinfecting…refers to killing a high percentage of the germs on a surface or rendering them incapable of reproducing." (source)
Disinfecting takes care of more than just dirt, grease, or dust. I don't believe disinfecting every surface on a regular basis is essential in a modern-day home, thanks to indoor plumbing and healthy hygiene practices. Now when Mrs. Sniffles comes knocking, or I cut raw meat on my favorite cutting board, I'm all about using a homemade disinfectant spray. PS: I share my preferred approach for disinfecting a cutting board at the bottom of my recipe.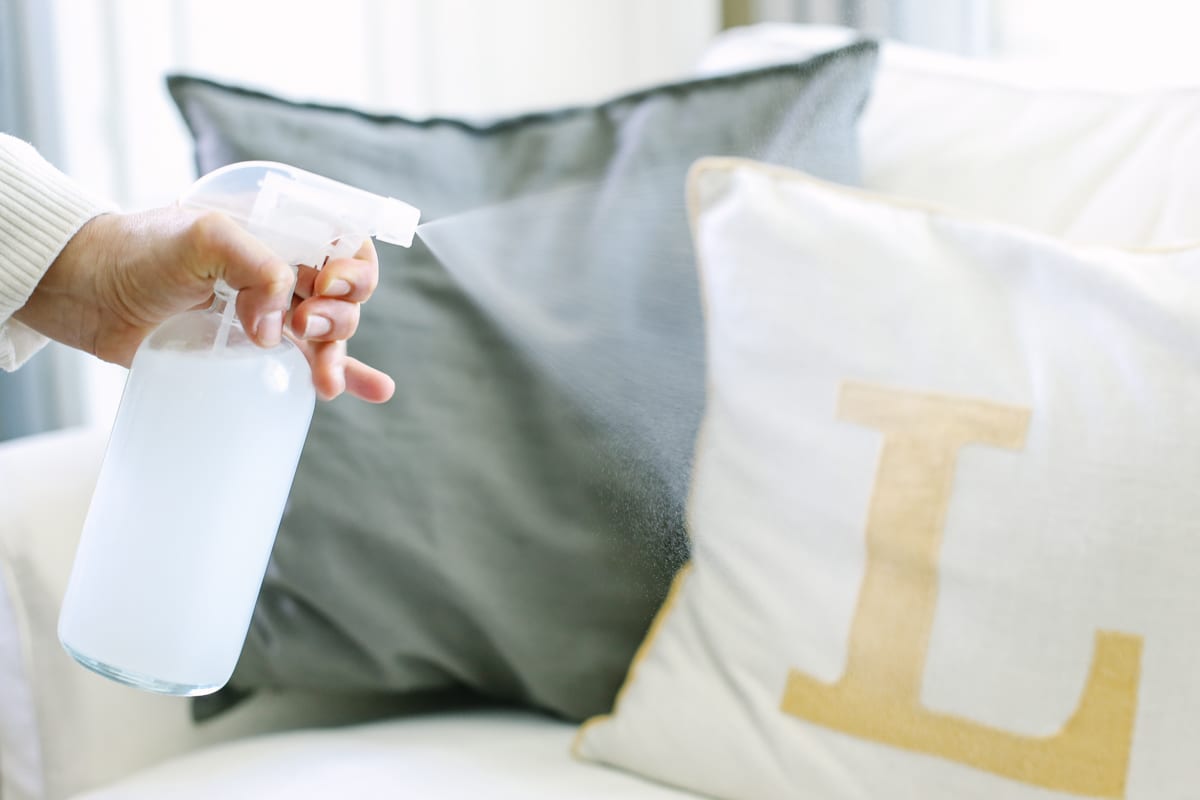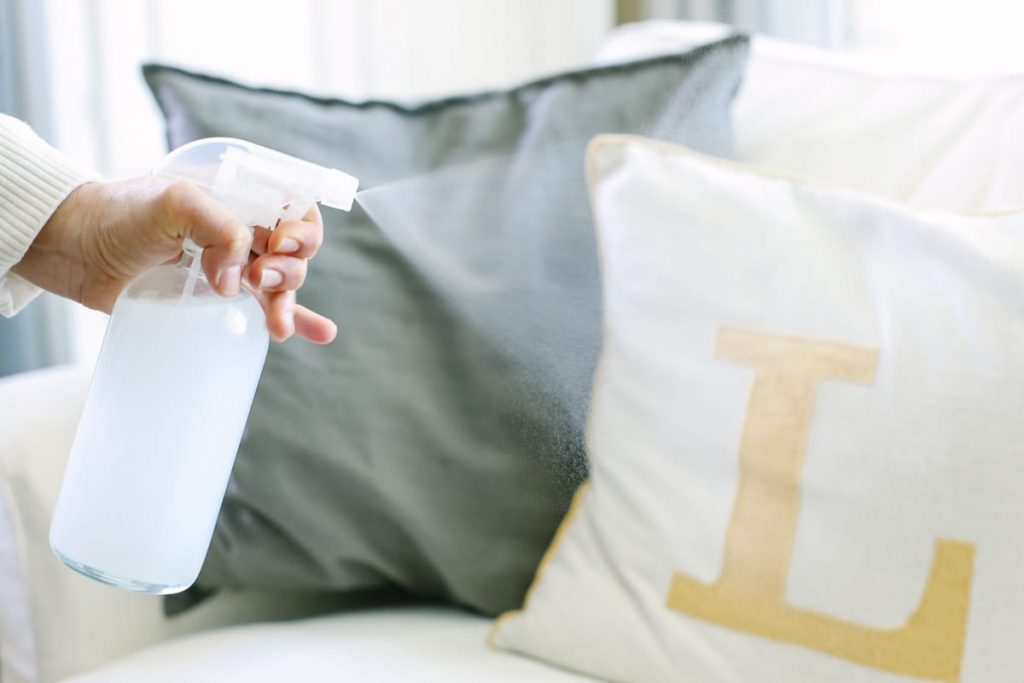 And that, my friend, is exactly why I mixed up a bottle of my simple 3-ingredient homemade spray this past week. Take that Mrs. Sniffles!
More Natural Ways to Protect Against Unwanted Germs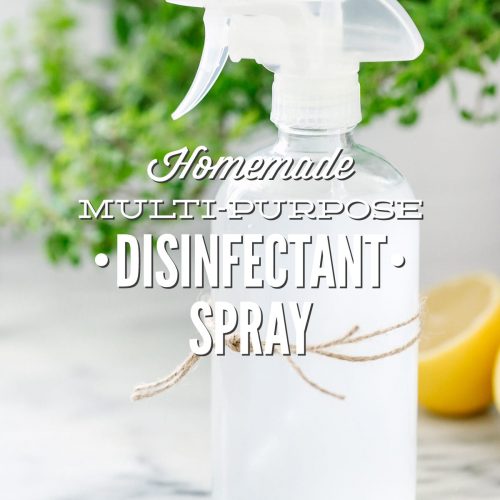 Homemade Multi-Purpose Disinfectant Spray
3 ingredient disinfecting spray.
Ingredients
1 1/2

cups

100 proof alcohol (vodka) or higher

get the highest proof alcohol you can find (in some states you can buy 190 proof, which is Everclear, if not at least 100 proof) or at least 70% isopropyl rubbing alcohol. Rubbing alcohol can damage painted and varnished surfaces so it's best to spot test first.*

1/2

cup

white distilled vinegar

or more alcohol

50-60

drops

tea tree essential oil

or lavender essential oil (optional)
Notes
*100 proof alcohol does not equal 100% alcohol. There has been some confusion about this, as this is different in some countries. In the US (where I live), a 40% ABV (alcohol by volume) is 80 proof and one that is 45% ABV is 90 proof. And so on. A 50% ABV is 100 proof and it goes higher from there. 
The essential oil is added as an antibacterial ingredient. Hydrogen peroxide can also work as a disinfectant when used straight (not diluted with anything and don't mix with vinegar!). Just be careful with hydrogen peroxide as it can bleach colored fabrics. 
Cutting Board Note: When it comes to disinfecting cutting boards (after cutting raw meat), I disinfect the surface using vinegar and hydrogen peroxide (do not combine these ingredients in one bottle!); the order doesn't matter. First spray one ingredient, letting the disinfectant rest for five minutes, then wipe the surface with a cloth. Finally, repeat with the second disinfectant. Wait five minutes, then wipe the surface with the cloth. You can see the entire process in this cutting board post. Another disinfectant spray option in the kitchen is a Bandit Oil Spray.
CORONA VIRUS UPDATE: With coronavirus on the rise,
this post is particularly helpful from a pediatrician
. She specifically addresses coronavirus. I'm not a doctor or disease specialist. Please consult your doctor and the CDC website to do your own research about the best ways to protect your family. The CDC recommends disinfectants contain 60% alcohol or higher.
Disclaimer: The DIY recipes on this website are based on my personal experiences. I am not a trained chemist, cleaning specialist, or skincare expert. The DIY recipes shared on this website haven't been tested in a lab. Information about my products or recipes haven't been evaluated by the Food and Drug Administration. This information is not intended to diagnose, treat, cure, or prevent any disease. Please consult a doctor or specialist for specific concerns about any skincare issues, cleaning products, or dietary needs. Please use your discretion, based on your own research, when making homemade products.