There's a feeling of joy that comes from discovering that you can make cleaning and body care products.
That joy is usually followed by a sense of empowerment and accomplishment once you make that first bottle of hand soap, toilet bowl cleaner powder, or facial cleanser. And then, the budget reality sets in, "Wow! Purchasing ingredients and making homemade products isn't cheap! Making more products is going to be expensive."
Making your own products can be expensive, at least in the beginning. One bottle of castile soap can cost anywhere from $8.99 to $18. Dried lavender may cost $10 for 8 ounces, and beeswax may cost $15 for just a few pounds. There's definitely an up-front investment when it comes to purchasing ingredients to make homemade products; just like there was an up-front investment in stocking a real food pantry.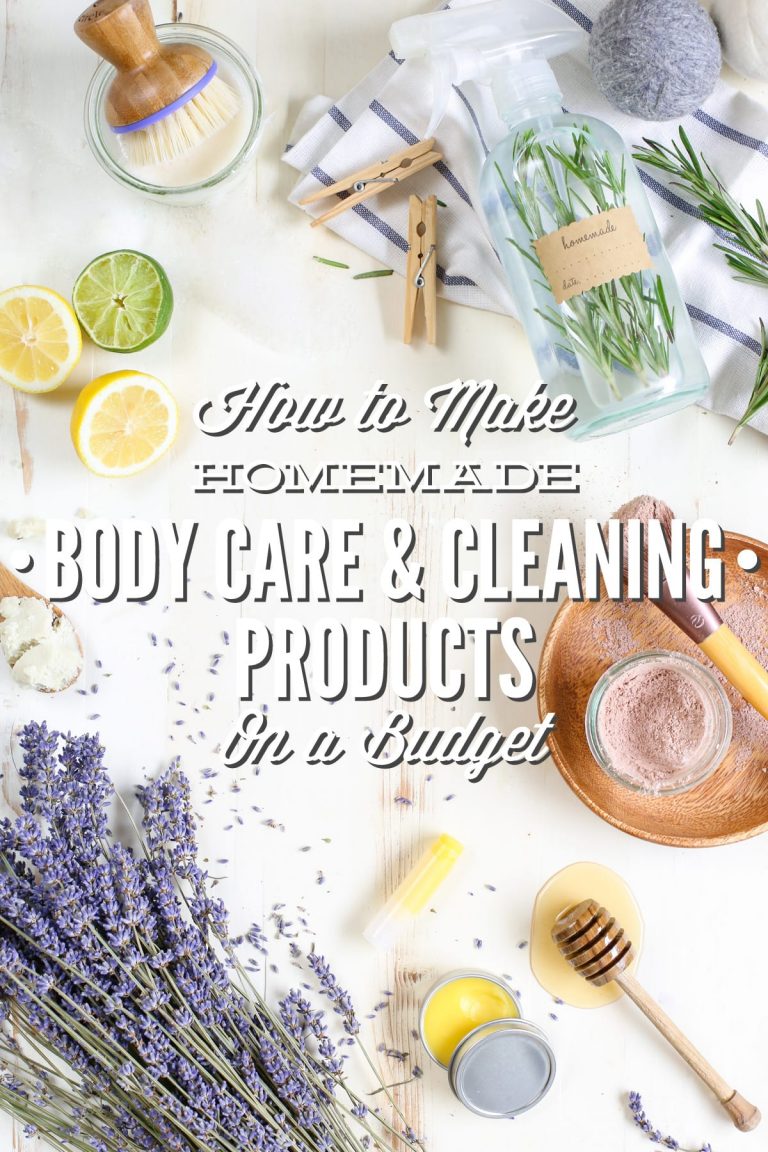 Friend, I have good news!
While there's certainly a cost to making homemade products, you can make natural living work no matter what your budget may be. In fact, once you've gathered a few basic ingredients (and we're going to talk about how to do this from a budget-friendly approach), making some or all of your products at home may actually save money in the long-term. Yes, save money.
In order to make homemade products fit your budget, and even save you money over the long-term, it's important be intentional about what you plan to make and where/how you purchase the ingredients.
How to Make Homemade Body Care and Cleaning Products on a Budget
1. Be Intentional and Minimalistic
When you first realize that you can actually make cleaners and beauty products at home, it's easy to want to "do it all." You may feel the urge to make every single facial scrub, moisturizer, and air freshener recipe, even if you've never used these products before. This approach can quickly add up, and may result in making products that you don't need or use.
Here's my solution: Be intentional and minimalistic. Think about the products that you currently use. What cleaners are you using to clean your home? A floor cleaner, window cleaner, and all-purpose cleaner? Awesome! Focus on making just one product, or two, before you focus on making anything else.
Here are some basic cleaning recipes to get you started: Floor Cleaner // Window Cleaner // All-Purpose Cleaner // Multi-Purpose Toilet and Sink Cleaner (Powder)
Here are some basic body care products to get you started: Face Wash– Honey and Aloe Cleanser, Cleansing Grains, or Honey Face Wash  // Toner // Moisturizer // Lip Balm // Lotion or Body Butter
2. Reuse Ingredients to Make Multiple Products
The beauty of making products at home, with simple ingredients, is that you can actually reuse the same ingredients (in different ratios and combos) to create different products, if they're needed. This makes homemade products incredibly budget-friendly. Here are a few examples of multi-purpose ingredients:
Castile Soap: Honey Face Wash // Hand Soap // Laundry Soap (Liquid) // All-Purpose Surface Cleaner // Body Wash // Facial Wipes (great for travel) // Bathroom Cleaner // Stain Remover // Floor Cleaner
Baking Soda: Carpet Deodorizer // Deodorant // Toilet and Sink Cleaner (Powder) // Soft Scrub // Bathroom Cleaner // Toothpaste // Air Freshener
Clay: Acne Spot Treatment or Mask // Cleansing Grains // Homemade Foundation Powder // Dry Shampoo
Honey: Face Wash (with soap) // Facial Cleanser // Face Mask // Face and Body Scrub // Boo-Boo Cream
Beeswax: Candles // Lip Balm // Makeup Remover Balm // On-the-Go Lotion (may be used as a lip balm, too) // Soothing Lotion Bars // Sunscreen // Deodorant // Boo-Boo Cream (with dried herbs) // Boo-Boo Cream (sans dried herbs) // Silky Lotion // Lotion or Body Butter // Homemade Vapor Rub
Shea Butter: Deodorant // Use as-is from the jar for an intense moisturizer (dry feet, elbows, etc.) // Body Butter // Lip Balm // On-the-Go Lotion // Soothing Lotion Bars // Shave Cream
Just like ingredients, think about the containers you purchase for making and storing your products. I keep three glass spray bottles on hand for all-purpose cleaner, glass cleaner, and occasionally stain remover. I also keep a few Mason Jars and Weck Jars on hand for both food and homemade products.
Just remember, the goal is making products you actually need and use. Be intentional and minimalistic!
3. Go Big
Once you know exactly which products you'll be making, and the ingredients and amounts required to make these products, it's time to search for budget-friendly ways to purchase the ingredients.
If you know there's an ingredient you'll be using in larger quantities, like castile soap or baking soda, purchase the ingredients in bulk. Dr. Bronner's sells a gallon-size jug of castile soap. Purchasing the jug versus individual 8-ounce bottles may save a few dollars. Costco sells a huge bag of baking soda. Better Shea sells 16-ounce packages of shea butter (and other do-it-yourself body care products), which is a great price when compared to the small containers sold at health food stores. All of these ingredients may be stored long-term, so it's safe to purchase them in bulk quantities.
Bulk Options: Amazon, Mountain Rose Herbs, Plant Therapy (large bottles of nourishing oils and essential oils), Target, and local health food stores.
4. Or Go Small 
When it comes to ingredients that you don't use very often (like dried herbs), or you just may not need very much of due to the quantity called for in recipes, purchase small amounts. This will ensure that you don't have ingredients just sitting around, which may eventually end up in the trash.
My favorite small-quantity resource is the Frontier bulk section in my local health food store. Many health food stores have a Frontier bulk section that features containers filled with loose herbs and spices from Frontier Co-op.  If I only need a small amount of chamomile to make lotion bars (a great Christmas gift!), I'll visit the Frontier section of the store where I can purchase just a few ounces.
Herbal shops are another great resource for small purchases. Just google your location and "herb shop" or "apothecary."
5. Use a Few Basic Essential Oils, or Skip Them Completely (If Possible)
Essential oils are all the rage these days, and for good reason. Essential oils are incredibly beneficial when used in cleaning products and on the skin. And while essential oils are incredible, it's easy to get sucked into the plethora of ideas floating around the internet, and the idea that you need a special kit containing twenty plus essential oils.
Friend, essential oils are amazing, and what I'm about to say may not be popular in the natural world, but here it is: Figure out which essential oils you absolutely need, and stick with them. Or, completely skip the essential oils in recipes.
I tend to use just a few basic oils: lavender, tea tree, lemon or orange, peppermint, frankincense, eucalyptus, and carrot seed. These oils are used sparingly. I can't even remember the last time I used eucalyptus essential oil, because I haven't made a batch of homemade vapor rub in over six months. Being intentional and also frugal with your essential oils (not going through a whole bottle of peppermint oil in a month–unless there's a reason for this) is important. Also, only purchase essential oils that may be safely reused in multiple ways.
If you'd like to cut back on the up-front expense of homemade products, then I recommend skipping the essential oils completely, if possible. There are a few natural remedies that depend on the use of essential oils for the product to effectively work, like boo-boo cream and homemade vapor rub. But for 99% of cleaning and body care recipes (homemade air freshener being in the 1%), you can still create an amazing and effective product without the essential oils.  Your product may not smell like a lavender field, but you'll save a few extra dollars.
6. The One Nourishing Oil Rule
If you've been around Live Simply for long, then you know that I'm a big fan of nourishing oils, also known as carrier oils, for the skin. Remember, healthy oil isn't an enemy; it's a friend! My favorite oil to use in general is almond oil, mainly because it's what I have on hand the most often, but also because it's very light. I usually list a few options in the recipes here on Live Simply. My goal is to help you, the product creator, research and decide which oil you'd like to use on your skin.
I personally recommend, from a budget standpoint, sticking with one nourishing oil, and using it throughout all your body care creations. The one exception to this rule is if a recipe calls for a specific oil. I believe almond oil is a great choice for most people, and it's not too greasy–a big issue for many folks switching to homemade beauty products. Other options I personally love and use, include: jojoba and olive oil.