You know what we haven't talked about yet? Healthy snack ideas for the kids, that you can also pack and send to school. Today, we're going to chat about how to use food prep to simplify packing snacks, over 20 healthy snack ideas, and the best snack containers.  I'll also share a few photo examples of packed school snacks. While we're specifically chatting about snacks for school, these ideas also work for home or when you need something after school in between karate practice and dinner, or for an outing to the park. And the ideas work for the whole family, not just kids.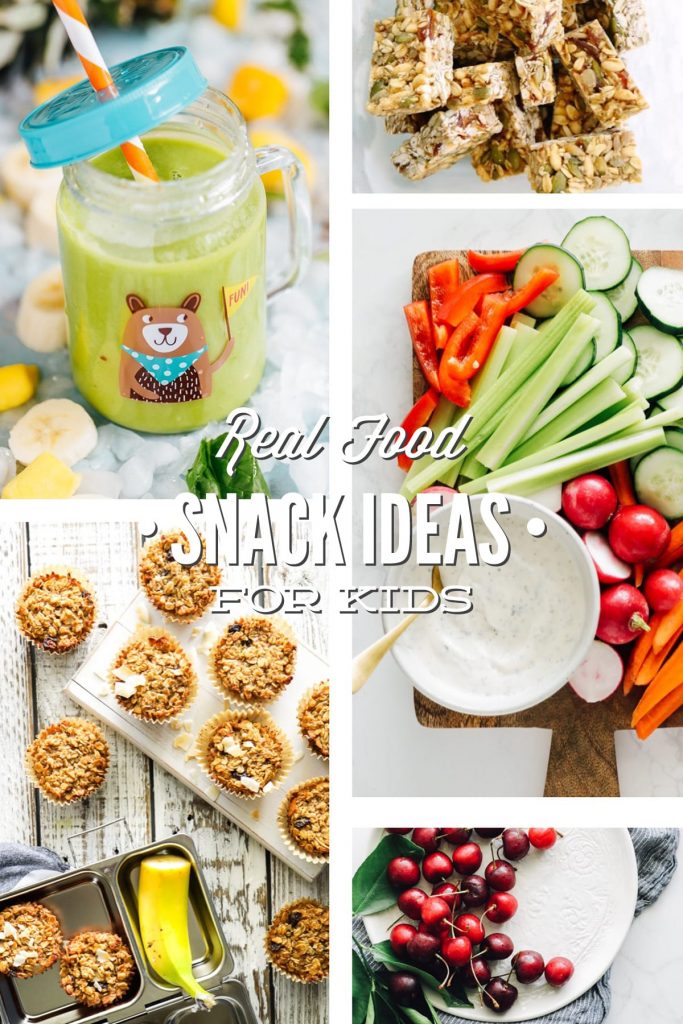 Simplify Healthy Snacks
Many of my snack ideas can be prepped in advance and served for breakfast (like muffins or breakfast cookies) or packed in the lunchbox. Think about what may be prepped in advance (like muffins) and later used in a variety of ways. Maybe this means making muffins on the weekend and doubling the recipe, or making two different recipes, so you can intentionally stash some away in the freezer for future breakfasts, lunches, and snacks. Or, making popcorn on Sunday and serving it a couple of times in the lunchbox and a couple of times for a school snack. (If you do this, I recommend waiting to add butter or oil until you actually pack the snack.) Or, maybe this means making yogurt tubes and stashing them away in the freezer, which will last you at least a few weeks. Or, cutting cheese cubes on a Sunday night for the week ahead.
Also, you can nourish your kids with healthy snack options without doing it all or making it all. Here are two ways to simplify healthy snacks:
Get the kids involved: If your kids are old enough (preschool or older is my recommendation), your child can help prep snacks. This may look like washing fruits or veggies, spooning yogurt into a container, or packing their own snack (with your guidance, depending on age) the night before. Elementary age kids can learn how to cut veggies and fruits, make muffins or other baked goods, and pack their own snack. And don't forget about dishes. Kids can take responsibility for washing dishes and loading the dishwasher.
Use store-bought options: If you're in a busy season, or don't want to make something, store-bought options are your friend. They're my friend! There are a number of great companies making real food options for everything from guac to hummus to granola bars and crackers. Just remember to always read the ingredient list on a package and look for real ingredients.  The ingredients should read like a recipe (meaning, you would use these ingredients in your kitchen, at least the majority of them); not a science text book.
22 Healthy Kid Snack Ideas
1. Raw or Roasted Veggies
Raw veggies, such as: cucumber slices, sugar snap peas, carrot sticks, celery sticks, cherry tomatoes. It's always fun to add a dip with these veggies, like homemade ranch or hummus. My kids also love cucumber and cream cheese sandwiches. To make these, spread cream cheese on one cucumber slice and then add another cucumber on top. Easy peasy, and you've got a nourishing fat in there. And then there's the fun celery stick spread with a nut butter option.
There's also roasted veggies, which I many times have leftover from a previous dinner. My kids love roasted sweet potatoes or broccoli as a snack. No heating required, just serve at room temperature.
2. Dips (Gauc, Hummus, Ranch)
Dips are a super fun way to add healthy fat/protein. Plus, what kid doesn't love dipping their food? I have yet to meet one.
Serve hummus with pita slices, pretzels, crackers, or veggie sticks. You can purchase hummus from the store or make it. Homemade hummus is super flavorful, so if you can go the homemade route it's definitely worth it. And when you make your own hummus, you can customize the flavor or even add secret veggies to the mix. My kids aren't beet fans (neither am I), but they love beet hummus. Other ideas: blend up some cooked carrots or a roasted red pepper with your hummus ingredients.
Homemade ranch is incredibly easy to make and full or probiotic goodness. Ranch may also be served with crackers, pretzels, pita slices, or veggies.
Guacamole is another great dip that's easy to make or can be purchased from the store. Wholly Guacamole and Costco are great brands. Serve guac with tortilla chips or veggies (like carrot sticks). Salsa is another fun option that pairs well with guac or on its own.
You can also make a sweet dip with some honey, cinnamon, and plain yogurt. My kids love to dip fruit slices in this dip.
3. Cut or Whole Fruit
Bananas, apples, berries, honeydew, cantaloupe, watermelon, peaches, pears, clementines, grapes, orange slices, grapefruit slices, kiwi slices, etc. When it comes to fruit, think seasonally. This is will ensure you're getting the best-tasting fruit available. Also, ask your kids to get involved and choose a fruit option for the week.
Fruit, like bananas and apples, require zero prep because they come in their own packaging (skin). Although some kids prefer sliced apples over whole apples.
Some fruit will brown when sliced. To prevent this from happening, cut finicky fruit the day of serving and sprinkle with cinnamon or toss in pineapple or lemon juice. I love to serve fruit with nut butter (or try a seed butter), cheese slices, nut and seed bites (#12 on this list), or yogurt (as a dip or mixed with yogurt–frozen fruit is great with yogurt).

4. Muffins
Homemade muffins are always a snack favorite with my kids. Muffins are a great food to prep in advance and stash away in the freezer. Plus, they're great for breakfast, lunch, or snack.
Making muffins in a mini muffin pan makes them ideal for smaller hands or just a smaller snack container.
For snack, I like to pair muffins with cheese or topped with butter (Kerrygold is generally my go-to) or a nut butter or cream cheese, or fruit or veggies.
5. (Real) Cheese
Now, I'm not talking about a processed cheese product. What I am talking about is real cheese. This means cheese that is produced with real milk or cream through a culturing/fermentation process. Fake cheese is usually labeled as a "cheese product" and has a long ingredient list, such as: cheddar cheese, whey, water, protein concentrate, milk, sodium citrate, calcium phosphate, milkfat, gelatin, salt, sodium phosphate, lactic acid (as a preservative), annatto and paprika extract (for color), enzymes, Vitamin A palmitate, cheese culture, and Vitamin D3. Real cheese is made with, for example, just: milk, rennet, enzymes, salt.
Cheese can be a nourishing and healthy snack, but you need to make sure you're buying the real thing; not an ultra-processed cheese product. When it comes to buying cheese, I like to purchase a block and cut cubes or slices. Or, if I'm strapped for time during a particular season, I'll purchase cheese sticks (always read the ingredient list). Some stores, like Whole Foods, offer ready-to-eat cubes in the cheese department.
For snack, I like to pair cheese with fruit, veggies, crackers, pretzels, muffins, a slice of sourdough bread or toast, or deli meat or shredded chicken.

6. Nut or Seed Butter
Nut or seed butter (think: almond butter, sunflower butter, peanut butter, or a blended spread made with nuts and/or seeds) is a great way to add protein/fat to a snack. I like to serve nut or seed butter with apple slices, muffins or quick bread slices (like banana bread), sandwiched between two homemade pancakes or topped on a waffle, or spread on celery sticks.
You can make your own nut butter (like this hazelnut and pumpkin seed butter), or buy it in a large container or in squeezable packs (Justin's travel-friendly nut butter squeeze packs).
7. Crackers or Pretzels
Keep healthier store-bought crackers and pretzels in the house for snacks. For crackers, I like: Mary's Gone Crackers, Late July Butter Crackers, Simple Mills, Jovial's Sourdough Crackers, Terra Plantain Chips, or you can make your own. For pretzels, I like: Quinn, Unique Sprouted Pretzels, Ground Up Cauliflower Pretzels.
Serve crackers or pretzels with a dip that has some protein and fat, such as: guacamole or hummus. Or, serve with cheese,  chicken or tuna salad, deli meat, or sandwiched between a nut or seed butter (similar to Ritz peanut butter crackers).
Lundberg Rice Cakes are another fun snack. I like to spread the "cakes" with cream cheese or a nut/seed butter, or topped with guacamole.
8. Popcorn
You can purchase popcorn or make it at home. To make it at home, I like to use an air-popper and then once the popcorn has popped, add melted butter or coconut oil (both are great fat sources) and salt.
Serve popcorn with cheese, nut and seed bites (#12 on this list), deli meat, with veggies or fruit, a yogurt tube (see #14), or a fruit pouch (like applesauce).
9. Oatmeal Cups
Oatmeal cups are similar to muffins, but instead of flour they're made with rolled oats. Oatmeal cups are a great snack/breakfast/lunchbox food to prep ahead and store in the freezer. #triplewin
Serve oatmeal cups alone, topped with nut or seed butter, with cheese slices, a yogurt tube (see #14), a fruit pouch (like applesauce), or some veggies or fruit.
10. Breakfast Cookies
Breakfast cookies serve triple duty, just like oatmeal cups and muffins. Make a batch of breakfast cookies and store them in the freezer for an easy snack, breakfast, or lunch.
Serve breakfast cookies alone, topped with nut or seed butter, with cheese slices, a yogurt tube (see #14), a fruit pouch (like applesauce), or some veggies or fruit.
11. "Granola" Bars
You can make your own granola bars (try Homemade Protein Granola Bars or No Bake Granola Bars) and store them in the freezer as a grab-n-pack snack option, or purchase granola bars from the store.
My favorite store-bought bars, include: Made Good Bars, That's It Bars (fruit based), Clif Kit's Organic (nut based, just this variety of Clif Bars), Two Moms in the Raw Soul Sprout Granola Bars (granola based), Lara Bars (nut and fruit based), Perfect Bars (nut based, refrigeration required).
Serve granola bars alone, or with veggies, cheese, fruit, a fruit pouch (like applesauce), or deli meat.
12. Nut and Seed Bites
Nut and seeds bites are small balls that are formed by pulsing  dates or raisins with nuts or seeds in a food processor. Then, the pulsed ingredients are rolled into small balls or "bites." The bites freeze well, so you can make a bunch and stash them away in the freezer.
Serve the nut and seed bites with fruit or veggies, cheese, yogurt, a fruit pouch (like applesauce), yogurt tubes (see #14), or alone.
13. Fruit and Yogurt Cup
Those little fruit and yogurt cups at the store are so convenient, but they're full of added sugar. I have seen some with 20 grams or more of sugar per serving.
To make your own fruit and yogurt cup, simply place fruit and raw honey or maple syrup at the bottom of a leak-proof snack container, or mason jar (if serving at home), and pile on the yogurt. I like to use frozen berries because when they thaw they're squishy, and they stir in the yogurt just like store-bought fruit and yogurt cups. You can also add a little baggie of granola to stir in, if you have some on hand.
I like to serve a fruit and yogurt cup as a complete snack, nothing else needed.
14. Yogurt Tubes
Zipzicles allow you to make your own go-gurt style yogurt tubes. To do this, blend up fruit, yogurt (or kefir), and honey. Then pour the mixture into the Zipzicle molds. Store the tubes in the freezer for future snacks.
When it comes to packing these for school, I place a tube in the lunch bag and by snack time it's semi-defrosted. Find a recipe for three different flavors, here.
There aren't any yogurt tubes currently on the market (store-bought options) that don't contain a massive amount of sugar. I personally think these are fun as a treat, but not a regular snack. So they're treated as such in our home. Plus they're expensive.
I like to serve yogurt tubes as a complete snack, nothing else needed.
15. Hardboiled Eggs
Eggs are a nutrient-rich food for kids (and adults). And they're full of healthy fat and protein. I love to make a few hard "boiled" eggs on the weekend, in the Instant Pot, and keep them in the fridge for future breakfasts, lunches, or snacks.
Pair eggs with fruit or veggies, cheese slices, olives, crackers, or alone.
16. Popsicles
Popsicles aren't very practical for school, but they're a great after-school snack, particularly during the warmer months. And when school is out for the summer, popsicles are always a hit. I shared my favorite popsicles over here.
Serve the popsicles alone, or pair with popcorn for a fun snack.

17. Nutrient-Dense Smoothies
Smoothies are another great option for an after-school snack. You may also send a smoothie to school for snack if you have an extra thermos (and straw). If you want to prep this option in advance, I recommend putting together some smoothie packs.
18. Trail Mix
Trail mix doesn't have to be complicated. To make a simple mix, take a handful of whatever nuts or seeds you have, sprinkle in some coconut shreds and a handful of raisins, and call it good.
If you have older kids who are used to the store-bought version, add a tablespoon or two of chocolate chips. Or, you can make a baked trail-mix which brings out the flavor in the nuts and seeds. Or, go the store-bought route–just check the ingredient list and watch for lots of added sugars. My favorite store-bought version is from Enjoy Life. <–This option is also nut-free.
Serve trail mix alone, or pair with fruit or veggies, deli meat, a yogurt tube (see #14), fruit pouch, or cheese.
19. Applesauce and Fruit Pouches
Kids love fruit pouches, and while I don't love the price, they are nice to have on hand for a quick snack. I particularly love Jennifer Garner's brand, Once Upon a Farm. This brand is sold in the refrigerator section and they freeze well. I tend to stock up when they go on sale. Other favorite options: Mott's Unsweetened Organic, Eden Organic, Santa Cruz, Simple Truth, Go-Go Squeez Organic, Mamma Chia, and Chia Squeeze.
Pair the fruit or applesauce pouches with cheese, popcorn (that's mixed with a healthy fat like butter or coconut oil), trail mix (see #18), nut and seed bites (see #12), a hard "boiled" egg, a muffin with a pat of butter, or deli meat.
20. Deli Meat
Deli meat can be another easy snack option. I like Applegate, Fork In the Road, Whole Foods Made-In-House Options, 365 Whole Foods, and True Story brands. Serve the deli meat as-is, rolled up with cheese or spinach, or with crackers.
21. Fruit Leather
I recently discovered a brand of fruit leather, Bear YOYO's, that's made with real ingredients. The kids are obsessed! They're available in health food stores and on Amazon. Another great brand is Veggie Go's. Both options are made with dehydrated fruits and veggies. Serve fruit leather alongside hard "boiled" eggs, deli meat slices, a breakfast cookie, nut and seed bites, or a muffin with a pat of butter or nut butter.
22. Olives or Pickles
This is an easy store-bought snack option (or homemade, if you love making pickles). Olives are rich in healthy fats, too. Pack olives alongside crackers or cheese, fruit, or deli meat.
23. Parmesan Crisps 
Buy this one-ingredient, protein-rich cracker at the store or make your own. You only need parmesan cheese and about 5 minutes of oven time to make easy, cheesy snack crackers at home. Store homemade parmesan crisps for about 3 days at room temperature and enjoy as a snack, in the lunchbox, and on top of soups and salads. Make homemade parmesan crisps.