In just one week, my kids go back to school. Which means I go back to packing lunches. I've shared in the past that lunch-packing isn't my thing. It's a necessity; not a passion. Instead of despising this task (talk to me again in January, okay? lol), I've intentionally sought out ways to make packing school lunch simpler, more routine, and more enjoyable.
This year I'm putting more intention behind my lunch-packing game.  Instead of sitting down next week and trying to piece together lunches, the kids and I spent some time last week brainstorming lunch ideas. Together, we flipped through cookbooks and talked about what they would like to see in their lunches. This activity was so insightful. With these ideas, I was able to build a list–adding specifics later on–that will give me a good base for rotating lunch meals.
This week I'm going to share 20 ideas with you. 20 different lunchbox ideas. These ideas came from my children, Chardea who works with me and has two children, and myself. You'll find that many of the ideas are similar (same fruits and veggies, turkey, etc.), but they are often just presented in different ways. I'll start by sharing 10 ideas today, and then 10 more ideas later this week. I also shared a few last year.
Packing school lunch is about nourishment; not being a Pinterest mom–whatever that means. I believe lunches can be simple and easy to put together (time-friendly),  budget-friendly, and enjoyable for kids all at the same time.
When it comes to packing lunch, I have a few rules:
Keep it simple. As mentioned, I use a rotational menu for school lunch. In the past, this menu was displayed on a large chalkboard in our dining room and changed monthly. Sometimes the kids get leftovers from a previous dinner, which means I skip what's on the menu for that day. The menu is a guide for when I'm stuck or just don't want to think about lunch (most days).
Pack food the kids will eat. A teacher once told me, "For lunch, I ask that parents pack healthy food for their kids. I also ask that they pack food their children will eat." Lunch is mid-day fuel for my kids, so I want their lunches to be nourishing and something they'll actually eat.  I want school lunch to be enjoyable for the kids, not a struggle. 
I serve a main entree, fruit, veggie, and something crunchy or "snacky." And sometimes the kids will get a treat, like a yogurt stick.
Nut-free lunch. This has been challenging for me since we consume nuts, but the school doesn't allow nuts of any kind in the lunchbox. Most of the ideas listed in this two-part post are nut-free. The one exception is Simple Mills Almond Flour Crackers.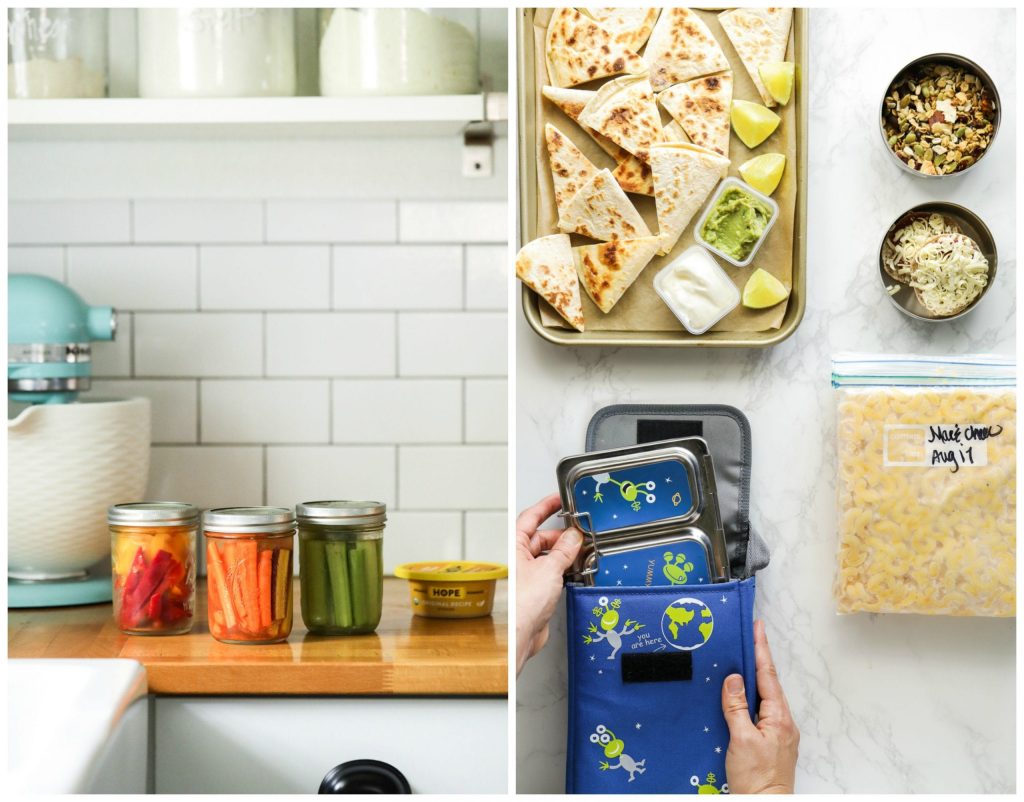 Let's also talk about the gear I'm using this year:
10 Real Food School Lunch Ideas
The lunches pictured are easy to make, and many of the meal components are prep-ahead friendly (chopped veggies, chopped fruit, rice, pasta) . Some of the lunches take advantage of leftovers (meatballs, build your own taco). Some meal components are even freezer-friendly (here's a full list of freezer-friendly school lunch ideas).
Main: Applegate ham + cheddar cheese skewers + Simple Mills crackers (not suitable for nut-free schools) // Fruit: grapes // Veggie: carrot sticks (prepped ahead) // Crunch: pickles (Bubbies brand)
Main: french toast skewers (prepped ahead or leftover from breakfast) + sliced strawberries + hardboiled egg // Fruit: peaches with cinnamon, strawberries, and plain yogurt // Veggie: cucumber slices // Crunch: none
Main: Applegate turkey, cheddar cheese, sliced pear quesadillas (Rudi's Spelt Tortillas or Siete for Gluten-Free Tortillas)// Fruit: applesauce and grapes // Veggie: carrot and cucumber slices + hummus (from the store) // Crunch: pretzels
Main: Jovial Foods Brown Rice Pasta (cooked in advance and stored in the fridge) and peas (added that morning while still frozen) + parmesan cheese + Applegate turkey rolled up // Fruit: strawberries // Veggie:  frozen peas // Crunch: popcorn (Trader Joe's Organic. You can also easily make your own.)
Main: heart-shaped waffles (this waffle maker with this recipe) with jam and cream cheese (Could use nut butter instead of cream cheese.) // Fruit: apple slices with cinnamon (to prevent browning) // Veggie:  cucumber slices // Crunch: homemade granola (from the freezer) with plain yogurt and honey mixed in for sweetness
Main: Instant Pot black beans and rice with salami (a brand from Whole Foods) and cheddar cheese cubes // Fruit: fruit salad (kiwi, strawberries, blueberries, pineapple) // Veggie:  guacamole (Whole Foods produce section pre-made) // Crunch: tortilla chips (The Real Coconut by Daniella Hunter–this is a new brand I found at the health food store)
Main: build your own taco: rice, shredded chicken (leftovers) + tortilla (Whole Foods 365 brand) + shredded cheese + guacamole  // Fruit: fruit salad (kiwi, strawberries, blueberries, pineapple) // Veggie:  guacamole (Whole Foods produce section pre-made) // Crunch: none
Main: pasta salad: Jovial Foods Brown Rice Pasta (cooked in advance and stored in the fridge) + olives + cherry tomatoes + mozzarella chunks (torn from a large ball of mozzarella used to make pizza earlier in the week) + a simple vinaigrette dressing (prepped in advance and used throughout the week for salad)   // Fruit: blueberries // Veggie:  celery with Trader Joe's sunflower seed butter (my kids go to a nut-free school) + raisins = ants on a log #oldschool // Crunch: pretzels
Main: chicken salad with mayo, dijon mustard, red onion, celery on a butter lettuce leaf // Fruit: apple slices with cinnamon // Veggie:  lettuce and pickles (Bubbies brand) // Crunch: crackers (can also serve with the chicken salad, Annie's brand)
Main: meatballs and sauce on a skewer (leftover from dinner) // Fruit: grapes // Veggie:  celery, cucumbers, carrots // Crunch: cheddar cheese cubes and Simple Mills crackers (not suitable for nut-free schools)