These healthy kids breakfast ideas are quick and easy to make and the perfect way to start a busy day full of learning! And these ideas aren't just for kids; the quick breakfasts are a great way to nourish the entire family. Whether you need a toddler breakfast idea, a nutritious breakfast for picky eaters (that they'll love and actually eat), or an easy meal that older kids can quickly make, this list of 27 ideas is for you!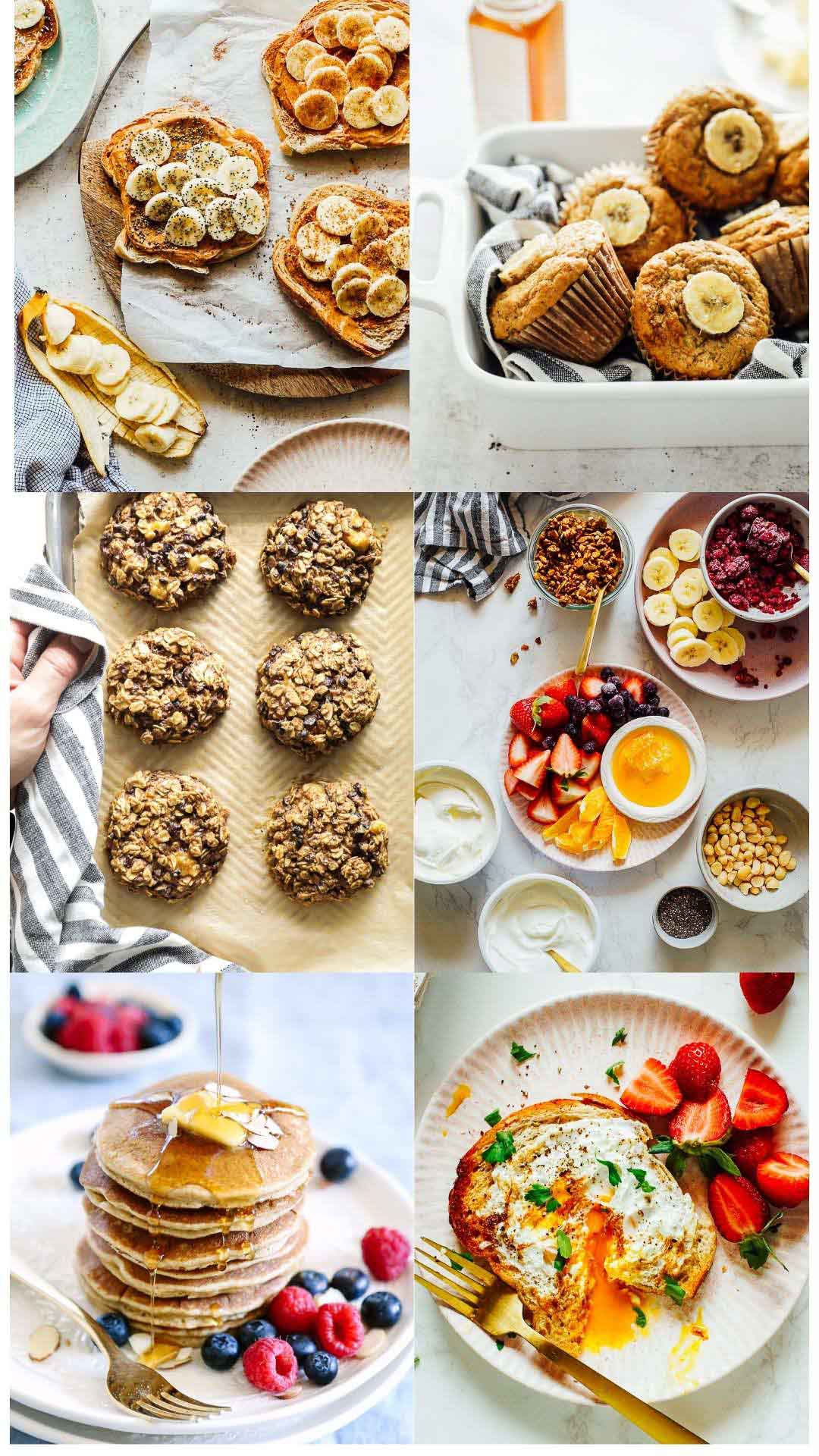 Busy weekday mornings are always hectic, but getting everyone ready and out the door for school on time? Now we're talking pure chaos.
It can be too easy to grab an unhealthy, packaged breakfast, run through a drive-through, or even skip breakfast all together. None of these options are ideal for your young learners to power through a morning at school.
Highly processed breakfasts (which lack real nutrients: fiber, healthy fat, and satiating protein) spike a child's blood sugar, leading to a crash and tiredness, hunger, the inability to focus, and irritability.
Instead of something highly-processed, add these easy breakfast ideas to your weekday menu. Serve a nourishing and healthy breakfast to your kiddos and yourself.
Many of these recipes are great replacements for the highly-processed meals that kids love, but they're made with simple ingredients that will nourish and sustain their energy levels.
The recipes are made with simple ingredients.
Many of the recipes are make-ahead breakfasts, saving time during the busy weekday.
If you are extra short on breakfast time, some of the ideas can even be eaten on the go.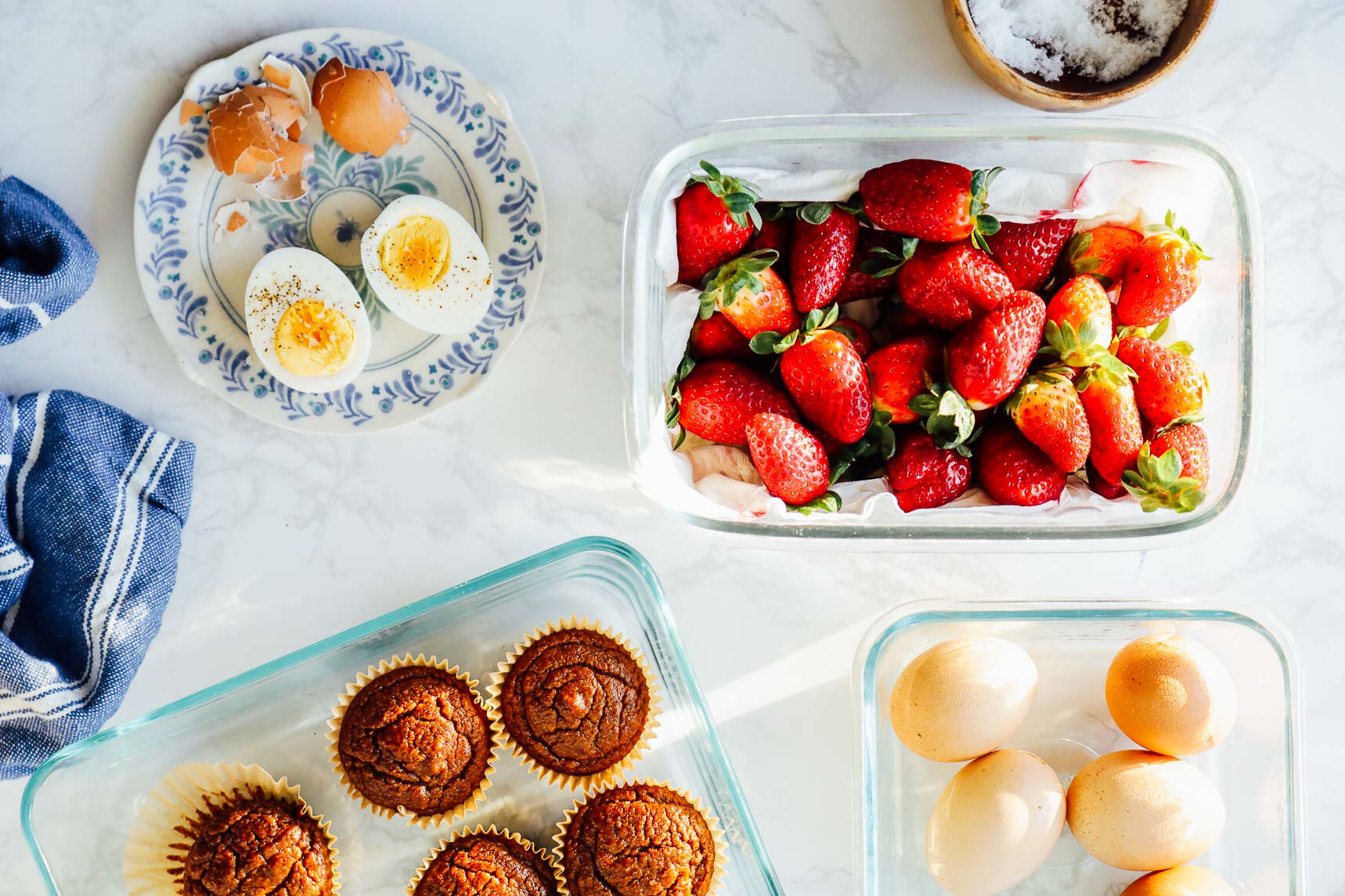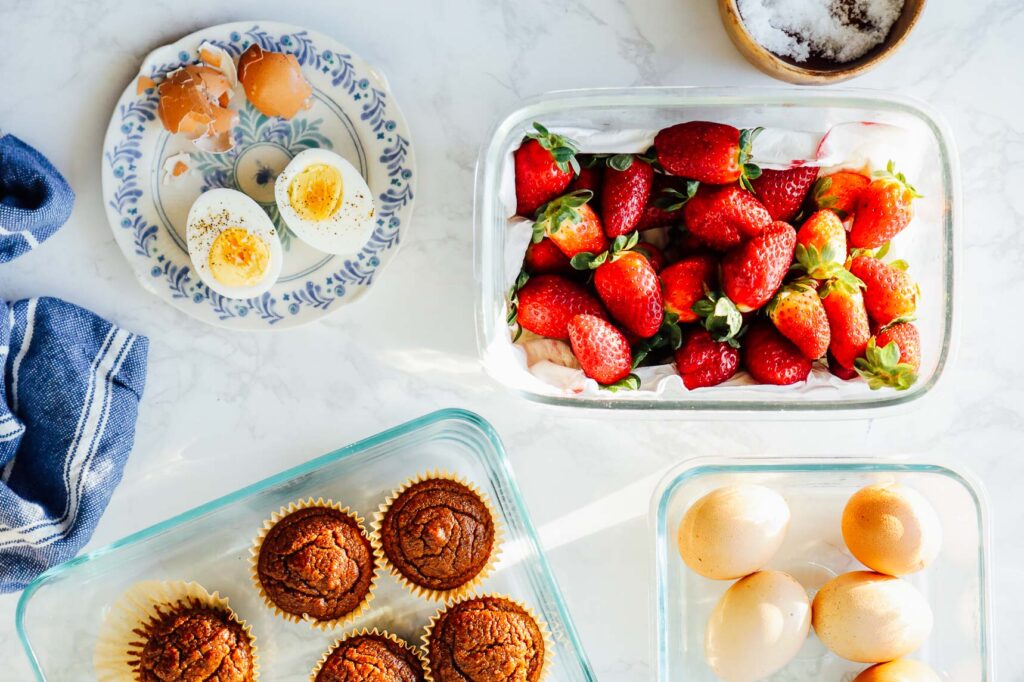 What Makes These Ideas Great for Breakfast?
Quick and Easy: Time and energy are not something we have an abundance of on busy mornings. All of these breakfasts are on the table in minutes with very little effort from you.
Healthy: These healthy breakfast recipes are full of protein, fiber, and energizing carbs. You won't experience sugar crashes like you do with highly-processed breakfast foods.
Family-Friendly: Your kiddos will love them, and so will you. No need to make two different meals at breakfast time.
Meal Prep: Some of these recipes are easy options to make in advance and reheat, or serve as-is in the morning. It doesn't get easier than that. Trust me, a little food prep goes a long way in simplifying busy mornings.
Freezer-Friendly: I'm all about efficiency. Many of these breakfast recipes can be batch cooked or meal prepped in bulk and frozen for a fast breakfast at home.
KEEP BREAKFAST EASY WITH A ROTATION: My best advice is to create a breakfast rotation. For example: Every Monday, Wednesday, and Friday the kids get either yogurt and fruit or a fruit smoothie and toast. Then Tuesday and Thursday are egg days or oatmeal days with fruit. From there, fill in the recipes you plan to make each week to keep things from getting boring. Repeat this rotation until you need a change.
27 Breakfast Ideas
A healthy school breakfast doesn't have to be complicated or time consuming. These breakfast ideas are quick and easy, offer your child a great start for the day, and will keep you from falling into a breakfast rut during the school year.
I've divided the list into my favorite breakfast themes: yogurt, eggs, toast/bread/muffins/pancakes, oatmeal, and smoothies.
27 BREAKFAST IDEAS CHEAT SHEET
Yogurt Ideas
Plain yogurt is a protein-rich base for tons of other delicious and nourishing ingredients like fruit, honey, nuts, seeds, granola, and spices (about 18 grams of protein in Greek yogurt, per serving). Try these two options for a fun and customizable yogurt that everyone in the family will love.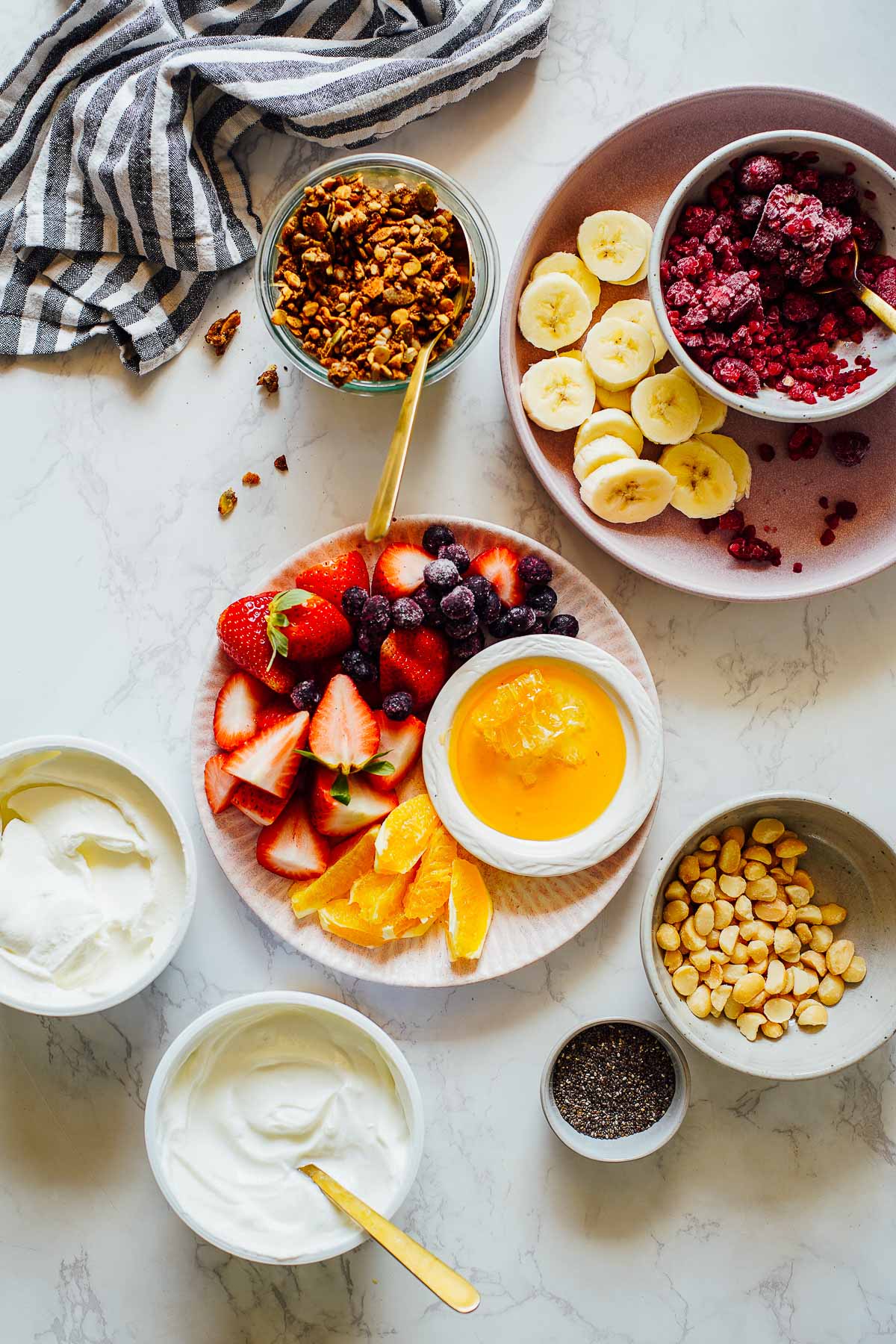 This is a great breakfast the kids can make on their own. Arrange a tub of plain yogurt, honey or maple syrup, fruit, and homemade granola (I also love Autumn's Gold brand from Costco) on the counter and let the kids build their own bowl in the morning. Or, make a quick bowl for the kids.
Serve the yogurt bowls on their own, or add a muffin or eggs on the side.
Healthy Yogurt Bowl Recipe with Topping Ideas
Try one of these 17 topping ideas to customize a healthy yogurt bowl for everyone in the family. 
Make This Recipe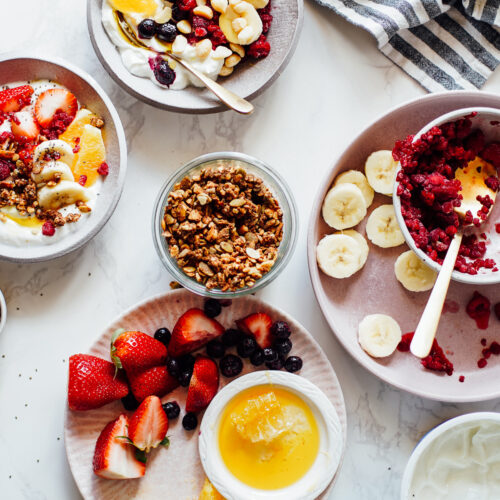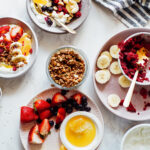 Prep yogurt and fruit bowls in advance by adding yogurt and either fresh or frozen fruit to mason jars. Then place the jars in the fridge and use within 5 days. In the morning, grab a jar, add some homemade granola (which is freezer-friendly, a big time saver), and a spoon.
Serve the parfait with a muffin or egg (hard-boiled eggs or omelet cups are great for an on-the-go breakfast).
Make-Ahead Yogurt Parfaits
Make your yogurt bowls to-go or make these parfaits ahead for the easiest grab-and-go option. 
Make This Recipe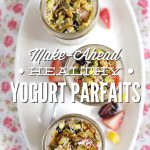 Egg Ideas
With 6 grams of protein and 5 grams of healthy fat, an egg is an excellent breakfast choice for kids. And there are over 15 different ways to make eggs for breakfast, so the ideas and recipes are endless. No boredom here!
The recipes below are easy to prep ahead or whip together in a few minutes on a school morning. Pair some of these egg recipes with fruit, oven-baked bacon, chicken breakfast sausages (I like Bilinski brand), sourdough toast (or peanut butter banana toast), pancakes or waffles, or a muffin for a balanced breakfast.
To make the best scrambled eggs, whisk 2-3 eggs in a bowl, add salt and pepper, then cook on low heat in 1 tablespoon of butter. Once the eggs are just cooked, and still glossy looking, plate and serve.
You can even pack scrambled eggs for lunch, in a thermos, so make a double batch in the morning and add to a thermos for a lunchbox main meal (see over 27 more lunch ideas).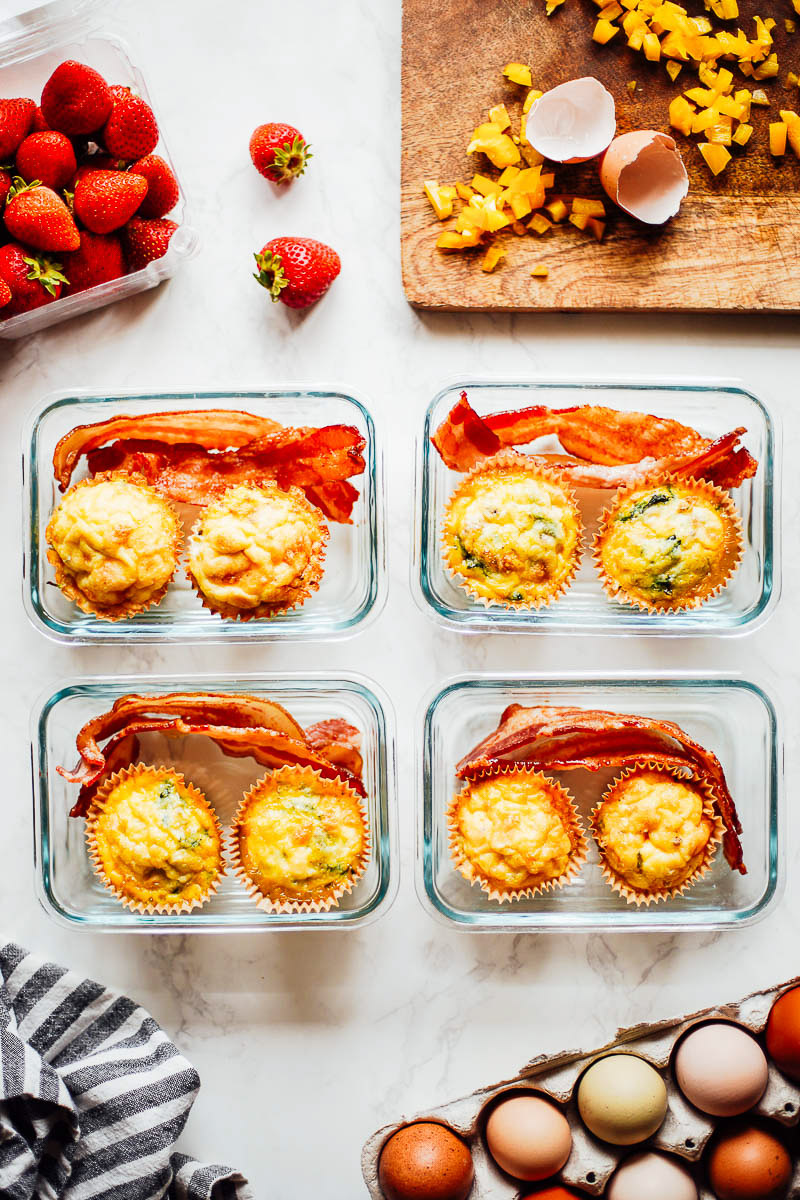 Eggs baked in muffin cups with veggies and cheese are a delicious make-ahead breakfast that can be reheated and enjoyed in only seconds on a busy morning. And the omelet cups are super easy to customize based on your liking and your child's taste preferences.
This is also a great lunchbox-friendly option. Prep the omelet cups on Sunday and enjoy all week for breakfast and in the lunchbox. (Learn how to safely store cold food in the lunchbox.)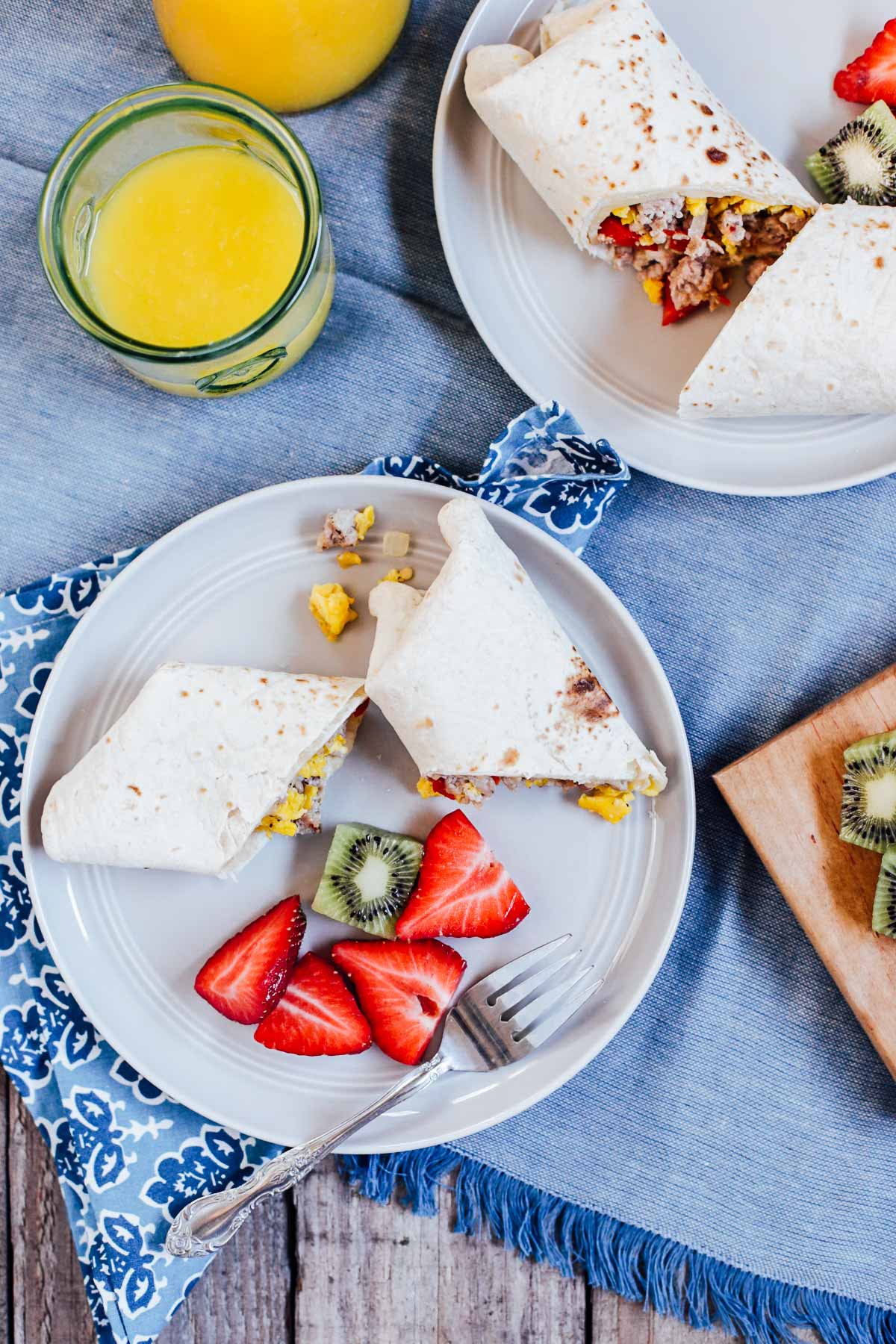 Make these protein-packed breakfast burritos ahead of time with scrambled eggs, ground breakfast sausage, veggies, and cheddar cheese. Wrap in parchment paper and store in the freezer. Use the microwave for a warm and filling burrito, ready in minutes and easy to take on the go.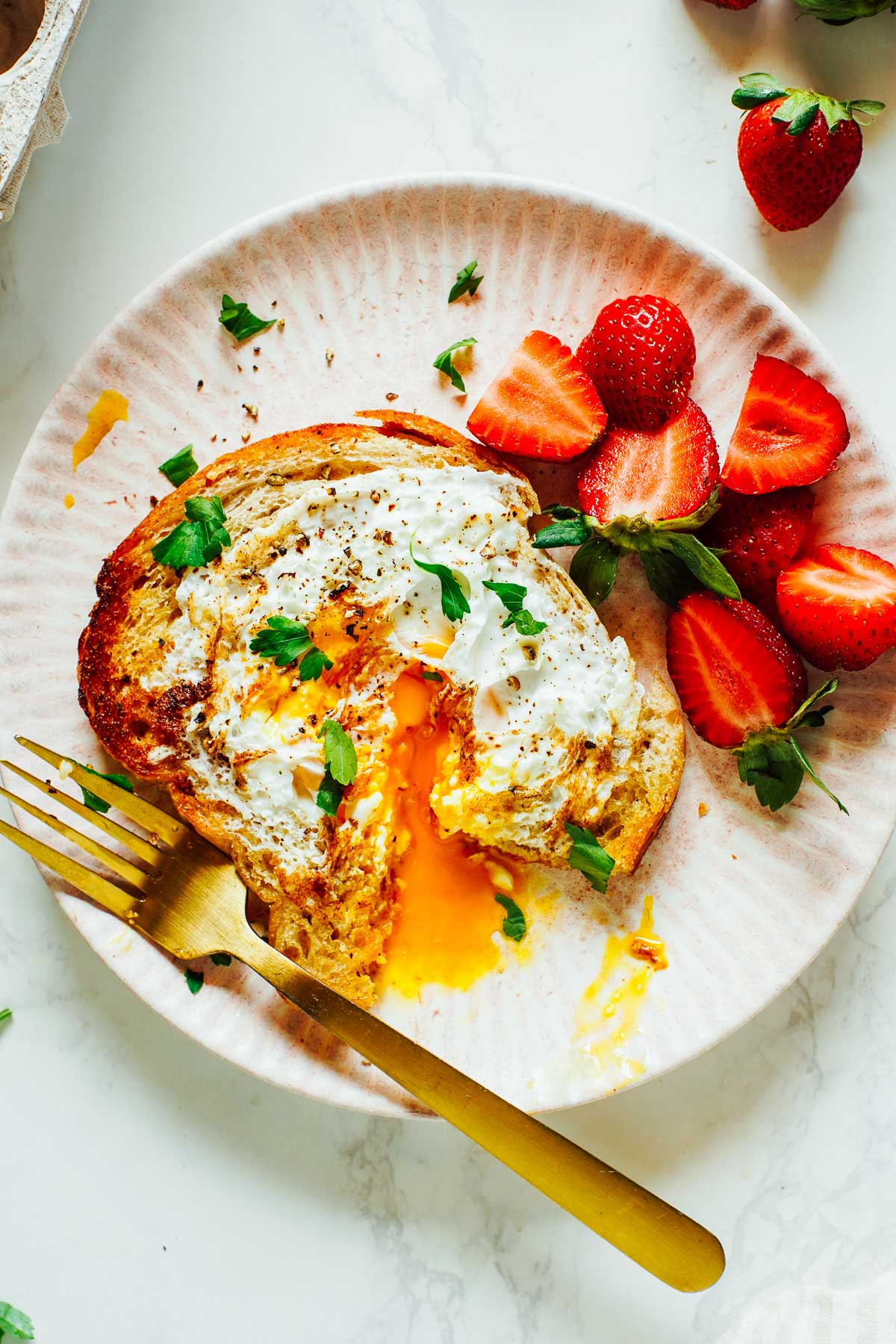 A complete meal in one! Crack an egg right inside of toast (cut a whole in the toast), then cook in a skillet with butter, for an easy, balanced breakfast. This meal takes just 5 minutes to make. Serve with a side of fruit, sliced avocado sprinkled with salt, a smoothie, or yogurt.
Another way to serve eggs and avoid a breakfast rut. If your kids love runny egg yolks, sunny side up eggs are perfect. Dip sourdough toast in the egg yolks for a filling breakfast. Or, cook the yolk until firm for a well done egg.
Frittatas are the perfect breakfast to make ahead on Sunday, cut into slices (like a pie), and reheat on a busy weekday morning (or eat at room temperature). And you can easily customize a frittata to your liking and child's preferences. Add whatever veggies you love, cheese, and then eggs and bake.
Serve with favorite fruit, yogurt, a smoothie, muffin, leftover pancakes or waffles, or toast.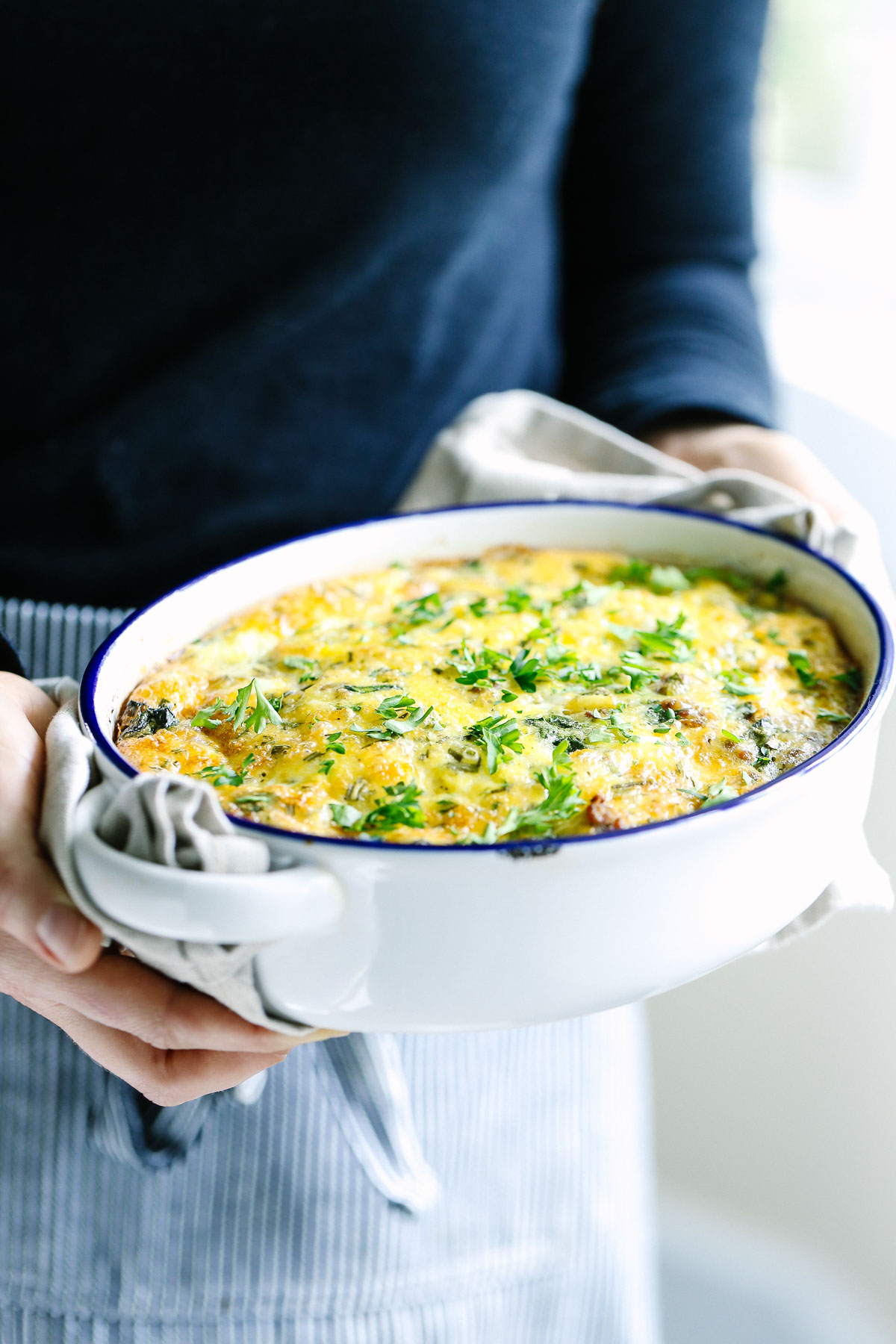 This egg and sausage casserole is easy to make ahead of time and reheat by the slice for a protein-packed meal, ready in minutes.
After baking, cut the casserole into squares, then place in an airtight container and store in the fridge. Reheat the casserole squares in the microwave for a few seconds (or the oven) for a quick and easy morning breakfast.
Serve with fruit, toast, leftover pancakes or waffles, muffin, or yogurt.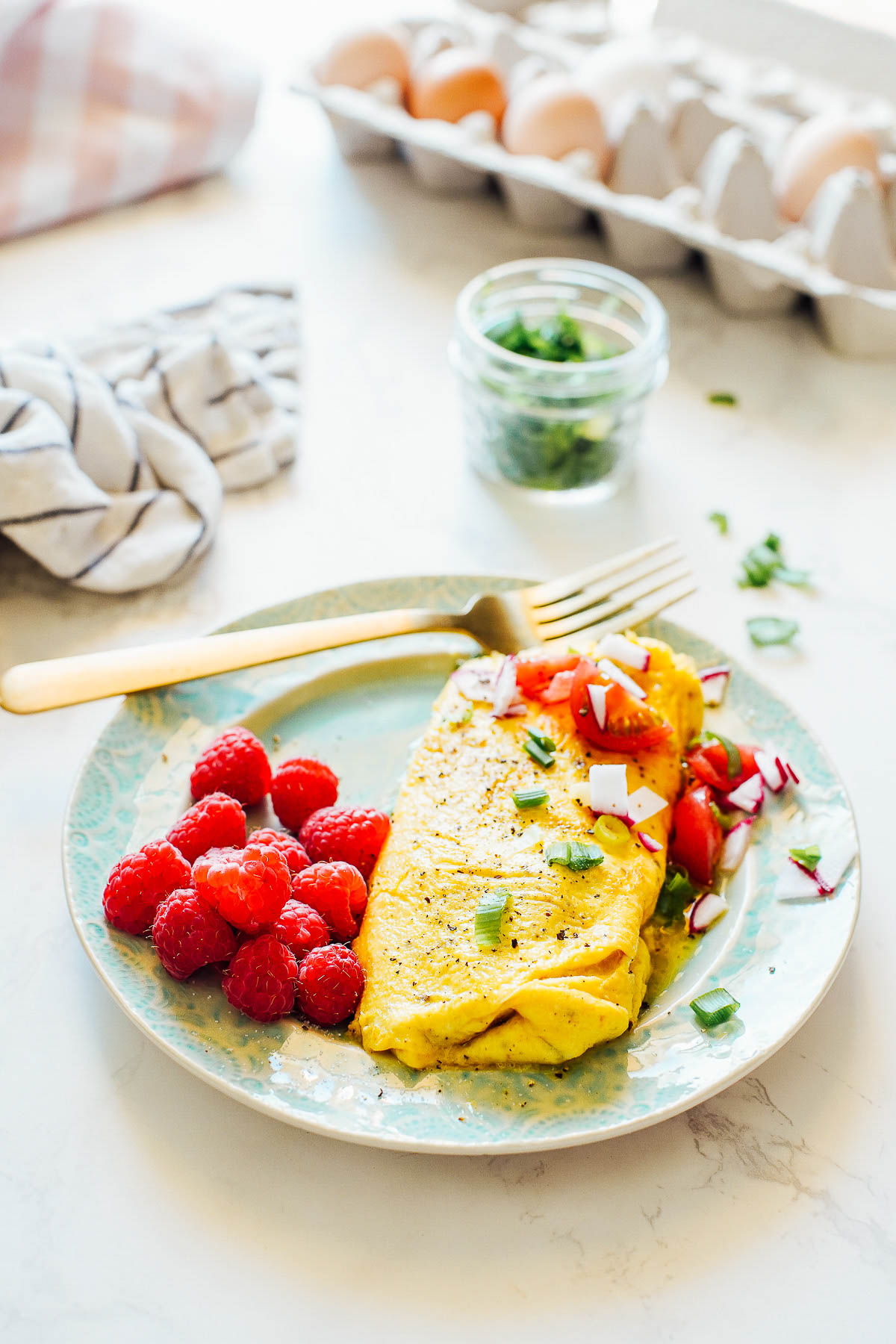 So simple and so easy to make. My kids love a classic egg and cheese omelette: beat 2 eggs in a bowl, then shred cheddar cheese on the side. Melt butter in a skillet, add the beaten eggs and swirl the eggs in the skillet. Then add cheese and roll up. A slice of ham is also a delicious protein-rich filling to add with the cheese.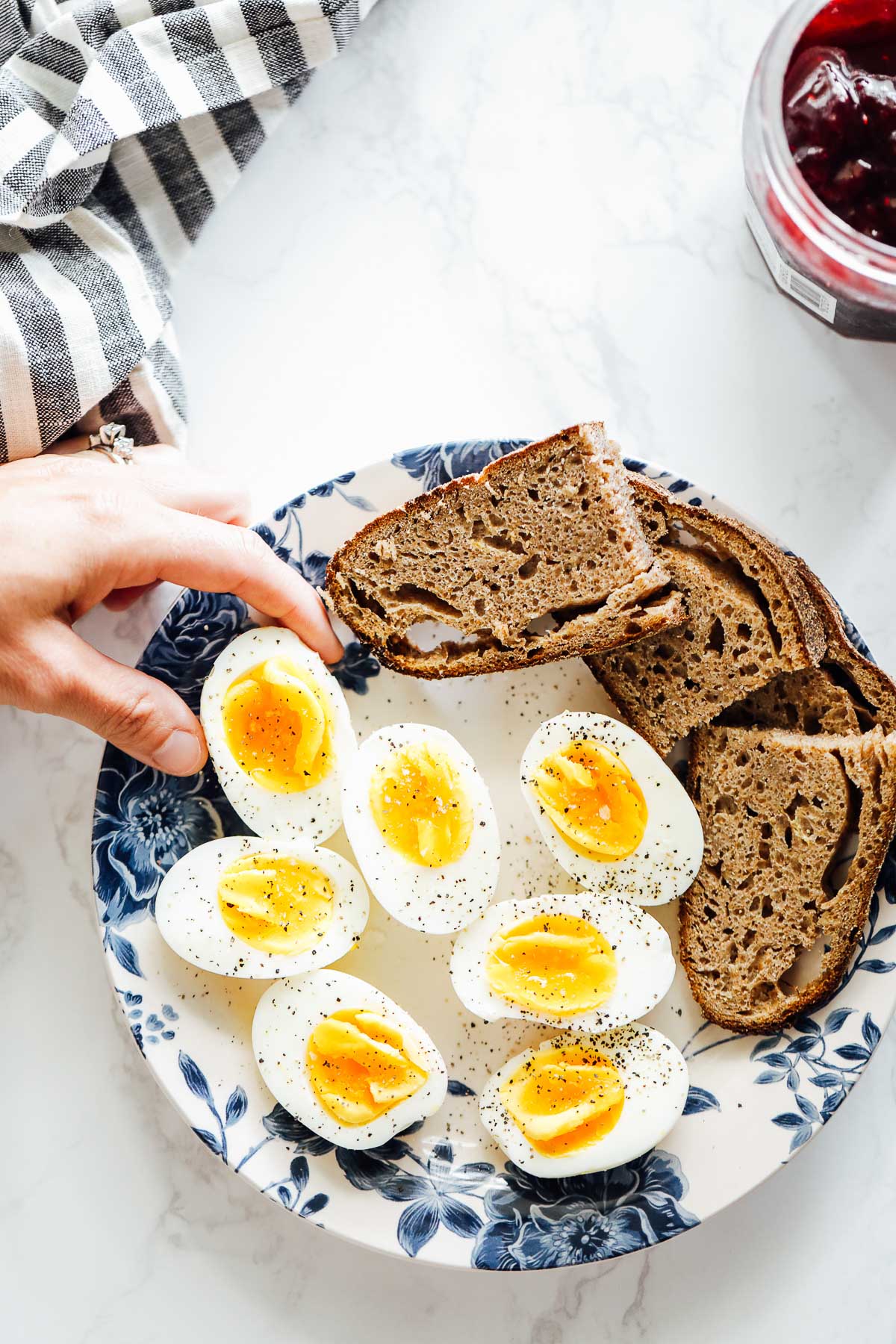 Making these on-the-go eggs is as easy as can be when you use the Instant Pot. Make a big batch on the weekend and enjoy them for breakfasts, in the lunchbox, and for easy snacks all week.
Bread, Pancake, Muffin, Waffle Ideas
These breakfast classics get a healthy twist when made with nourishing, real-food ingredients like einkorn flour, oats, or sourdough bread. Some mornings, simple toast with butter and a smoothie makes for the perfect breakfast. Other mornings, when we have more time, we may have easy sourdough French toast.
Pair these carb-centric meals with a healthy protein source like quick eggs, Greek yogurt, or a protein packed smoothie for a healthy balanced breakfast.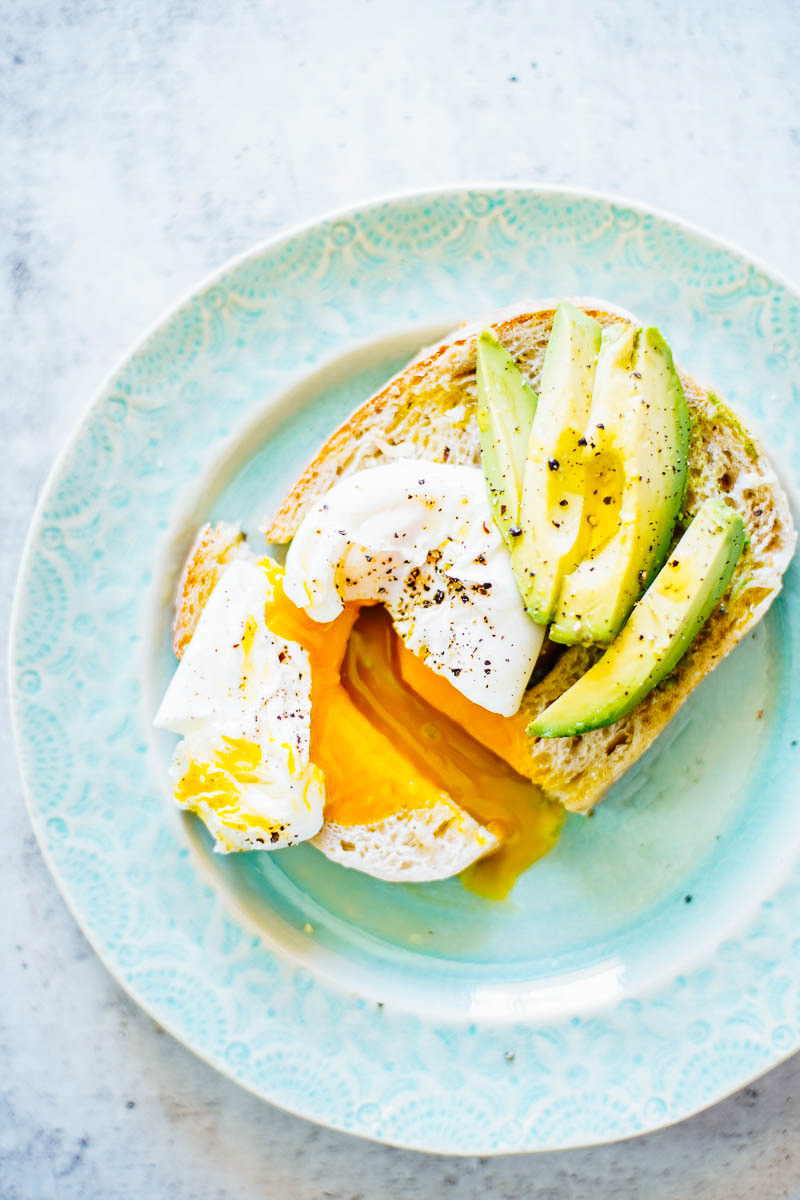 Mash an avocado in a bowl, then sprinkle with salt and a squeeze of lemon juice. Serve on the side of eggs, or add an egg on top (scrambled eggs, sliced hard-boiled egg, or a sunny side up egg).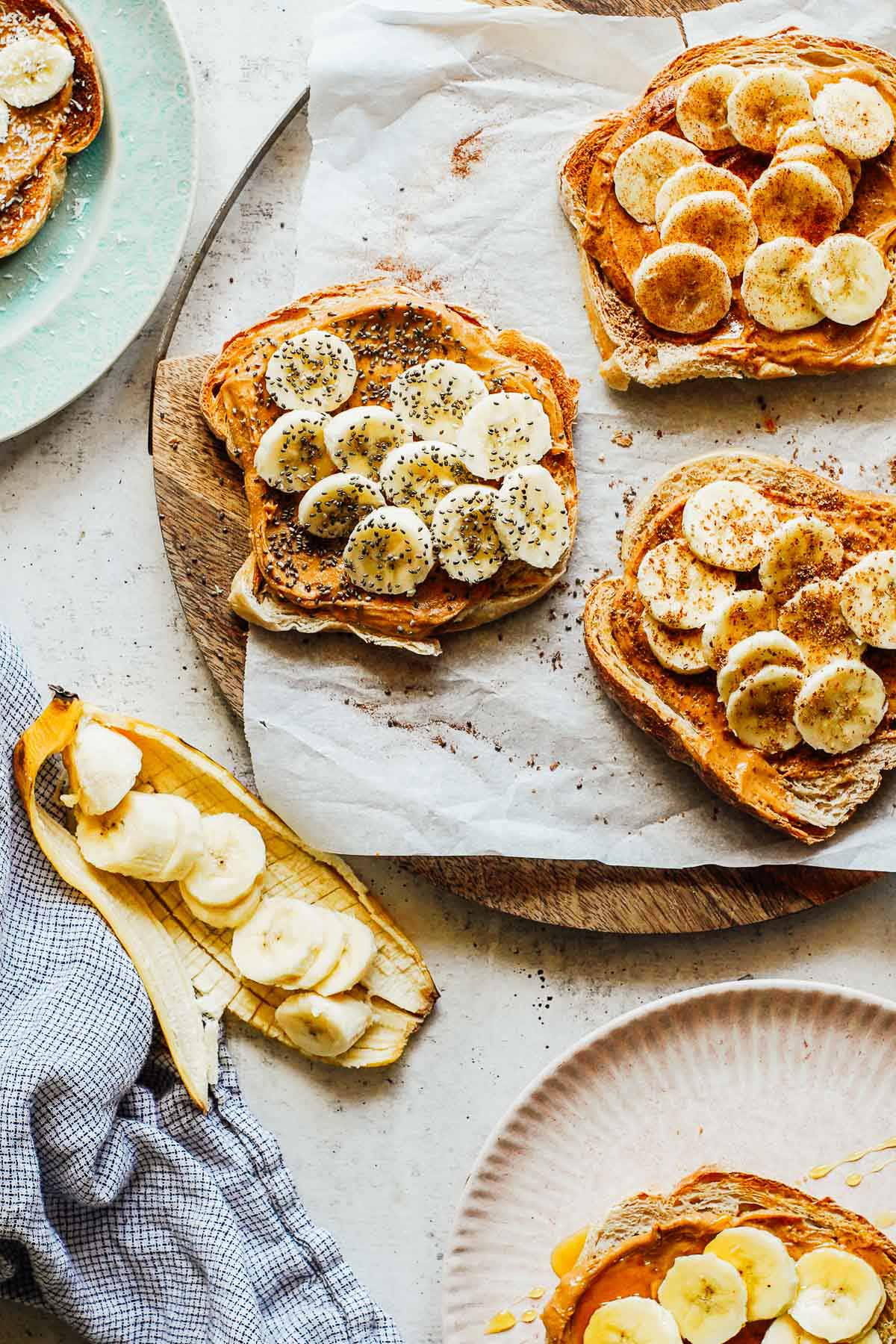 With 6 different ways to top your peanut butter banana toast, you'll never get tired of this quick breakfast idea. Add peanut butter or almond butter (or sunflower butter for a nut-free option) to a piece of sourdough toast, then top with banana slices. Add a sprinkle of cinnamon, coconut flakes, chia seeds, flax seeds, granola, or honey for extra flavor and nutrition.
Serve the toast alone or pair with an egg, bacon, smoothie, yogurt, or yogurt bowl.
Make either of these classic pancake variations in bulk and freeze for an easy toaster pancake that's full of nourishing and healthy ingredients. Reheat your favorite pancakes in the toaster, microwave, or a warm skillet.
Serve with an egg, smoothie, yogurt, fruit, with a nut or seed butter, or maple syrup.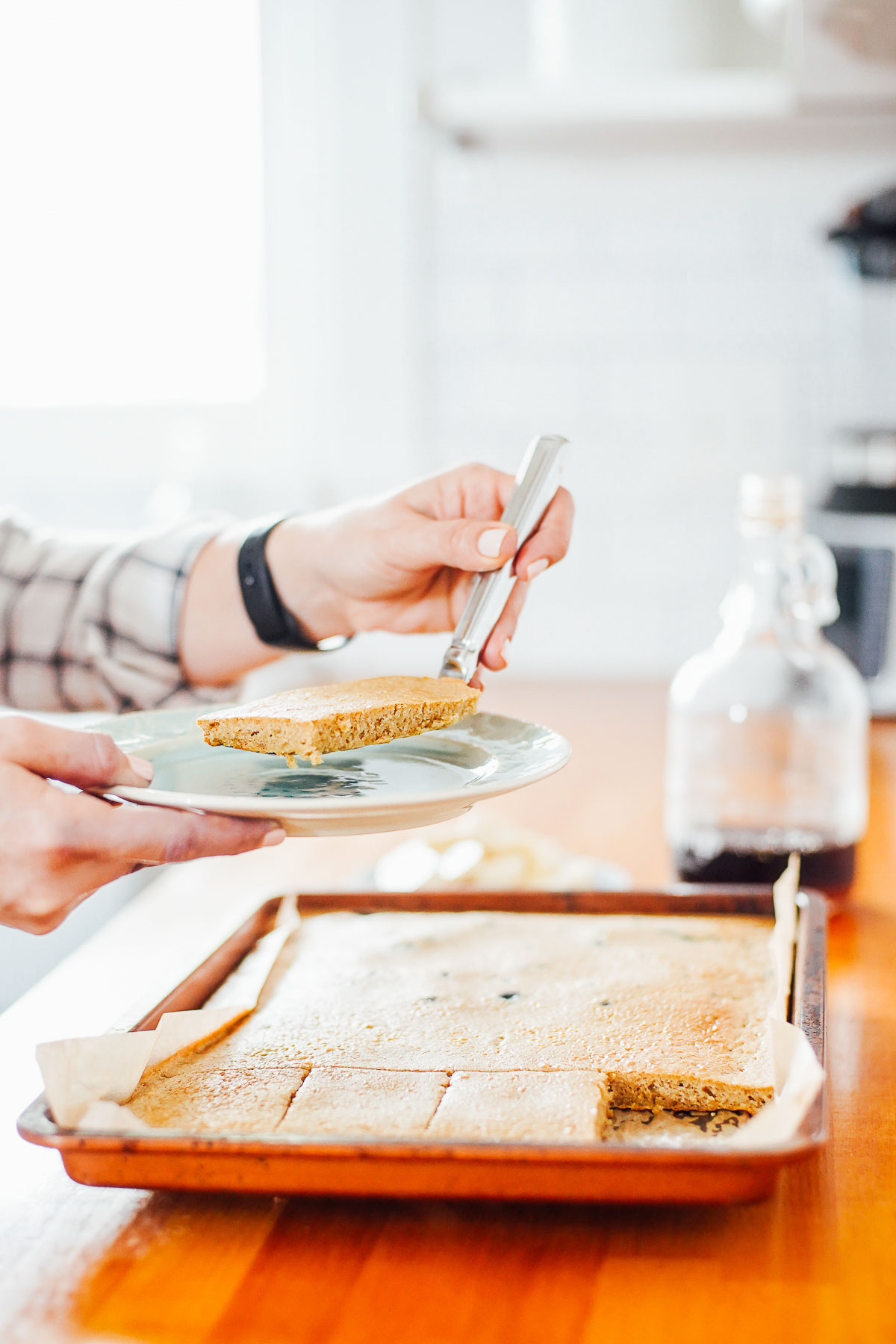 If you need a quick and easy breakfast for a crowd on a school day, this recipe will make everyone happy. Just whisk together the ingredients and pour the batter onto a sheet pan, bake, and enjoy!
To save even more time, prep the batter the night before, store in the fridge, then bake in the morning. Cut the pancakes into slices and serve. Stash the extra slices in the fridge for an easy breakfast later in the week, or add a pancake square or two to the lunchbox (see more no-sandwich lunch ideas for kids).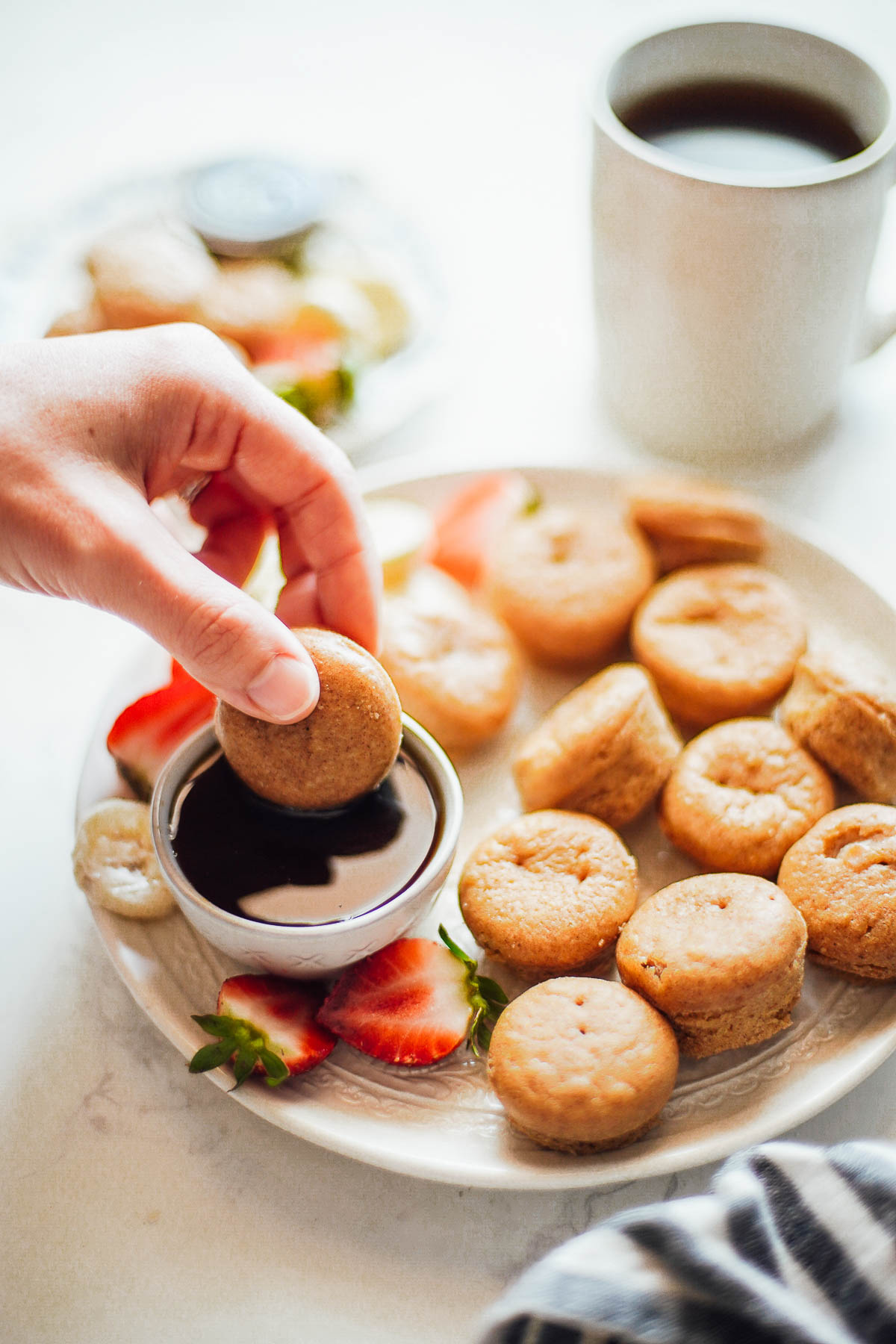 Fluffy pancakes are morphed into mini muffins for an easy, healthy, and dippable breakfast for little hands. Batch bake a variety with different mix-ins like blueberries, strawberries, or chocolate chips and defrost in the microwave before serving. This is also a great lunchbox option!
Serve with yogurt, an egg, smoothie, or on their own with butter, maple syrup, or a nut or seed butter.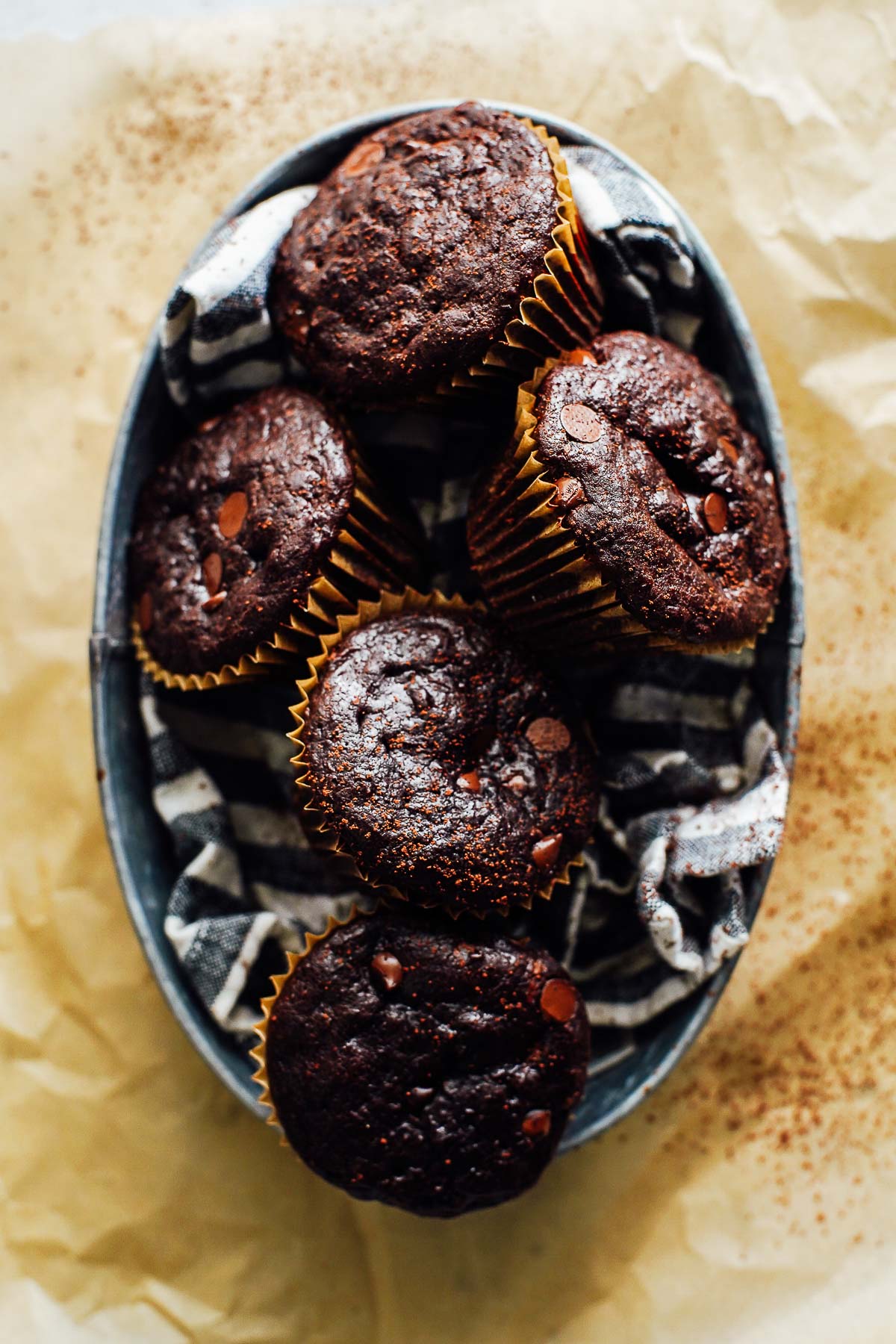 Muffins are easy to grab and even easier to eat on a busy morning. Batch baking various muffins (either regular size or mini muffins for small hands) and storing in the freezer makes it easy to have a variety of options for anyone to grab throughout the week for a school snack, lunchbox side, or breakfast.
Move over Eggo Waffles! Homemade waffles freeze and reheat just like pancakes for a sweet and hearty breakfast that's ready in minutes. For an on-the-go option (because maple syrup in a car isn't a great option), add cream cheese, fruit jam, or nut butter to a waffle, then top with a second waffle for a breakfast sandwich.
Oatmeal Ideas
This classic morning grain doesn't have to be boring or bland, especially if you follow any of these recipes and ideas. Whether you enjoy your oats hot, cold, or baked, you'll find a recipe below to start your day with.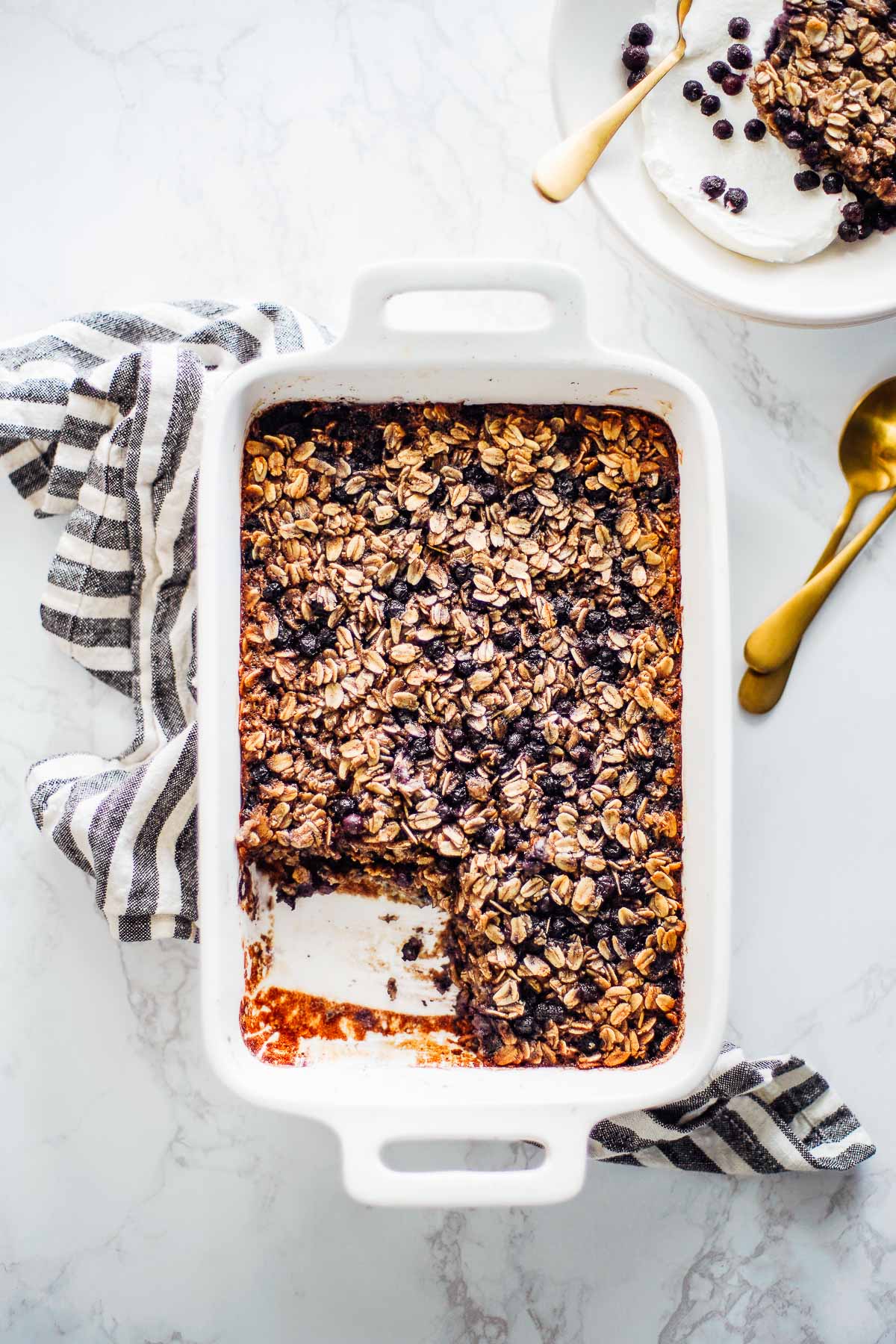 Prepare this dish ahead of time and change things up to keep it seasonal and fresh! Try blueberries, strawberries and peaches in the spring and summer, and apples in the cooler months. Mashed bananas is another great year-round option.
Or, make chocolate baked oats that taste like breakfast brownies!
Baked oatmeal pairs well with oven-baked bacon or chicken breakfast sausages (prep this in advance and reheat for a few seconds in the microwave), eggs, or yogurt. Or serve the oatmeal on its own.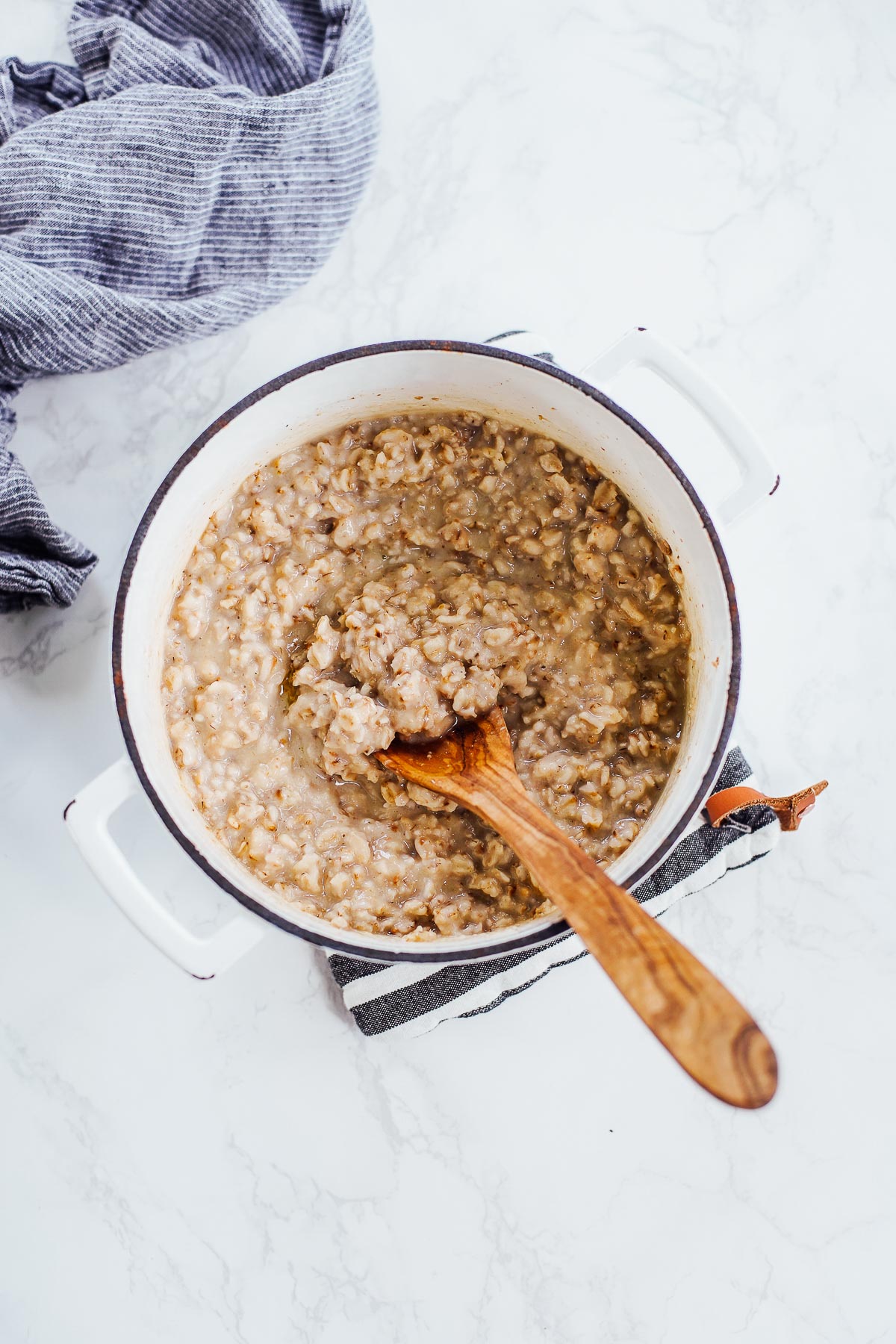 Forget the packets of sugary instant oatmeal and make old-fashioned oatmeal instead. All you need is rolled oats and water. Then sweeten as needed with honey or maple syrup or top with fresh or frozen fruit and nuts.
Warm oatmeal may be prepped in advance and reheated with water on the stove-top or in the microwave, then add toppings.
Warm oatmeal may also be served in a thermos for a hot school lunch option (see more hot lunch ideas for school).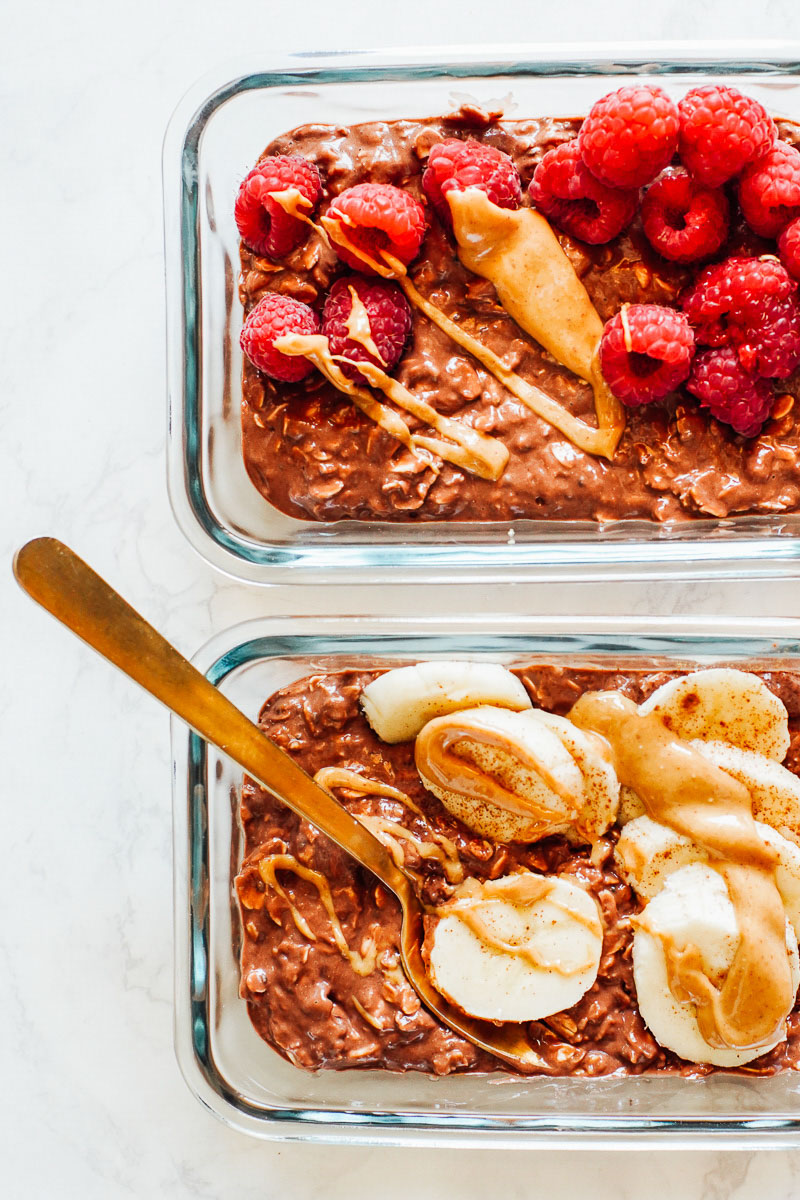 This recipe is naturally sweet and full of protein. Make several mason jars of overnight oats and stash them in the fridge. Add fresh or frozen fruit on top, and breakfast is ready to grab and enjoy.
Want something even more decadent tasting? My kids love chocolate overnight oats that are made with chocolate whey protein powder, rolled oats, and peanut butter.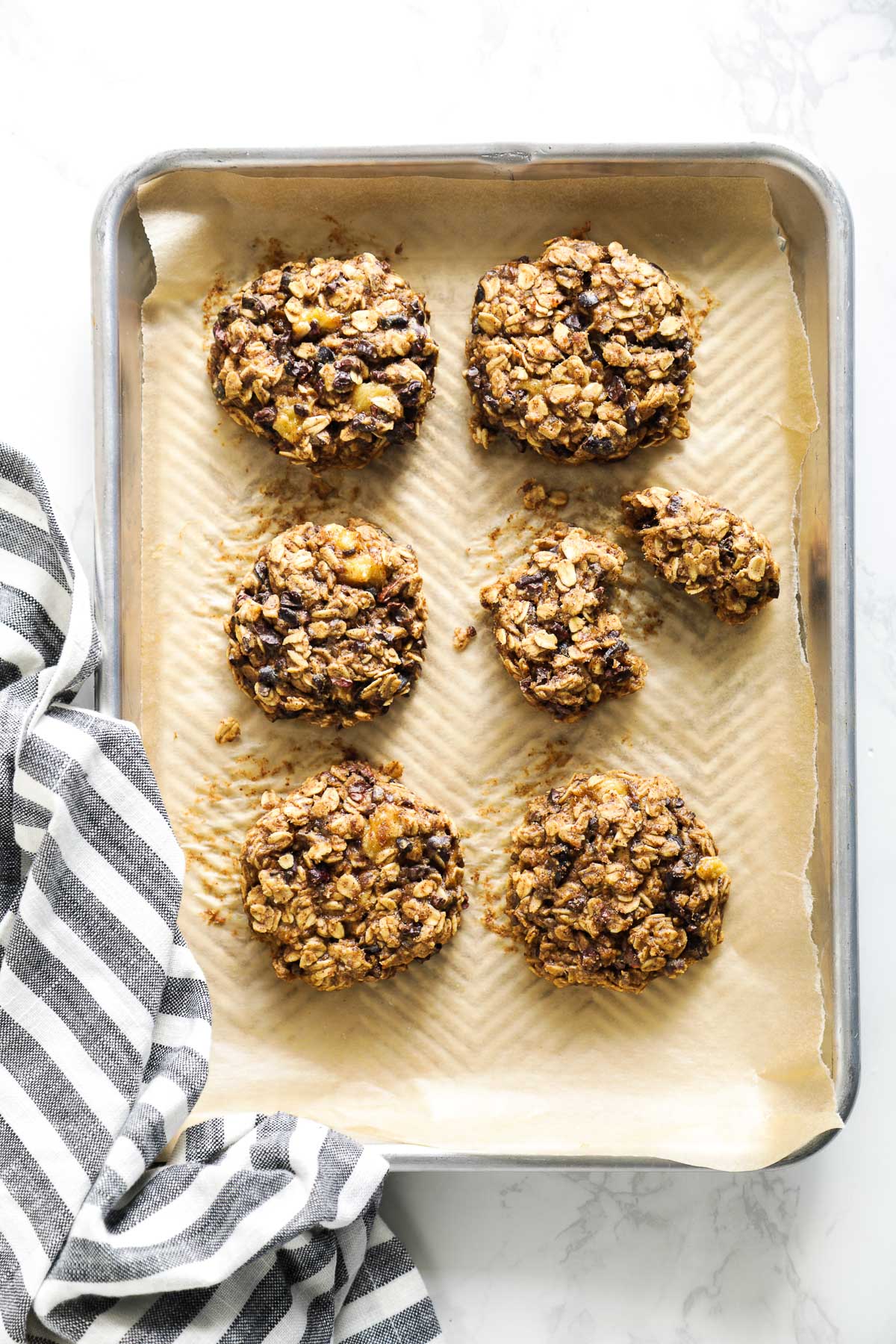 These banana-oat breakfast cookies are such a good breakfast as they're high in protein, fiber, and delicious flavor. Whip them together in one bowl, baked, and store in the refrigerator for up to a week.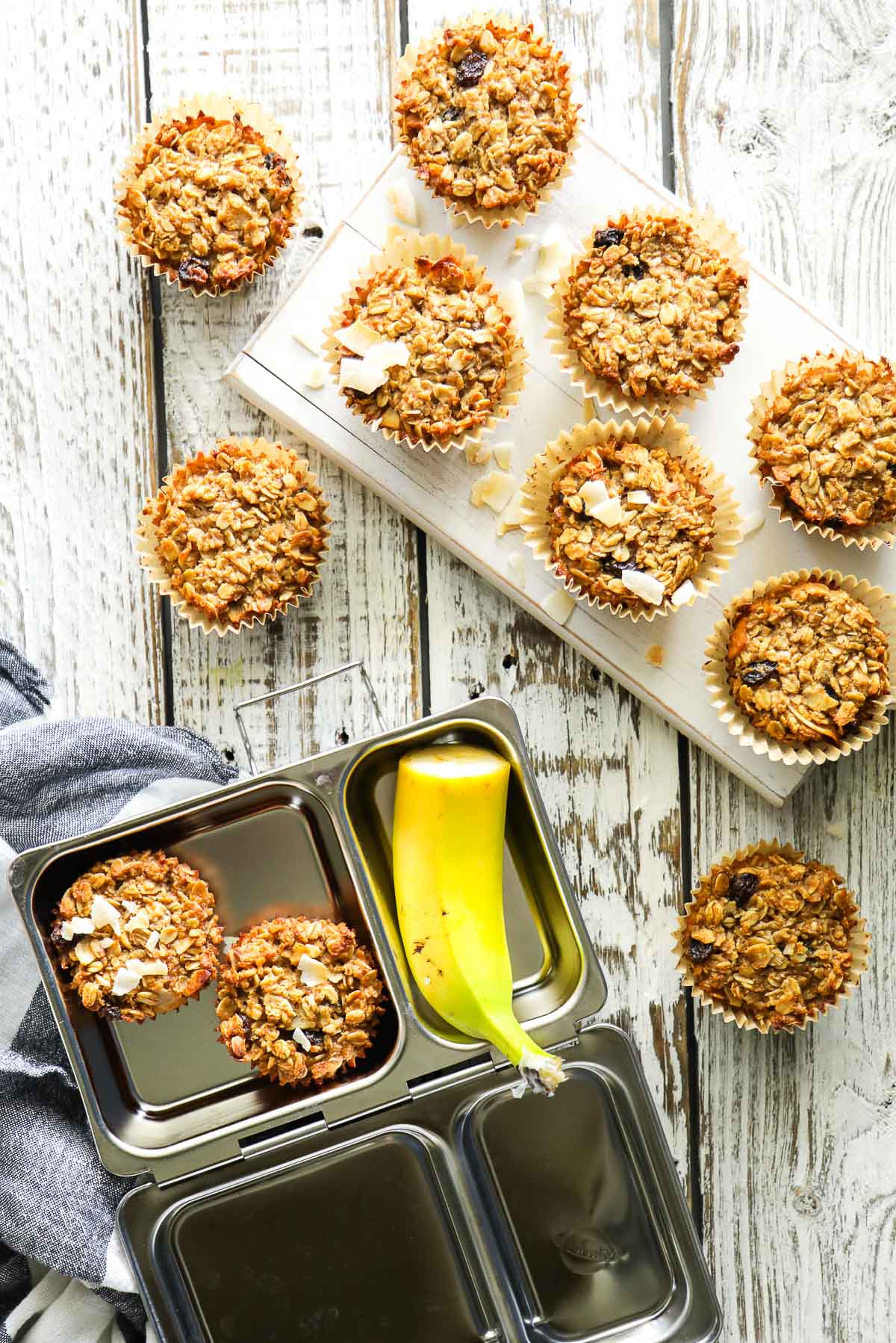 Just like a deliciously hearty and flavorful bowl of baked oatmeal, but with the added perk of being in a convenient handheld cup. The oatmeal cups are baked in a muffin tin. Once cool, store in the fridge or the freezer. No need to reheat before enjoying.
Serve oatmeal cups on their own or pair with an egg, favorite fruit, yogurt, smoothie, rolled up ham, bacon, or chicken breakfast sausage.
Fruit Smoothie Ideas
Smoothies are an excellent way to start the day because you can pack so many nutrients into one glass. I serve smoothies for breakfast with toast, a muffin, or eggs. And I always add a scoop of whey protein powder (usually this vanilla protein option) so the kids get plenty of protein in the morning. I also add 1 tablespoon of chia seeds or flax seeds before blending for extra fiber.
Between the protein, complex carbs (in the fruit), and fiber, a smoothie is a filling way to start the day.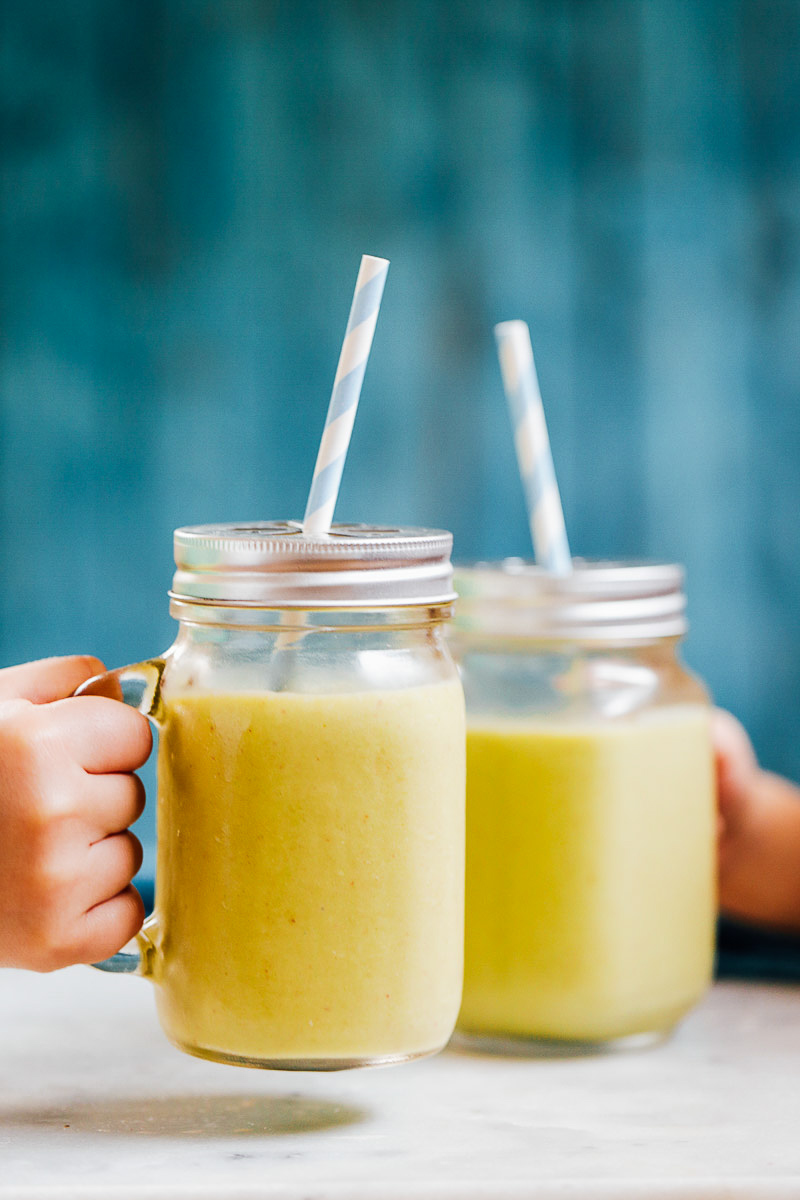 This smoothie is made with yogurt for extra protein and fruits that give the smoothie a tropical flavor. To make, add 1/2 cup water or milk of choice to a blender, along with 1 cup plain yogurt, 1 cup pineapple, 1 cup mango, 1 banana, and 1 cup baby spinach (optional). Add 1-2 scoops whey protein powder for extra protein. Blend.
Made with strawberries, banana, and healthy fat (peanut butter), this smoothie is a delicious way to start the morning. To make, add 1/2-3/4 cup milk of choice to a blender, along with 1 ripe banana, 2 tablespoons peanut butter (or another nut or seed butter), 1 1/2 cups frozen strawberries. Add 1-2 scoops whey protein powder for extra protein. Blend.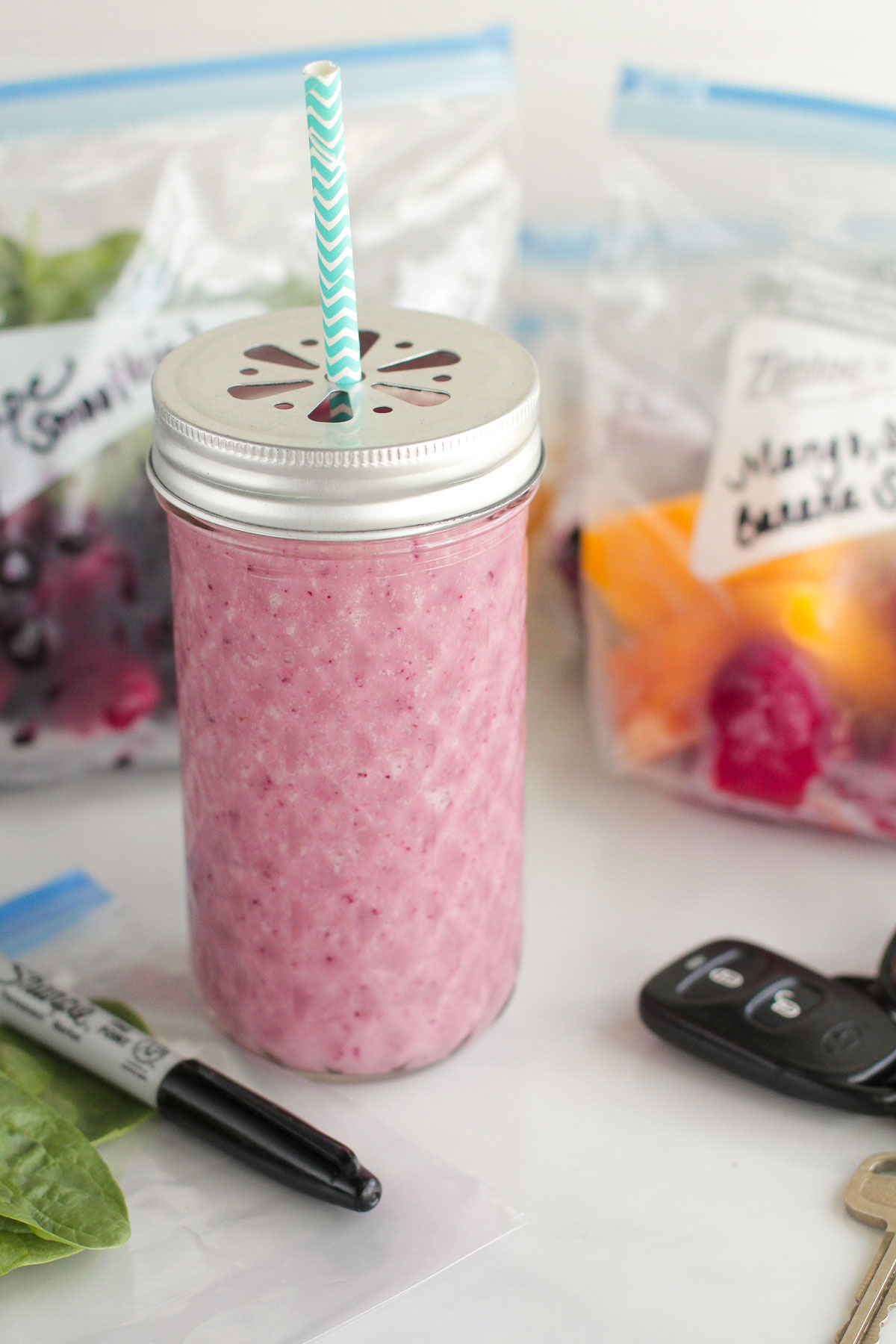 26. Mango Strawberry Smoothie
This is my kids' favorite smoothie. It's thick like ice cream and we serve the smoothie in bowls (also known as "smoothie bowls") and top it off with some homemade granola.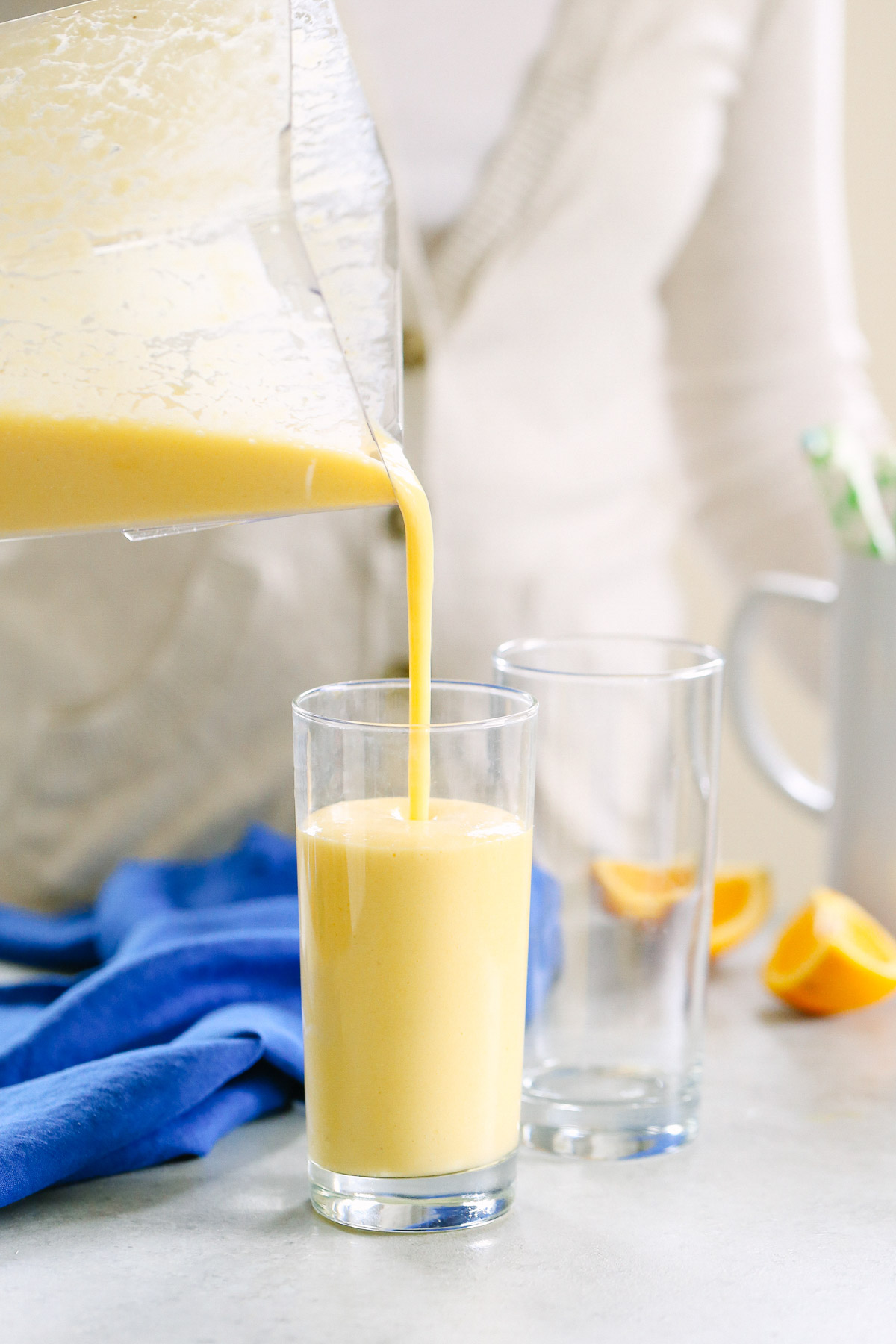 27. Mango Vitamin C Smoothie
This vitamin-c rich smoothie is like having an orange juice smoothie, made with a fresh orange and frozen mango. To make, add 1 cup of milk to a blender along with 1 ripe banana, 1 orange (peeled), 1/2 inch of peeled turmeric (optional), and 1 cup of frozen mango chunks. Add 1-2 scoops whey protein powder. Blend.
FREE PRINTABLE
42 EASY SCHOOL LUNCH IDEAS CHEAT SHEET
Nourishing meal ideas for effortless school lunches. Download your free lunch guide.