This post may contain affiliate links. Affiliate links come at no extra cost to you. These links allow me to share the products I authentically recommend (and use) and support Live Simply by receiving a small commission.
I will be the first one to admit I was a bit over zealous.
August rolled around and I just couldn't wait to start packing lunches for my new little kindergartener. This type A, OCD momma was in all her glory picking out school lunch gear to perfectly organize her lunch every day, and I was just plain giddy about it.
Until about the third week of school.
Really? I have to pack her lunch…again?
FREE Real Food Crash Course
I get it, switching from processed food to a real food lifestyle can feel overwhelming and confusing. Friend, it doesn't have to be this way.
Here's what to expect: 
printable charts (real food defined, a seasonal produce guide, 

meal planning)

how to get started with a real food lifestyle

how to create a meal plan and stay within a budget

7 real food recipes

emails from me to help you enjoy real food
Bonus: Step-By-Step Guide to Real Food
Yep. It's not that I didn't want to pack her nourishing lunches, or have food around the house. It was the extra time. I figured it would be so great packing her lunch the night before – I would be as free as a bird the next day not having to worry about lunch! Right?!
Wrong! I forgot about that little bottomless pit one year-old I have, and my busy-bee three year-old that burns off food in an hour. They still needed lunch the next day too.
So I spent a little bit of time getting organized, and now lunch-making is effortless. Foods pop out of the freezer to thaw for lunch packing, and stay in the fridge for my little girls that are at home. Everyone is eating the same thing either that day or into the next day, time is saved, with very little thought.
Now I only need to pack add-ons: pieces of fruit, dried nuts/trail mixes, salads, etc. All of which are very simple to throw in the lunchbox with a freezer meal option. Other than occasionally sending herbal tea, we just pack water, so keep the drink simple too.
Seven Lunches You Can Make and Freeze
1. SIMPLE THERMOS SOUPS: My absolute favorite lunchbox addition, soups are so easy, satisfying to children, and, most importantly, super nourishing.
My favorites are very simple soup purees – and these are always kid pleasers. Soups like tomato soup, pumpkin soup, and broccoli soup are always a big hit. This kid-friendly creamy veggie soup and gluten free chicken noodle soup or crockpot chicken noodle soup always go over well when I have other kids over for lunch here, and pack up well in thermoses (like this.)
If your children are fighting off a cold bug, or there are bugs being shared at school, this roasted garlic soup will boost their immune system – and it really does have a kid-friendly, almost sweet taste.
HOW TO MAKE IT HAPPEN: Plan on making a large batch of just one soup every weekend. Plan the soup for lunch or dinner, and then store away the leftovers for a quick lunchbox addition.
2. MUFFINS: From the freezer to lunchbox, muffins are the perfect, portable lunch add-on. I often add some pasture butter or coconut butter (like this) for more nourishing fats. When you're a gluten-free home like mine, sandwiches are few and far between because gluten-free bread is so pricey. Muffins take the place of sandwiches often, and go well with soup or salad.
These savory or sweet sweet potato biscuits are my favorite lunchbox muffin and my kids love to dunk them in their soup. I recently created these pizza muffins to help me combat the "pizza day" at school, and they are something my daughter looks forward to every time. Sweet muffins like blueberry, banana, cinnamon raisin, lemon poppy, and strawberry are good for breakfasts, but also pack well for lunch. Grain options include: banana-nut, blueberry, chocolate-banana, zucchini, and savory stuffed breakfast biscuit muffins.
HOW TO MAKE IT HAPPEN: Make Saturday or Sunday morning breakfast a double (or triple!) batch of muffins. Store away the rest in the freezer (I prefer to individually wrap them in plastic. It is not the "greenest" thing I do, but I think it keeps them moister, and it packs to the lunchbox fast.) A couple of weekends doing that, and you'll have a great stash stored away.
3. VEGGIE STICKS & DIP: I know the veggie part of the lunch box might not be the most popular section, but hear me out on this. Veggies need a load of fat in order to digest properly, and for the body to absorb the vitamins, so why not make them taste amazing with some fun, kid-friendly, friendly-fat filled dips.
Store-bought dips may be easy, but the toxic, rancid oils sort of cancel out any of the healthy benefits of the veggies! Check out this list of 5 popular dressings (including Ranch!), that mix up in just a few seconds. You can make a batch of Ranch, pour into ice cube trays, and then pop 1 or 2 "dip cubes" out as you need. They will thaw by lunch easily. You can also freeze hummus for a fun dip alternative.
I like to cut my own veggie sticks every weekend – I keep a bag in the freezer so I can pull them out easy – and that way they won't go bad if I don't end up using them all up that week.
HOW TO MAKE IT HAPPEN: The dips themselves only take a couple of minutes to make, so you can make them anytime – even double up, freeze in ice cube trays, then dump the frozen cubes into a labeled freezer bag.
4. FROZEN FRUIT TO MAKE "FRUIT ON THE BOTTOM" YOGURT: Okay, so yes those little cups of yogurt at the store are super convenient. But have you ever flipped one around to look at the ingredient list? If you can even find one that has whole milk (If you see skim milk on that ingredient list steer far, far away!), you will probably find a load of sugar, and to be honest, it just isn't necessary.
If you store away frozen fruit, making your own fruit-sweetened yogurt is as simple as plunking the frozen fruit to the bottom of a small container and scooping your whole milk plain yogurt over top. The fruit thaws by lunchtime!
If your kids are used to sweeter yogurt cups, then drizzle some raw honey or maple syrup over the top. I promise even that will add up to probably half of the sugar in the cups from the store.
I fill my freezer with fruit that we pick ourselves over the summer months, but even Costco carries organic berries at great prices.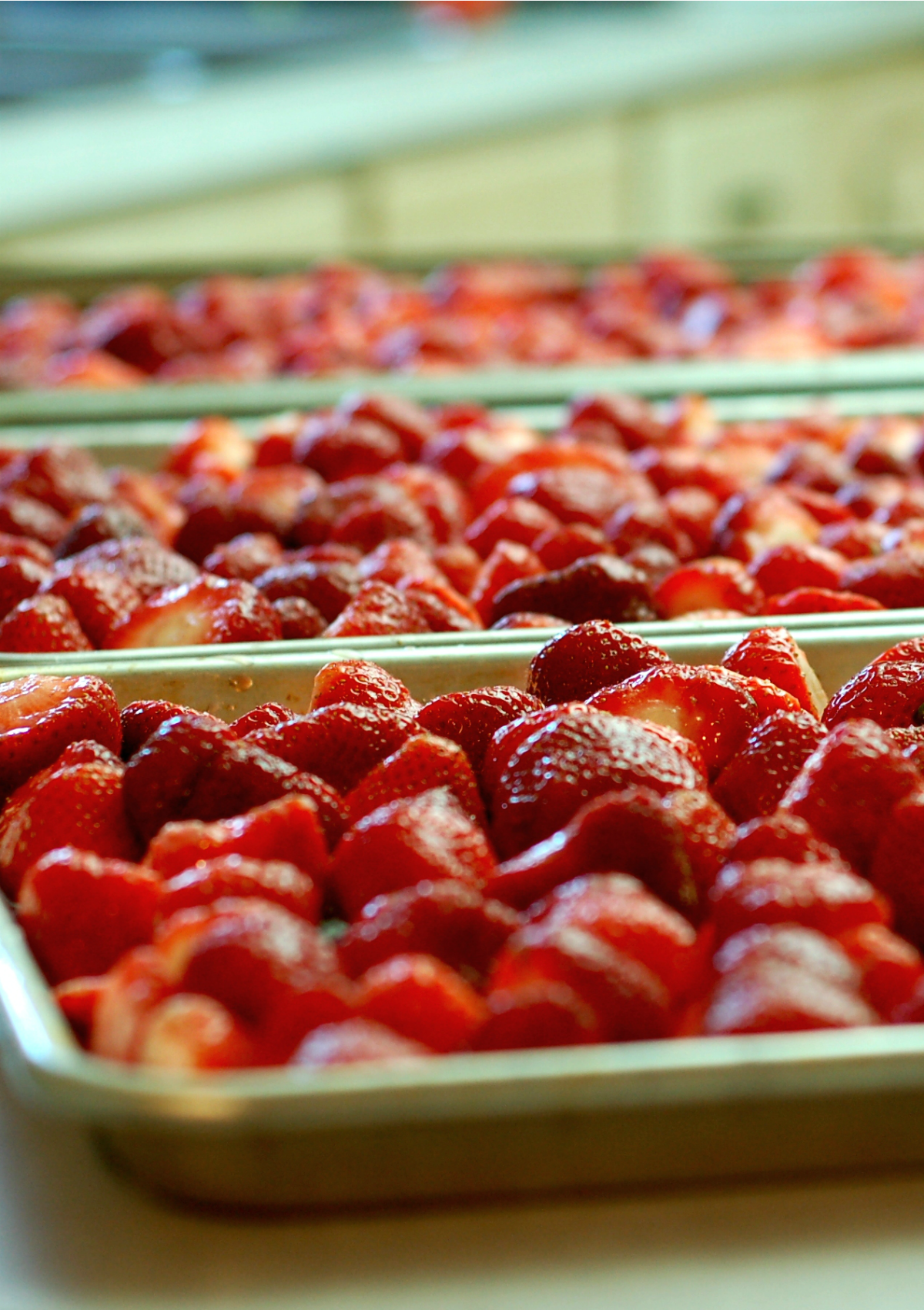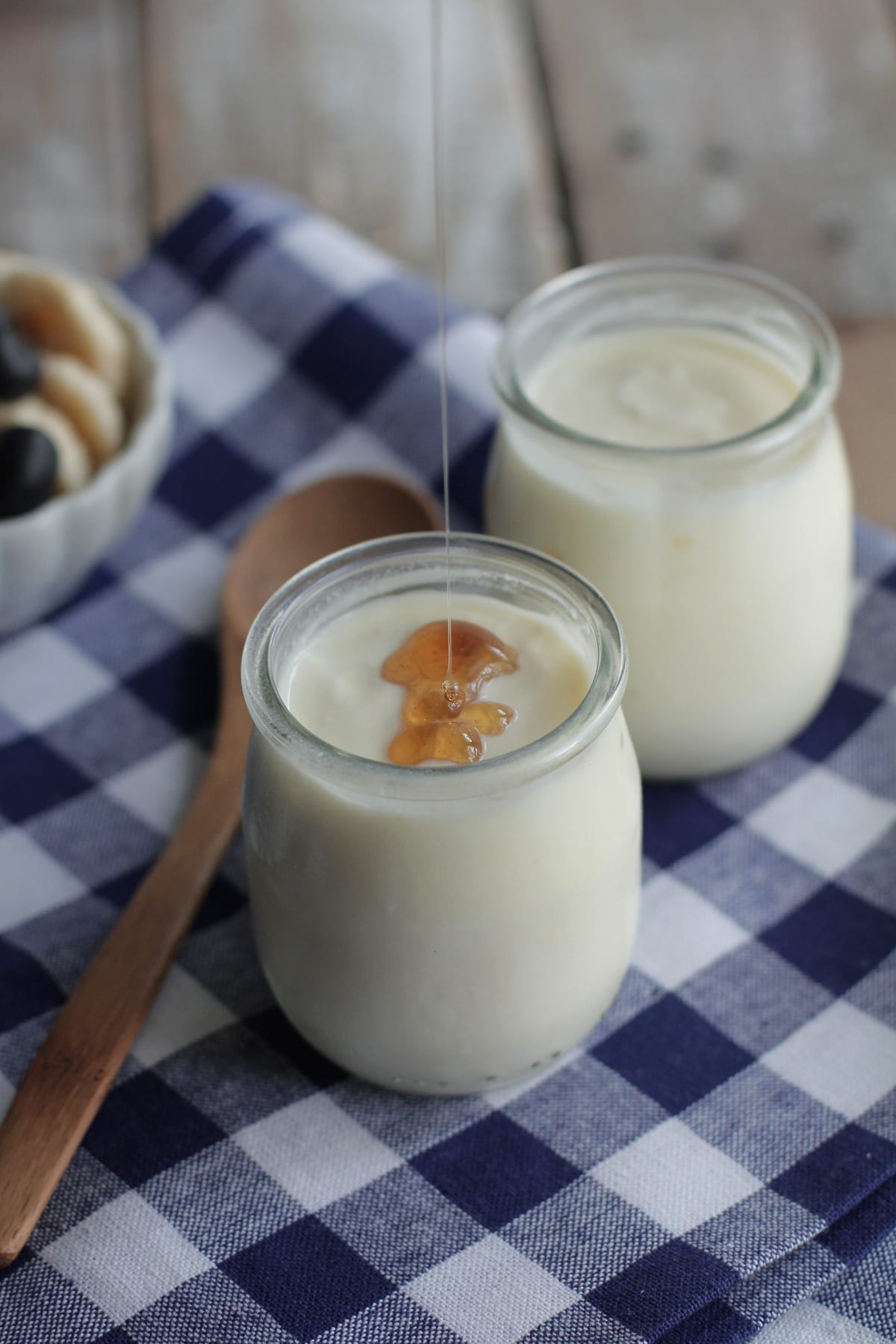 5. GRANOLA BARS/ENERGY BARS: Once or twice a week, I pull a simple granola bar or energy bar from my freezer right to the lunch box. The bars are thawed by lunchtime and are a favorite of my daughter. Because of the nourishing power-packed ingredients, these aren't just a glorified candy bar like most granola bars from the box. You won't need to pack much more than a cup of yogurt and some veggie sticks and dip and lunch is pretty filling. You can also make and freeze a no-bake granola bar or Lara-like bars for a special lunch treat.
HOW TO MAKE IT HAPPEN: The batch of granola bars and energy bars linked above make a batch big enough to last me a good two months or so.  Make a weekend project of it (and really it doesn't take any longer than an hour or so), and enjoy the fruits of your labor over the next couple of months.
6. SHREDDED CHICKEN FOR SANDWICHES/SALADS/WRAPS: Because store-bought lunch meat is packed with questionable preservatives, it really isn't the greatest choice. And until that money tree grows in my backyard, the organic lunchmeat at our health food store is a very (very) occasional treat for my house. I save our budget big time by very simply and quickly cooking 2-3 whole chickens in the crockpot or oven once a month. It takes hardly anytime, and the meat storage is fantastic!
HOW TO MAKE IT HAPPEN: Plan chicken for dinner (recipe links above) on the weekend and make at least two chickens at a time – that way you don't have to cook more often than you need to. I've been making three at a time in my oven roaster. I shred up the chicken and store it away in the freezer in 2-3 cup portions – then I can top salads, wraps, sandwiches very quickly!
7. DINNER LEFTOVERS: This may seem like an obvious one, but I want to make sure it is addressed. Let me tell you something. If I'm going to make a mess of my kitchen to actually make dinner, you better believe I'm doubling that dinner so I have leftovers.
Not only are dinner leftovers nice for busy evenings, but they also make for great lunchbox change-ups. I love packing variety, and unpacking slow cooker fiesta soup, veggie beef soup, spinach lasagna soup, or pizza night leftovers (or whole wheat pizza) makes for a happy camper! Take your guacamole or refried beans from taco night and store away portions in the freezer. You can add them in the lunchbox with tortilla chips or rice tortillas to dip, or roll up the beans with a little cheese for freezer bean burritos.
HOW TO MAKE IT HAPPEN: Start the planning process of making dinner a double portion. It takes planning to change your thought process, but it's so worth making a larger portion.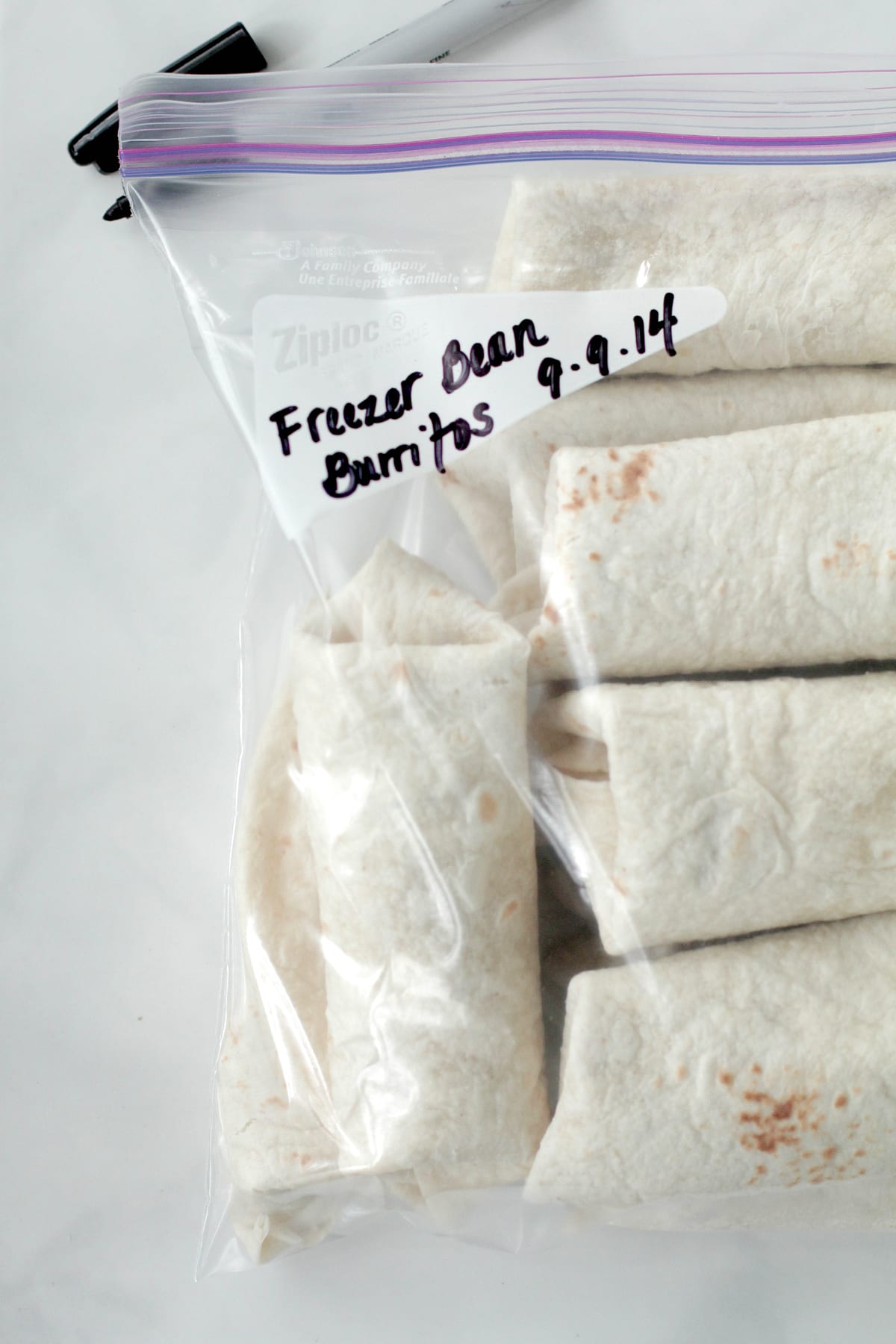 It might take a little forethought to plan for lunch on the weekends or cook an extra serving of a recipe for a weeknight dinner, but the extra planning will save you countless hours in the kitchen and result in healthy, nourishing lunches. 
More Real Food Planning You May Like: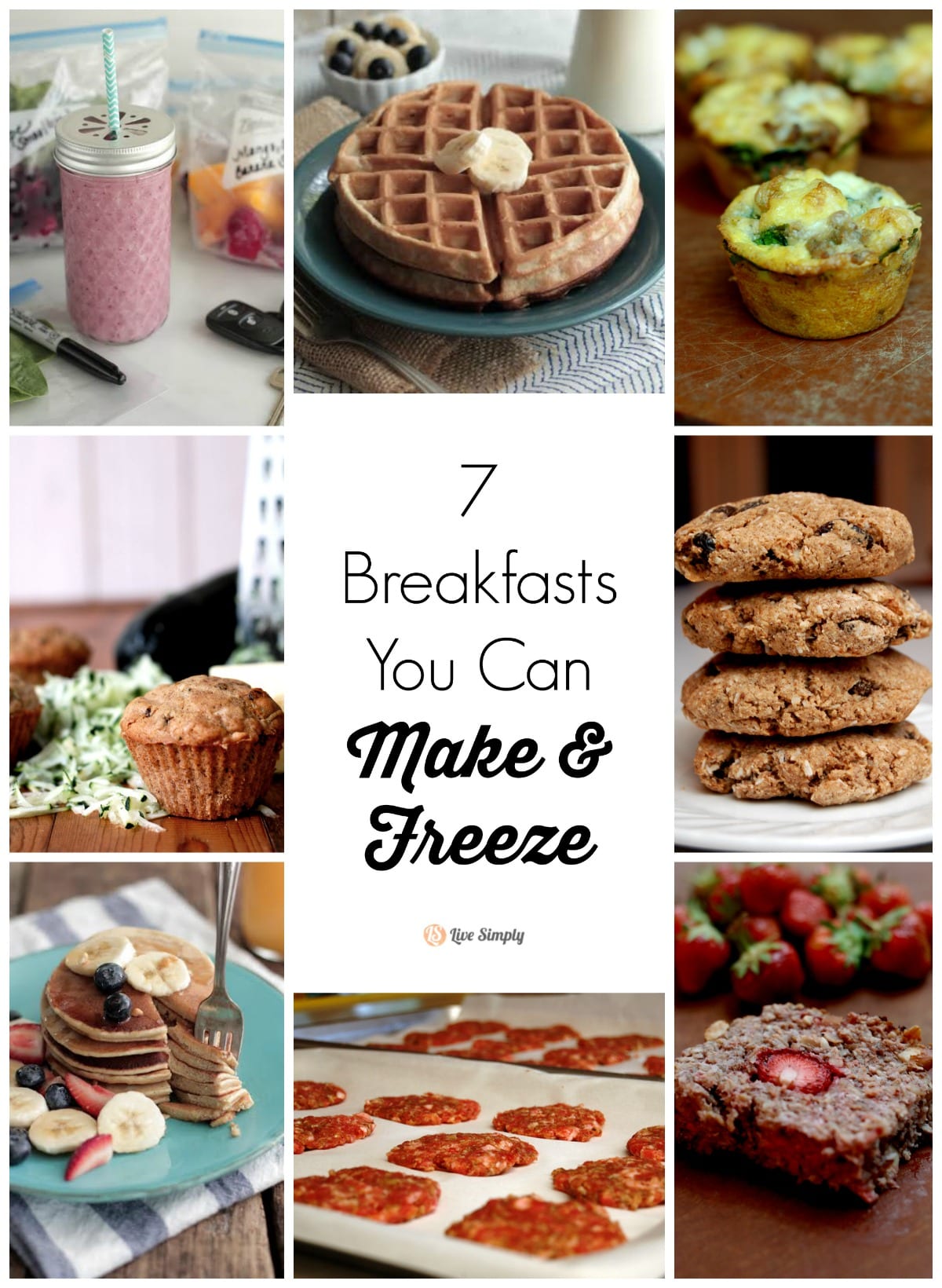 7 Breakfasts You Can Make and Freeze
See my lifestyle in real life