The other day we talked about (real food) school lunch ideas. Are you feeling more prepared to pack school lunch this year after that chat? I hope so. Today we're going to talk about 10 more lunch ideas. And my goal is to continue sharing these ideas throughout the school year.
While I say that 10 photos is two weeks worth of school lunches, it's actually more than that if you use a rotational meal system and repeat lunches. There's no need to serve a different lunch every single day of the week. Let's say it together: Repeat, repeat, repeat. There's no shame in doing this. In fact, I think doing so is smart and strategic. My kids have yet to complain about repeats. And if they do, they can start taking over more of the lunch-packing responsibilities.
If we approach a list of 10 meal ideas with a repeat mantra, then there's way more than two week's worth of lunch ideas listed here. Plus, if you mix and match meal components versus looking at these boxes as one single lunch, we'll get even more uses out of the ideas.
Something I've found helpful is to write down a list of ideas divided by category: main, fruit, veggie, and crunchy/snacky. Sort your school lunch ideas using these categories. For a starter, you can use the ideas shared in today's post, the post from the other day, and the post shared last year. Then add your own ideas. Keep this list somewhere visible and make it an on-going list throughout the year. Think of this list as a favorite or master idea list for lunch, much like the favorite list you've created to simplify breakfast and dinner meal planning.
When it comes to actually using this list to simplify lunch packing, pick just a few options to rotate during a set period of time. Doing this will eliminate decision fatigue, which occurs when you're constantly in the state of having to make decisions. By choosing exactly what you'll pack in advance, and then rotating these choices, you'll be able to quickly and even happily pack lunches without feeling overwhelmed.
To get super practical, here's what this may look like:
Choose 3 mains to serve each week for a set period of time (maybe 2 weeks, or longer), and choose a few sides you can serve with the mains (fruit, veggie, and something fun/crunchy/snacky)–this may be more seasonal. Then stick with this menu for your set period of time, rotating the same meals over and over. You can certainly add variety by rotating what is served with the mains based on the seasonality of produce. The point is to create a practical plan and stick to it. Eliminate the need to make decisions about what to pack from your morning routine.
10 Real Food School Lunch Ideas
Part Two
The lunches pictured are easy to make, and many of the meal components are prep-ahead friendly (chopped veggies, chopped fruit, rice, pasta) . Some of the lunches take advantage of leftovers (meatballs, build your own taco). Some meal components are even freezer-friendly (here's a full list of freezer-friendly school lunch ideas).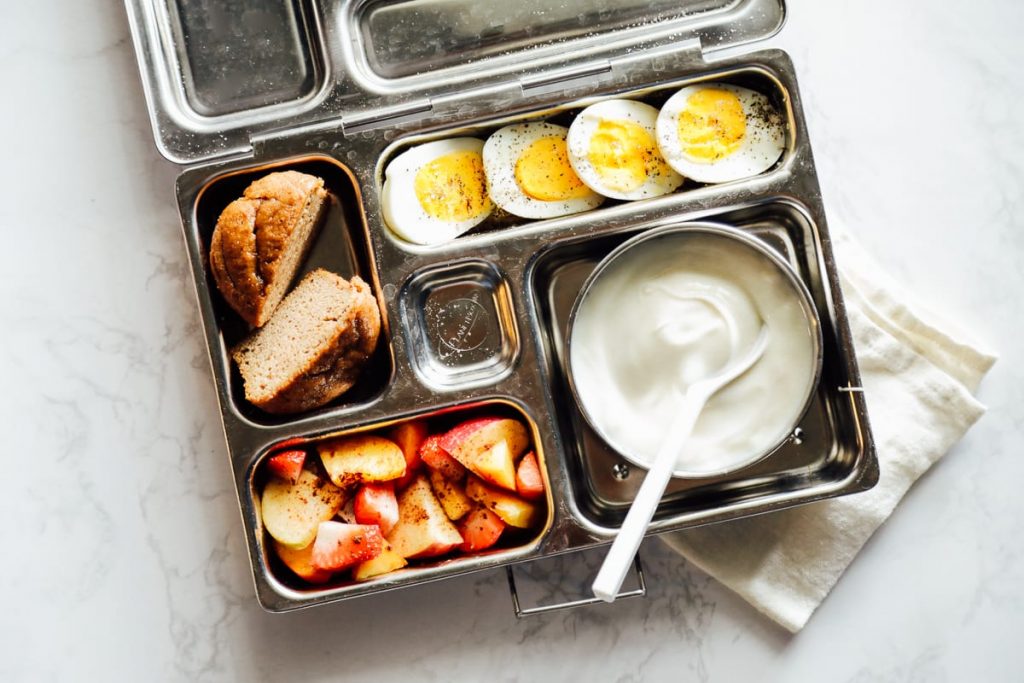 Main: hardboiled eggs + plain yogurt and honey for sweetness // Fruit: apples sprinkled with cinnamon to prevent browning and strawberries // Veggie: none // Crunch: flourless blender muffin (not suitable for nut-free schools, I'll pack this einkorn recipe for my kids during the school year.)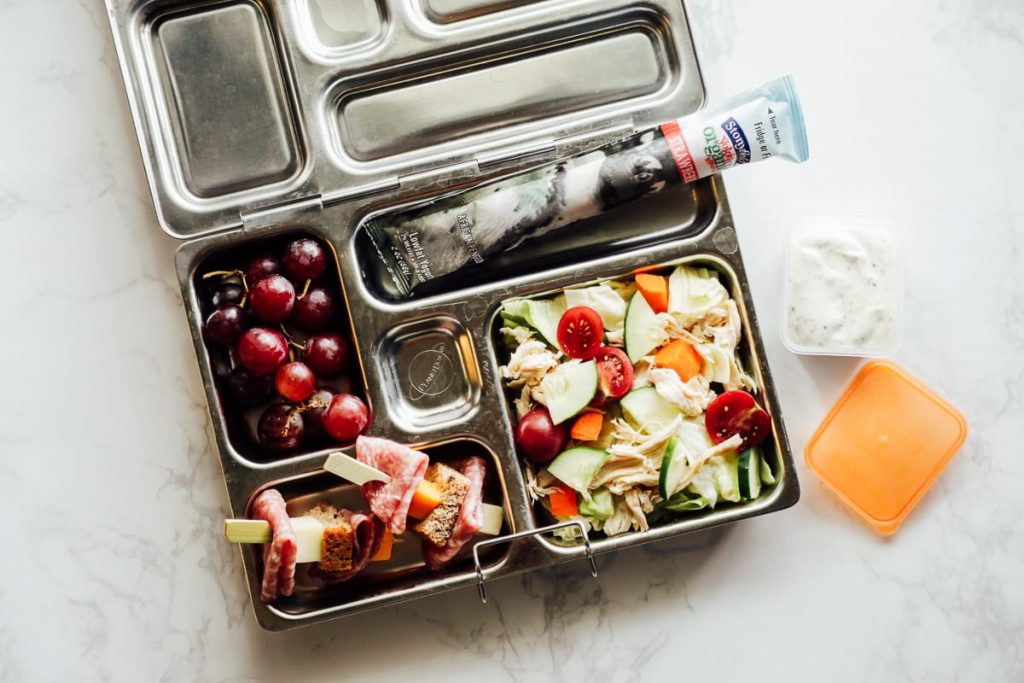 Main: mixed salad with lettuce, carrots, cucumber, grape tomatoes, shredded chicken (leftover from dinner) and cheddar cheese, cubed bread (One Degree Veganic Flax and Spelt), salami (a brand from Whole Foods) skewers// Fruit: grapes // Veggie: mixed in salad // Crunch: (Treat) Stonyfield YoKids Organic Strawberry Yogurt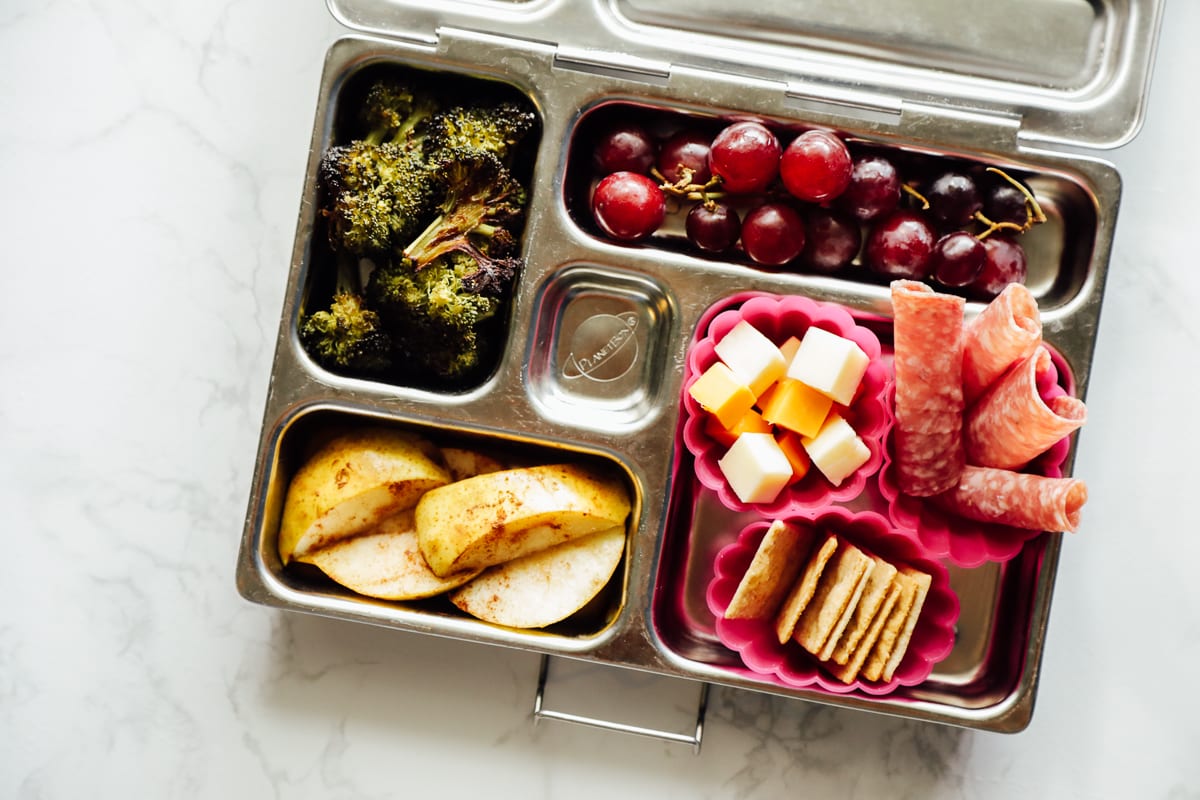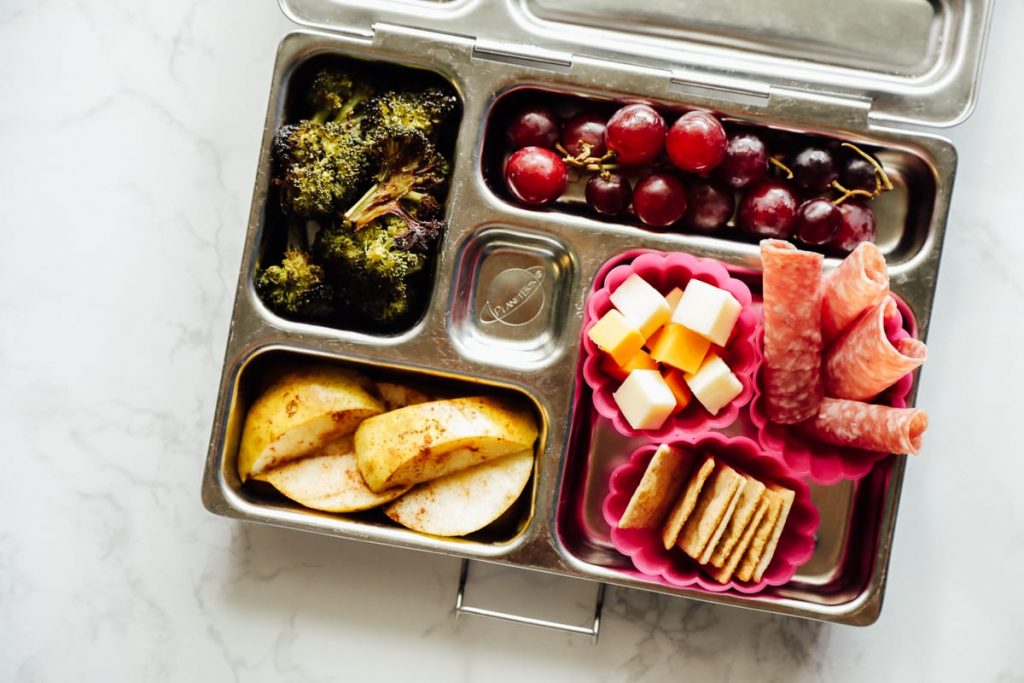 Main: homemade Lunchable-style meal: salami (a brand from Whole Foods, use any lunch meat or shredded chicken) + cheddar cheese cubes + Simple Mills crackers (not suitable for nut-free schools) // Fruit: grapes and sliced pears sprinkled with cinnamon to prevent browning // Veggie: roasted broccoli (leftover from dinner) // Crunch: crackers
Main: tomato soup (leftover from dinner) + Applegate turkey rolled up with baby spinach // Fruit: grapes // Veggie: spinach and tomato soup // Crunch: Simple Mills crackers (not suitable for nut-free schools) and (treat) Trader Joe's Organic Apple Strawberry Fruit Wrap
Main: Applegate turkey and spinach rolled up // Fruit: applesauce and grapes // Veggie: carrot and celery sticks (prepped ahead) // Crunch: pickle (Bubbies brand) and pretzels
Main:  Jovial Foods Brown Rice Pasta with torn meatballs and sauce (leftover from dinner)  // Fruit: none // Veggie: salad with homemade ranch dressing (leftover from dinner) // Crunch: Simple Mills crackers (not suitable for nut-free schools) with cheddar cheese cubes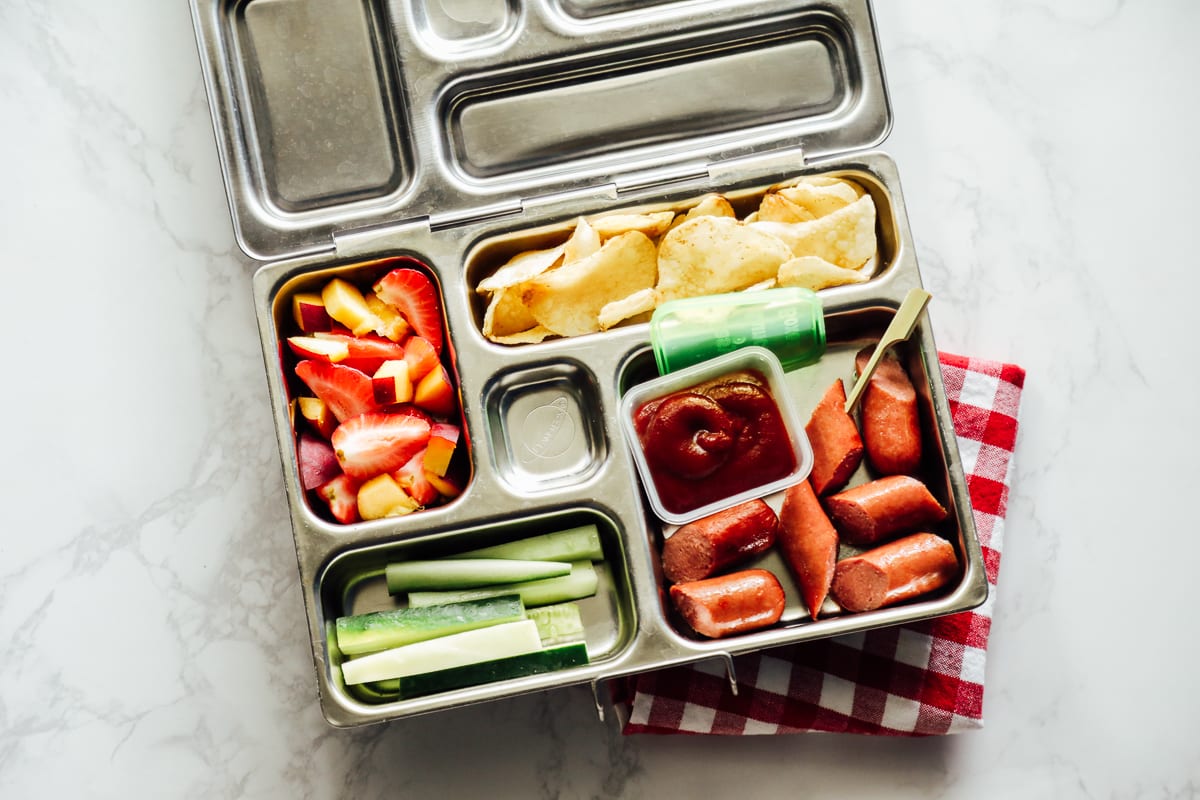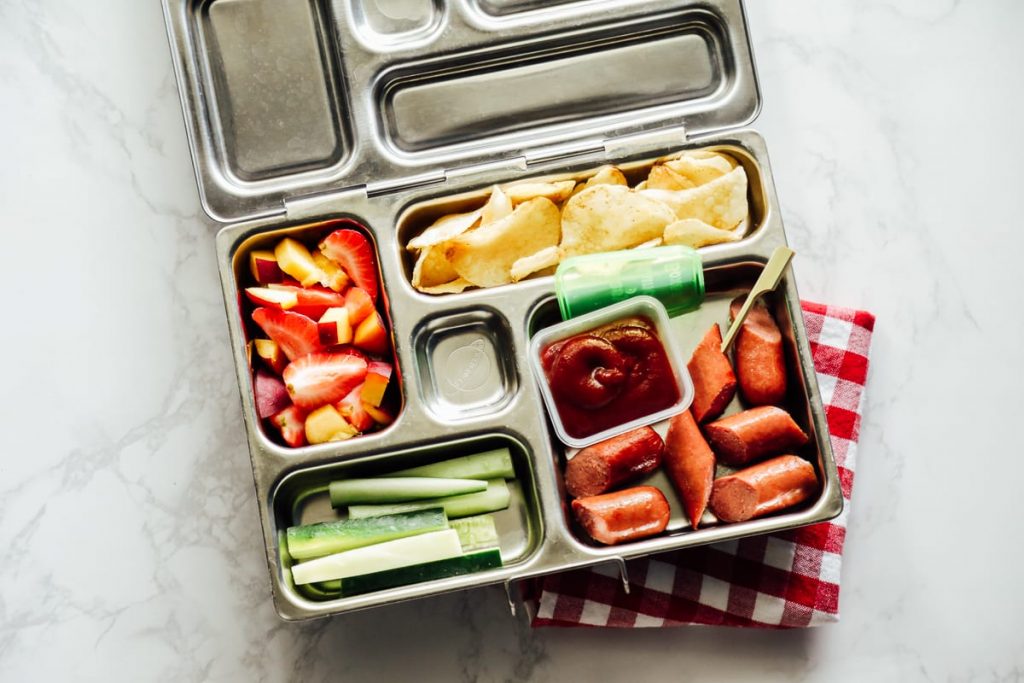 Main: Applegate hot dogs with ketchup // Fruit: peaches and strawberries // Veggie: cucumber sticks // Crunch: Jackson Honest Sea Salt Potato Chips
Main: pizza pinwheels: spaghetti sauce and shredded mozzarella cheese rolled up in pizza dough similar to rolling cinnamon bun dough, cut, and then baked at 400F until cooked through (recipe coming to the blog in September)  // Fruit: raspberries // Veggie: carrot sticks (prepped ahead) and cucumber slices // Crunch: homemade trail mix with popcorn (not suitable for nut-free schools)
Main: Applegate turkey, cheddar cheese, and spinach rolled up in tortilla (Rudi's Spelt Tortillas) // Fruit: grapes and orange slices // Veggie: carrot sticks (prepped ahead) and cucumber sticks // Crunch:  Simple Mills crackers (not suitable for nut-free schools) with hummus (from the store)
Main: hamburger on top of butter lettuce leaf (leftover from dinner) with a pickle (Bubbies brand) and ketchup (Could put the burger on a bun or bread. Or, cut in half or cut in pieces and serve with a fork.) // Fruit: grapes // Veggie: lettuce and pickle // Crunch: homemade trail mix with popcorn (not suitable for nut-free schools)
School Lunch Gear
What I'm Using to Pack Lunches