I'm a 90's kid, which means: I ate a ton of Lunchables growing up! Now, we know how unhealthy and highly-processed those lunches are for kids (and everyone). Instead, you can easily make your own DIY homemade lunchables. It's what all the cool kids are doing now.
DIY lunchables don't require a lot of time, are budget-friendly, healthier, and kids love them! Here's how to make a healthier variation and 8 easy ideas that my kids love.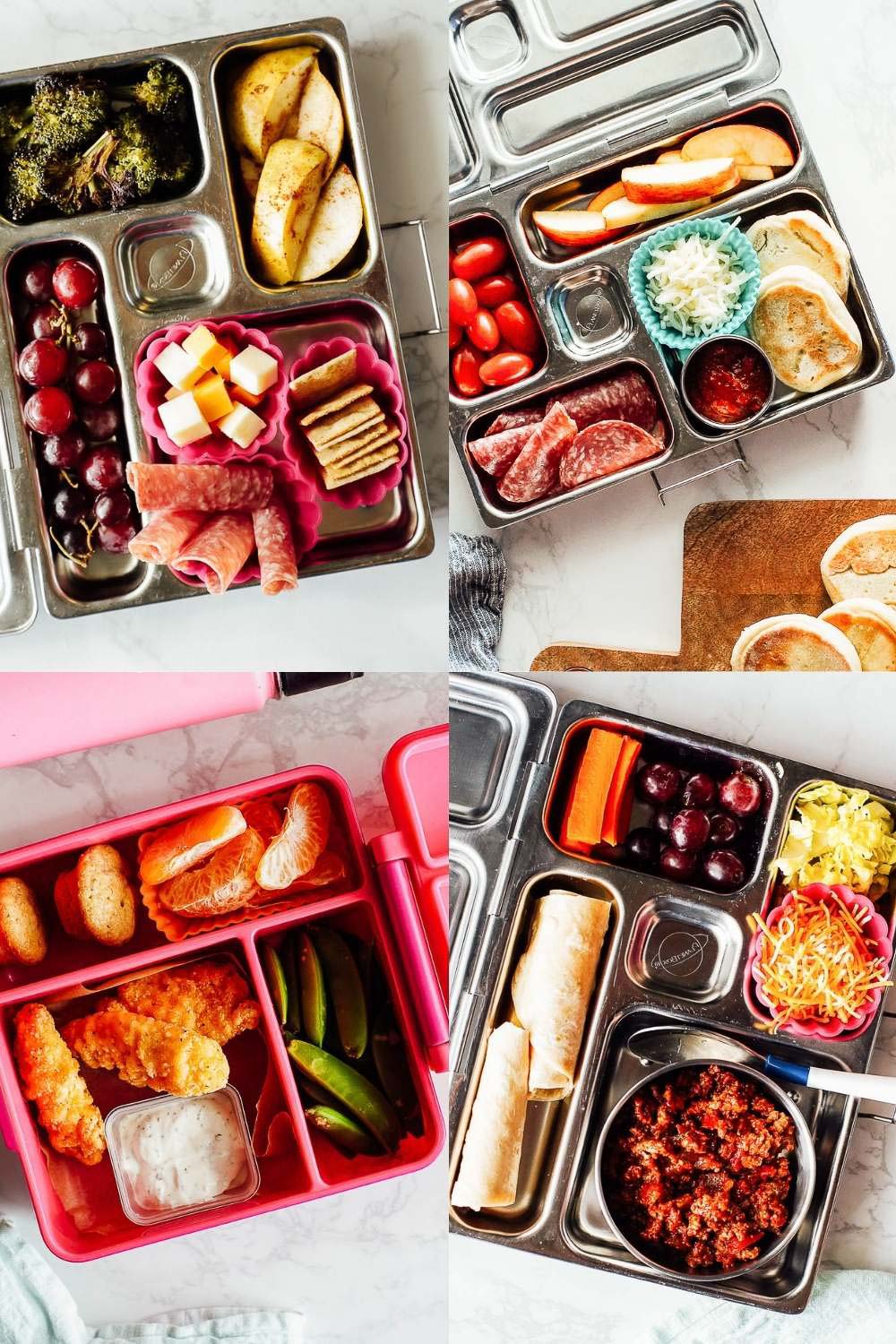 Helpful Tools
Bento box lunch containers and other tools make it easy to pack a lunchable. Here are the tools I recommend for making your own lunchables (and making delicious and easy school lunches in general). Learn more about my favorite lunch gear for kids here.
The Homemade Lunchable Formula
When making homemade lunchables, draw inspiration from the highly-processed options at the store. That's what I do. Take a look at what is offered next time you're at the grocery store. This is what your child is seeing during school lunch, and it's always fun to replicate these ideas at home using real-food ingredients.
Also think outside-the-box and create your own lunchables with my DIY formula. Mix and match foods to create lunches based on your child's favorite things, personal preference, and what's stocked in your fridge and pantry. What I keep stocked in my real-food kitchen.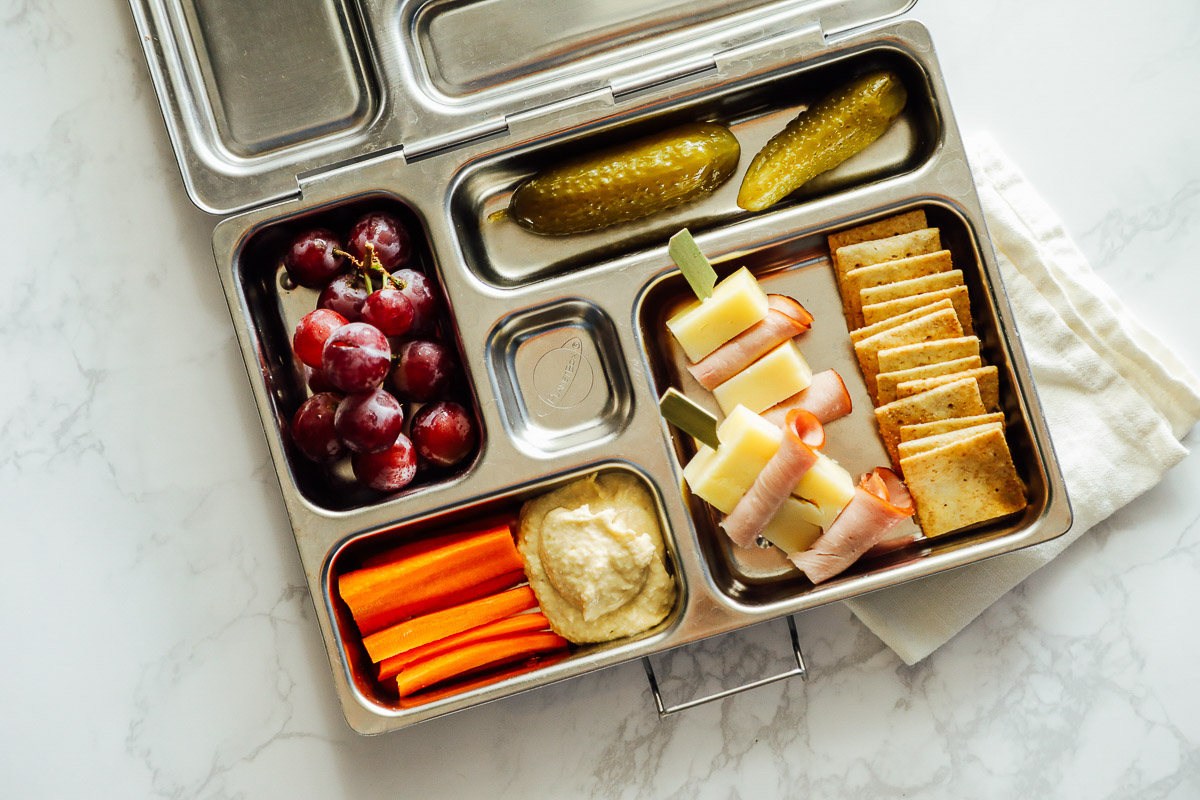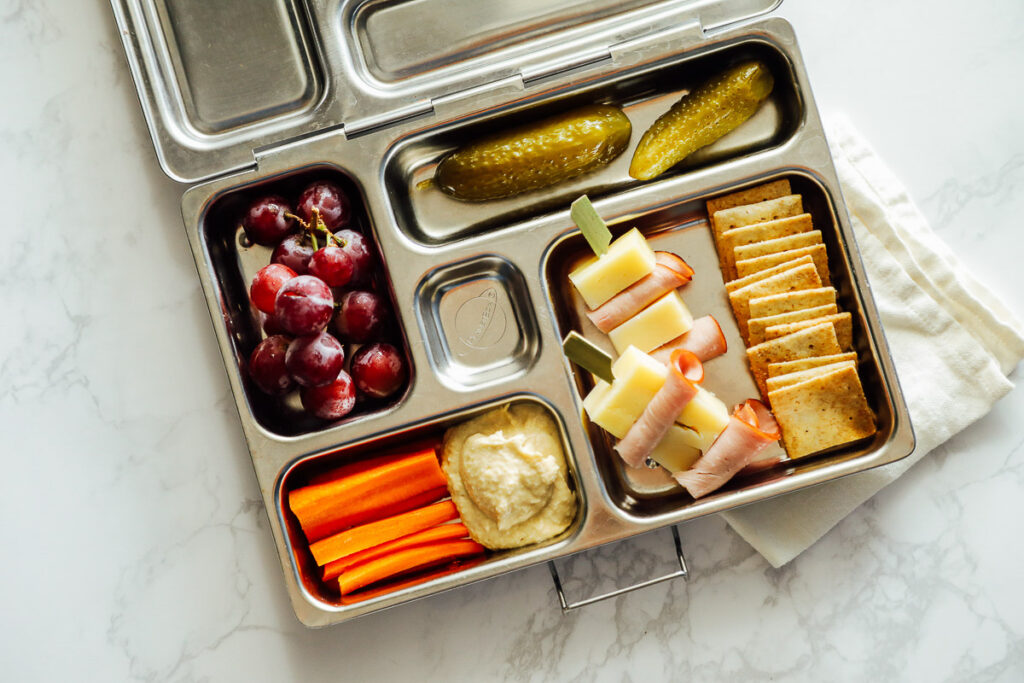 Time-Saving Tips
Tip 1: Turn Lunch Into a Make-Ahead Meal
Since you don't need to warm up anything for a lunchable, pack the lunchbox the night before school. The next day, add the lunchbox to an insulted lunch bag, then add an ice pack. Learn how to safely pack a hot or cold lunch.
Tip 2: Have Kids Can Make Their Own Lunch
Have your kids help you make some of the lunchable inspirations below. You can follow the picture as a visual. After some practice, your child should easily be able to pack their own lunch the night before school. This is also the beauty of repeating lunches.
Tip 3: Create a Lunch Routine
There's no need to pack different homemade lunches each day or each week. To simplify lunch, create a routine or rhythm. For example, every Monday is a pancake sandwich day, every Tuesday is a homemade lunchable, every Wednesday is leftover day, every Thursday is yogurt and fruit with rolled up deli meat, and every Friday is a lunchable again. Stick to this routine for a month (or longer) before changing it up, if needed. Need more ideas? 27 easy bento box lunches to keep on repeat.
8 Easy DIY Ideas With Pictures
Below, you'll find 8 ways to make your own healthy lunchables. The easy lunch ideas are inspired by the highly-processed, classic lunchables sold at the store, but they're made healthier with real-food ingredients.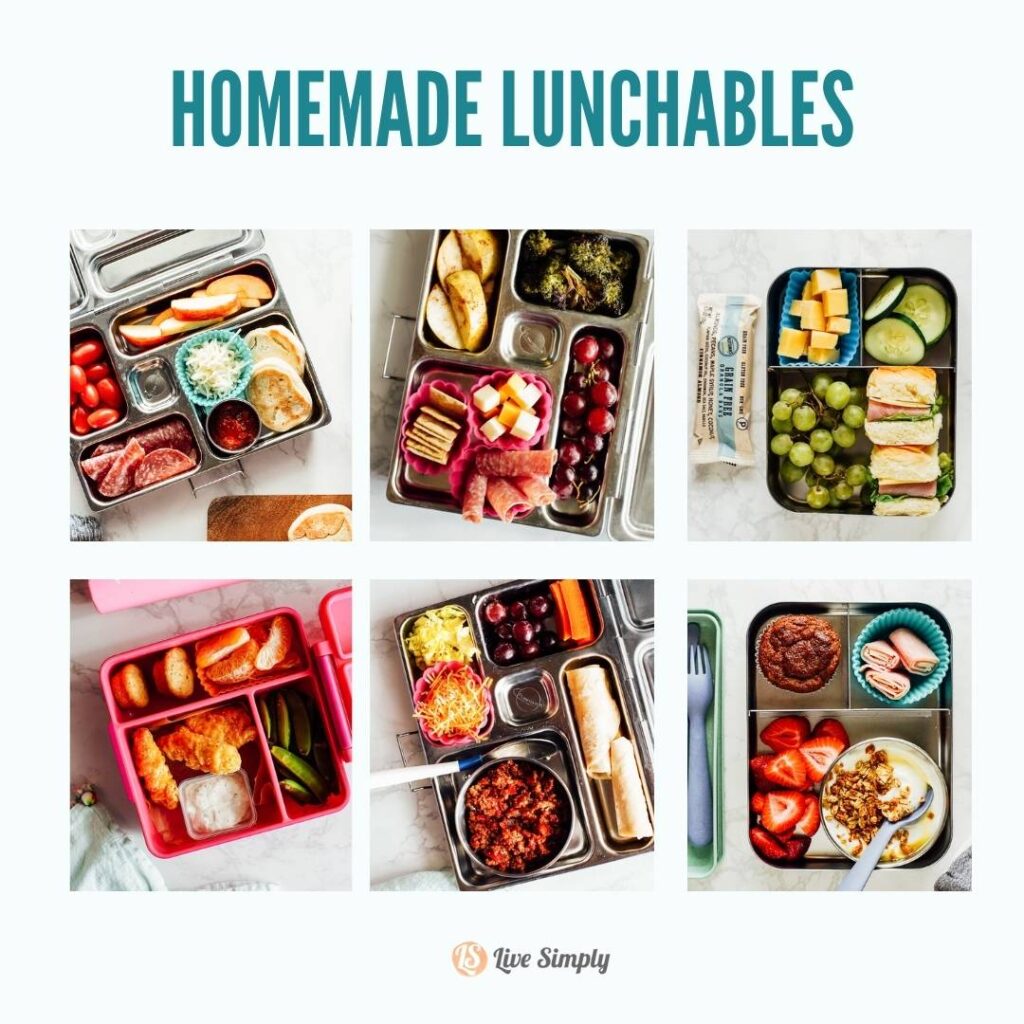 8 HOMEMADE LUNCHABLE IDEAS
Deli Meat, Cheese, and Crackers
Build Your Own Pizza
Chicken Nuggets
Turkey or Ham and Cheese Sandwich
Chicken or Tuna Salad
Vegetarian Hummus
Build Your Own Taco
Build Your Own Parfait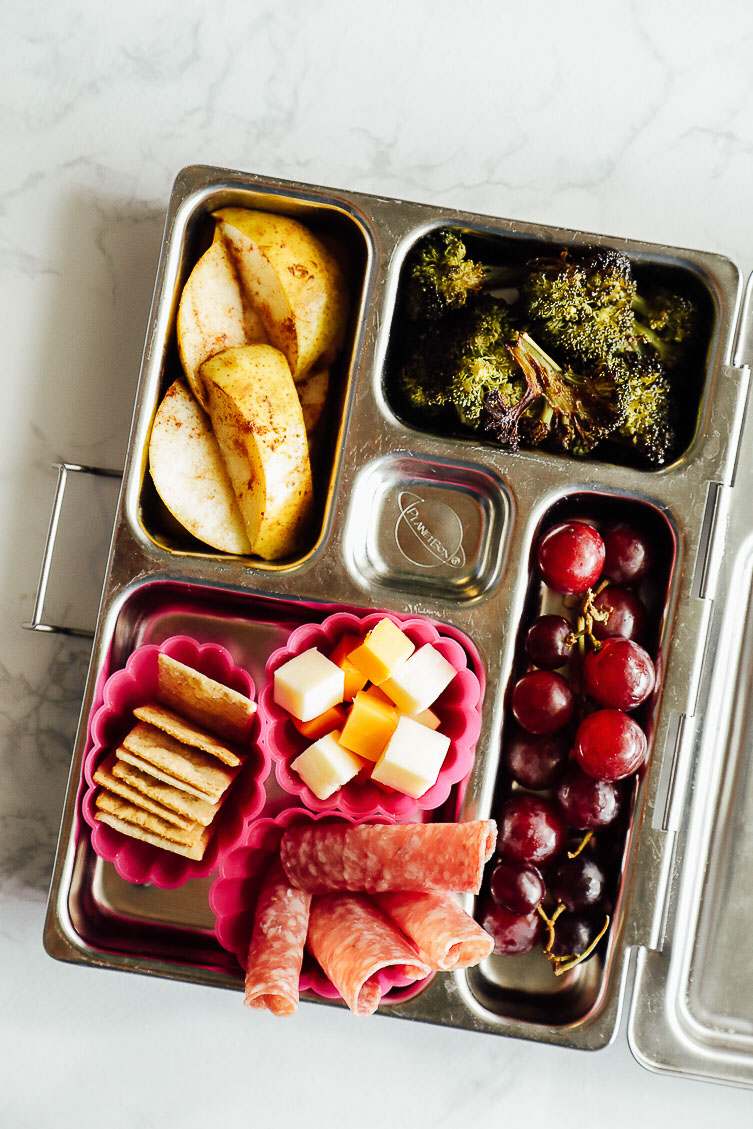 1. Deli Meat, Cheese, and Crackers
This is the easiest way to make a lunchable and it feels a lot like store-bought lunchables. Think of this lunch like a little charcuterie board, or cheese plate, for kids. It's a lunch that I also love as an adult!
Use different types of cheeses, meats, and crackers based on what your child likes. A few favorites in our home: small mozzarella balls, gouda, goat cheese, havarti , and cheddar cheese. These are all good options. Think about what's in your fridge, too; no need to buy special cheese just for school lunch.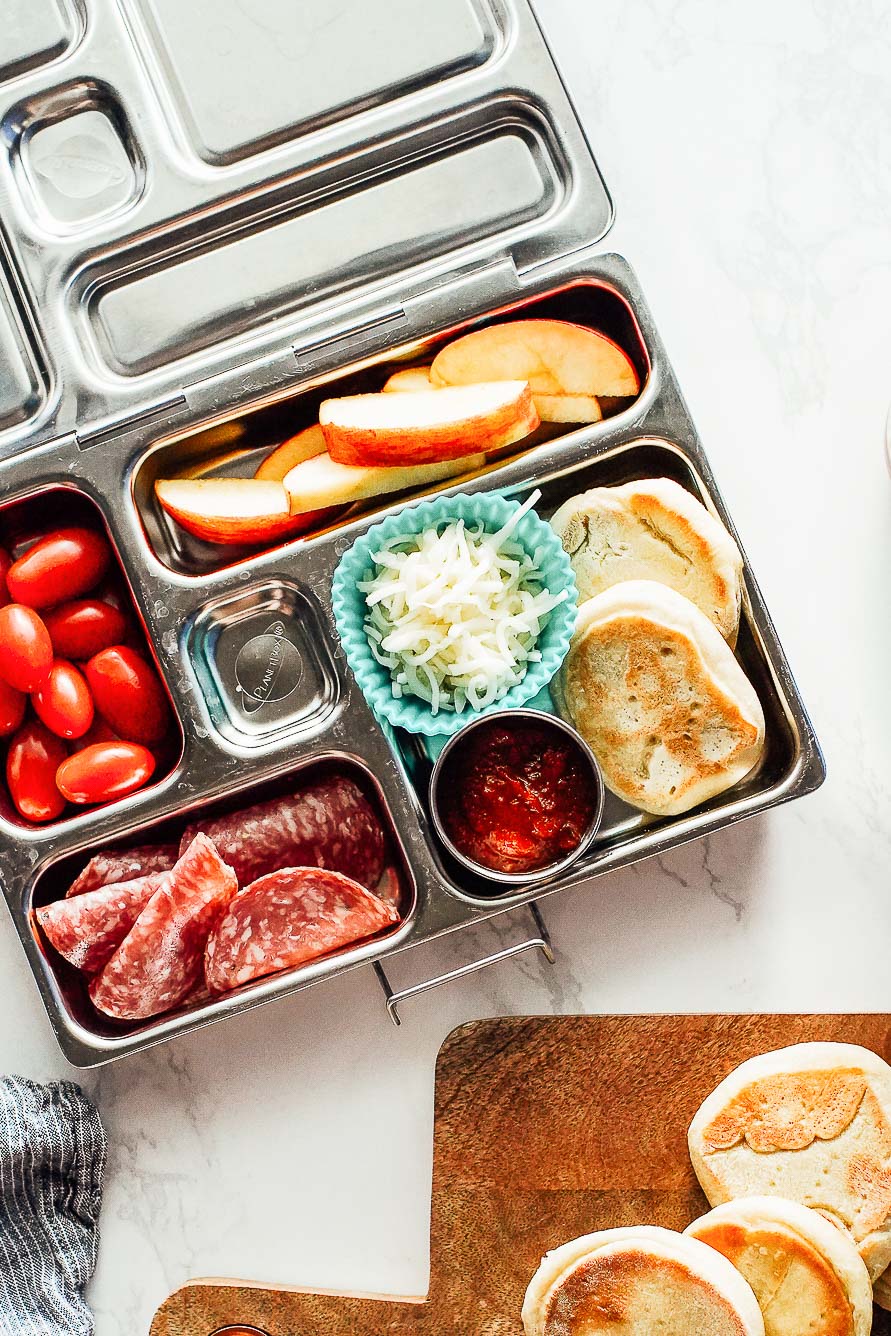 2. Build Your Own Pizza Lunchable
This is a classic Lunchable made healthier! Kids love to make their own pizzas, using mini pizza crusts, sauce, and cheese.
There are a few options for the pizza crust. Make your own pizza dough, then cut into small crusts using a biscuit cutter. Bake the crusts and store in the freezer. Here's how to make homemade pizza lunchable crusts. Or, use pita bread and cut the bread into small crusts. Or, choose a flat bread that fits inside the lunchbox.
If your child doesn't like the idea of raw pizza, make mini pizzas by spooning the sauce on the cooked crust (or pita bread, bagels, or English muffins), then top with cheese and melt under the oven boiler for a few minutes.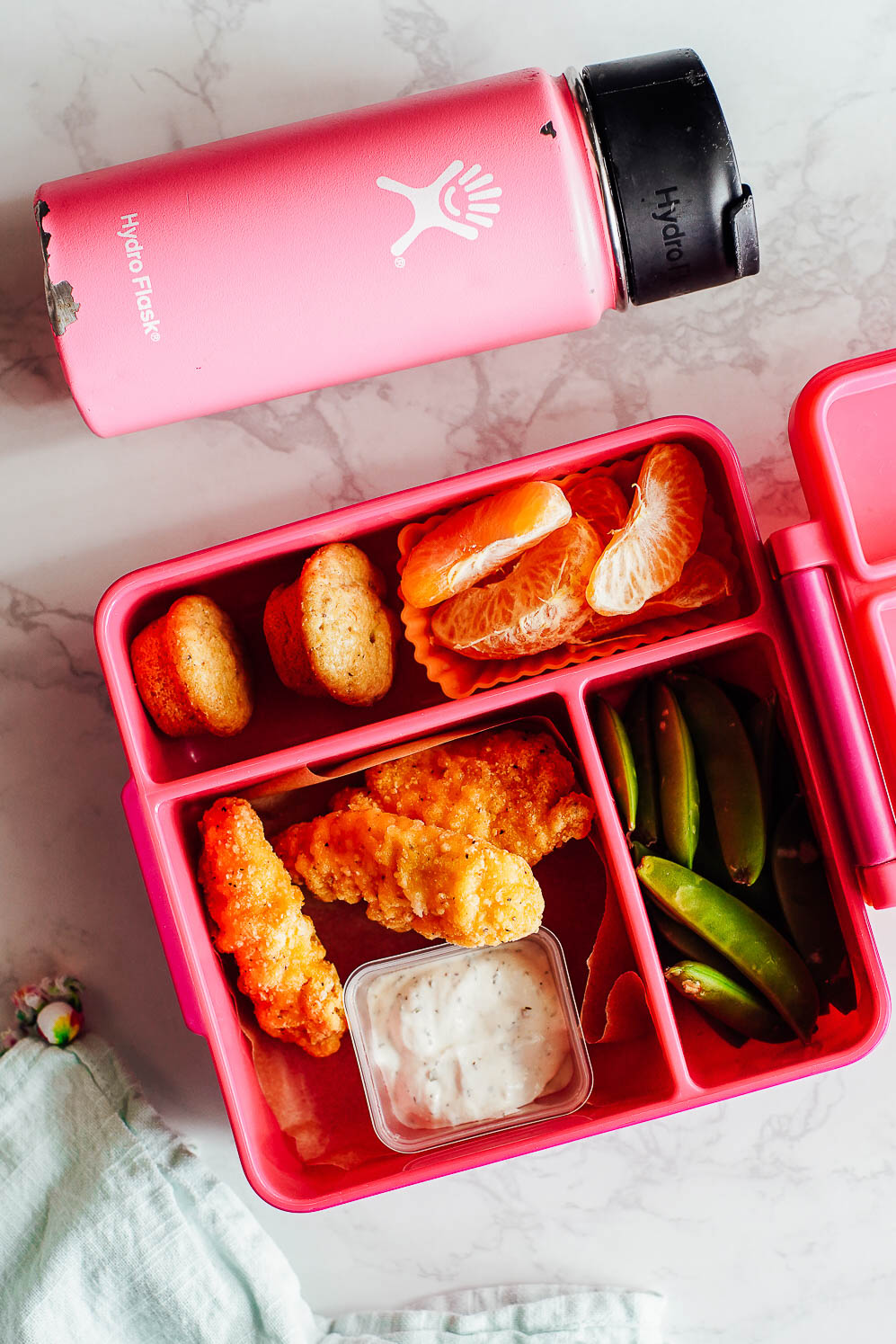 3. Chicken Nuggets Lunchable
Did you know there is a chicken nugget lunchable? Yep, my daughter came home a few years ago and told me all about it. Naturally, this lunch has become a favorite with my kids.
Instead of the highly processed Lunchable version, make your own chicken tenders for dinner one night and serve them up as lunch the next day. Or, choose a less-processed frozen version, like Bell and Evans brand or Applegate brand. Serve cooked chicken nuggets/tenders at room temperature with an ice pack for safety.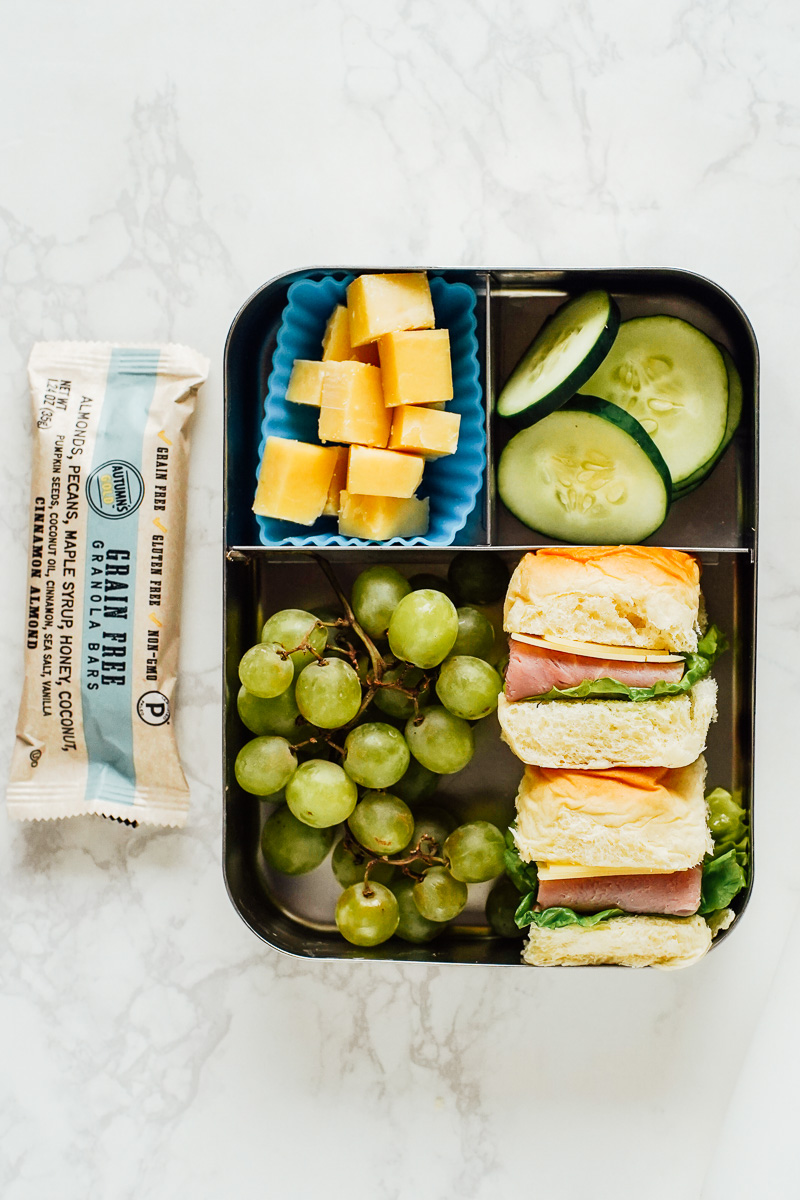 4. Turkey or Ham and Cheese Sandwich Lunchable
The classic Lunchable version for this alternative is the hoagie sandwich. Honestly, I can't imagine that sandwich must taste very good: stale, white bread with a little slice of highly-processed meat and fake cheese.
For this homemade version, I use mini buns (mini brioche dinner rolls are delicious). Choose whatever bread your child likes best. Then, add your favorite deli turkey (or use shredded chicken) and a slice of real cheddar cheese. Much better!
5. Chicken or Tuna Salad Lunchable
I love making tuna salad for lunch when there's not much left in the fridge (on Thursday or Friday). Add the tuna salad to a bento box along with crackers and a spoon. Show your child how to spoon the salad onto the crackers for lunch.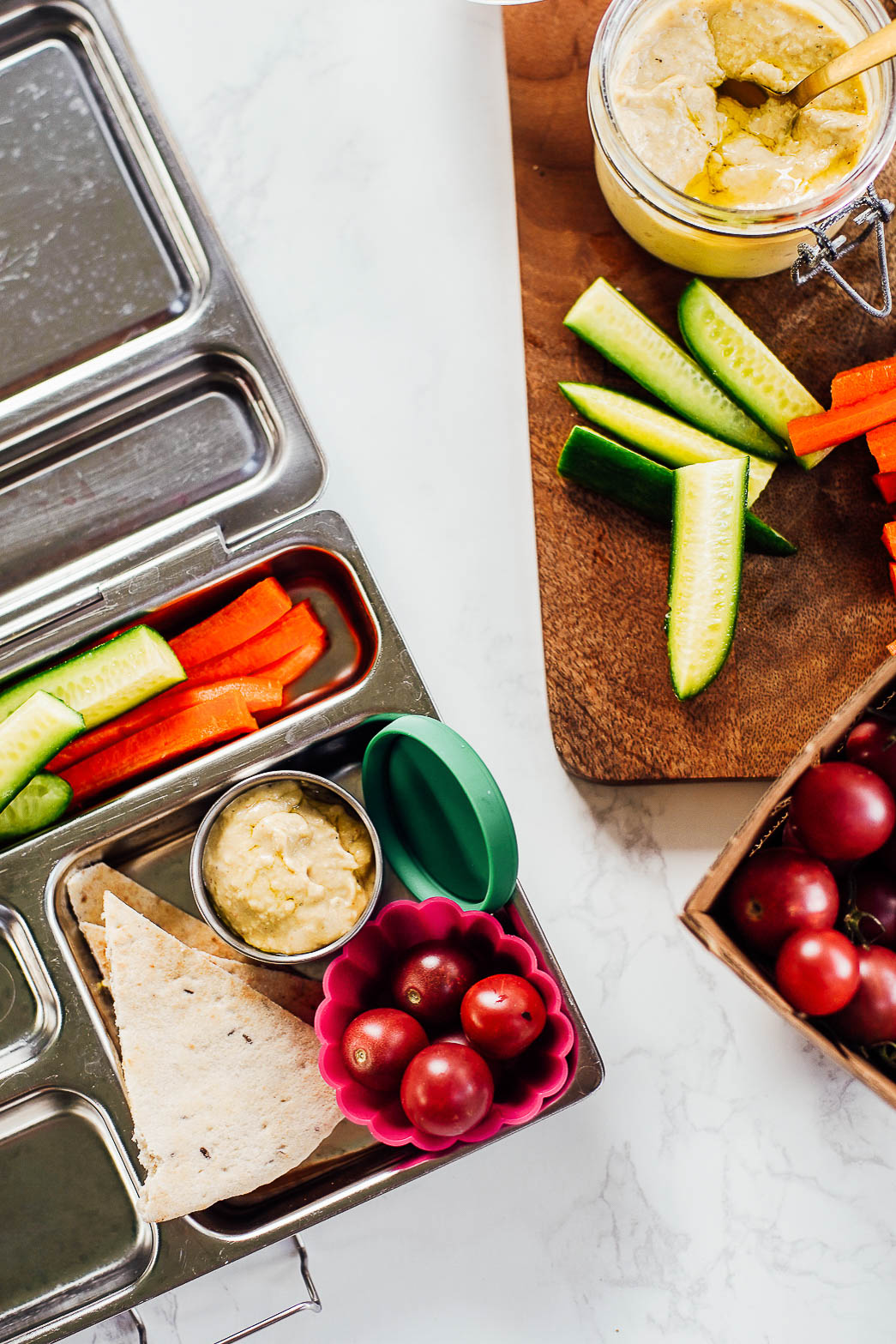 6. Vegetarian Hummus Lunchable
We eat a lot of protein (meat) in our home, so most of the lunches featured here include meat. If your child is a vegetarian, or you want to change things up, this is a meat-free lunchable featuring hummus as the main star (which contains some protein, carbs, and healthy fat).
Hummus Buying Tip: Avoid hummus made with seed oils, like sunflower oil, canola oil, or vegetable oil. Instead, choose hummus made with olive oil or make your own hummus. Hummus is great for lunch and also for school snacks.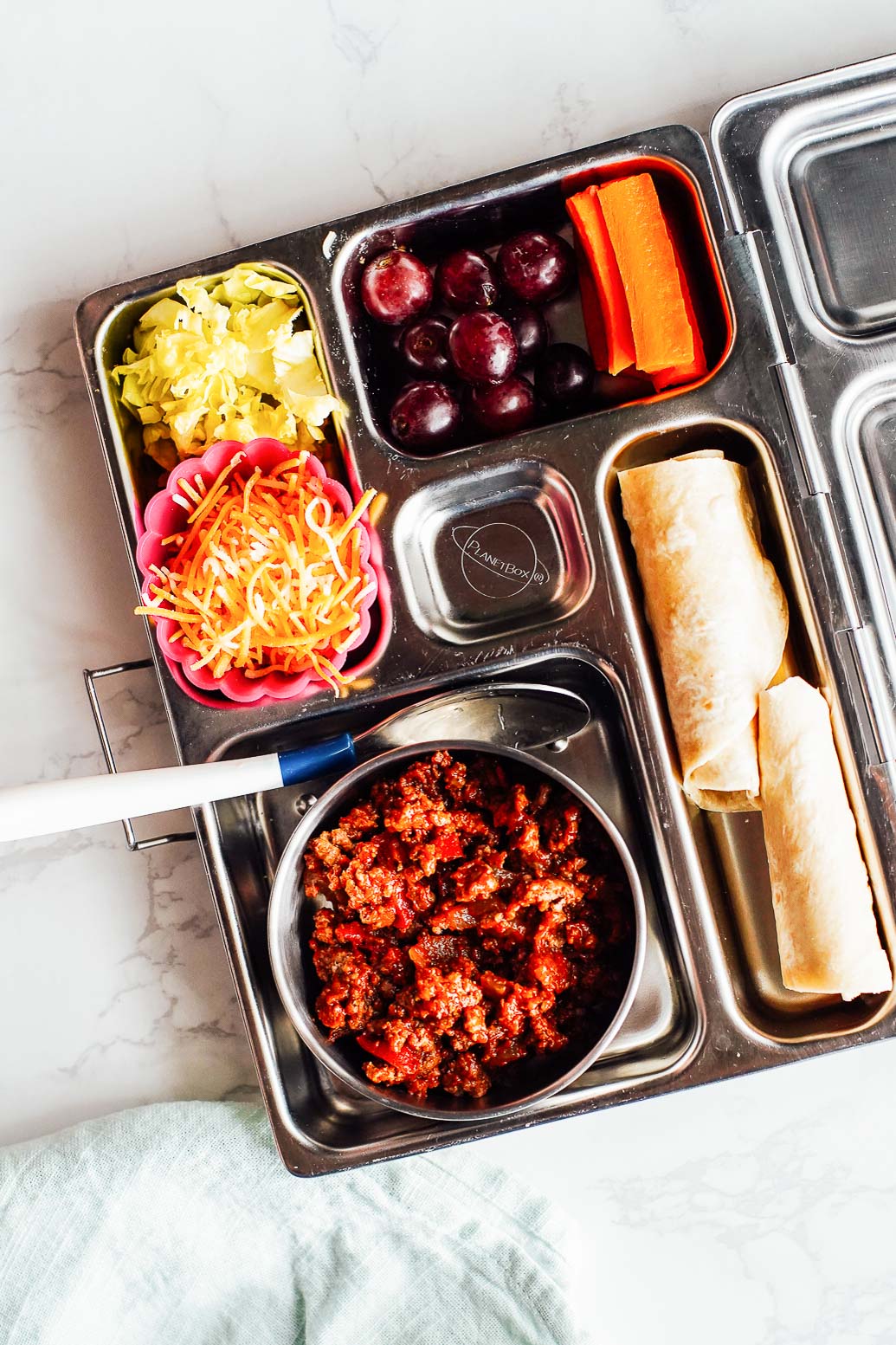 7. Build Your Own Taco Lunchable
This is another lunch that was inspired by a store-bought lunchable. And, yes, it's served at room temperature with an ice pack.
Spoon leftover ground beef taco meat into a bento box (or use leftover chicken fajitas). On the side, add a tortilla and any favorite toppings: guacamole, sour cream, salsa, shredded cheese, lettuce. Use small dipping containers for any sauces that may leak. If your child prefers the meat to be warm, use a thermos (here's how to use a thermos and keep food warm in the lunchbox) and pack the extra foods in the bento box.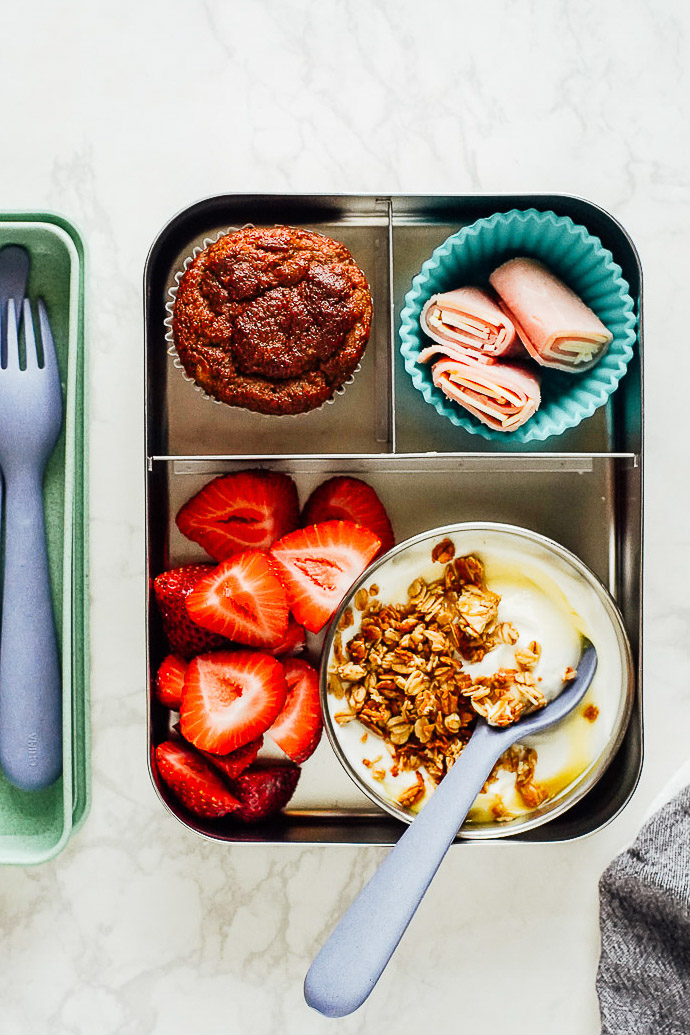 8. Yogurt Parfait Lunchable
This is another super easy lunch that can be packed the night before school.
The trick to packing yogurt in a bento box is to use a leak-proof container (like this). Pack granola on the side, in a bag or small container, which your child can add to the yogurt at lunchtime. This will prevent the granola from getting soft and soggy. Add any fruit that can be enjoyed for a "parfait."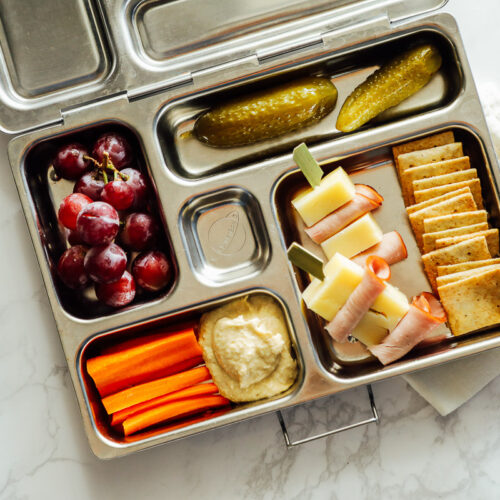 Simple and Easy Homemade Lunchables
How to make the easiest homemade lunchable. Use this recipe as inspiration to make your own DIY lunchables using healthier, real-food ingredients. See other ideas in the notes below.
Ingredients
2-8

slices

deli meat (ham, turkey, salami, pepperoni, etc.)

rolled or cut into pieces, amount depends on child's appetite and meat used

1/4

cup

cheese cubes

amount used depends on appetite

1/4

cup

crackers

amount used depends on appetite

fruit of choice

such as: berries, apple slices, melon chunks, etc.

veggie of choice

such as: carrot sticks, celery, cucumber slices, etc.
Instructions
Use silicone muffin cups or the compartments in your bento box. Place the meat in one cup (or compartment), the cheese cubes in a separate cup (or compartment), and the crackers in another cup (or compartment).

Add a fruit and veggie, and you have a complete lunch. See other lunchable ideas below in the notes, and pictures for each lunch above in the article.
Notes
More Homemade Lunchables
Build Your Own Pizza Lunchable: S

hredded mozzarella cheese and salami or pepperoni (optional for topping on the pizzas), pizza sauce, m

ini pizza crust, favorite fruit, and a veggie. 

Chicken Nuggets Lunchable:

Chicken tenders or chicken nuggets (make your own chicken tenders or choose a less-processed option like Bell and Evans or Applegate brand), homemade ranch dip, Mini muffins or crackers, favorite fruit, and a veggie.

Turkey or Ham and Cheese Sandwich Lunchable: Ham or turkey and cheddar cheese on mini dinner rolls, favorite fruit, a veggie, and granola bar or energy bites.
Chicken or Tuna Salad Lunchable: Chicken salad or tuna salad and cheddar cheese cubes, crackers, hummus, favorite fruit, and a veggie.
Vegetarian Lunchable: Hummus, Pita, cheese cubes, favorite fruit, and a veggie.
Build Your Own Taco Lunchable: Leftover ground beef taco meat (or chicken fajitas), a tortilla on the side, and favorite toppings: guacamole, sour cream, salsa, cheese, lettuce.
Yogurt Parfait Lunchable: Plain yogurt mixed with honey, homemade granola on the side, favorite fruit, veggie, rolled up turkey or ham, muffin.
Nutritional amounts are based on using turkey and cheddar cheese. 
Nutrition
Calories:
376
kcal
Carbohydrates:
51
g
Protein:
16
g
Fat:
11
g
Saturated Fat:
6
g
Polyunsaturated Fat:
1
g
Monounsaturated Fat:
2
g
Cholesterol:
41
mg
Sodium:
418
mg
Potassium:
184
mg
Fiber:
2
g
Sugar:
1
g
Vitamin A:
283
IU
Calcium:
211
mg
Iron:
2
mg
FREE PRINTABLE
42 EASY SCHOOL LUNCH IDEAS CHEAT SHEET
Nourishing meal ideas for effortless school lunches. Download your free lunch guide.