In light of the recent times, let's talk about pantry dinner ideas, along with what to stock in your pantry to create a multitude of nourishing meals.
In the past two weeks, the world has changed significantly. If you're reading this post in 2021 (or later), you're probably curious about what's happening, so let me bring you up to date: a virus called COVID-19 has spread around the world, shutting down entire countries, economies, making everyone buy all the toilet paper (no idea why toilet paper became the must-have necessity) and forcing people to self-isolate in their homes.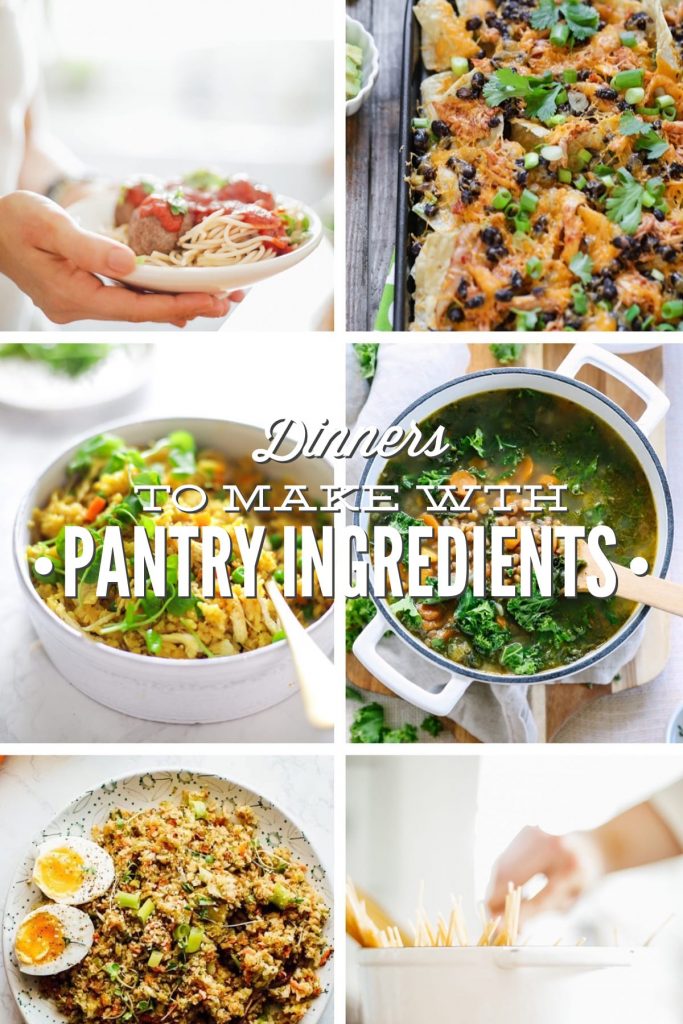 Of course, this means most of us are now looking for ideas on what to make with basic pantry staples. Today, I'm going to break down pantry dinner ideas for you. We're going to talk about easy meals you can make with a few essential pantry ingredients.
When it comes to pantry ingredients, I like to think in terms of what can be used to make multiple meals. This is one reason why I recommend keeping a list of go-to dinners and repeating these meals often. I'll provide you with my list in a minute.
First, let's talk about ingredients to stock in your pantry (dry pantry, fridge, and freezer) that will make a variety of dinners, along with breakfasts, snacks, and lunches:
beans and lentils

rice

whole chicken and chicken thighs (love TrailBale Farm locally, find a local farm in your area at eatwild.com)

frozen and fresh veggies and fruit

leafy greens (including the tops of carrots and beets which are edible)

fresh herbs (now is a good time to grow a few of your own) and dried herbs

garlic

onions

canned tomatoes (I like Jovial brand)

pasta (again, partial to Jovial—just love their pantry items like tomatoes and pasta)

broth (I love Kettle & Fire Bone Broth and Bonafide Provisions and homemade)

flour (einkorn, spelt, and wheat)

tortillas (I like Siete Family Foods, Rudis Organic, or homemade)

tuna

oats

butter

extra virgin olive oil

cheese (always parmesan in block form and a cheddar)

milk of some sort or nuts to make milk if I can't get dairy milk (learn more about real food dairy here)
salt (I buy a large 10lb tub of Redmond salt and it lasts forever)

honey or maple syrup (preferably both)

eggs (love Trailbale Farm locally)
ground beef (love Providence Cattle Company locally)
bacon
bread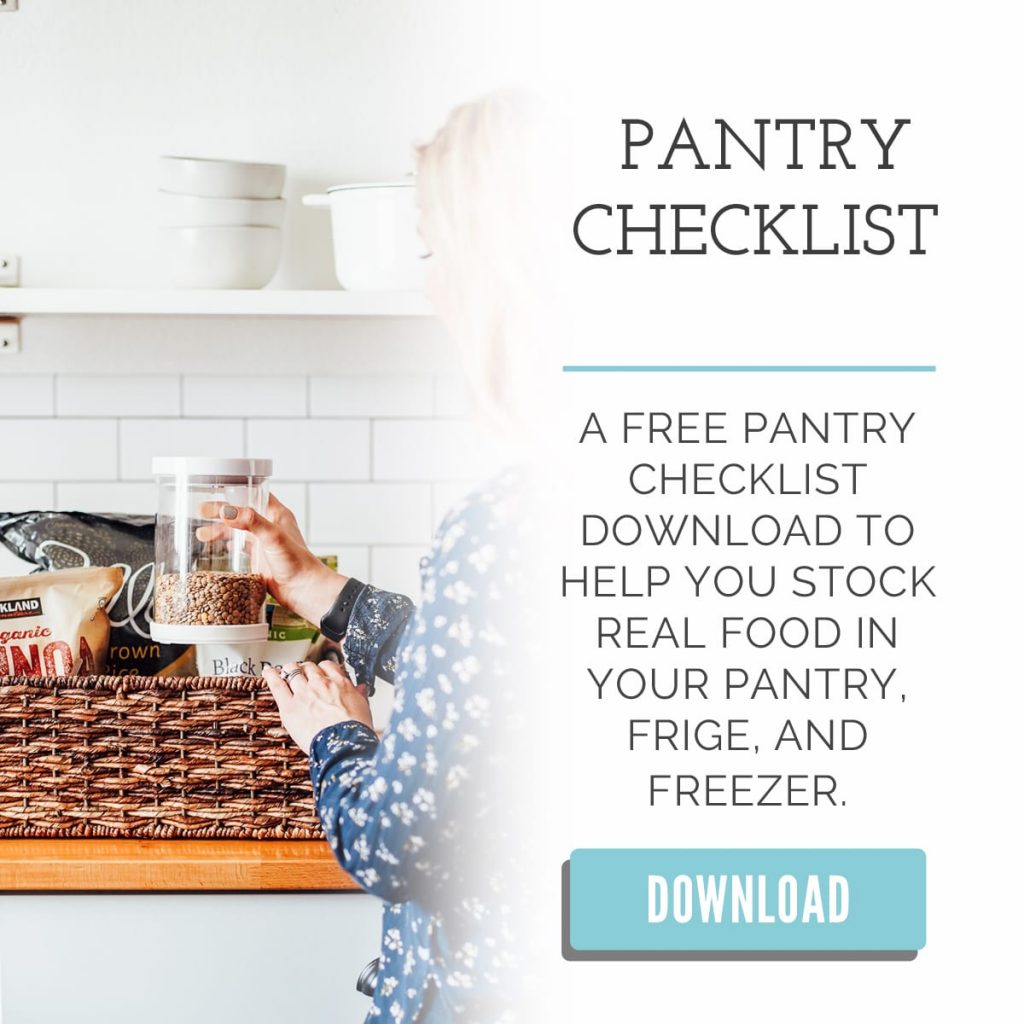 My Go-To Pantry Dinner Ideas
As I mentioned, I keep a list of dinners that we regularly rotate. This makes meal planning easy and quick and also makes it easy to stock common pantry ingredients on repeat. Plus, there's a serious money-saving advantage to doing this.
Now, you may wonder, "But don't you get bored with cooking the same meals over and over?" The answer is yes and no.
Many of the dinners on my list are easy to adapt and change based on what's available. For example, a stir-fry can be made with a variety of vegetables. Nachos or tacos can be made with beans instead of meat and a variety of toppings may be changed up and offered. There are many different soups to make on a soup night and the same goes for a pasta night.
I also keep a list of recipes that I want to try, that also use basic pantry ingredients. I love the following cookbooks for inspiration: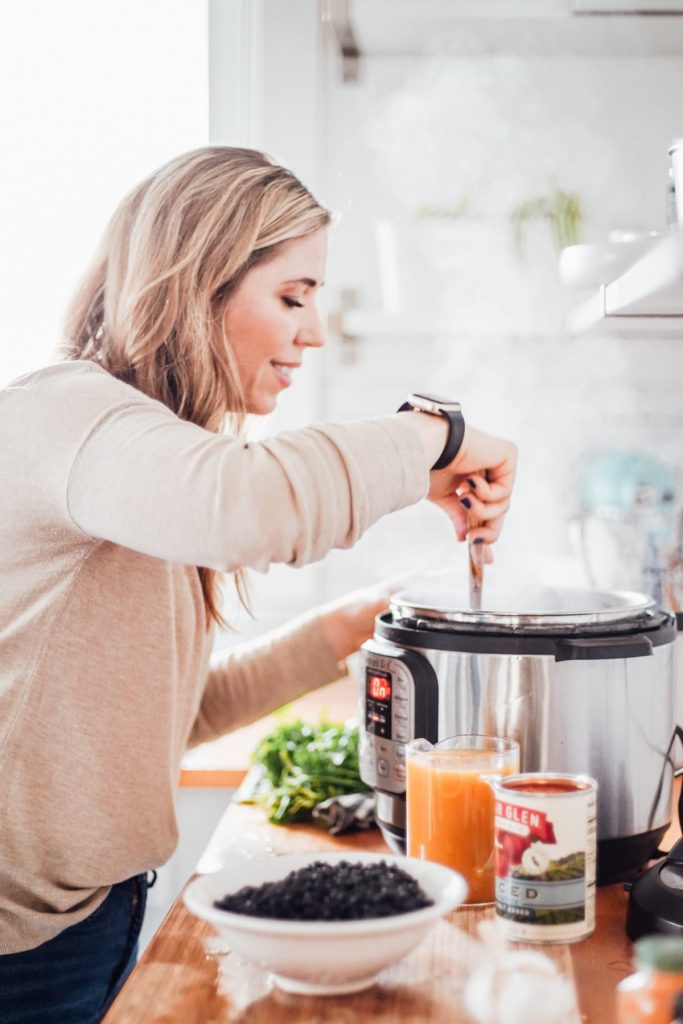 Here's my list of go-to dinners:
stir-fry
chicken and rice
bowl-style meals: rice or any grain (millet, quinoa, etc.), roasted veggies, protein, homemade salad dressing to drizzle over the top
salad with homemade dressing: add a protein for a heartier meal
roasted whole chicken and a salad or veggies
pot roast
chicken fajitas
ground beef tacos
nachos: either chicken, ground beef, or beans on top with variety of topping
quesadillas
soup
pasta: anything pasta, like ziti, spaghetti and meatballs, pasta with pesto and veggies or a protein
roasted chicken thighs with veg or a salad and/or bread or even cornbread
casserole
Now let's talk specifically about dinner ideas you can make from pantry staples. Below, I'm breaking down in a pantry staple-by-staple format various recipes you can make with my core pantry ingredients.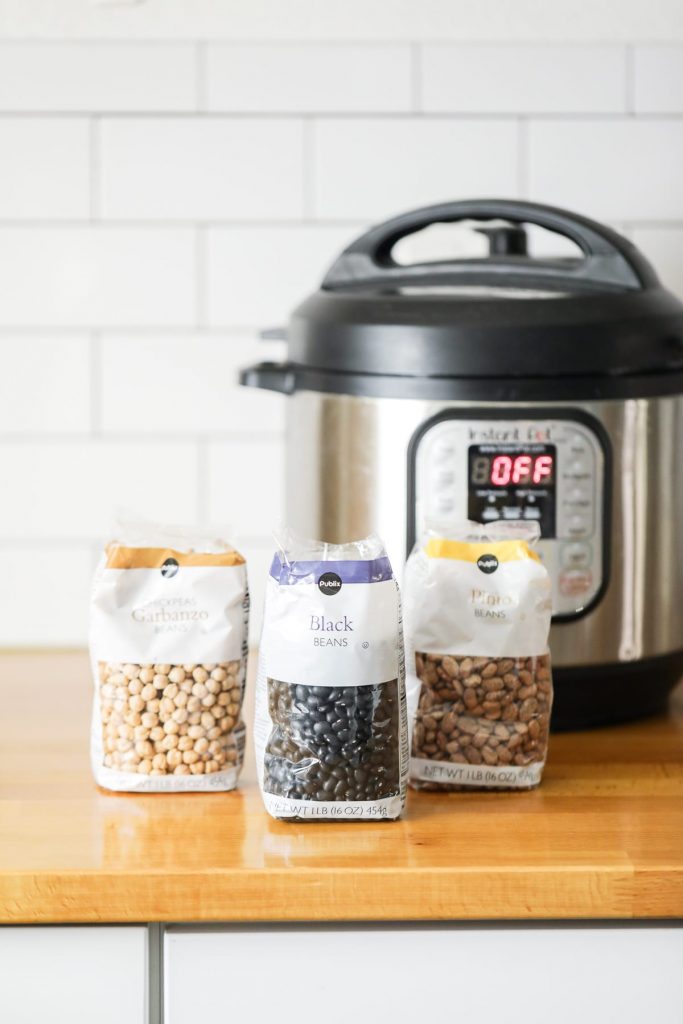 Beans and Lentils 
Dry beans are inexpensive, last forever, and can be used a variety of ways. Once you have beans, you just need a tried-and-true way to cook them (I prefer the Instant Pot or slow-cooker) and then you can use them in many different ways. If you don't want to go the dry bean route, canned beans are also great to keep in the pantry, or a mixture of both. I always keep chickpeas, black beans, pinto beans, and lentils in my pantry.
Hummus (chickpeas): make a traditional hummus, add roasted beets for a pink hummus, or add fresh herbs (I love basil, mint, and/or parsley) for an herbed hummus.
Tuscan Beans (cannellini beans): serve with a salad and a protein
Brothy Beans (baby lima, or cannellini beans, or chickpeas): serve with a salad and a protein or on toast
Bean and rice bowls (black or pinto beans): cook black or pinto beans, add to a bowl with rice and various toppings like salsa, guac or avocados, sliced radish, sour cream, cilantro.
Chickpea Tuna-Like Salad (chickpeas): think a tuna salad meets chickpeas, but without the tuna.
Chickpea Salad (chickpeas): toss together chickpeas with a few veggies and you have a delicious lunch or side for dinner.
Crispy Chickpeas (chickpeas): bake chickpeas until crisp and then toss in salads as a crunch or enjoy as a snack.
Bean Burritos: this particular recipe is also freezer-friendly, so make a bunch and freeze to enjoy throughout the week for lunch.
Pinto Bean Fajitas: use black or pinto beans in this recipe, along with onions and peppers (or use a frozen pepper mix) and mushrooms, and make homemade fajitas.
Black Bean Soup: a recipe I hope to share soon for the Instant Pot. You can also try this one for the slow-cooker.
Rice
I usually stock both brown and white rice in my pantry. Both have their place. For brown rice, I prefer to soak the rice overnight in water to make it easier to digest, then drain and use to prepare a meal. For white rice, I just rinse and use to make a meal since it's easier to digest. I prefer jasmine and long grain rice. For brown rice, I like to use the Instant Pot to cook the rice. For white rice, the stove-top is quick and easy or the Instant Pot.
Bowl-Style Meals: cook rice (or use old rice from the fridge), roast up veggies, and prepare a protein (beans, chicken, fish, meatballs, steak), add a homemade sauce (like vinaigrette dressing or pesto). Combine the ingredients in a bowl for a bowl-style meal.
Whole Chicken
A whole chicken is the most budget-friendly, versatile meat you can buy, in my opinion. With one whole chicken, you can make enough meat to stretch multiple meals and 12 cups of chicken broth with the bones. Stock a couple of whole chickens in your freezer and you'll always have the availability to make multiple meals.
Frozen or Fresh Veggies 
Along with seasonal veggies, I always keep carrots, celery, onion, and garlic in the fridge since these ingredients are used in multiple ways to make various meals.
Roast: roast up a tray of whatever veggies you have on hand to serve with dinner or go with roasted tomatoes and add them to pasta or top or crusty bread.
Veggie Hummus: add a roasted beet to your homemade hummus or a couple of roasted carrots.
Baba Ganoush: put your eggplant to use in this tasty Middle Eastern dip.
Slaw: a great way to use cabbage (a long-lasting veggie), serve with tacos, nachos, or as a salad. During the winter, try this winter-veggie slaw.
Salsa: use tomatoes to make this fermented salsa.
Add to Smoothies: freeze steamed zucchini, steamed cauliflower, steamed butternut squash or carrot chunks or beets, or raw avocado chunks and add to smoothies. Here are some veggie smoothie ideas.
Veggie Fried Rice: use cauliflower and broccoli in this fried rice recipe.
Chicken and Veggie Fajitas: use peppers and onions and fresh tomatoes to make a fajita dinner and homemade salsa.
Veggie Fajitas: use peppers and onions and mushrooms and beans to make vegetarian fajitas.
Blended Veggie Soup: roast up veggies on a sheet pan and blend with broth to make a soup.
Tomato Soup: a roasted veggie soup made with tomatoes and peppers and onions. Serve along side grilled cheese.
Soup: make a variety of chunky soups or creamed soups.
Hash: make a hash for breakfast with sweet potatoes and peppers and sausage or use white potatoes and spinach and eggs.
Make a Sheet Pan Meal: sheet pan meals combine meat and veggies all on one sheet pan to make a meal. Try this meatloaf meal with ground beef and potatoes and spinach or this meal with potatoes and spinach and chicken or this salmon and veggies meal.
Pork Cabbage Dumplings: one of my favorite ways to use cabbage.
Frittata: use any variety of veggies to make this veggie-loaded egg dish.
Sweet Potatoes: the best roasted sweet potatoes and you can use this same method to make amazing baked white potatoes.
Veggie Fries: cut carrots, parsnips, or any potato into strips and then roast with olive oil and salt at 425F until crisp.
Zucchini Boats: stuff zucchini for a tasty meal.
Nachos: the veggies are more of the topping here, but I love to make ground beef, chicken, or bean nachos (just add the cooked protein to the tortilla chips and top with cheese then broil until the cheese melts) and then top with veggies like radish slices, lettuce, green onions, red onions, and avocado slices.
Summer Vegetable Casserole: made with zucchini, eggplant, tomatoes, and basil.
Zucchini Lasagna: This is a bit labor-intensive, but it's so good! Use zucchini as the noodles in this lasagna. This is a good one to make on a slow weekend.
Leafy Greens
Leafy greens include lettuce and spinach, but I'm also talking about the more obscure greens that we might otherwise toss, like the greens on top of beets and carrots or Swiss Chard or bok choy or cabbages.
Salad: use a variety of greens, even fresh herbs in a salad.
Sauté: sauté beet greens (the leafy tops of beets), Swiss chard, bok choy, baby spinach or kale with some olive oil, salt, and garlic. Squeeze lemon over the top if they taste bitter and top with parmesan cheese (if desired).
Egg Muffins: add baby spinach (or kale, Swiss chard or beet greens) to an egg mixture to make egg "muffins."
Frittata: use a variety of greens to make this egg dish.
Pesto: Blend up carrot tops (the leafy green tops of carrots), radish tops (the leafy tops of radishes), pea shoots, kale, or spinach with nuts, parmesan cheese, lemon juice, salt, and olive oil to make a pesto to toss with pasta or top on bread or use as a pasta sauce.
Smoothies: add kale, spinach, carrot tops, or even lettuce to a smoothie.
Stir-Fry: add leafy greens at the end when cooking a stir-fry, just chop first.
Hash: add leafy greens at the end of cooking a hash.
Soup: during the last few minutes of cooking, stir in chopped leafy greens of choice.
Quesadillas: add spinach, kale, or even Swiss Chard to a cheesy quesadilla.
Enchiladas: this recipe is for chicken enchiladas, but you can use the recipe to make a variety of fillings. Sauté veggies like zucchini and greens or sweet potatoes and beans.
Herbs
Herbs bring a meal to life. With their bold and rustic flavors, they can transform a salad from okay to AMAZING and turn ordinary chicken thighs into a fragrant and delicious dinner. I like to keep a handful of dried herbs on hand and a few fresh herbs: cilantro, basil (which is very seasonal so with the appropriate season), and parsley. Learn how to store herbs here.
Pizza Sauce (dried herbs): make homemade pizza sauce to go with homemade pizza dough. Mix together: 2 cups crushed tomatoes, 2 tsp oregano, 1 tsp basil, 1/2 tsp garlic powder, 1/2 tsp onion powder, salt and pepper to taste.
Chimichurri Sauce (fresh herbs): use to marinate fish, chicken, serve over a steak or a different protein. You can also use carrot tops (the tops of carrots) to make this sauce.
Make Broth (fresh herbs): add to a slow-cooker or Instant Pot, along with water and chicken bones and/or veggies to make broth/stock for soups.
Toss in Salads (fresh or dried herbs): chop up any fresh herbs (mint, parsley, basil, etc.) and add to a salad or add a few sprinkles of dried herbs.
Vinaigrette (fresh or dried herbs): add herbs to a homemade vinaigrette
Pesto (fresh herbs)
Ranch Dressing (dried herbs)
Toss in Soups (fresh or dried herbs): add flavor to any soup by adding a sprig of thyme or rosemary or some chopped parsley or basil or even cilantro. Of course, many soups call for dried herbs as well.
Hummus: add herbs to homemade hummus to make an herbed hummus.
Frittata: herbs paired with eggs = a delicious dinner!
Canned Tomatoes
I always keep several jars of canned tomatoes stocked in my pantry along with tomato paste. Crushed and diced tomatoes are my favorite and what I find to be the most versatile when making meals.
Pizza Sauce: make homemade pizza sauce to go with homemade pizza dough. Mix together: 2 cups crushed tomatoes, 2 tsp oregano, 1 tsp basil, 1/2 tsp garlic powder, 1/2 tsp onion powder, salt and pepper to taste.
Enchilada Sauce (tomato paste)
Spaghetti and Meatballs: make the sauce and meatballs on the stove-top or in the Instant Pot.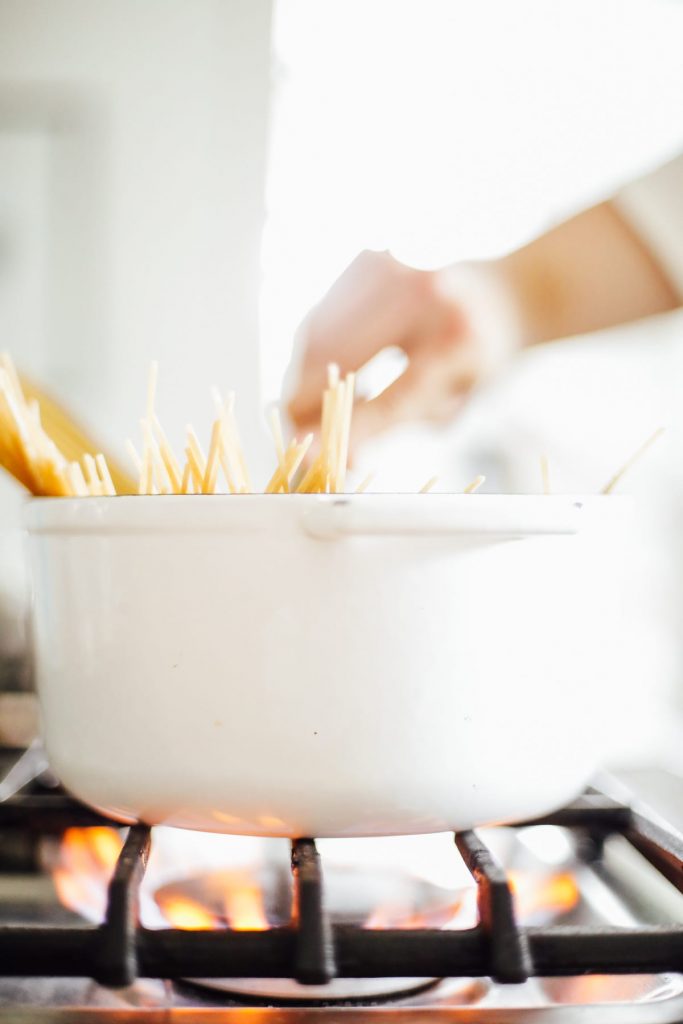 Pasta 
Oh pasta, so many ways to use thee. I keep a handful of pastas in the pantry: spaghetti, elbow, penne, and lasagna noodles. My favorite is Jovial Foods brand, the brown rice pasta in particular.
Broth/Stock 
Broth/stock is a nourishing liquid made by simmering veggies and bones (chicken, beef, etc.). The liquid may be used to make soups, cook rice, make enchilada sauce, or even just sip for a nutrient-rich drink. Broth/stock is easy to make (find my chicken recipe and beef recipe). I also like to keep boxes (or bags) of store-bought broth in the pantry and freezer. My favorite brands, include: Bonafide Provisions (in the freezer section) and Kettle & Fire (in the dry goods section).
Flour 
Flour is a staple that will make a multitude of foods: bread, pizza, cornbread, tortillas, biscuits. I highly recommend creating a sourdough starter (using flour and water), which you can use to make sourdough bread, waffles, focaccia, and more. My favorite flours to keep on hand: einkorn, spelt, all-purpose flour, whole wheat, and cornmeal.
Pita Bread: a recipe I hope to get up next week.
Tortillas
Tortillas are a staple always found in my freezer. I like Siete brand, Rudi's Organic brand, or homemade tortillas.
Quesadillas: so many options. Add shredded chicken and cheese, sautéed peppers, beans, or go with a classic cheese and greens. You can even make breakfast quesadillas.
Tacos: add ground beef, chicken, or eggs to make breakfast tacos. Add lettuce, cheese, salsa, etc.
Fajitas: add a chicken and veggie filling or bean and mushroom filling.
Burritos: add whatever protein you want, along with rice and any toppings. Or, make breakfast-style burritos.
Enchiladas: this recipe is for chicken enchiladas, but you can use the recipe to make a variety of fillings. Sauté veggies like zucchini and greens or sweet potatoes and beans or go with ground beef mixed with taco seasonings.
Wrap: add meat, veggies, hummus, and/or cheese to make a wrap.
Tuna
Tuna, the staple that will keep in the pantry and make multiple meals. I like Yellow Fin Tuna in olive oil and salt, if I can find it.
Tuna Salad: make a basic tuna salad with a can of tuna, mayo, mustard, red onion (chopped), and celery (chopped). Top on bread, make a tuna melt by placing the tuna on bread, then top with cheese and melt under the broiler for a few minutes, or serve with crackers or in a tortilla to make a wrap.
Extra Virgin Olive Oil
Extra virgin olive oil is what I use as the primary oil in my kitchen. I use it for roasting, making salad dressing, and drizzling over food. For high temperature cooking (such as frying), I prefer avocado oil, which is also a staple in my pantry.
Creamed Veggie Soup: use olive oil to make a cream soup.
Drizzle Over Bread: make toasts (and serve with cheese, tuna salad or chicken salad, top with avocado, roasted tomatoes, or enjoy as-is). To do this, drizzle bread slices with olive oil, broil until crisp, and serve.
Sauté/Cook Food 
Ground Beef 
Ground beef is inexpensive (compared to other cuts) and super versatile. I get a few pounds of ground beef every couple of weeks from a local farm that raises cows on pasture (grass). If you'd like to find local beef in your area, check out eatwild.com
Chicken Thighs
Chicken thighs are an inexpensive and easy-to-cook piece of meat. They're also super forgiving in that you can slightly overcook them (you know, you forget to pull them out at exactly the right time) and they won't taste bland and dry like chicken breasts.
Cheese
Now, I'm not talking about a processed cheese product. What I am talking about is real cheese. This means cheese that is produced with real milk or cream through a culturing/fermentation process. Fake cheese is usually labeled as a "cheese product" and has a long ingredient list, such as: cheddar cheese, whey, water, protein concentrate, milk, sodium citrate, calcium phosphate, milkfat, gelatin, salt, sodium phosphate, lactic acid (as a preservative), annatto and paprika extract (for color), enzymes, Vitamin A palmitate, cheese culture, and Vitamin D3. Real cheese is made with, for example, just: milk, rennet, enzymes, salt.
I prefer to purchase cheese in block form and shred or slice it myself. I find this to be the most economical and versatile way to buy and use cheese. I keep parmesan cheese and cheddar on hand the majority of the time, along with goat cheese for snacking.
Grilled Cheese 
Mac and Cheese: make it on the stove-top or in the Instant Pot.
Cheeseburgers: grill ground beef (in pattie form) with salt and pepper then top with cheese during the last few seconds.
Salad: I love to shave parmesan cheese slices or crumble goat or feta into a salad–trust me, add cheese to your salads!
Top on Tacos or Fajitas 
Tuna Melt: make a tuna melt by placing tuna salad on bread, then top with cheese and melt under the broiler for a few minutes.
Milk (or nuts to make milk)
Milk is a staple used to make many different dishes, from homemade mac and cheese to pancakes (pancakes can be dinner) to soups and biscuits to ricotta cheese. If I can't find dairy milk (read more about what to look for when buying dairy), I'll make my own with nuts (almonds and cashews are my preferred choices, but sunflower and pumpkin seeds also work.)
Butter
Butter is another staple to have on hand for making a wide variety of recipes, from sautéing veggies for soup to making biscuits and cornbread. I even blend butter in my coffee every morning (using a blender).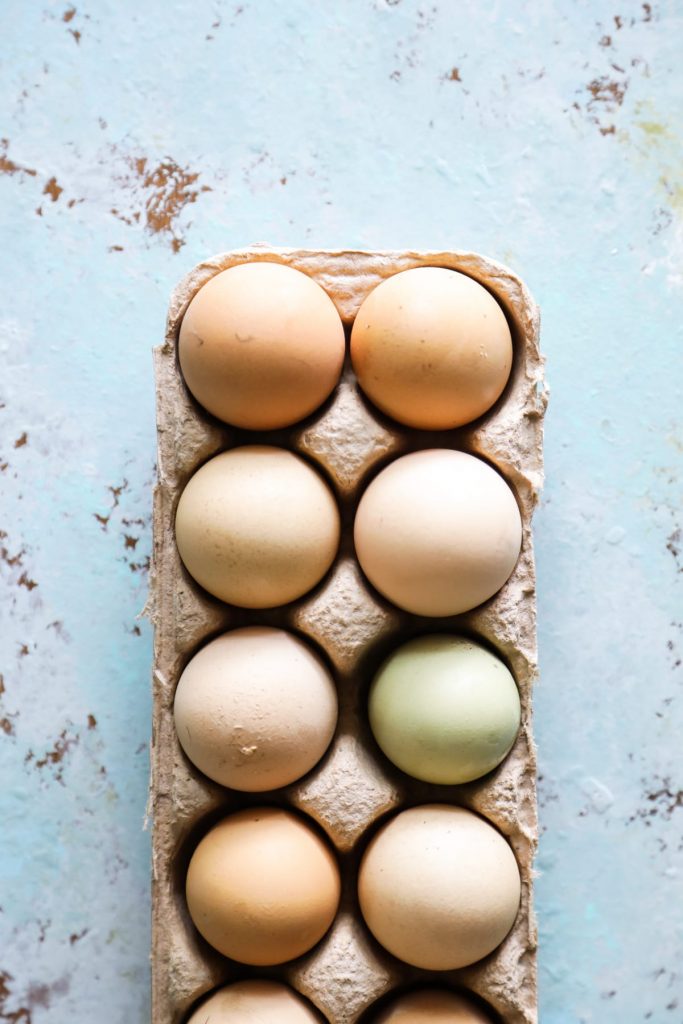 Eggs 
Eggs are another staple that make multiple meals. Eggs are also a nutritional powerhouse and inexpensive when you factor in how much you can make with just a dozen eggs.
Omelette: yes, more of a breakfast, but sometimes breakfast for dinner is the best!
Mayonnaise: at the moment, mayonnaise is hard to find in my area so making my own is the way to go.
Eggs in a Hole: A favorite breakfast-for-dinner meal in our house.
Scrambled Eggs 
Omelette Cups: yes, more of a breakfast but they work for "brinner", too.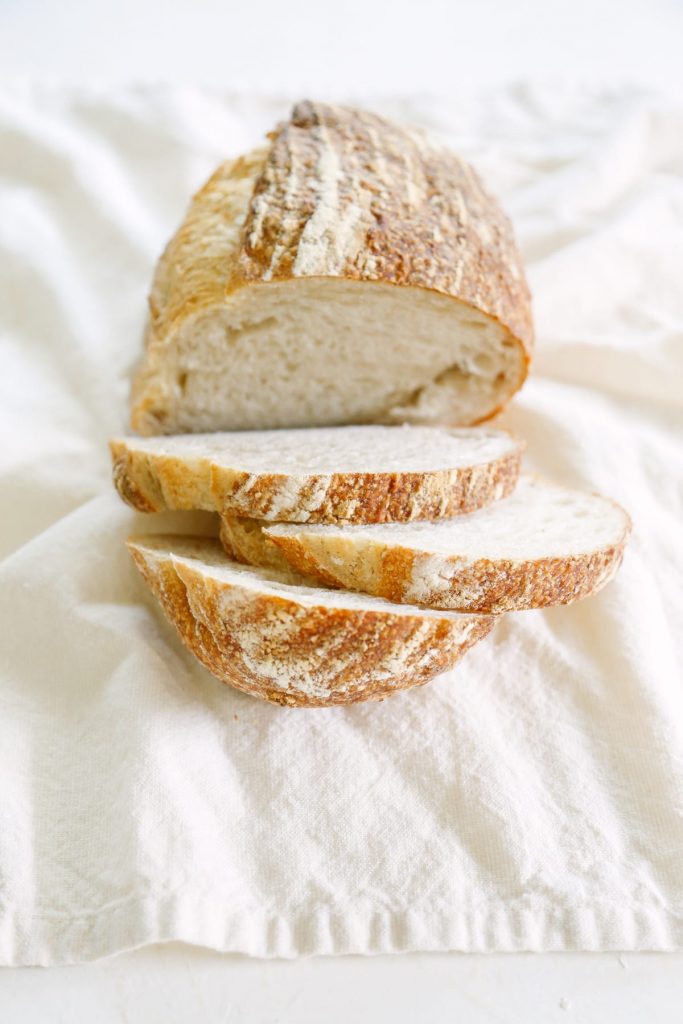 Bread
I always keep some sort of bread in my freezer, ready to use to make sandwiches, serve as toast, make croutons, or French Toast (just to name a few uses). I recommend sourdough bread, which you can learn more about in this post. You can also make your own sourdough bread with flour, water, salt, and a starter.
Sandwiches 
Toast with Olive Oil: drizzle with olive oil and toast under the broiler in the oven. Serve with cheese, top with avocados or chicken or tuna salad or an egg, or roasted tomatoes.
Peek Inside My Fridge and Pantry
I've created a video tour of both my pantry and fridge, so you can see exactly what I stock and how I store this food.