Just the other day we talked about simplifying mornings with a laundry box hack. Did you make your own laundry box yet? It's morning-changing!
Now it's time to turn our attention to breakfast…
Being ready for a great school year means being prepared to serve nourishing and filling breakfasts! Breakfast, as we all know, lays the foundation for the rest of the day, and can either fill our bodies with nutrient-rich vitamins and minerals, or leave us starving within an hour and crashing from a sugar-high.
But, here's the thing, mornings are busy in our home, which means I don't have a lot of time to cook a full breakfast. This means that on the weekend, I focus on stocking my fridge and freezer with portable and nutrient-rich breakfasts for the upcoming week. Here's a list of my favorite portable real food breakfasts to prep in advance, or make in the morning (if they're easy to make), throughout the school year.
Portable Real Food Breakfast Ideas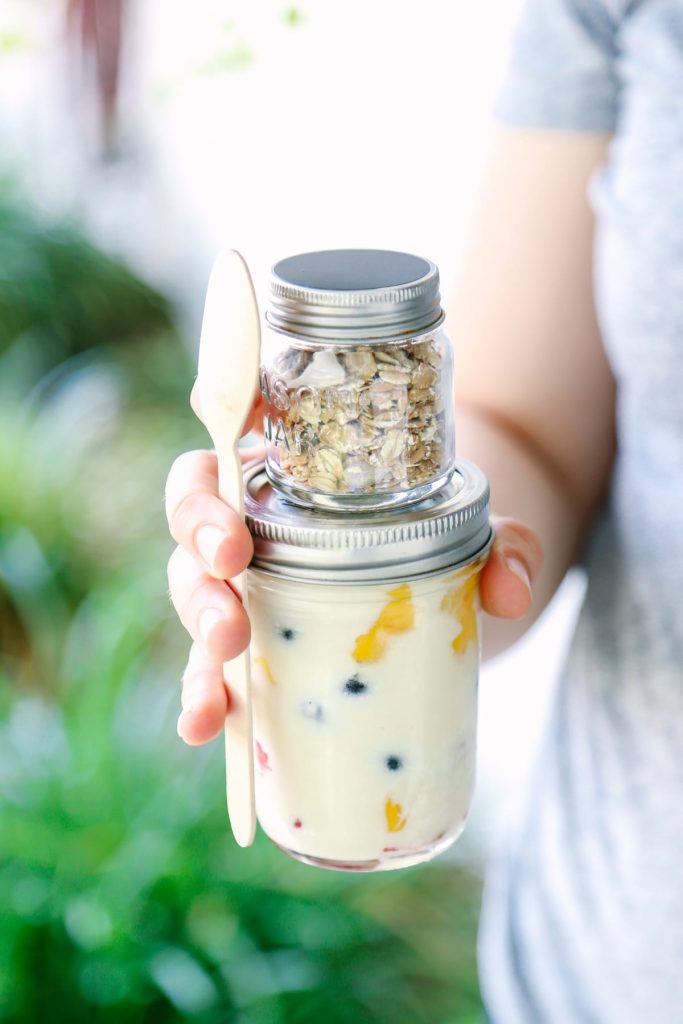 1. Make-Ahead Fruit and Yogurt Cups
Use plain whole milk yogurt (or coconut or almond milk yogurt for a dairy-free version) + fresh or frozen fruit. The cups may be prepped in advance and stored in the fridge.
A hardboiled egg isn't the most exciting meal ever, but one egg is packed with protein, good fat, and essential vitamins and minerals. Just what a growing body needs for a full day of school. I like to pair hardboiled eggs with muffins, good ol' toast with nut butter (with banana and honey, or mashed avocado), granola bars, or smoothies. Hardboiled eggs may be prepped in advance and stored in the fridge for up to one week.
3. Smoothies
A smoothie is a great way to pack lots of nutrient-rich ingredients into one small glass. I like to pair smoothies with hardboiled eggs, muffins, granola bars, and pancake "sandwiches" or toast with nut butter. Our favorite smoothies include this cherry-berry smoothie and this green smoothie. Freeze leftover smoothies in popsicle molds for an after school (or work) snack.
4. Granola Bars
Homemade granola bars are filled with oats, nuts, and energy-rich dates. I love to keep homemade granola bars in the freezer, and pair a bar with a fruit and yogurt cup, or hardboiled egg(s). Granola bars also make for a fun lunch treat or after school snack.
5. Pancakes
Pancakes are usually thought of as a weekend treat. But when a homemade pancake is made with almonds and oats, why save this gem only for Saturday morning. I usually double our pancakes on the weekend, so we can enjoy the pancakes on a school morning. Sometimes we'll enjoy the pancakes with fruit and maple syrup. Other times we'll make the pancakes portable by filling them with nut butter and bananas, just like a sandwich. Other options: Oat Pancakes and Whole Wheat Pancakes.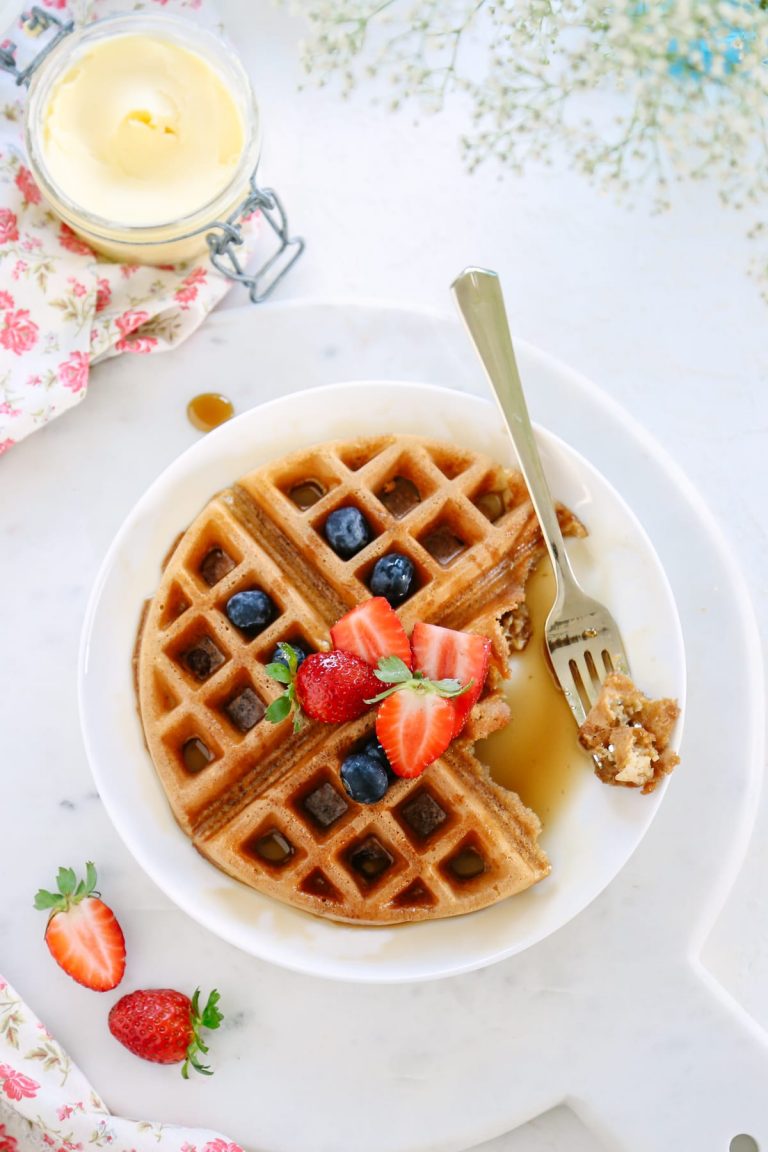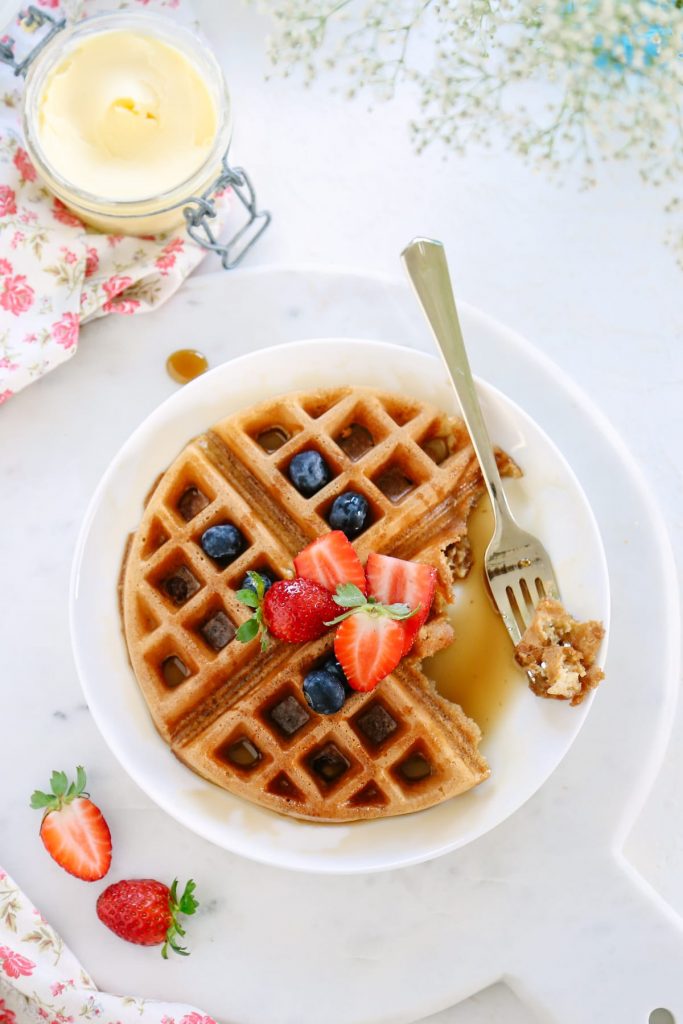 6. Waffles
Just like pancakes, waffles may also be prepped in advance and reheated later in the week. Waffles may be served traditionally with maple syrup, or made into a sandwich like the pancakes (try scrambled eggs in the center!). Need a gluten-free recipe? Try this recipe from Raising Generation Nourished.
7. Muffins
A real food-style muffin can make for a delicious and hearty breakfast meal when paired with a hardboiled egg, smoothie, or an omelet cup. If you need a break from muffins, try a breakfast cookie or sliced banana bread. Other options: Applesauce Muffins and Chai Zucchini Muffins.
8. Omelet Cups
There's no fork required to enjoy this omelet, just your hands! You can easily add variety to these cups by using seasonal veggies (see this asparagus-based recipe for an example).
9. Oatmeal
Piper loves oatmeal, especially when he gets to top his oatmeal with a bit of cinnamon, maple syrup, and chopped pears (his favorite). Remember the thermos from the school lunch gear post? Well, I also use that thermos for packing on-the-go oatmeal in the morning. Double duty!