Being that it's cookie season, I thought it would be helpful to gather all my favorite einkorn cookie recipes in one spot. Of course, you'll find cookies here on the blog that aren't made with einkorn flour (like my Grandma's famous buckeyes and cookies in a jar), but most of the recipes are made with einkorn.
We've been doing a lot with einkorn flour this month. Well, that is, we've been making a lot of cookies with einkorn flour.
As a quick recap, today, we'll talk about the basics of einkorn and special tips and tricks to consider. If you're new to using einkorn definitely read on after the cookie recipes. One thing to keep in mind, einkorn is not a gluten-free flour (if you're celiac, this flour isn't going to make your shopping list), so if you need gluten-free cookie recipes head over to this post.
Now, let's take a look at the best einkorn cookie recipes to make this season (or any season, because cookie cravings don't need to wait until December).
The Best Einkorn Cookie Recipes

Soft, slightly chewy, and perfectly thick. Just what a chocolate chip cookie should be.
As one Instagram reader friend said, "I can't believe how good these are! I've made many sugar cookie recipes over the years and these are by far the BEST!"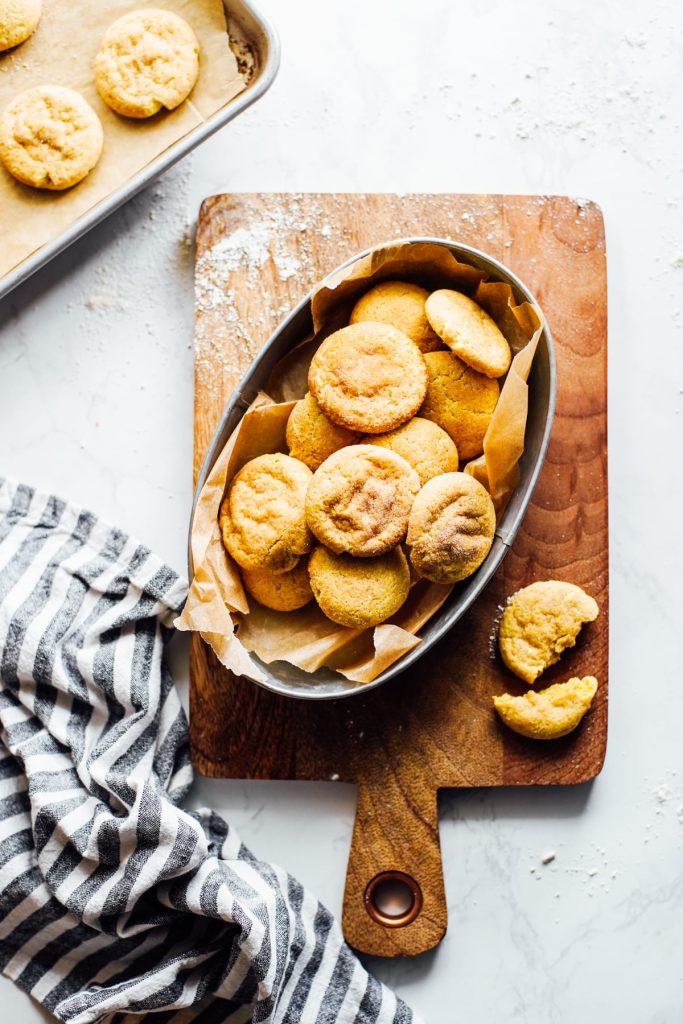 What makes this cookie so unique? The slightly sweet cinnamon coating, the irresistible tangy flavor, and the soft and chewy texture.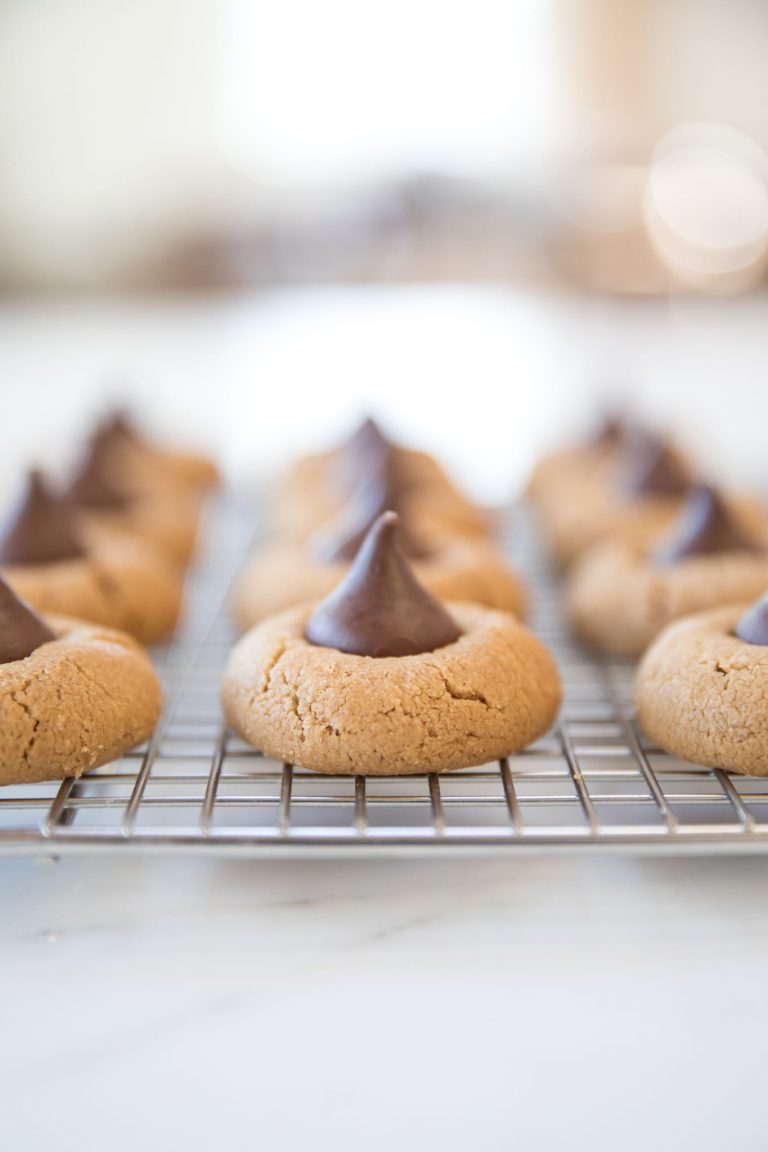 I have so many childhood memories of sweet and chocolatey peanut butter blossoms. This cookie reminds me of a Reese's peanut butter cup in cookie form.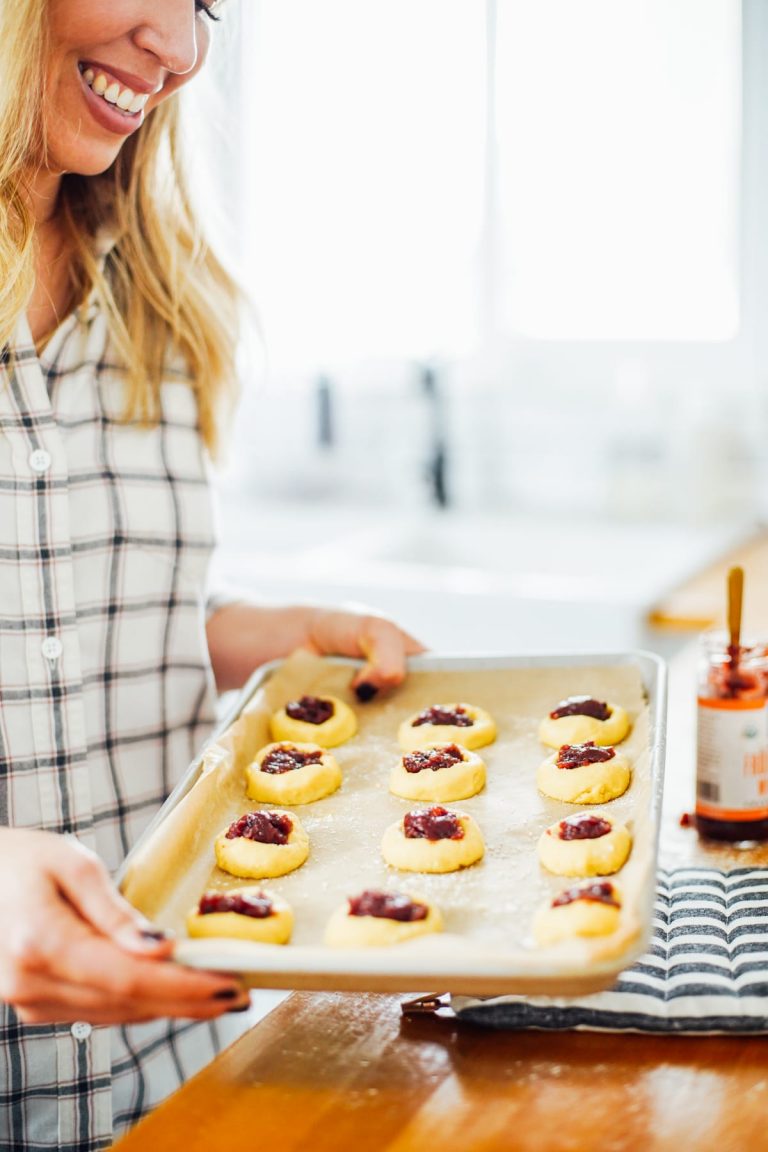 Buttery shortbread cookies topped with a sweet jam filling.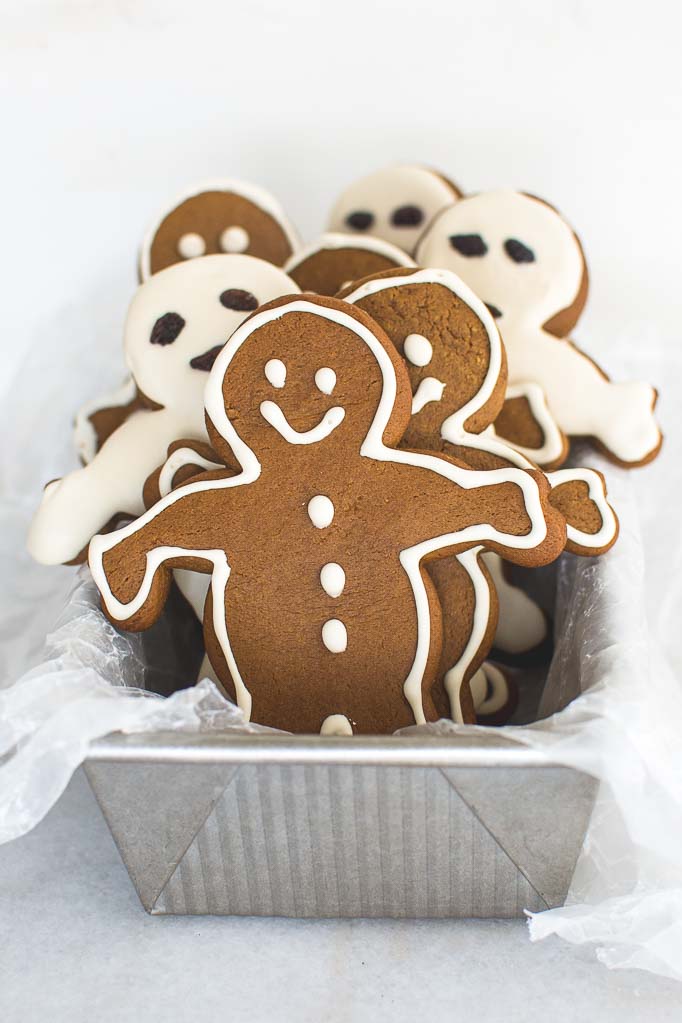 A classic holiday cookie. Use a gingerbread man cookie cutter to make delicious and cute cookies that adults and children are sure to love.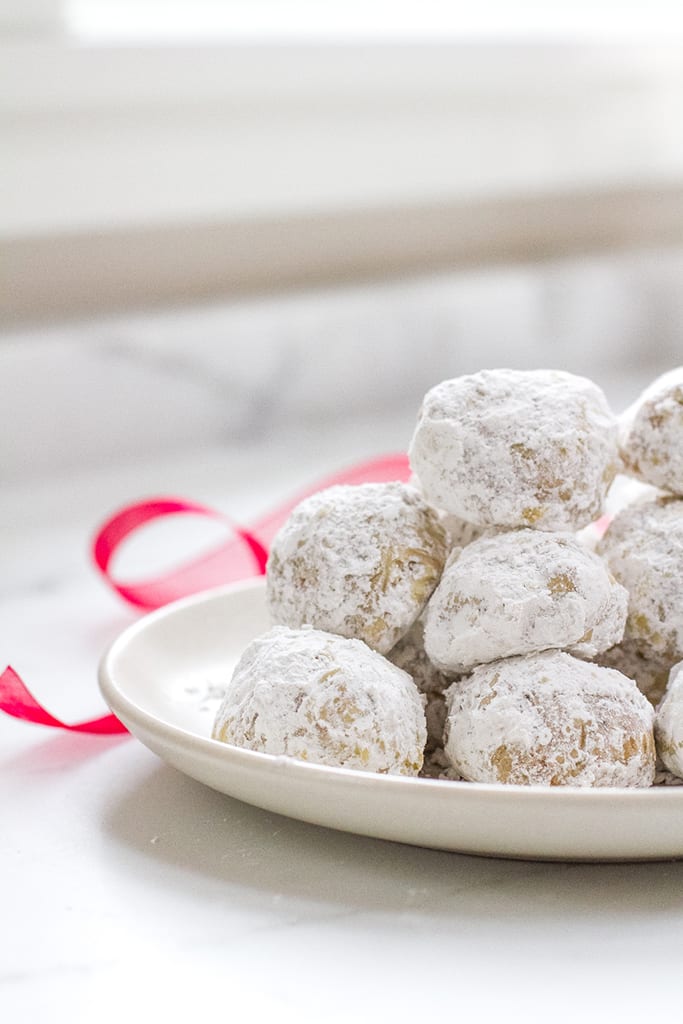 Growing up, snowball cookies were a holiday staple in our home. I loved the snow-like sugar coating on the outside and the sweet, nutty inside. This recipe can be made with einkorn flour or gluten-free flour–your choice.
What is einkorn flour?
Einkorn is a variety of wheat. It's known as the oldest variety of wheat, or the first wheat, making it an ancient grain. This particular species of grass grew wild for thousands of years before it was intentionally planted and harvested.
The wheat commonly used today isn't the same as the wheat our ancestors consumed for thousands of years. Modern wheat has been hybridized. Hybridization is the act of crossing two different species of plants with the goal of creating a new variety of plant. This changes the very makeup and structure of the new plant.
Einkorn has a much higher protein content (30% more than modern wheat) and less starch (15% less than modern wheat), along with a higher concentration of minerals and flavor. This makes einkorn distinctly different than modern wheat.
Einkorn is the only wheat that's missing certain types of gluten proteins that some people are sensitive to. Einkorn doesn't have less gluten than modern wheat. It actually has a similar gluten content to modern wheat. The difference is the gluten structure (in einkorn) is weak, making it remarkably different than our modern wheat. (This is a super fascinating video to watch for a visual.)
Einkorn is NOT a gluten-free grain. This means einkorn is not safe if you have celiac disease (an autoimmune condition). According to celiac.org, about 1 in 100 people have celiac disease. It's worth repeating, if you have celiac disease einkorn is NOT an option.
Personally, I've found that I digest einkorn well, along with wheat breads and baked goods that have gone through the sourdough process (which makes grain easier to digest–a practice that has been around for thousands of years). This is why so many of the recipes on the blog feature this grain.
Tips and tricks for baking with einkorn flour
Einkorn can be used to make any baked good desired, from cookies (as we're going to talk about today) to cakes to pancakes. As Jovial states, "Einkorn may be substituted cup for cup with regular whole wheat flour in some muffin, pancake, cake, and cookie recipes. However, sometimes, the amount of liquid in the recipe needs to be reduced by roughly 15-20%."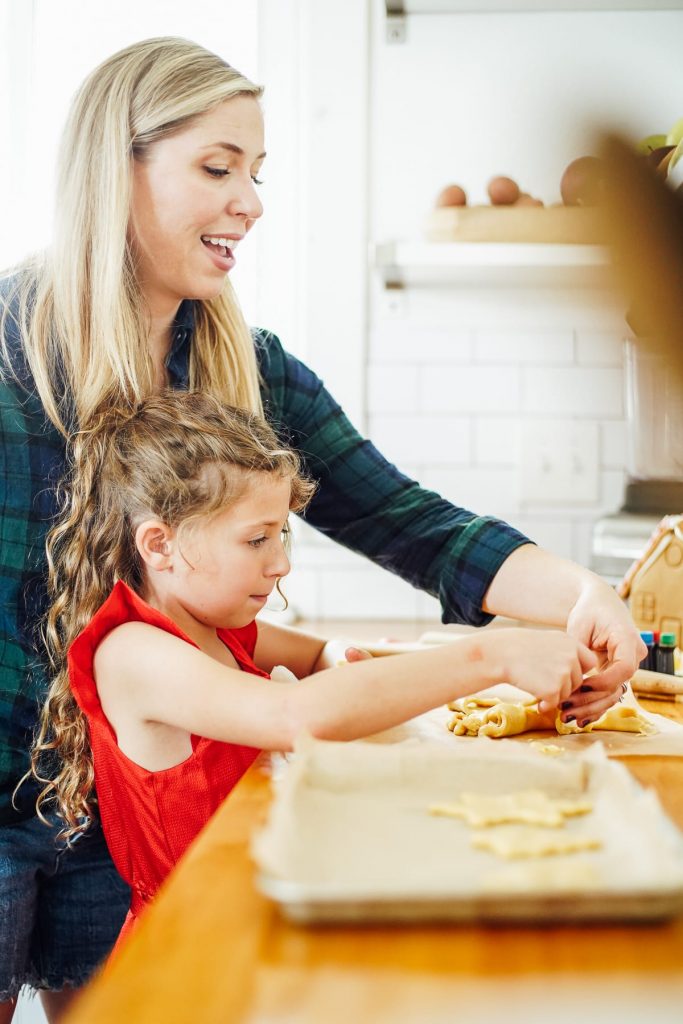 If you want to branch out and experiment with making your own cookies and other baked goods (creating your own recipes), Jovial has a fantastic resource on their site for troubleshooting how to do this. (This post isn't sponsored by Jovial as we don't write sponsored posts on the blog. Jovial is a fantastic einkorn resource and supplier, and an incredible real-food company. I had Carla, the founder, on the podcast and her story is incredible.)
When it comes to baking cookies (or cakes, pastries, etc.), I highly recommend using a scale to weigh your flour. This isn't something most Americans are used to hearing. We've become accustomed to relying on volume (cups) for baking, but here's the issue: my cup of flour may not be same as yours. In fact, it's probably not. There are too many variables involved with volume measurements. This means that my results may be different than your results and vice versa.
When it comes to baking, I recommend weighing the most important ingredients. Plus, weighing ingredients is much easier, just keep adding ingredients to the bowl until the scale essentially tells you to stop. Trust, me it's easier and way more precise.
If you've ever made a (baked good) recipe and it didn't turn out quite right (and the recipe is solid), it's probably because there was too much flour added. This is far too easy to do with volume measurements. Of course, in order to weigh your ingredients, a recipe creator has to provide you with such numbers. Not everyone does this. I didn't weigh ingredients for the first few years of this blog. Don't stress if you find an einkorn recipe and the grams aren't provided. If grams are provided, it's best to use them. Your results will be far more accurate.
I've been using this scale, which we originally purchased for making coffee (weighing coffee beans), for a few years now.
Happy baking!