On Sunday afternoon, I prep food for the week to come. For me, this means prepping just a few food components that we can mix and match throughout the week to build meals and reduce the amount of time we spend in the kitchen. Prepping a breakfast item in advance is always one of my top priorities, because breakfast time during the school week = crazy time! There's the hustle to get out the door (hopefully with all shoes, backpacks, and lunches) and get in a nourishing breakfast at the same time. Today's recipe has become one of my favorite breakfast foods to prep in advance. The oatmeal cups are basically a baked oatmeal, all packed into a portable muffin cup.
Why prep baked oatmeal cups?
I've found that many of the frustrations I experience in life are a direct result of thinking that life will magically organize itself. Sure, there are many things one can't control, but there are also many things that can be simplified or automated with systems in place and a bit of advanced prep work (i.e. laundry, meals, and even finding socks for the kids on busy school mornings).
In the past, school mornings have been a time of frustration for me, due to everything that must get done in such a short period of time. Taking a few intentional actions, like prepping breakfast and lunch foods, creating a morning routine, and waking up a couple of hours before the kids, has made a huge difference for me and my family. These small actions have brought a feeling of calm to our home even on the busiest of school mornings.
Having something prepped in advance for breakfast is a huge time-saver and sanity-saver for our family. There's so much peace in knowing that breakfast is either taken care of or is super easy to make and assemble that morning. This is why I'm such huge a advocate for making something like baked oatmeal cups or pancakes or muffins or hardboiled eggs in advance.
Also, the baked oatmeal cups also work great as a snack or lunchbox option. So by making the cups in advance, you'll not only have an easy breakfast option available for the week, but also a fun snack or lunchbox option for the kids. That's what I call a major win!
What are baked oatmeal cups?
Baked oatmeal cups are made with oats, applesauce, a bit of sweetener, some milk, and any add-ins (chocolate chips, fruit, etc.). Once combined, the ingredients are spooned into muffin liners in a muffin pan and then baked until firm. The final result is muffin-style, portable oatmeal. The baked oatmeal cups have a moist, chewy texture (definitely not a mushy oatmeal you eat from a bowl). The oatmeal cups can be stored in the freezer for up to several months, or stored in the fridge for up to a week.
Baked Oatmeal Cups Tips and Tricks

Save Time and Prep This Recipe in Advance
Make a batch of baked oatmeal cups on Sunday morning for breakfast, and then use the leftovers again on Monday and even Tuesday morning. If your kiddos love this oatmeal, you could even include a cup or two in their lunchbox or for a snack.
Double the Recipe and Freeze Extra
Save yourself even more time by doubling this recipe and then freezing the extra batch (once cool) for future breakfasts, lunches, and snacks.
Change it Up
Add variation with different mix-in options: mini chocolate chips, fresh or frozen blueberries, shredded coconut, chopped nuts, freeze-dried fruit, dried fruit. Use up to 1 cup of add-ins total. You can use 1 cup of one add-in or mix a couple of add-ins to equal 1 cup total.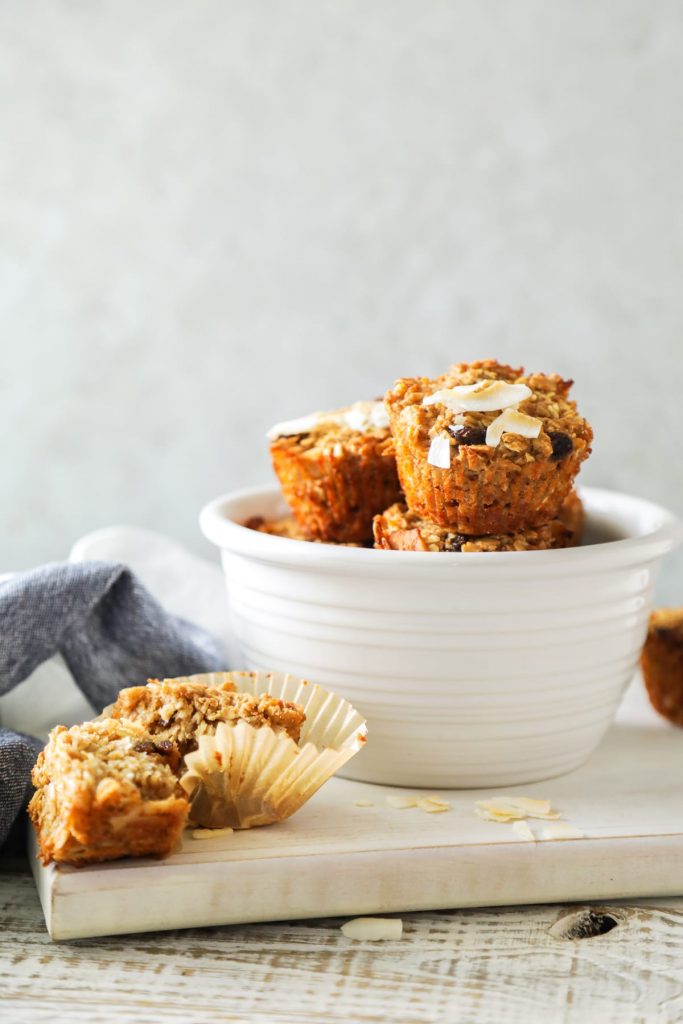 More Healthy Oatmeal Recipes
Baked Oatmeal Cups
Baked oatmeal cups: dairy-free, gluten-free, egg-free, and portable! An easy grab-n-go breakfast made with healthy ingredients.
Instructions
In a large mixing bowl, stir together the dry ingredients: oats, cinnamon, baking powder, and salt. 

In a medium-size mixing bowl, whisk together the wet ingredients: milk, applesauce, honey, vanilla extract, and melted coconut oil. 

Add the wet ingredients to the dry ingredients and stir to combine. Fold in up to 1 cup of add-ins of choice (see note below for options).

Divide the oatmeal mixture evenly among the muffin cups. I use an ice cream scooper and gently press the mixture down in the muffin cup with my fingers. 

Bake for 20-25 minutes, until the centers are firm to the touch. 

Let the pan cool, preferably on a wire rack, for at least 15 minutes. The oatmeal cups will firm up as they cool and shouldn't be removed from the pan too quickly.
Notes
Options for add-ins: mini chocolate chips, fresh or frozen blueberries, shredded coconut, chopped nuts, freeze-dried fruit, dried fruit. Use up to 1 cup of add-ins total. You can use 1 cup of one add-in or mix a couple of add-ins to equal 1 cup total. 
Nutrition
Calories:
157
kcal
Carbohydrates:
18
g
Protein:
3
g
Fat:
8
g
Saturated Fat:
3
g
Cholesterol:
3
mg
Sodium:
150
mg
Potassium:
146
mg
Fiber:
2
g
Sugar:
3
g
Vitamin A:
35
IU
Vitamin C:
0.2
mg
Calcium:
50
mg
Iron:
1
mg