Last week, we talked about 9 healthy food swaps to help you ditch the processed foods. As I shared last week, eating healthy, real food is about two things:
making small intentional swaps
learning how to cook using real ingredients
Today, we're going to take the small swaps one step further by talking about 7 processed foods to stop buying and start making.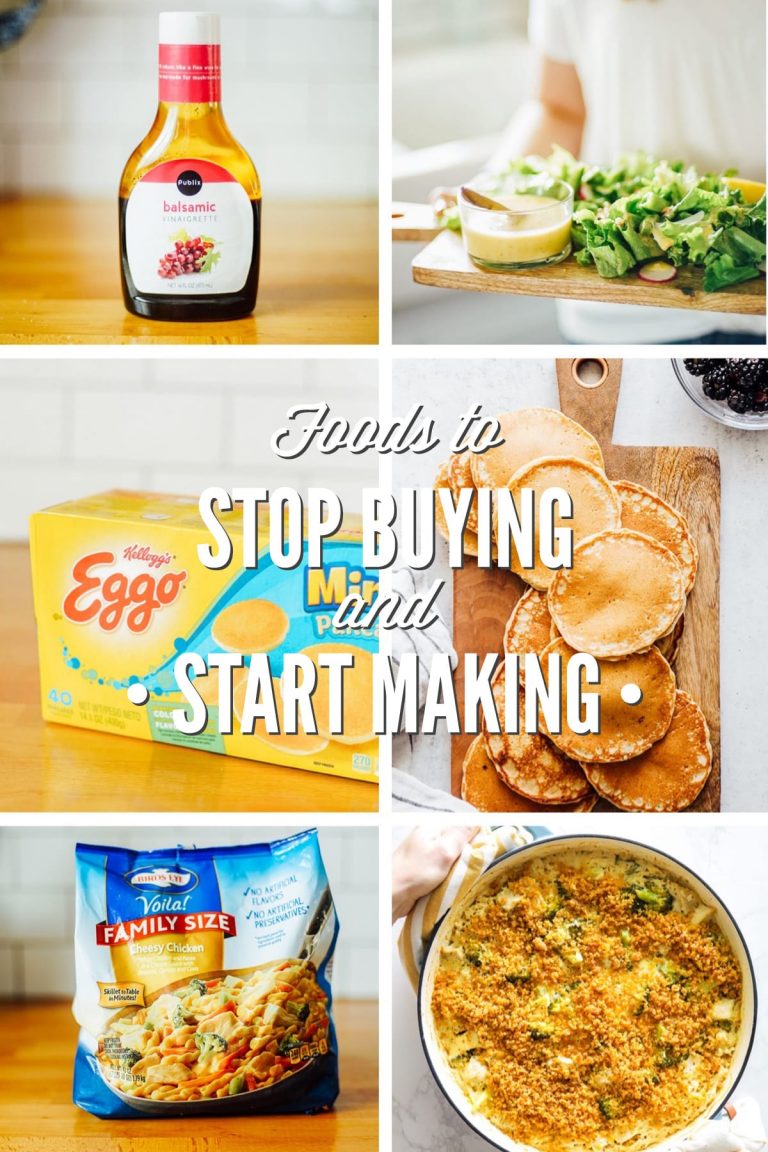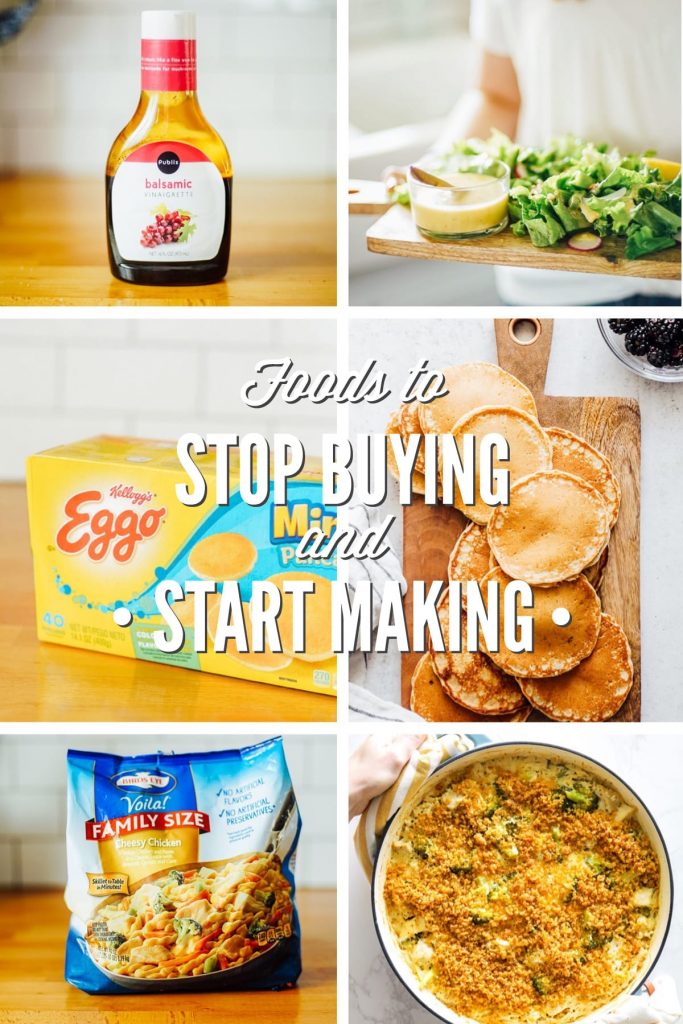 What is Healthy, Real Food?
While diets restrict foods, which oftentimes leaves you craving the "forbidden fruit" (or bacon or cupcakes), real food is about embracing meals that are made with REAL ingredients. It's about tradition. It's about foods that have been embraced by healthy people for generations. Essentially, real food is about getting back to the basics.
Real Food is about
getting back to the food people consumed for generations upon generations before the rise of ultra-processed food.
Here's how food advocate Micheal Pollan sums up real food, "Real food doesn't have a long ingredient list, isn't advertised on TV, and it doesn't contain stuff like maltodextrin or sodium tripolyphosphate. Real food is things that your great-grandmother (or someone's great-grandmother) would recognize."
Need a breakdown of what real food looks like? Head over to this post.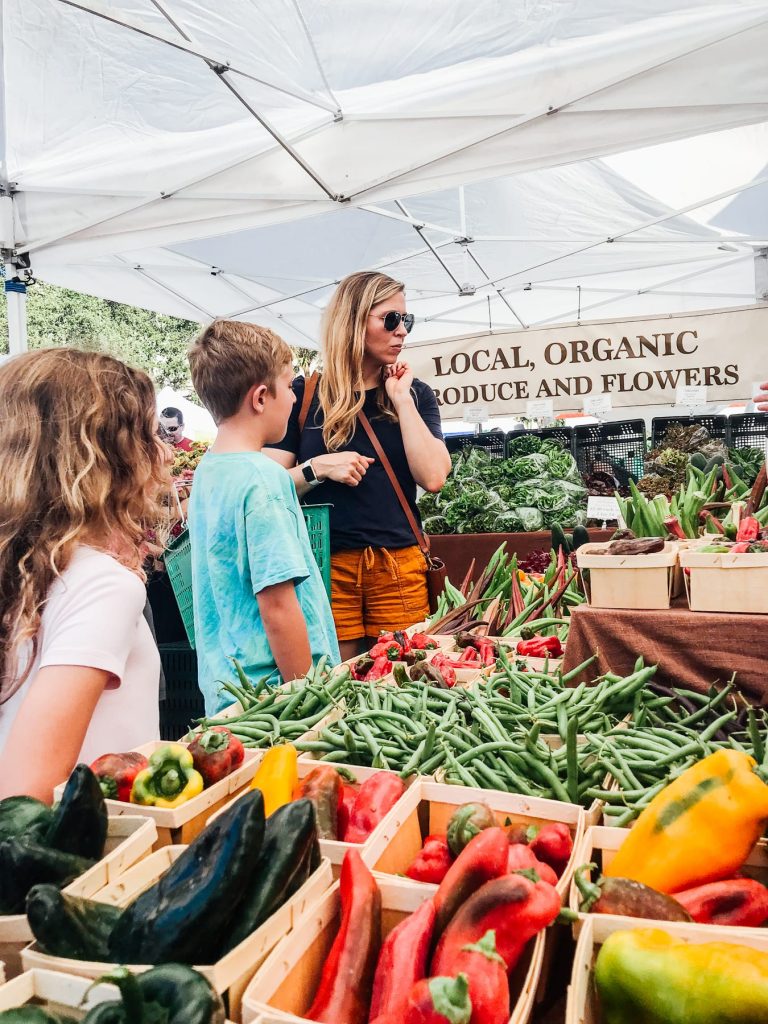 If we're going to "get back to the basics," we cannot separate cooking from the real food equation. Before ultra-processed food companies dominated the food industry (which has occurred in the last 80 years and has completely changed our food system and wrecked our health), people sourced, gathered, and cooked food.
In order to eat real food
you have to learn how to cook and nourish yourself and your family.
That's why you'll find so many simple recipes here on the blog. My goal is to teach you how to cook with simple ingredients (exactly what our ancestors did) and show you just how enjoyable real food is.
You don't have to give up your favorite meals or foods when making the switch from processed food to real food. Instead, think about how you can make your favorites with nourishing ingredients or source from a company (or local maker) to save you time.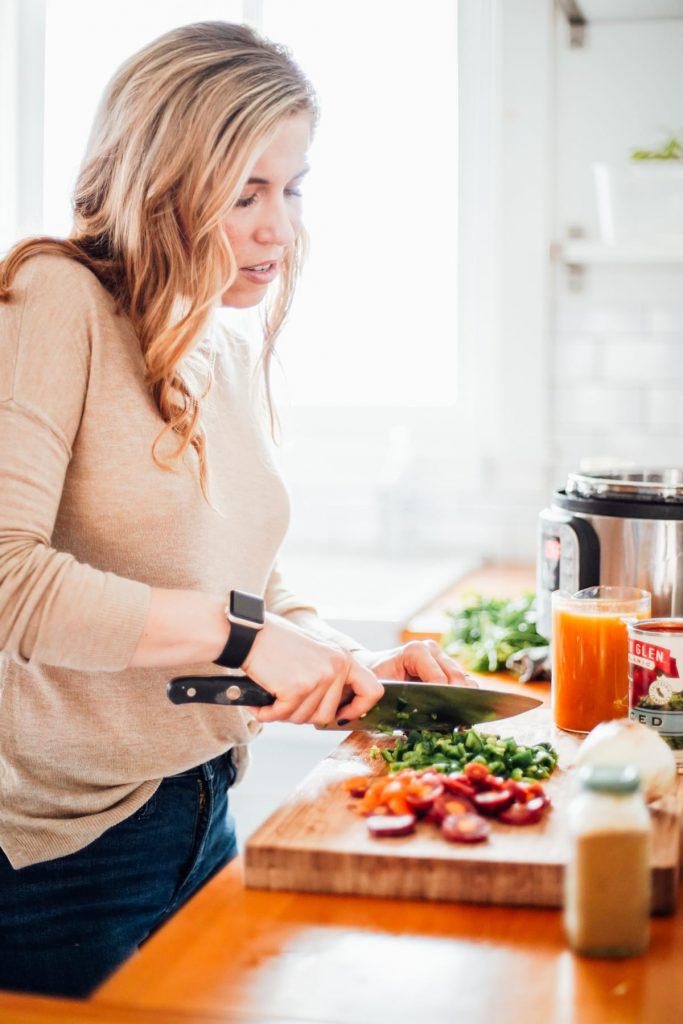 Processed food companies
have taken foods that were traditionally enjoyed and put a cheap spin on them.
Companies cut corners and make cheap "food" products with unnecessary ingredients (which most of the time are highly refined, hard to digest, lack any nutrients, and can only be created in a lab by food scientists). Then these foods get a bad name and we start making generalizations: burgers are bad, pancakes are only a treat, cheese is horrible for you. Is it any wonder we're so confused about what to eat today?
My best advice for a family transitioning from processed foods to real food (like we did nearly eleven years ago) is to makeover your favorite processed foods at home. This simply means recreating the very meals and foods your family loves with REAL ingredients (AKA: ingredients great-great grandma would recognize). I realize that your time is valuable and limited.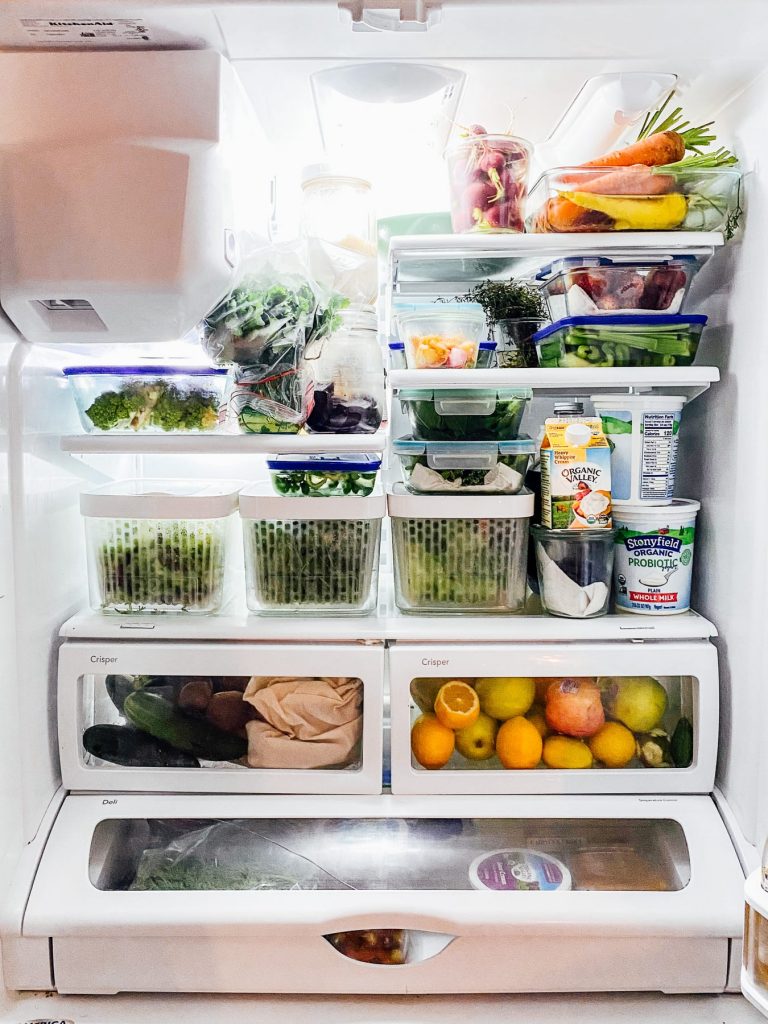 Let's be realistic…
I realize that your time is valuable and limited.  Today, I'm only sharing 7 foods that I believe are 100% worth the time to make from scratch. Here's the thing, you don't need to make all of these foods right now, particularly if you're new to real food. Instead, choose one food at a time.  I've also provided recipes for each swap. The recipes are family favorites in our home, so I think your family will love them, too.
Little by Little
You'll build up your cooking skills and make over the foods you eat while also changing your palate so you don't crave the addictive processed foods. Focus on making one small change at a time.
7 Foods to Stop Buying and Start Making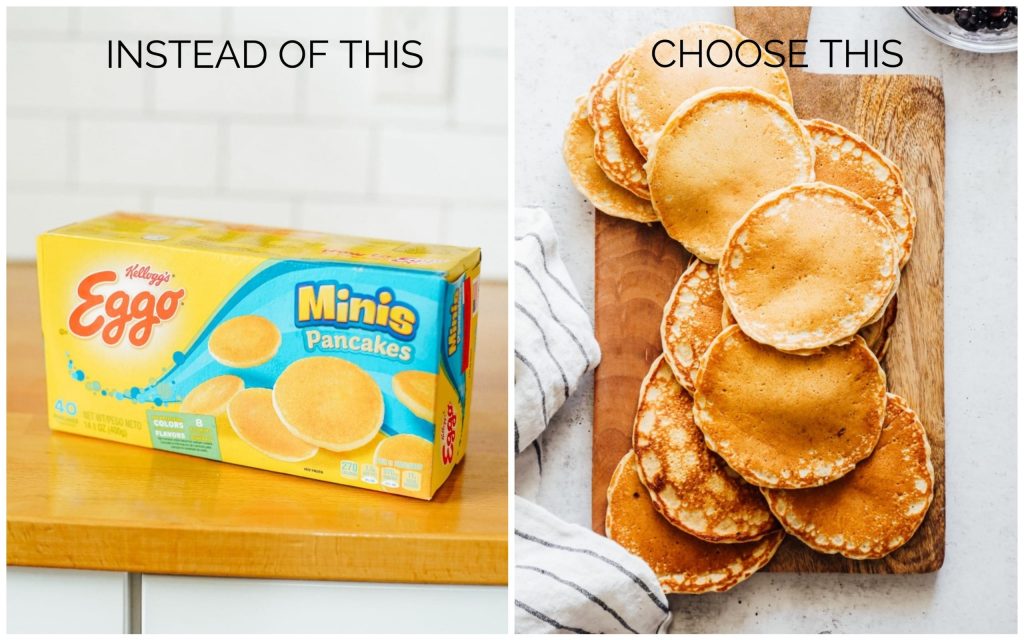 1. Pancakes and Waffles
I grew up eating boxed waffles (Leggo My Eggo) and making pancakes from a box. The thought of making something like pancakes and waffles from scratch was very foreign to me when I first learned about real food. I thought all pancakes and waffles must be processed foods and, therefore, "bad" foods. The truth is, ultra-processed food companies have taken something that's an old tradition, cut corners, and turned it into a cheap product made with unnecessary ingredients. Just take a look at the ingredients used to make frozen pancakes:
Enriched Flour (Wheat Flour, Malted Barley Flour, Niacin, Reduced Iron, Vitamin B1 [Thiamin Mononitrate], Vitamin B2 [Riboflavin], Folic Acid), Water, High Fructose Corn Syrup, Vegetable Oil (Soybean And/Or Canola), Buttermilk, Eggs, Contains 2% Or Less Of Leavening (Baking Soda, Sodium Aluminum Phosphate, Monocalcium Phosphate), Salt, Soy Lecithin. Vitamins And Minerals: Vitamin A Palmitate, Reduced Iron, Vitamin B6 (Pyridoxine Hydrochloride), Vitamin B12
Instead…
Make your own pancakes or waffles. If you want to save time, double the recipe and make a big enough batch to freeze for future meals. To reheat, use the microwave, oven, toaster oven, or toaster.
Recipes to Make: 
Jovial's Whole Grain Gluten-Free Waffles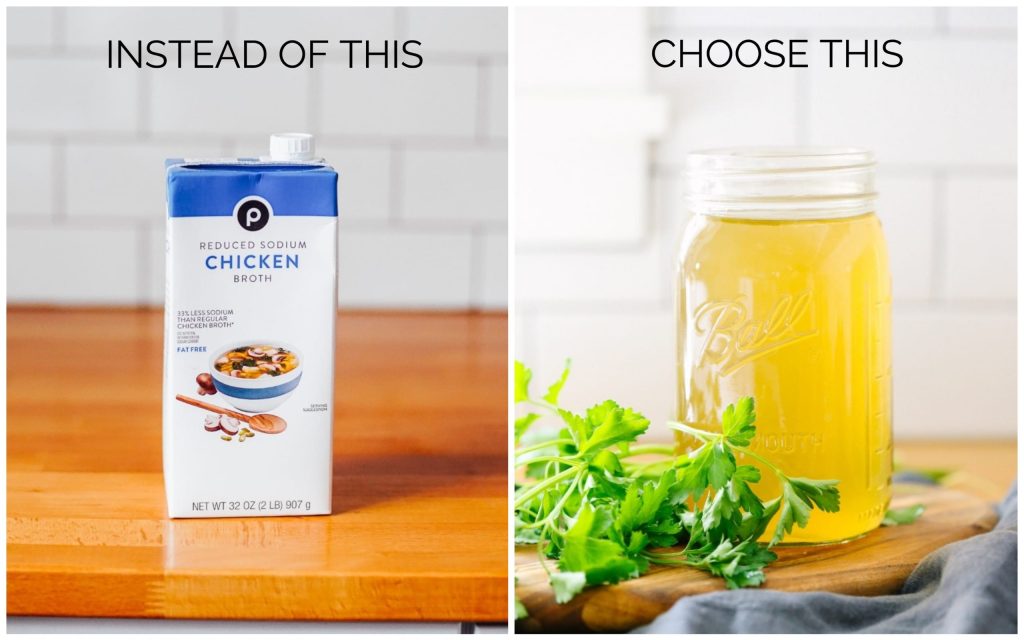 2. Chicken, Beef, or Vegetable Broth/Stock
Flip over a can of soup, broth, or condensed soup and take a look at the ingredients: hidden Monosodium Glutamate (MSG–learn more about this ingredient here), fillers, and additives. These are ingredients you don't want to put in your body on a weekly basis, particularly since these ingredients are touted as healthy. Even (most) organic options are not made with real ingredients. Most of these options contain "natural flavor" or "natural chicken flavor" which is a red flag for hidden MSG (a flavor enhancer in food products).
Instead…
Make homemade broth/stock for soups. You can use this broth/stock to make gravies, enjoy right out of the mug, as the base for a homemade stir-fry sauce, or to cook rice. You can even make condensed cream soups (used to make many casserole recipes) using homemade broth. Here are two reasons why I recommend making your own broth:
You can't beat the nourishment. The mineral content and gut healing gelatin alone should be enough to make your decision.
If the nourishment factor doesn't get you, maybe the frugal aspect will? You will not only make the most out of a whole chicken by using the bones for broth-making, but the broth itself is much cheaper than store-bought (especially the broth made from pastured chicken).
Recipes to Make: 
What to Make with Broth/Stock: 
3. Flavored Yogurt
Flavored yogurts might sound healthy (I mean, who doesn't want berry flavored probiotics in a cup?), but they're usually loaded with sugars, natural flavors (a mystery ingredient that doesn't tell you exactly what ingredients are used to make this lab-generated product), and sometimes even artificial colorings, preservatives, and synthetic vitamins (difficult for the body to digest and use). Let's take a look at the ingredient list on a strawberry yogurt:
cultured pasteurized grade A nonfat milk and milk, sugar, strawberries, blueberries, water, red raspberries, blackberry puree, modified food starch, pectin, carrageenan, natural flavors, elderberry juice concentrate (color), citric acid, vitamin A palmitate and vitamin D3
To top this off, it's also very hard to find whole milk (full fat) yogurt in those little flavored cup versions. Giving a child, in particular, low-fat or fat-free yogurt isn't the best option for their growing brains and bodies. The presence of fat (which is naturally there for a reason) acts as a hormone stabilizer and helps with blood sugar regulation.
Instead…
Purchase plain yogurt and flavor it yourself with honey, maple syrup, cinnamon, vanilla extract, and/or fruits (frozen fruit will melt and create a fruit-on-the-bottom consistency). I like Stonyfield, Organic Valley, and Maple Hill Creamery brands. I recommend whole milk yogurt or you can make your own.
If you're dairy-free, look for plain yogurt with ingredients you could purchase from the store and use in your kitchen. Many of the plant-based yogurts contain an ingredient list that rivals the ultra-processed foods. Just because it's plant-based or probiotic-rich (all yogurt should be probiotic rich since it's a fermented/cultured food and contains live bacteria) doesn't mean it's made with real ingredients.
Recipes to Make: 

4. Granola
Granola has become very popular in recent years. It's marketed as a health food because it's made with oats and nuts or seeds. Most options are loaded with sugar (and not just one sugar, but multiple sugars), vegetable oils (canola, soy, etc.), natural flavors (a mystery ingredient that doesn't tell you exactly what ingredients are used to make this lab-generated product), and soy (I recommend avoiding on a daily basis particularly in the overly-processed way we consume it). Another issue to consider is that most brands use oats that have been sprayed with glyphosate (an herbicide linked to cancer, read more). Let's take a look at the ingredients used to make a popular granola…
Whole Grain Oats, Sugar, Soy Protein Isolate, Canola Oil, Honey, Molasses, Rice Starch, Soy Lecithin, Baking Soda, Salt, Natural Flavor. Vitamin E (Mixed Tocopherols) Added To Preserve Freshness
Instead…
Make your own granola. It's incredibly easy to do and you can make a big batch and store it in the fridge or freezer for months. Trust me, making a batch of granola only takes about 10 minutes of hands-on time. It's 100% worth 10 minutes of your time every month or two. I like One Degree Organics for oats because they're sprouted (easier to digest) and have been tested to be free of glyphosate.
Recipes to Make: 
5. Salad Dressing
I mentioned this one in the healthy food swaps post, but it's worth repeating because salad dressing is one food that most folks associate with being "healthy." What do people order when they go on a diet? A big salad that's instantly sabotaged by vegetable oils and all the processed ingredients found in salad dressing. Let's take a look at the ingredients on a vinaigrette salad dressing:
canola oil, water, balsamic vinegar, vinegar, salt, sugar, contains less than 2% of: xanthan gum, garlic, onion, potassium sorbet and calcium disodium EDTA as preservatives, caramel color, natural flavor, maltodextrin, cornstarch, paprika (color)
Instead…
Salad dressing is a beautiful food when it's made with REAL ingredients that nourish the body. Salad dressing also helps your body digest the raw veggies found in salad thanks to the REAL fat found in the dressing. Instead of buying the bottle from the store, make your own. It only takes a few minutes to make your favorite dressing and that dressing will keep for at least a week (depending on the variety).
Recipes to Make: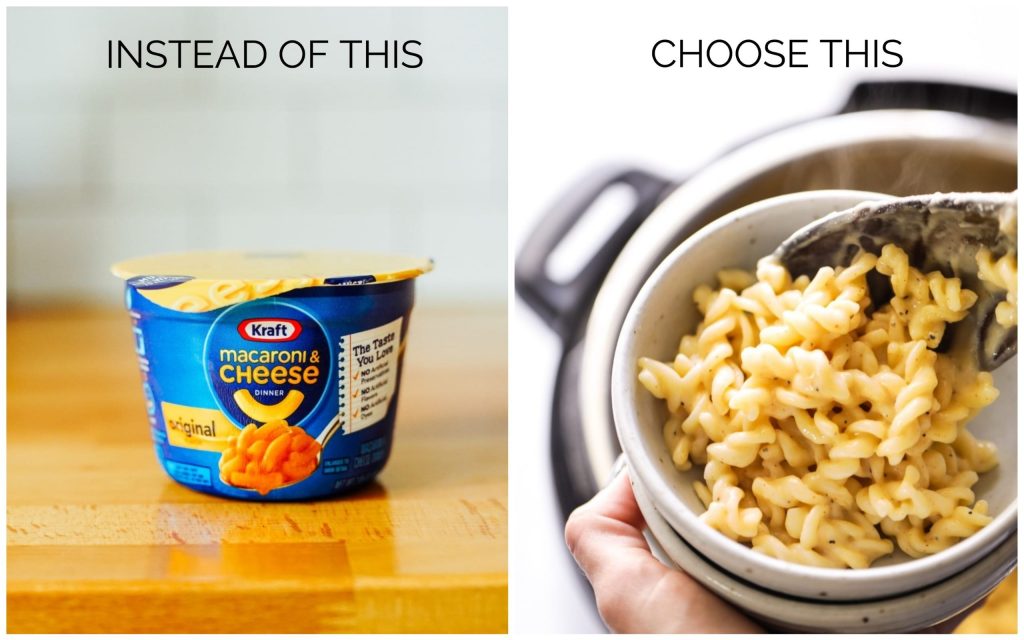 6. Mac and Cheese
I'm including mac and cheese on this list because if you have kids, mac and cheese is probably a regular or popular food in your home. Mac and cheese gets a "bad food" reputation. The truth is, the ultra-processed food companies have taken a simple food and cheapened it by turning it into a chemical sh*t storm filled with nutrient-less ingredients and chemicals. Let's take a look at a popular mac and cheese ingredient list:
Enriched Macaroni Product (Wheat Flour, Glyceryl Monostearate, Niacin, Ferrous Sulfate [Iron], Thiamin Mononitrate [Vitamin B1], Riboflavin [Vitamin B2], Folic Acid); Cheese Sauce Mix (Whey, Milk, Corn Syrup Solids, Milkfat, Palm Oil, Modified Food Starch, Milk Protein Concentrate, Salt, Maltodextrin, Contains Less Than 2% Of Calcium Carbonate, Sodium Triphosphate, Medium Chain Triglycerides, Dried Buttermilk, Sodium Phosphate, Citric Acid, Cream, Lactic Acid, Calcium Phosphate, Cheese Culture, Nonfat Dry Milk, Guar Gum, With Paprika, Turmeric, And Annatto Added For Color, Enzymes, Natural Flavor, Xanthan Gum)
Instead…
Make your own homemade mac and cheese using REAL ingredients: real cheese (a beautiful, traditional food made by fermenting milk), pasta (flour and water and maybe an egg), milk, and some salt. That's it! Trust me, your kids will love homemade mac and cheese and you will, too. If you want the convenience of pre-made mac and cheese, freeze some in small bags, then defrost under warm water and heat with a bit of milk in a saucepan.
Recipes to Make: 
7. Dips Like Ranch and Hummus
Finally, let's talk about another popular "health" food that is a staple in many homes (including mine): dips. Dips are a fun way to enjoy veggies or pack in the kids lunchbox, but most store-bought dips are once again cheap knock-offs from the homemade version. Let's take a look at a popular store-bought ranch:
Soybean Oil, Water, Vinegar, Sugar, Egg Yolks, Salt, Buttermilk, Contains Less Than 2% Of Modified Food Starch, Garlic*, Monosodium Glutamate, Xanthan Gum, Whey, Onions*, Phosphoric Acid, Spice, Parsley*, Disodium Guanylate, Disodium Inosinate, Yeast Extract, Potassium Sorbate And Calcium Disodium Edta (To Protect Freshness)
And let's talk about hummus. Most hummus dips are made with canola or soybean oil, both of which are heavily processed and not "healthy." You can read more about the issue with soybean oil here.
Instead…
Make your own dips. I get it, sometimes you may be stretched for time and just need something quick from the store. If you can find a hummus that's made with avocado oil or extra virgin olive oil, choose a store-bought option if you want to save some time. Always check out the ingredient list and don't be fooled by marketing like plant-based, vegan, heart healthy, or gluten-free. Remember, these words don't tell you anything about what's actually used to make that food. The only ranch option I know of that's real and store-bought is Primal Kitchen. Once you make your own dips, I think you'll be amazed by the incredible flavor difference.
Recipes to Make: