This post may contain affiliate links. Affiliate links come at no extra cost to you. These links allow me to share the products I authentically recommend (and use) and support Live Simply by receiving a small commission.
I love the holidays. Really, I do. The friends and family, parties and gatherings.
But I also adore routine. And schedules. And getting back to normalcy. Actually toward the end of December I start longing for my regular schedule back. And getting my kitchen back in order.
So let's talk first of the year clean eating goals!
While I'm not a huge New Year Resolution person, I do usually pick a few things to work on toward the first of the year. I think when it comes to making goals about healthier or cleaner eating, baby steps works the best for most people.
Ready to end the overwhelm and simplify school lunch (as well as breakfast and dinner)?
Are you ready to take your real food lifestyle to a whole new level?
To stop thinking about what you'll pack for lunch every morning, and become a boss parent who sends their child off with a super awesome lunch? And then easily serves nourishing food (that your family loves) for breakfast and dinner!
These strategies changed my world, and now I'm giving you the tools to change your world, too.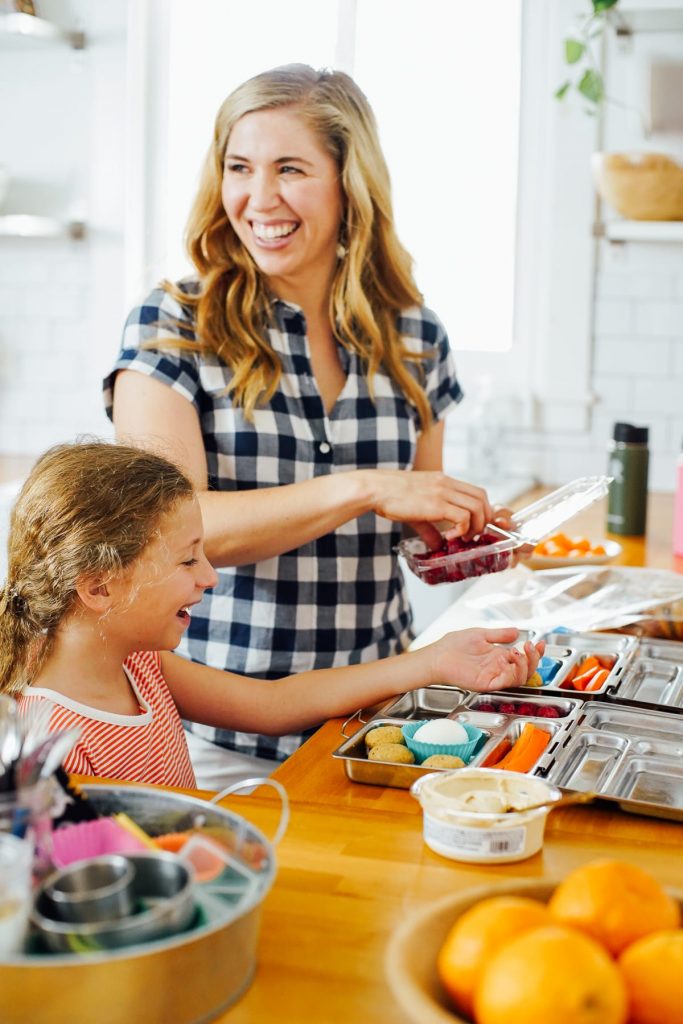 There are a handful of very simple, everyday kitchen items that you can swap for cleaner (and in many cases more cost effective) versions. If your goal is less processed eating, this is a great place to start. And here's the deal…pick one or two things to start. Don't overwhelm yourself with trying to do it all at once. You'll give up by the Super Bowl like everyone else who makes healthy eating goals at the first of the year does.
Seven Kitchen Staples to Stop Buying and Start Making
1. Salad Dressing & Mayonnaise: 
Because store-bought salad dressings (yes even organic or so called labeled "healthy" versions) are made with rancid vegetable, soy, and canola oils, salad dressings are a great place to start. Many people use salads to get more veggies in their diet when they are trying to eat better, but don't realize they are sabotaging their plans by putting toxic oils and additives on their beautiful veggies. Fats are extremely important to our bodies – especially while we are trying to eat well and maybe loose a little weight. Without friendly fats like the saturated fat in butter, and oils like coconut, olive, and avocado oil our bodies inevitably go into starvation mode and will store more fat instead of lose it.
So YES! Drown that salad in dressing! But take 5 minutes a week and just make your own. Yep I said 5 minutes!
Every Sunday evening I take 5 minutes and make my husband a pint of Caesar dressing to take with him to work. He takes along a couple of bags of lettuce and some grated parmesan cheese and he has his favorite salad almost every day of the week. I also make a dressing for the girls and I for the week. I change it up every week. From Ranch to French, to Thousand Island, it helps keep things interesting so salad doesn't get boring. And these recipes are as easy as dumping the ingredients into the jar and either shaking, stirring, or blending it up! A vinaigrette is another simple option.
Egg-free mayonnaise takes 5 minutes to blend in a pint-size jar, or 60 seconds with an egg yolk and an immersion blender. You can mix it up with shredded chicken or boiled eggs for chicken or egg salad, or spread it on tortillas for wraps.
2. Soups, Broths, and Condensed Soups 
There are actually a few reasons why making your own broths and soups is such a great idea. You really just can't beat the nourishment you get when you make bone broth from scratch. I remember feeling like this was a daunting task at first – but it has become a very simple monthly part of my kitchen routine, and the benefits are incredible. The mineral content and gut healing gelatin alone should be enough to make your decision. I really attribute our very rarely sick kids to getting bone broth in daily in some form.
If the nourishment factor didn't get you, then maybe the frugal aspect will?! You will not only make the most out of your pastured chicken by using its bones for broth-making, but the broth itself is much cheaper than store-bought – especially store-bought organic. And while we are on the store bought subject, flip that carton or can over and take a look at the ingredients. Filled with hidden MSG, fillers, and additives, it just isn't something you want to be putting in your body on a weekly basis. Even organic versions are just not made with real ingredients – anything that says "natural flavor" or "natural chicken flavor" is a red flag to hidden MSG.
You can use your broth for soups, gravies, or right out of the mug. The broth is made right in your slow cooker with barely any hands on time. It is very worth it. If the kids won't take the broth right out of a mug, they are sure to slurp up tomato soup or chicken noodle! Use the broth in your cooking for stir fries or for boiling noodles and rice. You can even make the condensed cream soups that you are used to for making casseroles using your broth!
3. Fruit on the Bottom Yogurt
Or any "cup" of yogurt you'll find in the store.
My biggest concern with cups of yogurt from the store (yes even organic versions) is the sugar content. I promise they could get away with half the amount or less, but they don't. Add in the food colorings some have along with other stabilizers and additives and it is a recipe for disaster for children trying to sit still in class after lunchtime. It is also very hard to find whole milk (full fat) yogurt in those little cup versions. Giving a child low fat or fat free yogurt is not helping their growing brains and bodies in any way. Everything from hormone stabilizing to blood sugar regulation happens with good friendly fat presence.
In just about no time you can plop some frozen fruit to the bottom of a row of small cups with lids, fill them in with a good whole milk plain organic yogurt from the store, or your own simple crockpot homemade yogurt, lid them up, and into the fridge for the week. If your kids need the extra sweet in addition to the fruit just add some raw honey to the cup. If they are set on having colored yogurt, puree the fruit and stir it in.
4. Bread 
Flip over that loaf of bread you get from the store and take a peek. That mile long list of ingredients is so unnecessary! I have zero issues with bread if you are a family that can tolerate the gluten, but making your own bread (even a white crusty loaf) is going to avoid so many fillers and additives. It is super easy and if you get in a routine of making it once a week, you probably won't even notice the time it takes. If you have older kids, get them in on helping with the routine of making it.
By the way! If you are a gluten free family, I like to use gluten free pancakes for "sandwich bread" sometimes! They make great PB&J's. There are a couple of decent gluten free breads out there, but to be honest, the pricing is just not in my family's budget for a weekly basis.
5. Whole Chickens 
I totally get the convenience factor on this one. Man those rotisserie chickens at the grocery store are so quick and easy (and taste so good!), and it's just chicken…right? Take a peek at the ingredient list. I remember the first time I was challenged on store-bought rotisserie chickens being "healthy" I hesitated asking them to look at the ingredients because I thought for sure it wouldn't be really "that bad". The list was so long and so hard to pronounce they stopped after the 5th word and agreed to find their own chicken to roast.
Ask around at your farmer's markets for someone that raises their chickens on pasture and doesn't shoot them up with a bunch of hormones and antibiotics. Check at your local WAPF chapter if you have a hard time finding a source. Roasting your own chicken tastes every bit as good, and you will have actual nourishment from it.
By the way! I am all about the slow cooker chicken too. In fact most months of the year I take 3 whole chickens and get them in my oven roaster to cook – I shred and freeze the chicken and I don't have to cook chicken most of the rest of the month! Or make fajitas using your whole chicken…the possibilities are endless!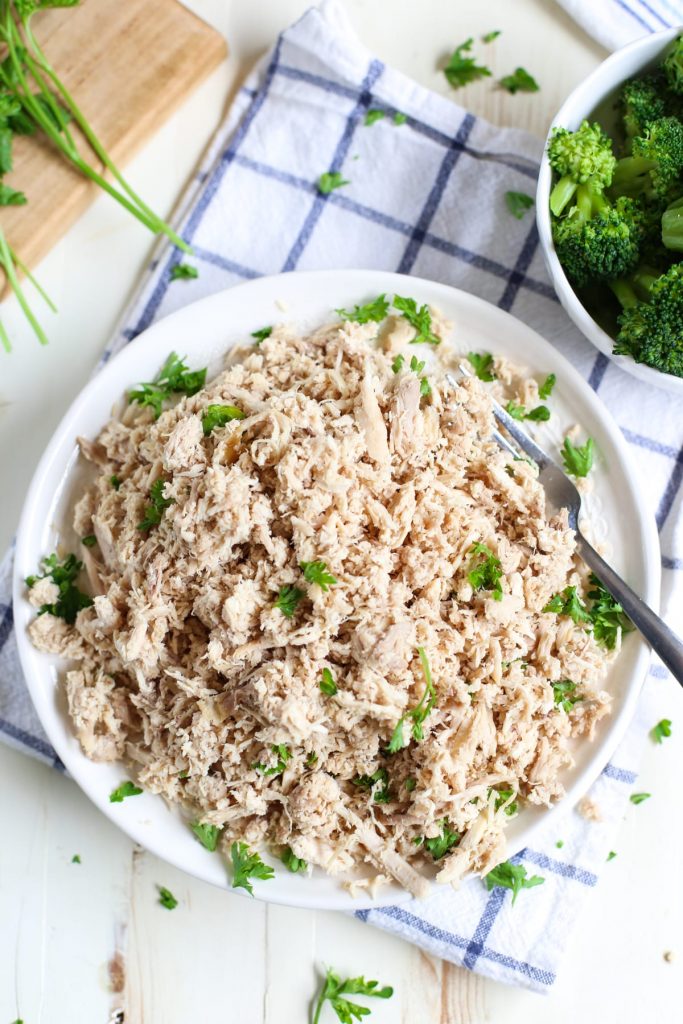 6. Pizza
Yes, you can still have pizza night when you are making the commitment to eat clean! When you make it yourself you control the ingredients – and it tastes really good! Get the kids in on the action of picking toppings. Make a great whole wheat crust or gluten-free crust and dress it up how you like. I used to always try to get a load of veggies on mine to my husband's dismay. I still do this occasionally, but lately we've been keeping the pizza simple and just adding a side Caesar salad or Probiotic Chicken Caesar Salad to get the veggies in there.
You can freeze the crusts too! Just par bake them and freeze, then you can pull them out just like a frozen pizza from the store, top them how you want, and bake the rest of the way through!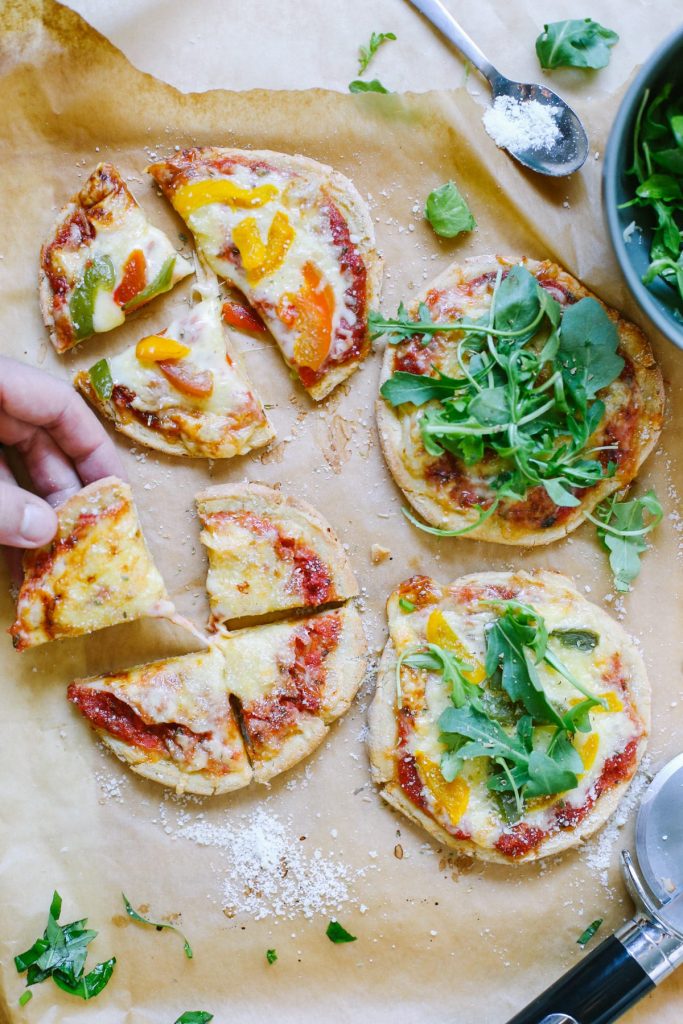 7. Ice Cream
Ok, so listen. Yes, go for the real food decision. And yes, go for the clean eating lifestyle. And yes, maybe even make some weight loss or healthier lifestyle goals. But please don't deprive yourself.
One of the biggest reasons people leave their new year food goals behind come February 1st is because they aren't enjoying their food. Real food is so delicious. It really is! Food was meant to be enjoyed, and I truly believe that. Even if your goal is weight loss, I think it is important to let yourself have a treat every now and again. On my blog and in my family we call them occasional treats. Because they are just that – occasional. Not daily and sometimes not even weekly. But every now and again to have a bowl of real vanilla or strawberry ice cream will fill that need for an indulgence without completely falling off the clean eating wagon.
More Real Food You May Like: