Getting kids to eat healthy food can feel overwhelming, particularly when they're surrounded by ultra-processed "food" everywhere: marketing, school, parties. As a parent to two children, I know the struggle. Today, let's take a look at 9 food swaps that will help you create a healthy school lunch all year long.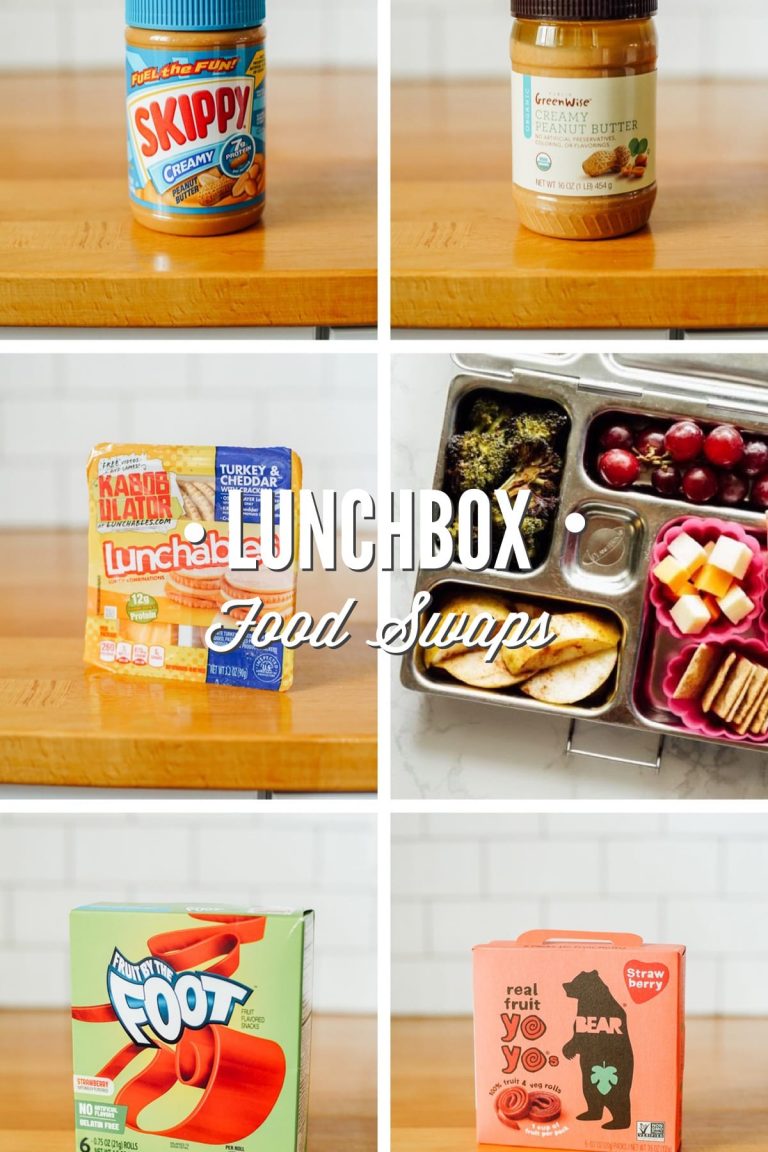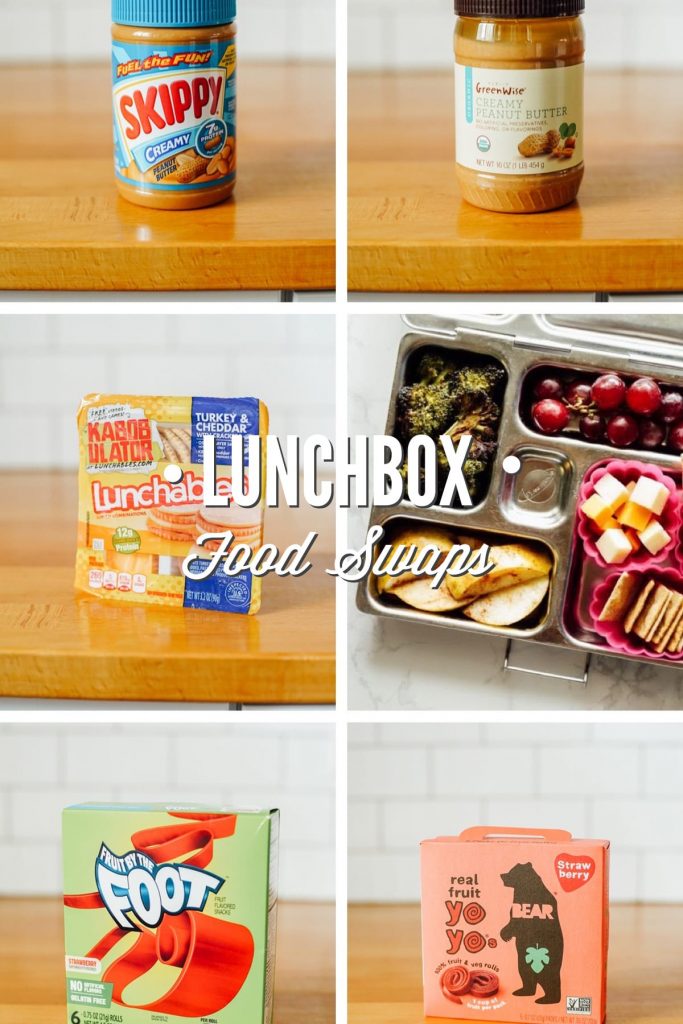 Why Pack a Healthy School Lunch?
School requires a lot of energy and focus. And it's hard to have both when you're hungry or running on nutrient-less food.
Food plays a key role in a child's ability to focus and have the stamina to make it through the day (along with getting enough sleep at night, movement throughout the day, etc.). As a former teacher, I've seen the effect food (or lack thereof) can have on a child's mood, behavior, and ability to focus. And I'm sure you have, too. This is why packing nourishing (real-food based) lunches is important.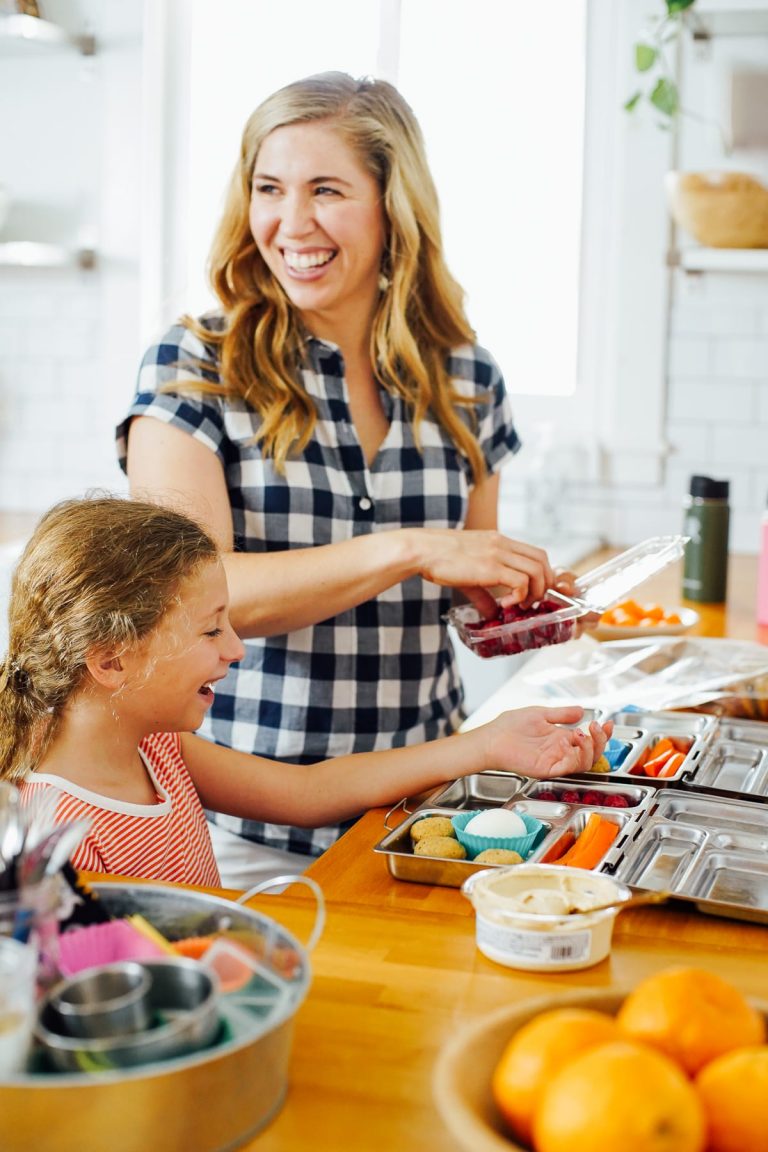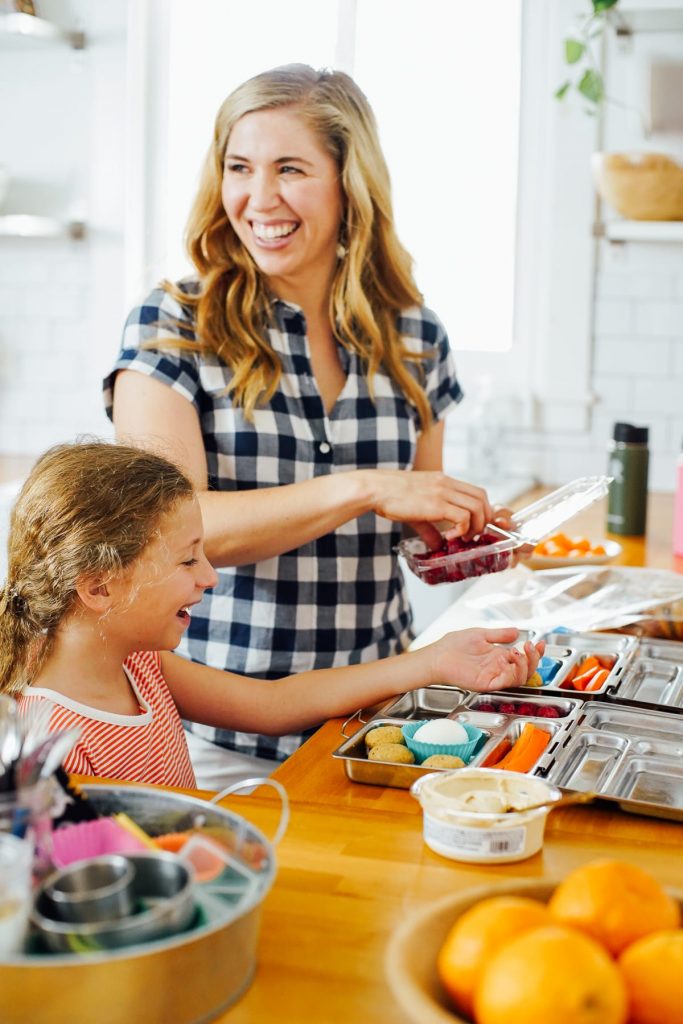 What Does a Healthy School Lunch Look Like?
Everyone has an opinion about what's "healthy." So how do we determine what's "healthy" and what's not?
Knowing what's healthy is very easy when we look at how healthy people for generations (before the age of ultra-processed food) prepared and consumed foods. Here's what real, traditional food looks like.
Grass Fed, Pastured Meats: Animals that have been raised and fed as they were intended when created, with grass underneath and the sun overhead. We use all parts of the animal, including the bones for nourishing broth. Chicken, beef, lamb, pork, and wild game.
Eggs: From chickens that have been raised on pasture, roaming free with lots of sunlight.
Fats: Naturally-occurring fats that have nourished healthy families for thousands of years, such as: butter from grass-fed cows, coconut oil, ghee, extra virgin olive oil, avocado oil, tallow, and lard. Learn more about fats and oils 101.
Grains, Nuts, and Seeds: Whole grains and minimally-processed with an emphasis on ancient grains and variety: spelt, kamut, einkorn, even whole wheat. Also, ancient practices, such as sourdough bread, if possible. Also: beans, nuts, and seeds.
Fruits and Veggies: Preferably in season and grown as local as possible, using organic practices. Including lots of fresh herbs. Cooked, raw, and fermented. While organic produce is encouraged, I don't always buy organic produce. I use the EWG list when shopping at the store. And if purchasing from a local farm or market, many farms aren't "certified organic" but use organic practices.
Dairy: Raw or pasteurized and full fat from grass-fed cows, or goats or sheep. I only recommend purchasing raw milk if you know the source and have checked out the farm for cleanliness and safety. Pasteurized milk can be found in the store. I recommend avoiding ultra-pasteurized milk, since this milk has been heated to such a high degree that it kills everything. Anytime you see the words low-fat or fat-free you know a lot of junk has been added to compensate for the loss of nourishing fat. Dairy includes: milk, cheese, cream cheese, sour cream, yogurt, kefir (a fermented yogurt drink), cottage cheese.
Salt: Real, unrefined salt that hasn't been stripped of its nourishing minerals. I use Real Salt.
Seafood: Raised in the wild versus a fish farm.
Sweeteners: As close to the natural state as possible, such as: raw honey, pure maple syrup, and minimally-processed sugars. Learn more about Sweeteners 101.
Beverages: Water and beverages made with real ingredients: tea, coffee, kombucha (a fermented tea), milk (from nuts, seeds, or dairy). For the lunchbox, water is usually the best option. If your child is obsessed with juice, wean them off by diluting juice with more and more water in a reusable water bottle.
9 Food Swap Ideas for a Healthy School Lunch
Swap 3: Peanut Butter
Swap 4: Jelly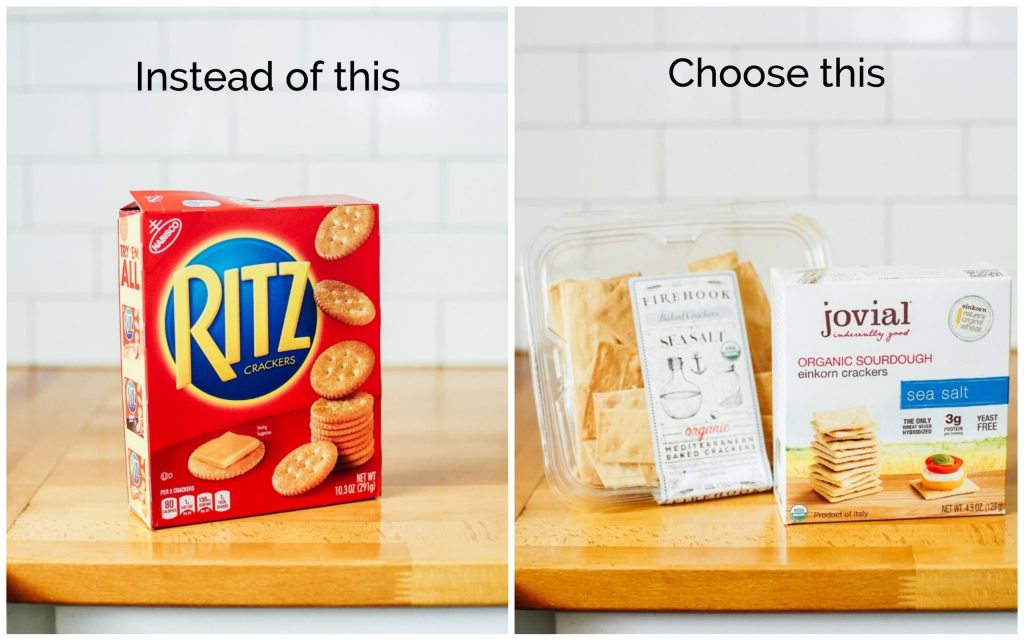 Swap 6: Crackers