Getting kids to eat healthy food can feel overwhelming, particularly when they're surrounded by ultra-processed "food" everywhere: marketing, school, parties. As a parent to two children, I know the struggle. Today, let's take a look at 9 food swaps that will help you create a healthy school lunch all year long.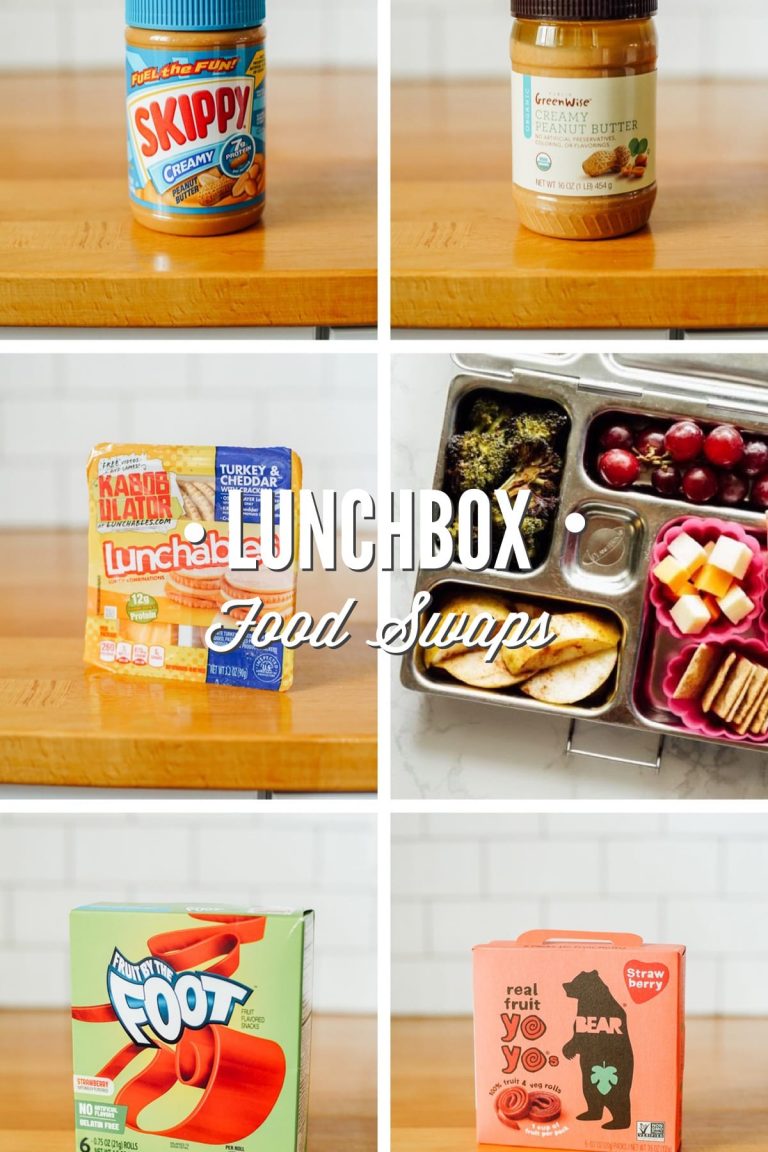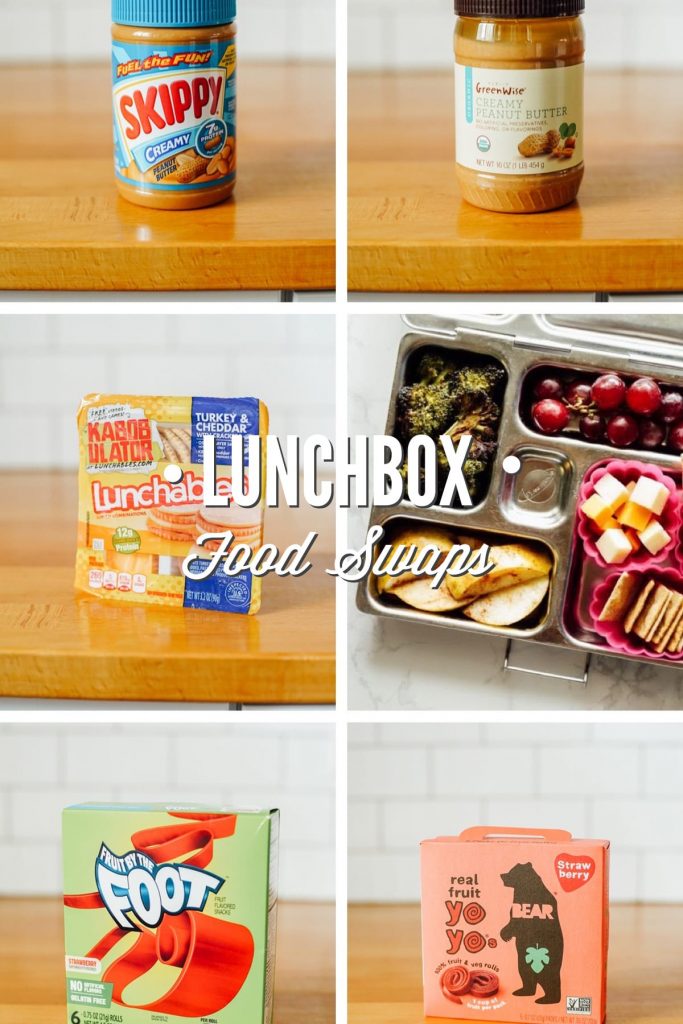 Why Pack a Healthy School Lunch?
School requires a lot of energy and focus. And it's hard to have both when you're hungry or running on nutrient-less food.
Food plays a key role in a child's ability to focus and have the stamina to make it through the day (along with getting enough sleep at night, movement throughout the day, etc.). As a former teacher, I've seen the effect food (or lack thereof) can have on a child's mood, behavior, and ability to focus. And I'm sure you have, too. This is why packing nourishing (real-food based) lunches is important.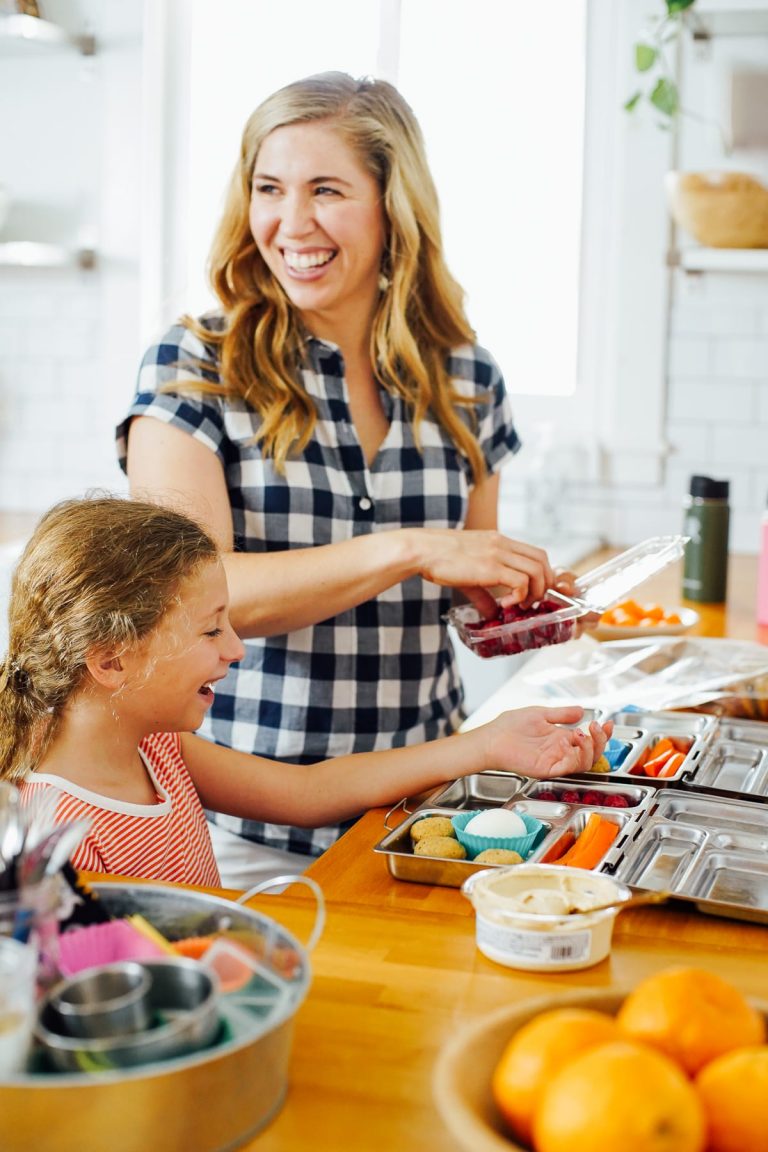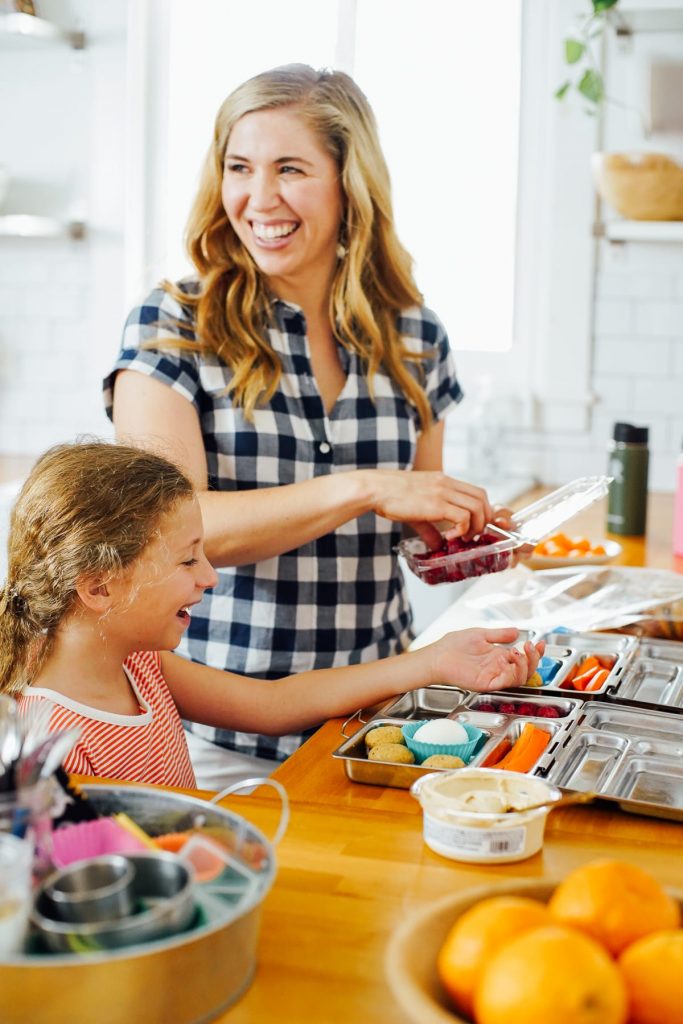 What Does a Healthy School Lunch Look Like?
Everyone has an opinion about what's "healthy." So how do we determine what's "healthy" and what's not?
Knowing what's healthy is very easy when we look at how healthy people for generations (before the age of ultra-processed food) prepared and consumed foods. Here's what real, traditional food looks like.
Grass Fed, Pastured Meats: Animals that have been raised and fed as they were intended when created, with grass underneath and the sun overhead. We use all parts of the animal, including the bones for nourishing broth. Chicken, beef, lamb, pork, and wild game.
Eggs: From chickens that have been raised on pasture, roaming free with lots of sunlight.
Fats: Naturally-occurring fats that have nourished healthy families for thousands of years, such as: butter from grass-fed cows, coconut oil, ghee, extra virgin olive oil, avocado oil, tallow, and lard. Learn more about fats and oils 101.
Grains, Nuts, and Seeds: Whole grains and minimally-processed with an emphasis on ancient grains and variety: spelt, kamut, einkorn, even whole wheat. Also, ancient practices, such as sourdough bread, if possible. Also: beans, nuts, and seeds.
Fruits and Veggies: Preferably in season and grown as local as possible, using organic practices. Including lots of fresh herbs. Cooked, raw, and fermented. While organic produce is encouraged, I don't always buy organic produce. I use the EWG list when shopping at the store. And if purchasing from a local farm or market, many farms aren't "certified organic" but use organic practices.
Dairy: Raw or pasteurized and full fat from grass-fed cows, or goats or sheep. I only recommend purchasing raw milk if you know the source and have checked out the farm for cleanliness and safety. Pasteurized milk can be found in the store. I recommend avoiding ultra-pasteurized milk, since this milk has been heated to such a high degree that it kills everything. Anytime you see the words low-fat or fat-free you know a lot of junk has been added to compensate for the loss of nourishing fat. Dairy includes: milk, cheese, cream cheese, sour cream, yogurt, kefir (a fermented yogurt drink), cottage cheese.
Salt: Real, unrefined salt that hasn't been stripped of its nourishing minerals. I use Real Salt.
Seafood: Raised in the wild versus a fish farm.
Sweeteners: As close to the natural state as possible, such as: raw honey, pure maple syrup, and minimally-processed sugars. Learn more about Sweeteners 101.
Beverages: Water and beverages made with real ingredients: tea, coffee, kombucha (a fermented tea), milk (from nuts, seeds, or dairy). For the lunchbox, water is usually the best option. If your child is obsessed with juice, wean them off by diluting juice with more and more water in a reusable water bottle.
FREE PRINTABLE
42 EASY SCHOOL LUNCH IDEAS CHEAT SHEET
Nourishing meal ideas for effortless school lunches. Download your free lunch guide.
9 Food Swap Ideas for a Healthy School Lunch
Swap 1: The Lunchable
Flip over any Lunchable next time you're at the store and ask yourself, "Could I buy these ingredients at the store right now? Are they real ingredients?" Nope!
Your kids don't need to forgo the Lunchable, just skip the ultra-processed one and go for a homemade Lunchable that will sustain and nourish.
Choose this instead…
Crackers, real cheese, and sliced meat (turkey, ham, roast beef) or use shredded chicken (cook a chicken and shred the meat to use for lunches). Using silicone muffin cups will help divide your lunch container (see my favorites here) into small Lunchable-like sections.
For a pizza lunchable, make pizza dough (sourdough or quick yeast) and cut the dough into small rounds. Bake the mini rounds for about 12-15 minutes. You can store the pizza crusts in the freezer. Pull out a few pizza crust rounds for the lunchbox and add pizza sauce and shredded mozzarella. My kids also love Applegate brand pepperoni.
Swap 2: Fruit By The Foot
Fruit By The Foot (and other similar fruit roll-up type products) are a very popular lunchbox option. Let's take a look at the ingredients of this popular lunchbox choice…
Sugar, Maltodextrin, Corn Syrup, Pear Puree Concentrate, Palm Oil. Contains 2% or less of: Carrageenan, Citric Acid, Monoglycerides, Sodium Citrate, Acetylated Monoglycerides, Malic Acid, Xanthan Gum, Vitamin C (ascorbic acid), Locust Bean Gum, Potassium Citrate, Natural Flavor, Red 40.
Sugar, sugar, and MORE sugar with some artificial dye (listen to this podcast to learn about the concerns with artificial dye) and the mysterious "natural flavor."
Choose this instead…
Real fruit leather: Real fruit leather is made by pureeing fruit, then spreading the puree into a thin layer and dehydrating that layer of fruit. The end result is a delicious and naturally sweetened (thanks to the fruit) fruit leather. I love the brands BEAR and Wild Made. You can also make fruit leather.
Swap 3: Peanut Butter
Most peanut butter options are filled with additives that take this natural, real food from healthy to unhealthy (full of sugar and PUFA oils like vegetable, soybean, and sunflower oil).
Choose this instead…
Peanut butter made with just one ingredient: peanuts. Or, go with the two ingredient option: peanuts and salt. Nothing else is needed. If you'd prefer to make your own, you can easily do that, too.
This goes for all nut and seed butters. Due to nut-free requirements at many schools, sunflower butter has become popular for school lunch. Just like with peanut butter, don't assume a food is "healthy" or real. Always flip the jar over and read the ingredient list, no matter what the marketing on the front of the jar may tell you.
Swap 4: Jelly
Everyone loves a classic peanut butter (or sunflower seed butter, if your child attends a nut-free school) and jelly sandwich. The only real option is to make a PB& J at home (Crustables are far from a real food–read the ingredient list next time you're at the store).
Let's take a look at the ingredients used to make strawberry jelly….
Strawberry Juice, High Fructose Corn Syrup, Corn Syrup, Fruit Pectin, Citric Acid
Store-bought jelly is basically sugar, sugar, and MORE sugar. That's it! This isn't going to sustain or nourish a child. Instead, what this product will do is send a child on a sugar high and then instant crash after lunch, which makes it hard to learn and focus late in the day.
Choose this instead…
Jam or preserves: Instead of jelly, choose jam or preserves. Jelly is made with fruit juice. Jam and preserves are made using the whole fruit which means you're getting the fiber to help balance out the natural sugars in the fruit.
Low sugar or fruit juice sweetened: Choose a jam or preserves made with fruit, pectin, and either fruit juice or sugar (as a sweetener). I love BioNature brand which is fruit juice sweetened to add just a touch of sweetness to the jam. You can also make your own jam. I have a very easy 10-minute recipe in Simplified School Lunch and there are many recipes online.
Swap 5: Sandwich Bread
People have been enjoying and sustaining themselves with bread for thousands of years. So why is bread suddenly evil and to be feared? Why are we suddenly having issues with gluten and bread? The answer…
There's the way we've modified wheat today, the way we grow it and how we treat it, the way we strip and bleach wheat to make it more appealing, and the way bread is made today. We've cut major shortcuts in a process that was once very natural and beautiful in order to mass produce unhealthy bread products.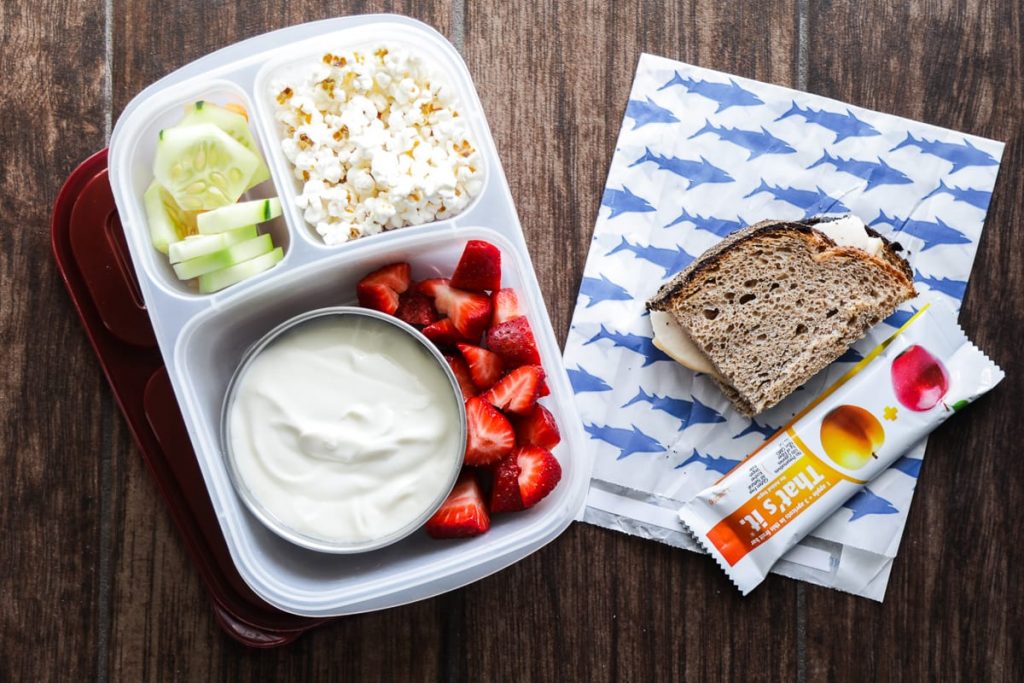 Choose this instead…
Sourdough: Sourdough is the way our ancestors enjoyed bread for thousands of years, dating all the way back to ancient Egyptian civilizations. A true sourdough is made with flour, water, salt, possibly olive oil or butter (for a sandwich bread), and a sourdough starter (a natural yeast made from just flour and water and the bacteria in the flour and air). During the sourdough process, the wheat is predigested by the bacteria in the starter, resulting in an easy to digest, nutrient-rich food. You can buy sourdough (find a baker at a local farmer's market or bakery in your area) or make your own.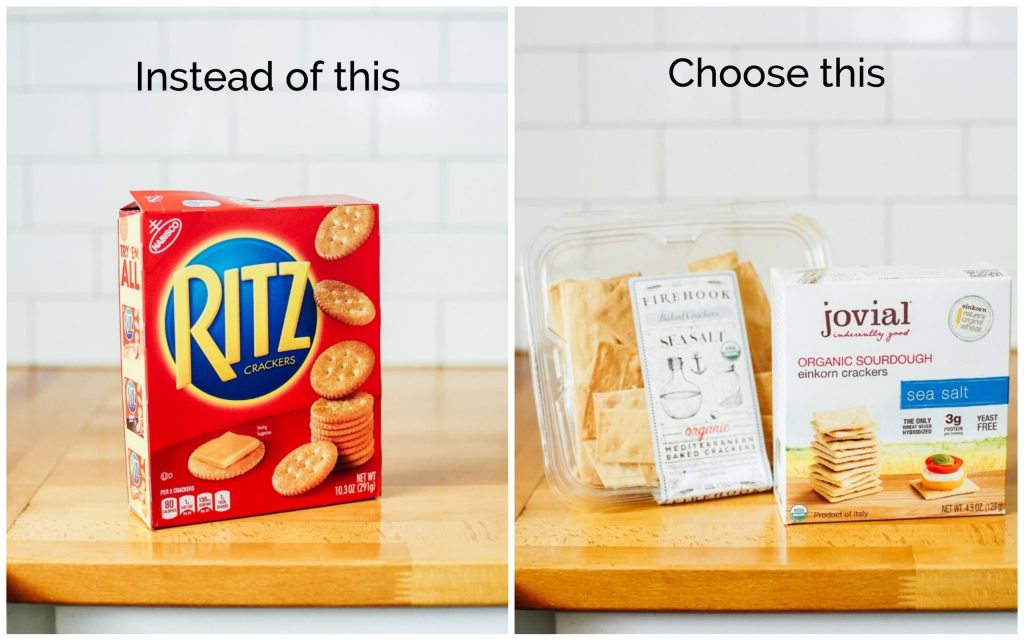 Swap 6: Crackers
Once again, ultra-processed food companies have taken a food that was once made using real ingredients and time-honored traditions and cut major shortcuts to mass produce a crappy food product.
When it comes to the lunchbox, my kids love crackers to go along with cheese cubes, hummus, or in their homemade Lunchable. You don't have to avoid crackers, just know what to look for.
Choose this instead…
Crackers made with real ingredients: When looking for crackers, flip over the box and check out the ingredient list. Ask yourself, "Could I find these ingredients in the store and make this recipe at home?" If the answer is no, then put the box back. A real food option's ingredient list will look like this: wheat flour, yeast or sourdough starter, olive oil, honey, salt. My favorite brands include Firehook, Jovial (sourdough crackers), and Simple Mills (gluten-free).
Homemade crackers: If you'd prefer to make your own crackers, you can do that.
Swap 7: Applesauce
Most applesauce is made with a ton of extra sugar, most of time in the form of high fructose corn syrup, which is a highly-processed food additive.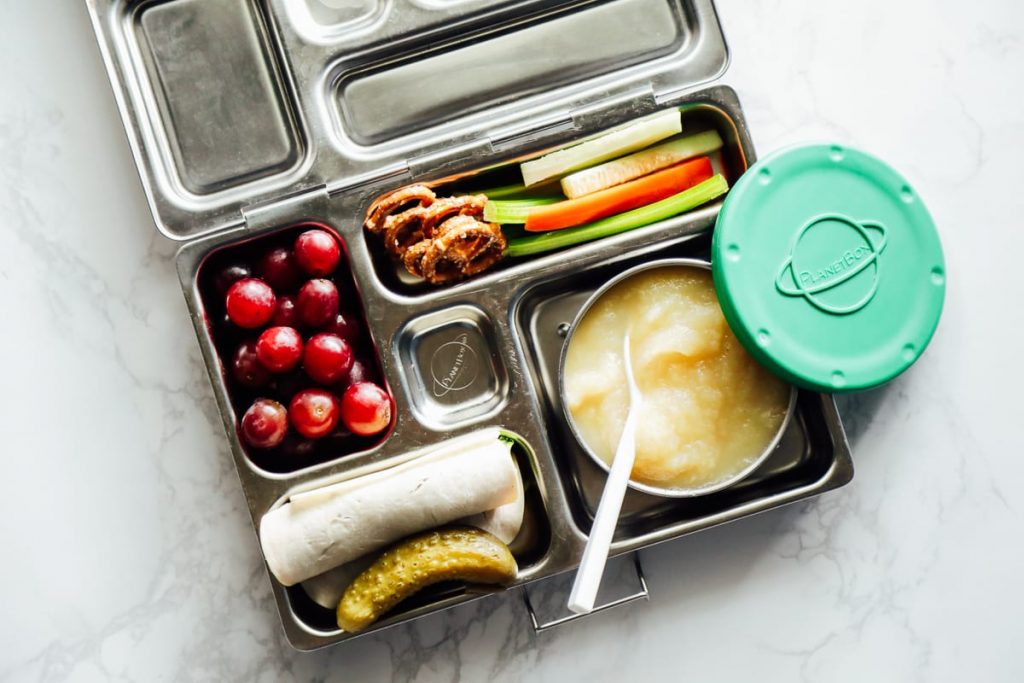 Choose this instead…
Unsweetened applesauce: Apples are already plenty sweet, so when purchasing store-bought applesauce, choose applesauce without any extra sweeteners.
Organic applesauce: Apples are one of the "dirtiest" foods year after year for pesticide use. The Dirty Dozen List from the EWG ranks apples as being the fifth "dirtiest" produce item. For this reason, I recommend choosing organic applesauce when possible.
Homemade applesauce: Make your own applesauce when apples are in season. Try this Instant Pot recipe or this slow-cooker recipe.
Apples: Another option is to skip the applesauce and pack sliced apples in the lunchbox. Toss the apples with lemon juice or cinnamon to prevent them from browning at school.
Swap 8: Flavored Yogurt
Flavored Yogurt Ingredients: cultured pasteurized grade A nonfat milk and milk, sugar, strawberries, blueberries, water, red raspberries, blackberry puree, modified food starch, pectin, carrageenan, natural flavors, elderberry juice concentrate (color), citric acid, vitamin A palmitate and vitamin D3
Flavored yogurts might sound healthy (I mean, who doesn't want berry flavored probiotics in a cup?), but they're usually loaded with sugars (over 25 grams per serving), natural flavors (that mystery ingredient), and sometimes even artificial colorings, preservatives, and synthetic vitamins (difficult for the body to use). The one above contains fruit, but many don't even contain fruit despite being labeled as a "strawberry" yogurt. This includes yogurt cups and popular yogurt sticks/tubes.
Choose this instead…
Plain yogurt: Purchase plain yogurt and flavor it with honey, maple syrup, cinnamon, vanilla extract, and/or fruits (frozen fruit will melt and create a fruit-on-the-bottom consistency). I recommend whole milk yogurt or you can make your own.
Dairy-Free plain yogurt: Look for plain yogurt with ingredients you could purchase from the store and use in your kitchen. Many of the plant-based yogurts contain an ingredient list that rivals the ultra-processed foods. Just because it's plant-based doesn't mean it's made with real ingredients.
Make your own yogurt sticks/tubes: If your kids love yogurt sticks/tubes, you can make your own with simple and nourishing ingredients. Check out my recipe here.
Swap 9: Ranch Dip
There's something so magical about ranch dip. It can turn a veggie-hater into a veggie-tolerator. While that's amazing, the ingredients used to make this popular "kid dip" aren't so amazing or even real. Let's take a look…
Vegetable oil (soybean and/or canola), water, egg yolk, sugar, salt, cultured nonfat buttermilk, natural flavors (soy), less than 1% of: spices (mustard), dried garlic, dried onion, vinegar, phosphoric acid, xanthan gum, modified food starch, monosodium glutamate, artificial flavors, disodium phosphate, sorbic acid and calcium disodium edta as preservatives, disodium inosinate, disodium guanylate
Vegetable oil? Natural flavors? Modified food starch? MSG? No thank you!
Choose this instead…
Homemade ranch: Not only is homemade ranch actually good for you, it also tastes amazing! This is one of the most-loved recipes on the blog because it's loved by the whole family, both kids and adults.