Living in Florida, I love tropical flavors. This easy recipe combines all my favorite refreshing flavors into one tropical smoothie: fresh fruit (pineapple and mango chunks), coconut water (or use regular water, coconut milk, or almond milk), banana, and a secret ingredient that makes this healthy smoothie extra creamy.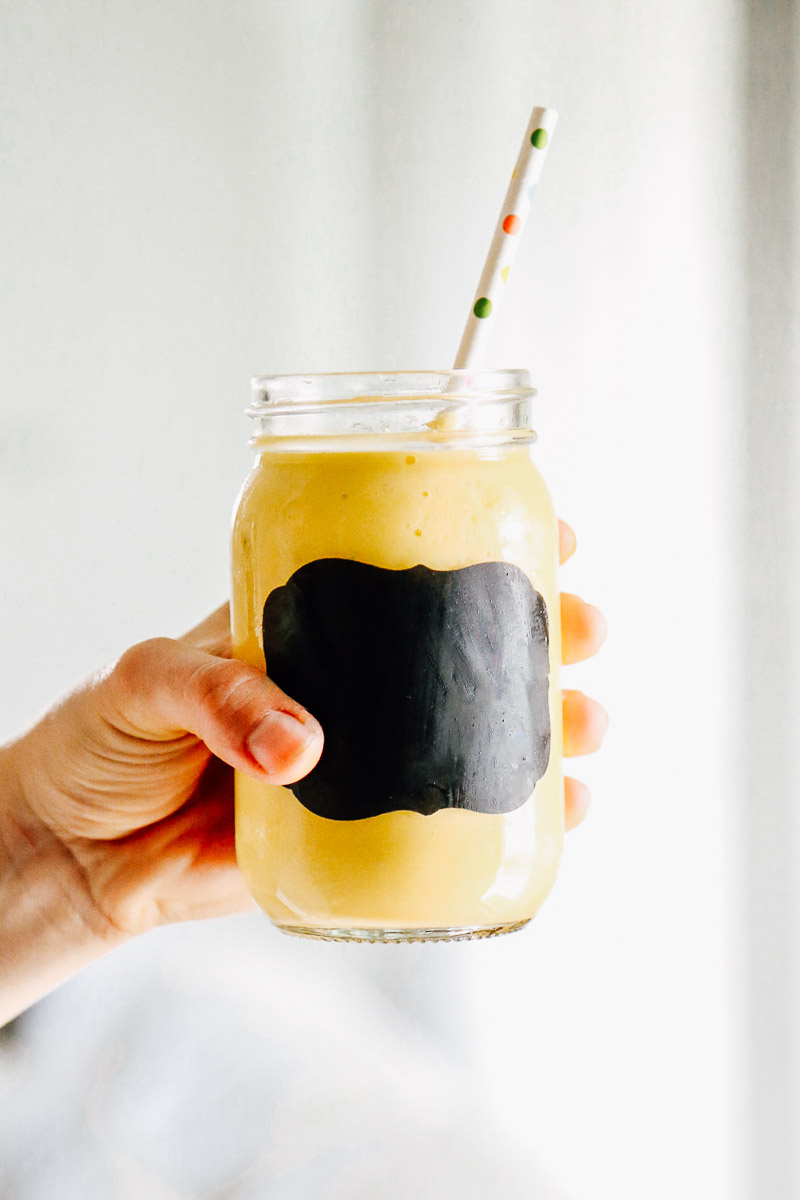 What Makes This Smoothie So Good
You may not be able to escape to a tropical island right now. But this easy smoothie recipe is the next best thing. What makes this healthy fruit smoothie recipe so good?
Healthy: Packed with healthy ingredients like fiber-rich fruits (fresh banana, pineapple chunks, mango chunks) to probiotic Greek yogurt (or regular plain yogurt) and electrolyte-rich coconut water (or use your favorite milk, like coconut milk or almond milk). This recipe doesn't use any sugar, besides the natural sugars in the different fruits.
Refreshing: A mango-pineapple smoothie hits the right spot on a hot summer day. This recipe is the perfect way to make a great healthy snack or quick breakfast, particularly in the summer heat. Plus, think about all the nutrients you get with a taste of the tropics. I pair this smoothie, particularly for breakfast, with eggs for a complete meal (my favorite 15 different ways to make eggs).
Kid Favorite: My kids are obsessed with this healthy drink. And the best part is I can add extra things, like protein powder and spinach to really pack in the nutrition. Bonus, a great way to use leftover smoothie is to make homemade popsicles (how to make the best homemade popsicles).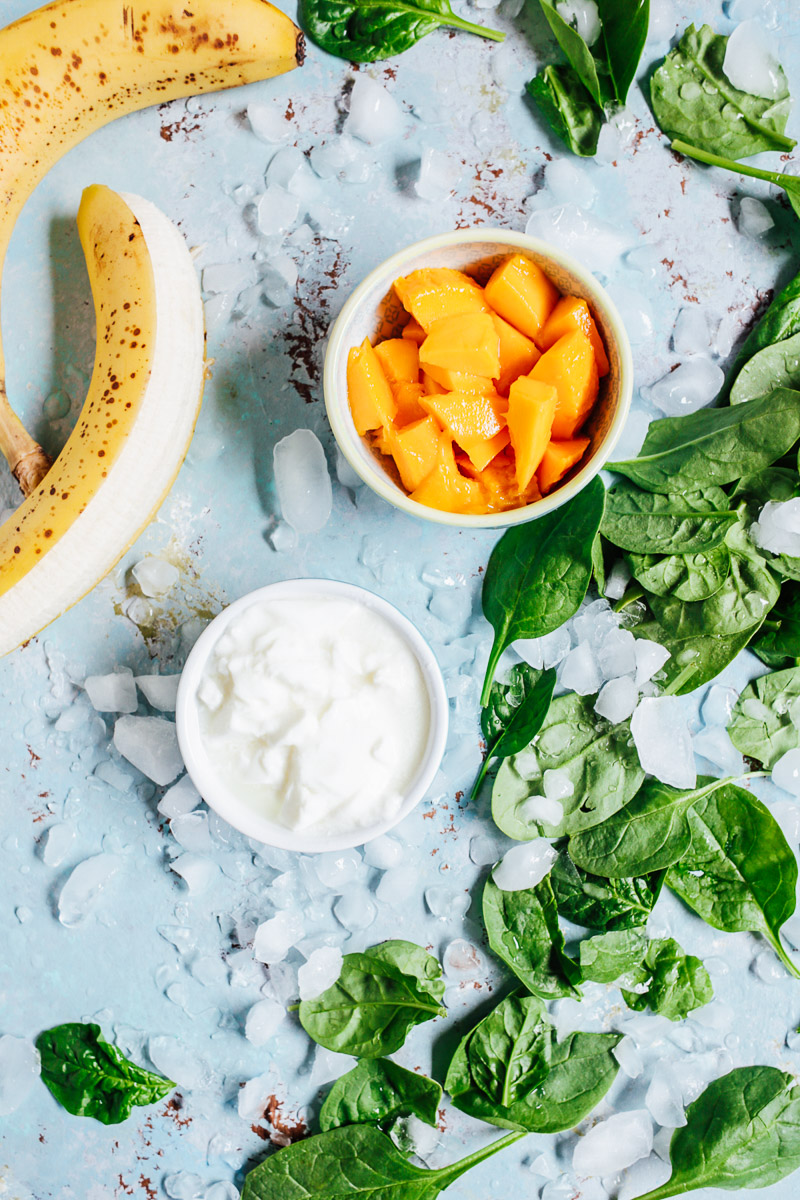 Mango Pineapple Smoothie Ingredients
You'll easily find the simple ingredients to make this creamy smoothie at the grocery store. No speciality ingredients or health food store needed.
1. Tropical Fruit
The base of this tropical mango pineapple smoothie recipe is, of course, a mango pineapple fruit base. Use fresh pineapple and fresh mango or frozen fruits.
If you choose to use fresh fruit, add a handful of ice cubes before blending so this delicious smoothie is chilled before drinking. No one wants a warm smoothie! For a thick smoothie, using frozen fruit is the key!
Banana is another fruit used to make this smoothie. It's added for its sweet flavor and creamy consistency. You can skip the banana if you want to make a smoothie with less sugar (or carbs) and don't want to use too much fruit. Use either a fresh banana or frozen banana.
Tip: Freeze Fresh Fruit
One thing I love to do is buy fruit in peak season, when it's on sale at the grocery store or farmer's market, and freeze for smoothies. Here's how I freeze fresh strawberries and blueberries. Use this same method for freezing fresh mangoes and pineapple chunks for smoothies.
2. Yogurt
Yogurt is an incredible health food. It's fermented with bacteria, making it a true superfood. I eat a cup of yogurt (or cottage cheese) a day. Sometimes I add it to a smoothie, like this creamy mango pineapple smoothie, or make healthy yogurt bowls with different toppings.
If you're dairy free, use a dairy-free yogurt.
The yogurt adds a lovely creamy consistency to this smoothie, but your taste buds won't ever taste the tang–so skip the sugary flavored stuff and go for plain yogurt.
3. Coconut Water, Water, or Dairy or Non-Dairy Milk
Coconut water is a natural ingredient from coconuts and a great way to balance electrolytes after a workout or sweaty day. You don't have to use coconut water. Other options include: coconut milk, almond milk, cashew milk, or whole dairy milk. Or, use filtered water. This delicious recipe tastes amazing no matter which liquid you choose.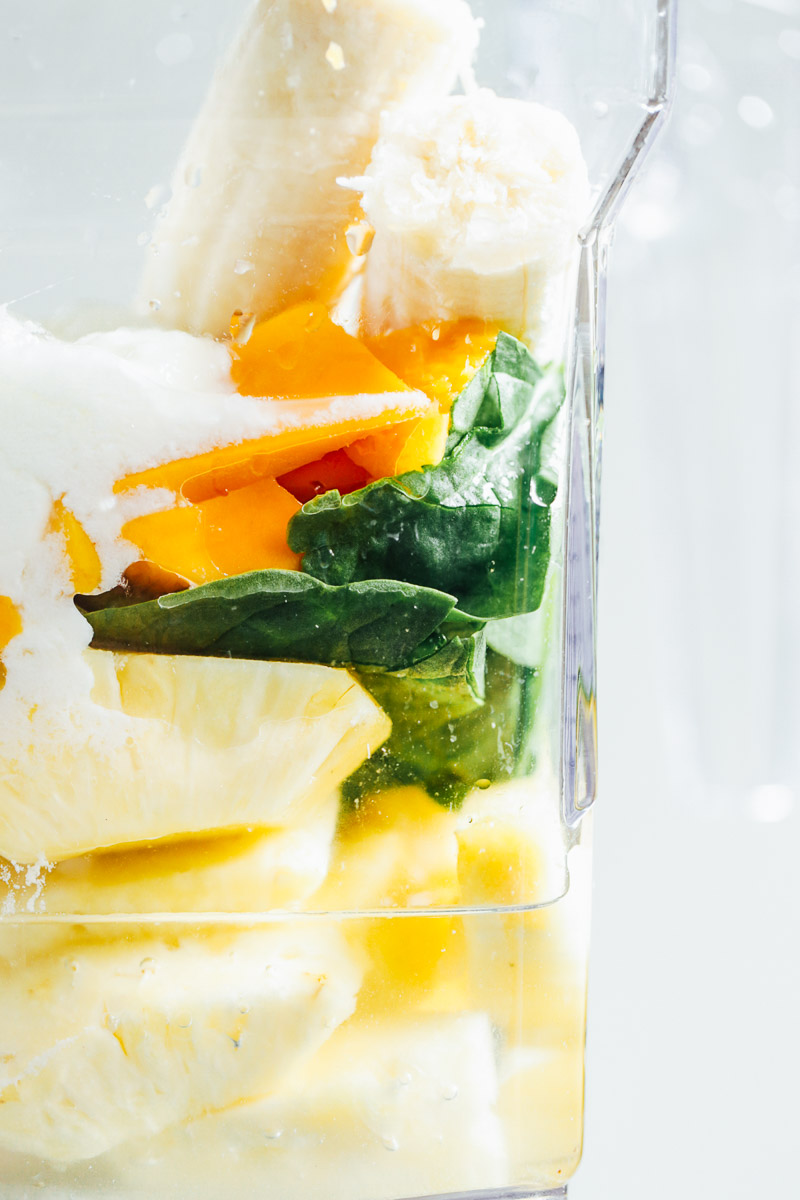 How to Make
Believe it or not, there's a bit of a "science" to making a good smoothie. To make this recipe, all you need is a blender and the simple ingredients.
First, always start with the liquid ingredient(s). For this smoothie, add the coconut water, water, or milk of choice to the blender.
Next, add the yogurt and spinach (if using).
Then, if you're using protein powder or any extras like almond butter or chia seeds, add the extras so they sink into the liquid.
Finally, add frozen fruit. Frozen fruits should be the last thing added to the blender.
Give everything a good, long pulse (60 seconds for me, using a NutriBullet). Then enjoy!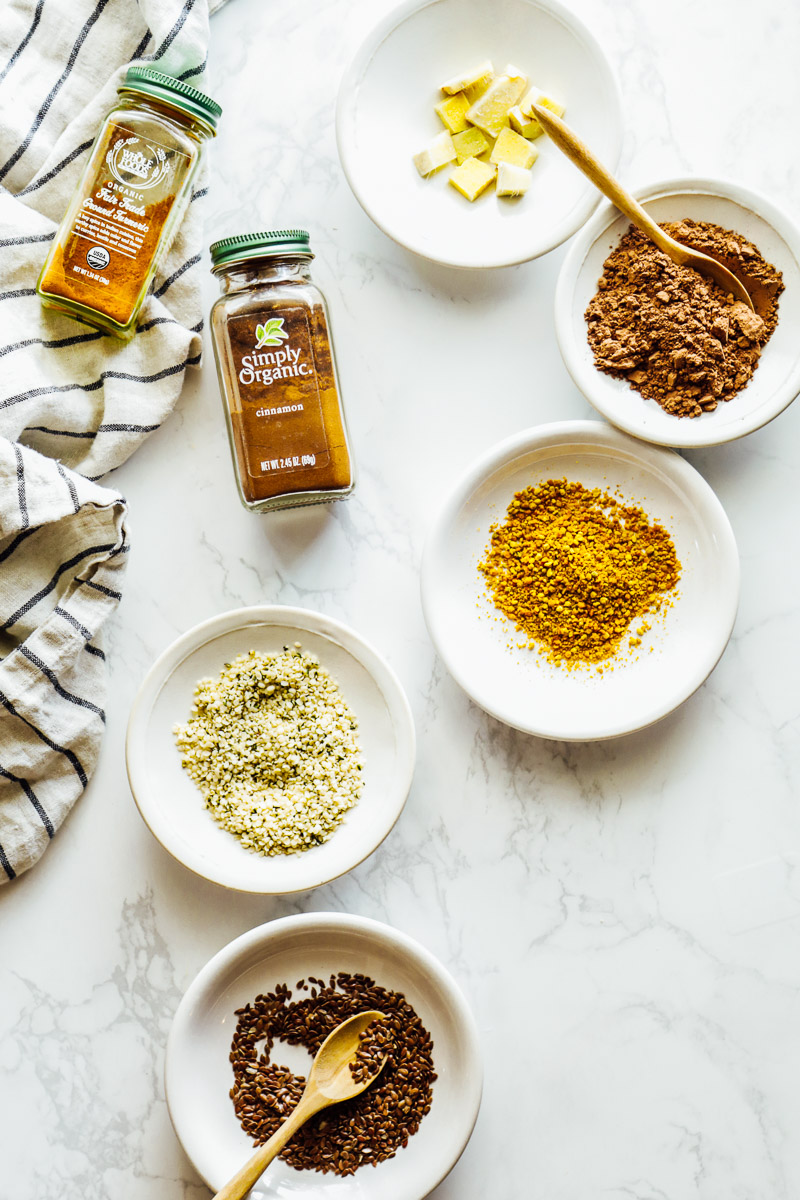 Variations
Add Protein Powder: When making this recipe for a healthy breakfast or summer snack, I add a couple scoops of plain or vanilla protein powder for 20 grams of extra protein. My favorite protein powder is Simply Tera's Organic Whey Protein.
Add hemp seeds or chia seeds: Hemp seeds and chia seeds are a source of healthy fats (omega 3 fatty acids) and fiber. Both fiber and fat keep you full and satisfied, among many other health benefits. Add 2 teaspoons of hemp seeds or chia seeds with the other natural ingredients and blend. Another option is flaxseeds (whole or ground).
Add almond butter: Want to add more healthy fats? Try almond butter or your favorite nut butters (peanut butter, cashew butter, etc.). It may seem unusual to pair almond butter with tropical fruits, but it's so delicious! Add 1-2 tablespoons of almond butter along with the other ingredients and blend!
Add turmeric, cinnamon, or ginger: I store chopped ginger in my freezer at all times. It's great for cooking and also adding to smoothies. Just a small piece is all you need. You could also add up to 1/2 teaspoon turmeric or cinnamon for its amazing health benefits and earthy taste. I add turmeric to this vitamin c smoothie and it's so good!
Skip the Spinach: Adding fresh or frozen spinach to a smoothie is a great way to sneak in extra veggies, particularly for picky kids. So why not add a cup of greens and make this recipe a green smoothie? You won't taste the spinach! That said, if green smoothies aren't your thing, skip the spinach.
Skip the Yogurt: Instead of using 1/2 cup yogurt, skip it and add 1 cup of liquid instead. Coconut milk is a great substitute as it's creamy with a delicious tropical flavor.
Make a Mango Pineapple Smoothie Bowl: For a thick smoothie that's served in a bowl, skip the 1/2 cup of liquid. Add the ingredients to a blender (a high-speed blender is the best option for this), then add a little water. Just enough to get things moving. Instead of a drinkable smoothie, you'll end up with more of an ice cream consistency. Spoon the smoothie into a bowl and top with homemade granola, shredded coconut, your favorite fruits, etc.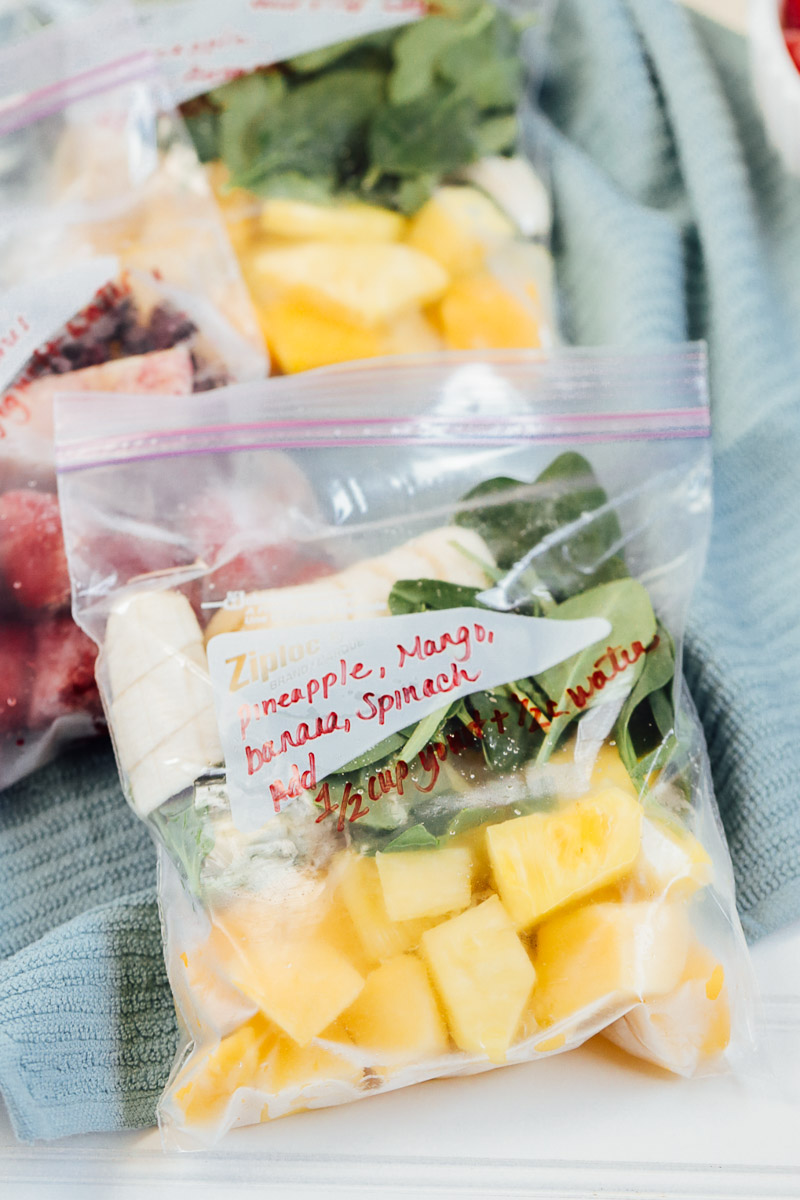 Meal Prep Tip
Love smoothies for breakfast or lunch, but short on time? Make freezer smoothie packs.
Add frozen mango, pineapple, banana (all cut into small pieces/chunks), and spinach to a Ziploc bag.
Seal the bag and place in the freezer.
On a busy morning, add the water and yogurt to a blender jar, then dump in the frozen smoothie pack and blend!
There are other ways to prep smoothies in advance, like turning smoothies into popsicles or making mason jar smoothies for the fridge. Learn how to prep smoothies in advance.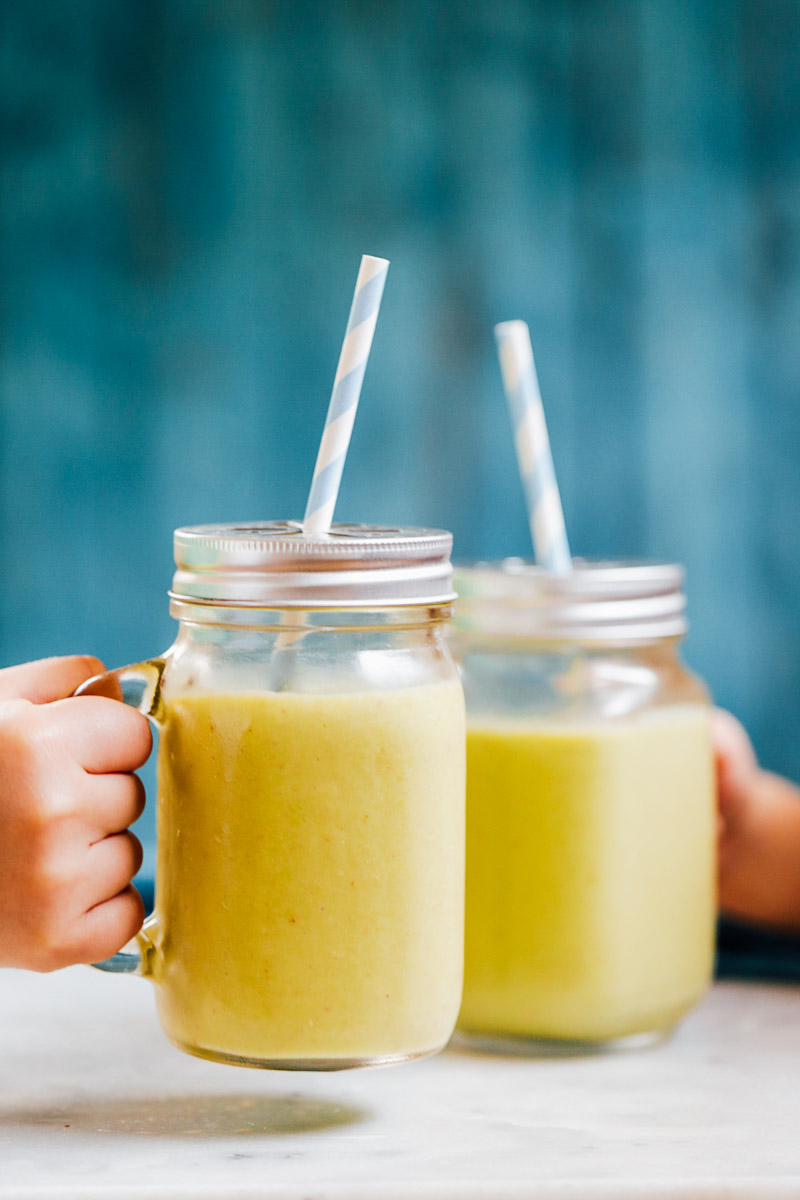 Mango Pineapple Smoothie (Easy, Healthy)
This smoothie is a beautiful rainbow of healthy fruit goodness – with a hint of sweet! Simple and healthy. What's not to love?
Ingredients
1/2

cup

coconut water

OR water, coconut milk, almond milk, or whole milk (your choice)

1

cup

plain whole milk yogurt

or Greek yogurt (or dairy-free yogurt)

1

cup

chopped pineapple

fresh or frozen

1

cup

chopped mango

fresh or frozen

1

banana

fresh or frozen

1

cup

baby spinach

or kale
Instructions
Add the coconut water, water, OR milk of choice to the blender first.

Add the yogurt and spinach (if using). If you're using protein powder or any extras like almond butter or chia seeds, add the extra ingredients (see notes below for options).

Add the pineapple, mango, and banana.

Place the top on the blender and give everything a good, long pulse (60 seconds for me, using a NutriBullet). Then enjoy!
Notes
Fresh Fruit Note: If you're not using any frozen fruit, add 1 cup of ice to the blender before blending the ingredients.
Other optional add-ins (choose one or multiple): 
2 teaspoons chia seeds 
2 teaspoons hemp seeds
2 teaspoons flaxseeds
1/2 teaspoon turmeric
small knob ginger 
1-2 tablespoons almond butter or peanut butter
protein powder (my favorite brand)
Nutrition
Calories:
91
kcal
Carbohydrates:
16
g
Protein:
3
g
Fat:
2
g
Saturated Fat:
1
g
Polyunsaturated Fat:
1
g
Monounsaturated Fat:
1
g
Cholesterol:
8
mg
Sodium:
66
mg
Potassium:
327
mg
Fiber:
2
g
Sugar:
13
g
Vitamin A:
1234
IU
Vitamin C:
38
mg
Calcium:
99
mg
Iron:
1
mg
REFRESHING RECIPES TO MAKE ON A HOT DAY
Got Leftovers? Turn them into homemade popsicles! This recipe makes the best creamy and fruity homemade popsicles. How to make your own popsicles with this recipe and 9 other flavor combos.
Take the Guess Work OUt of meal planning
Free 64 Rotational Meals Ideas Cheat Sheet
Breakfast, lunch, dinner, and snack recipes to rotate week after week. Put healthy meals on auto-pilot.