This post may contain affiliate links. As an Amazon Associate I earn from qualifying purchases.
Let's bridge the great divide between kids and the green stuff in your fridge. The kale, chard, spinach, collards and anything else that remotely resembles a leafy green vegetable.
When it comes to food my kids are polar opposite. So opposite, you may even think they were raised in completely different households with different eating habits.
Piper, my five year-old son, is about as picky (and oh, how I dislike that title) as children come. He is a huge texture foodie–if the texture of a food is just right, he loves it. If not, he won't even think about trying the food again unless it's presented in a different way. I'll admit, the toddler years and meal times were quite challenging, but we survived, and slowly as we continue to offer him a variety of food choices, we're watching him blossom into a diversified eater.
Londyn, my three year-old daughter, will eat anything and everything. A big bowl of collard greens? Oh yes, please! Kiwi? I'll take five! Beans? How did you know I love them? If it's edible, she'll eat it.
Despite the difference between my kids, I'm not a short-order cook. I want to teach my children that food is enjoyable and can even be fun, but we also need to be grateful for meals presented to us.
Green smoothies have been one those meals that we regularly enjoy for breakfast. And while the three of us love our green smoothies, Piper isn't a huge fan of anything leafy and green, and truthfully, I don't blame him. Have you ever tasted raw kale straight from the ground without any seasoning? Yea, it's pretty bland. And spinach? It sorta looks like grass. Something I've taught my kids not to eat.
Last month, while preparing breakfast in the kitchen, I overheard Dustin and Piper talking about Iron Man and the Hulk (Marvel Superhero guys). The conversation went on to include the Hulkbuster (a character in the Marvel World). Bingo!
I grabbed a few ingredients–mango, pineapple and banana (for sweetness), yogurt (a probiotic), water, and a handful of spinach– and blended away. I poured the bright green smoothie into four cups and walked over to the kitchen table to present Dustin and Piper with my creation.
"Piper, do you know what this drink is?"
He looked confused. "It's a green smoothie!"
"Oh no!" I replied, "It's a Hulkbuster! It will help you grow big and strong."
Piper's eye brightened as he heard the word Hulkbuster. "Really? Big and strong like the Hulkbuster?"
I handed him a glass of nutrient-rich green smoothie. "Yep, give it a try. I bet you'll love it."
That morning Piper fell in love with our family's favorite green smoothie, I mean Hulkbuster, all because of a little kid-friendly creativity.
Piper now helps to create the Hulkbuster each week for our green smoothie breakfast meal. In fact, he loves placing the handful of spinach into the blender jar while we talk about the mega-strength this leafy green provides his body. And don't tell anyone, but I've even caught him sneaking a few bites of raw spinach. You know, Quality Control.
Go ahead, Captain Green Smoothie Mom, blend away. I promise your kids will love this nutrient-rich superhero drink.
Kid-Friendly Green Smoothie
Go ahead, Captain Green Smoothie Mom, blend away. I promise your kids will love this nutrient-rich superhero drink.
Ingredients
1/2

cup

coconut water

1

cup

plain whole milk yogurt

1

cup

chopped pineapple

fresh or frozen

1

cup

chopped mango

fresh or frozen

2

ripe bananas

2

cups

greens of choice

kale, collards, spinach, or an assortment of baby greens.
Instructions
In a blender jar, add the liquid ingredients first: water and yogurt. Add the pineapple, mango, bananas, and greens. Blend for 40-60 seconds.

Note: Add 1 cup of ice if you're using fresh fruit. Skip the ice if you're using frozen fruit.
Recipe Notes
Find my favorite kitchen essentials, here.
More Real Food You May Like: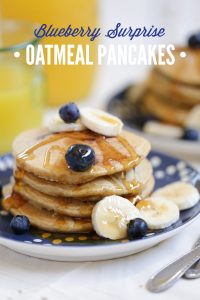 Blueberry Surprise Oatmeal Pancakes