Meet my favorite dinner recipe: braised short ribs. Succulent beef, perfect vegetables, and a flavor-packed sauce. The recipe is easy to follow and very hands-off, so it's the perfect prep-it-and-forget-it type of meal. This warm and comforting meal is on repeat during the cooler months of the year, when we all want something cozy, warm, and hearty.
What Are Short Ribs?
Beef short ribs are from the beef chuck of a cow, taken near the breastbone. Short ribs are narrow cuts of beef that are short, rather tough (until slowly braised), and have a ton of flavor. Since the meat isn't naturally tender (like a steak), short ribs are best treated like a tougher cut of meat and braised at low heat for several hours (in this case about 2 1/2 hours). The end result is flavorful, fall-off-the-bone beef.
Short ribs can be prepared for a dinner recipe all year-long, but I think they're perfect to keep on rotation during the colder months when we all want a warm, cozy, and hearty dish. This meal checks all the boxes. Paired with roasted sweet potatoes or mashed potatoes = perfection! (Here are 64 meal ideas to keep on rotation.)
I know, this all sounds so fancy, but this short ribs recipe is simple and mostly a hands-off process. All the magic happens during the slow braising process. As long as you have 20 minutes to chop and brown the meat and veggies, and a bit of patience (for the braising time), you can easily make this short ribs recipe.
Short ribs are also inexpensive compared to other cuts of beef, like steak. This recipe will feed 4 people for about $3-5 per person. That's not bad, especially considering that a braised short rib can easily cost $25+ when eating out.
Step By Step Method For Oven Braised Short Ribs Recipe
First, gather the ingredients…
2 tablespoons extra virgin olive oil, 3 pounds of bone-in short ribs, 1 yellow onion, 7 carrots, 6 cloves of garlic, 2-3 fresh rosemary sprigs (alternatively, you could use a medley of fresh herbs like fresh thyme and rosemary sprigs), salt, ground pepper, chicken or beef broth/stock, red wine, and all-purpose flour. Simple ingredients that, when braised together, create the most amazing taste.
Step 1: Salt The Meat
Generously sprinkle bone-in short ribs with salt, on all sides. I use a fine salt (Real Salt is my favorite brand). There's no need to trim the fat away from the short ribs. The fat adds flavor!
Step 2: Brown The Short Ribs
Add 2 tablespoons of olive oil to a large Dutch oven or braiser pot (3.5 quart or 5 quart, I use this one). Heat oil over high heat. Sear the short ribs in the hot oil, browning on two sides for about 4-5 minutes each. I recommend browning on each side with the fat as this is where the flavor is. You may need to work in batches to brown all the meat. Once brown, remove the short ribs from the pot and let rest on a cutting board or plate.
Step 3: Cook The Onions, Carrots, and Garlic
If there's a lot of excess fat/juices in the pot, drain the fat, leaving behind just about a tablespoon of fat. Over medium-high heat, add yellow onion slices, about 7 halved carrots, and 6 cloves of garlic to the hot pot. Sprinkle with a pinch or two of salt and saute for about 5 minutes. Then sprinkle the veggies with 2 tablespoons of all-purpose flour, stirring to coat the veggies.
Step 4: Add The Stock/Broth, Red Wine, and Rosemary
Pour 1 cup of either chicken or beef stock (or homemade broth) to the pot, along with 1 cup of red wine. Give everything a stir, until the flour is mostly dissolved. Add the short ribs back to the pot, nestling the meat in the liquid (they shouldn't be submerged), along with 2-3 fresh rosemary sprigs and a few turns of black pepper and more salt. Bring the ingredients to a boil, then reduce to a simmer and place the lid on the pot.
Step 5: Braise The Short Ribs in The Oven
Place the Dutch oven in a preheated 325F oven and braise the short ribs, veggies, and aromatics (garlic and rosemary) for 2 1/2 hours. Once done, remove the pot from the oven and the lid from the pot. The short ribs should fall off the bone: perfection!
How to Make Short Ribs in The Slow Cooker
Instead of braising short ribs in the oven, you can use the slow cooker instead. This is a great way to turn this recipe into a quick weeknight meal. Follow steps 1-4, then pour everything in a slow-cooker. Cook on low for 7-8 hours or high for 3-5 hours.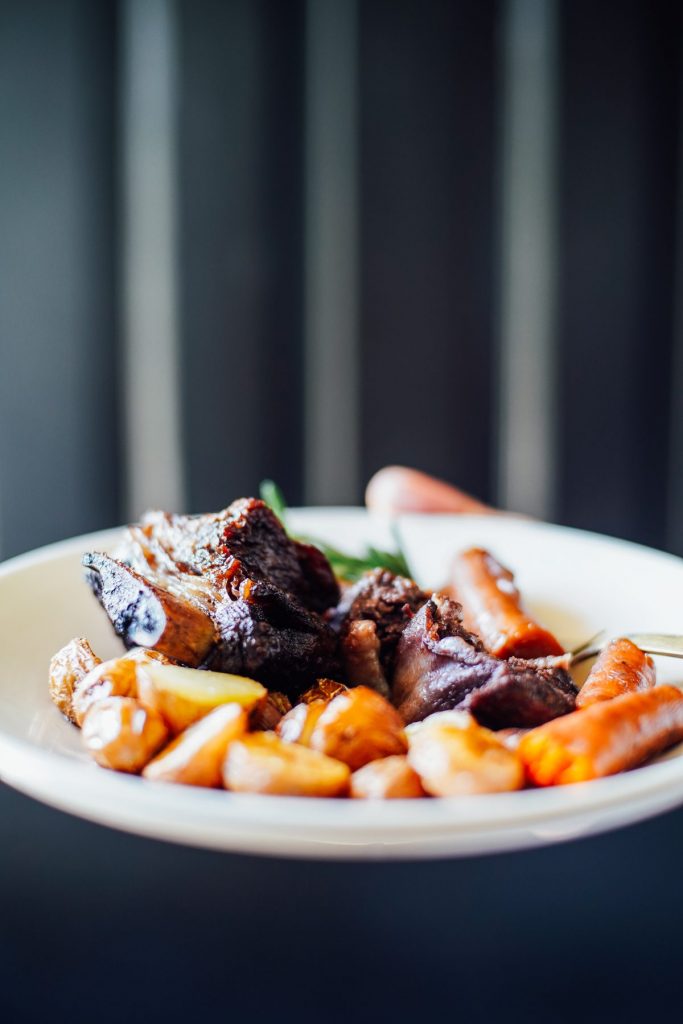 How to Serve This Braised Short Ribs Recipe
Carefully spoon as many short ribs onto a plate or bowl, spoon the thickened juices over the top, along with the carrots and onions. Serve this dish with…
Fall and Winter Recipe Ideas
Short ribs can be enjoyed all year-long, but they're particularly enjoyable during the colder months of fall and winter. Here are a few more recipes to make during this time…
Simple Braised Short Ribs Recipe
Braised Short Ribs are economical cuts of meat that are full of flavor. Braising short ribs with onion, garlic, carrots, and a broth/wine sauce brings out an incredible flavor and fall-off-the-bone tenderness in this otherwise tough cut of meat.
Ingredients
2

TB

extra virgin olive oil

3

lbs

bone-in beef short ribs

6-8 short ribs, depending on size

1

yellow onion

sliced

7

carrots

halved (just cut the whole carrots in half so they easily fit in the pot)

6

garlic cloves

2

TB

flour

such as: all-purpose or einkorn flour

1

cup

red wine

any red wine works here

1

cup

chicken broth

or beef broth/stock

2-3

fresh rosemary sprigs

1/2-1

tsp

salt

+ extra for seasoning the short ribs, to taste. This amount will depend on how much you salt the short ribs and also if your broth is salted. Start with 1/2 teaspoon and then salt to taste later, if needed. I usually go with 1 teaspoon, but everyone's salt preference is different.
Instructions
Preheat the oven to 325F. Sprinkle the short ribs with salt (all sides).

Heat a 3.5 or 5 quart Dutch oven or braiser pot over high heat. Add the olive oil. (I use this Dutch oven.)

Once hot, add the short ribs (fat side down) and brown on two sides for 4-5 minutes (on each side). Depending on your Dutch oven size, you may need to work in two batches. Once the short ribs have browned, set aside on a plate.

Drain the excess fat from the Dutch oven, leaving behind about 1 tablespoon of fat.

Over medium-high heat, add the onions and carrots and sprinkle with a pinch of salt. Cook the veggies for 5 minutes, stirring frequently.

Sprinkle the flour over the veggies, stirring to coat.

Add the red wine and broth/stock. Stir to dissolve the flour in the liquid and allow the liquid to reach a lively simmer.

Add the short ribs to the veggies and liquid (they shouldn't be submerged, just nestled in). And tuck the rosemary sprigs in the liquid, around the short ribs and veggie. Add the 1/2 teaspoon of salt and a few turns of fresh pepper.

Once the ingredients reach a slight boil/lively simmer, place the lid on the Dutch oven. Place the pot in the oven and braise the short ribs and veggies, covered, for 2 1/2 hours.

After 2 1/2 hours, remove the short ribs from the oven. The meat should easily fall off the bone and be fork tender.
Nutrition
Calories:
590
kcal
Carbohydrates:
19
g
Protein:
50
g
Fat:
29
g
Saturated Fat:
11
g
Polyunsaturated Fat:
1
g
Monounsaturated Fat:
13
g
Cholesterol:
147
mg
Sodium:
1036
mg
Potassium:
1417
mg
Fiber:
4
g
Sugar:
7
g
Vitamin A:
17852
IU
Vitamin C:
14
mg
Calcium:
80
mg
Iron:
6
mg