This post may contain affiliate links. Affiliate links come at no extra cost to you. These links allow me to share the products I authentically recommend (and use) and support Live Simply by receiving a small commission.
When we first made the switch from processed food to real food, I didn't know much about planning meals. Most of my short adult life at that time had consisted of purchasing freezer meals from the grocery store. There wasn't any need to plan since meals never required any forethought.
As we made the shift from purchasing pre-packaged meals to ingredients (and home-cooked meals), I realized that some planning was going to need to take place on a weekly basis. If not, this real food lifestyle wasn't going to last long.
Meal planning wasn't easy for me at first. I struggled with this activity just as much as you probably did, or do.
In the beginning, creating a meal plan would take me at least an hour or two. Most of my time was spent looking through cookbooks. Using these cookbooks, I finally decided to create a list of our favorite recipes. The goal was to use this list as my meal plan guide versus paging through cookbooks each week.
FREE Real Food Crash Course
I get it, switching from processed food to a real food lifestyle can feel overwhelming and confusing. Friend, it doesn't have to be this way.
Here's what to expect: 
printable charts (real food defined, a seasonal produce guide, 

meal planning)

how to get started with a real food lifestyle

how to create a meal plan and stay within a budget

7 real food recipes

emails from me to help you enjoy real food
Bonus: Step-By-Step Guide to Real Food
The list was an instant success. The time I spent creating an actual meal plan was reduced in half—all thanks to a piece of paper that soon became known as, Family Favorite Meals.
I still use my Family Favorite Meals list to create my weekly meal plans. The list, of course, has grown over the years. In the beginning, 7 meal ideas were listed. Now, there are well over 25 meal ideas on the list. Each time I prepare a new meal, and the meal is a winner with the family, the list grows.
Today's soup recipe is the newest addition to my ever-growing Family Favorite Meals list (thanks to Helen, the LS Instant Pot Guru). It's the kind of recipe that's perfect for busy school nights, especially now that fall is right around the corner and I'm craving all the comfort food. And boots and sweaters. A Florida girl can dream–it's still hurricane season down here.
Thanks to the Instant Pot, this creamed chicken and rice soup only takes about 30 minutes to make, from start to finish. We can enjoy the flavors and tastes of the fall season in half the time.
Instant Pot Creamed Chicken and Rice Soup (Pressure Cooker Recipe)
Thanks to the Instant Pot, this soup only takes less than 30 minutes to make. The soup is filling, creamy, and nourishing. 
Ingredients
1

TB

extra virgin olive oil

3

celery stalks

chopped (1 cup once chopped)

2

medium

carrots

chopped (1 cup once chopped)

1/2

medium

white onion

chopped (1/2 cup once chopped)

8

ounces

white mushrooms

sliced

3/4

cup

long grain white rice

uncooked*

2

garlic cloves

peeled and minced

2

TB

lemon juice

(about one lemon, juiced)

1 1/2

tsp

dried parsley

1

tsp

salt

1

tsp

black pepper

1

lb

boneless and skinless chicken breasts

(about 2 breasts, depending on size)

6

cups

chicken broth

or stock, low-sodium if using store-bought broth/stock

1

cup

heavy cream

**
Instructions
Set the Instant Pot to Saute, Normal Temperature. Once hot, add the olive oil.

Add the celery, carrots, and onion. Saute the veggies until translucent and slightly soft. 

Add the mushrooms, rice, and garlic. Stir to evenly coat the ingredients. Add the lemon juice and parsley. Press the Cancel button.

Add the broth, making sure to scrape the bottom of the pot well.

Season the chicken breasts with salt and pepper. Add the chicken to the pot.

Lock the lid on and set the Instant Pot to Manual, High Pressure for 10 minutes. The valve on top should be set to Sealed. 

Let pressure release naturally for 10 minutes before releasing the remaining pressure (use a hot pad holder or towel) and opening the lid. 

Remove the chicken and shred.

Return the shredded chicken to the pot, add the cream, and taste for seasoning (adding more salt or pepper as needed). Use the Saute function if the soup needs to be heated further after adding the cream. Serve warm. 
Recipe Notes
*I wash (uncooked) rice in a fine mesh strainer before cooking it.  To do this, simply pour the rice into a fine mesh strainer and run water over the rice until the water runs clear (from the strainer). 
**If you're dairy free, you could try using coconut cream. The coconut cream will definitely change the taste of the soup--I haven't tried this substitute. 
You could make this soup on the stove-top. You'll definitely have to adjust the cooking time. 
If you're reheating the soup later in the week, add a bit more broth (or water) at the time of reheating.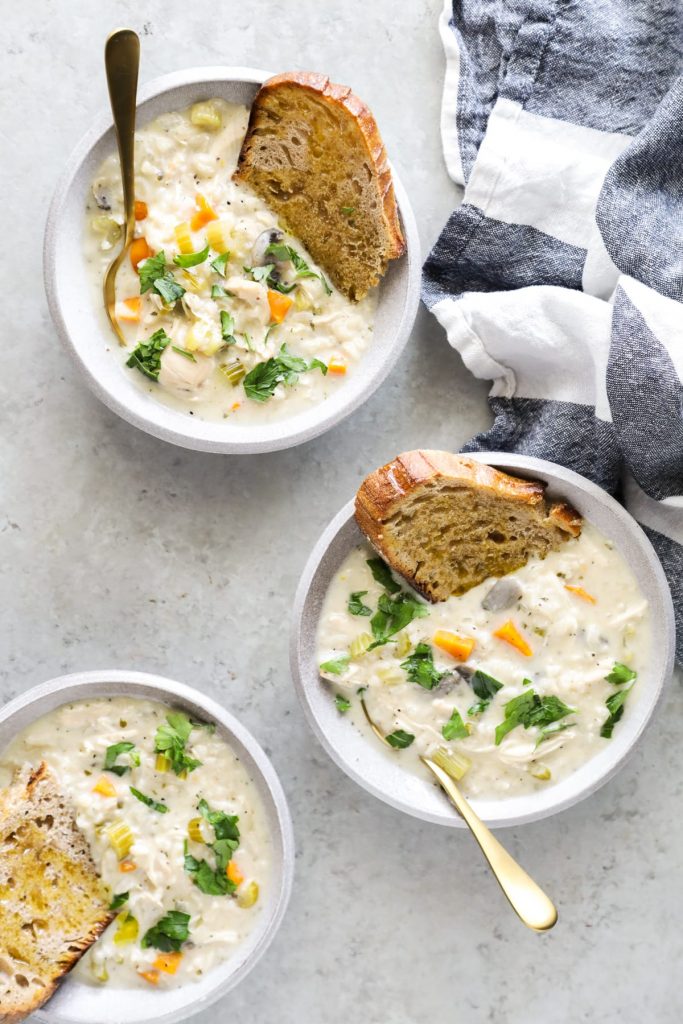 See my lifestyle in real life