This easy yogurt fruit dip is a great recipe for snacking, school lunch, breakfast, or dessert. Serve it up with your favorite fresh fruit (like berries in the summer and apples in the fall). It's the best healthy fruit dip to make with simple & healthy ingredients in under 2 minutes!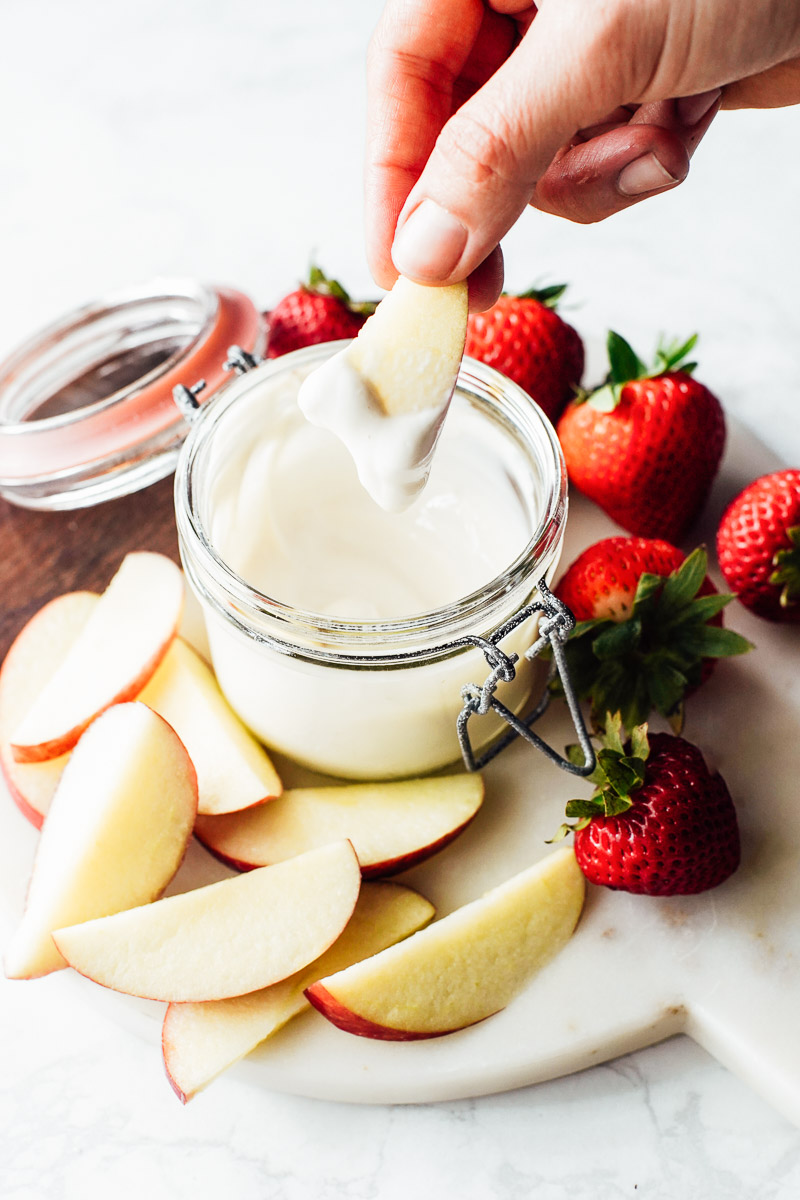 A Healthy Snack, Breakfast, or Dessert In Under 2-Minutes
I was first introduced to yogurt fruit dip as a 9-year old at a slumber party. The host parent brought out a huge tray of fruit, which isn't exactly exciting to a bunch of 9 year-old girls in the early 90's.
Then she plopped down a giant bowl of white sauce in the center of the fruit. "What's that?" I asked.
The mom replied, "Yogurt dip for the fruit!"
I took a strawberry, dunked it in the special yogurt sauce….AMAZING! I was sold. There are very few foods that I remember as vividly today as that yogurt dip. It made quite the impression on me. Years later, I'm now creating a healthy, nutrient-dense version for my own family.
And the best part?
This creamy dip is versatile:
Serve it on the side of favorite fruit during the summer.
Pack it in the lunchbox during the school year with fruit.
Eat it for breakfast with toppings (try one of these yogurt bowl toppings).
Turn the yogurt into fruit parfaits (yogurt and fruit in mason jars).
Enjoy this healthy yogurt fruit dip for a protein-rich dessert with seasonal berries.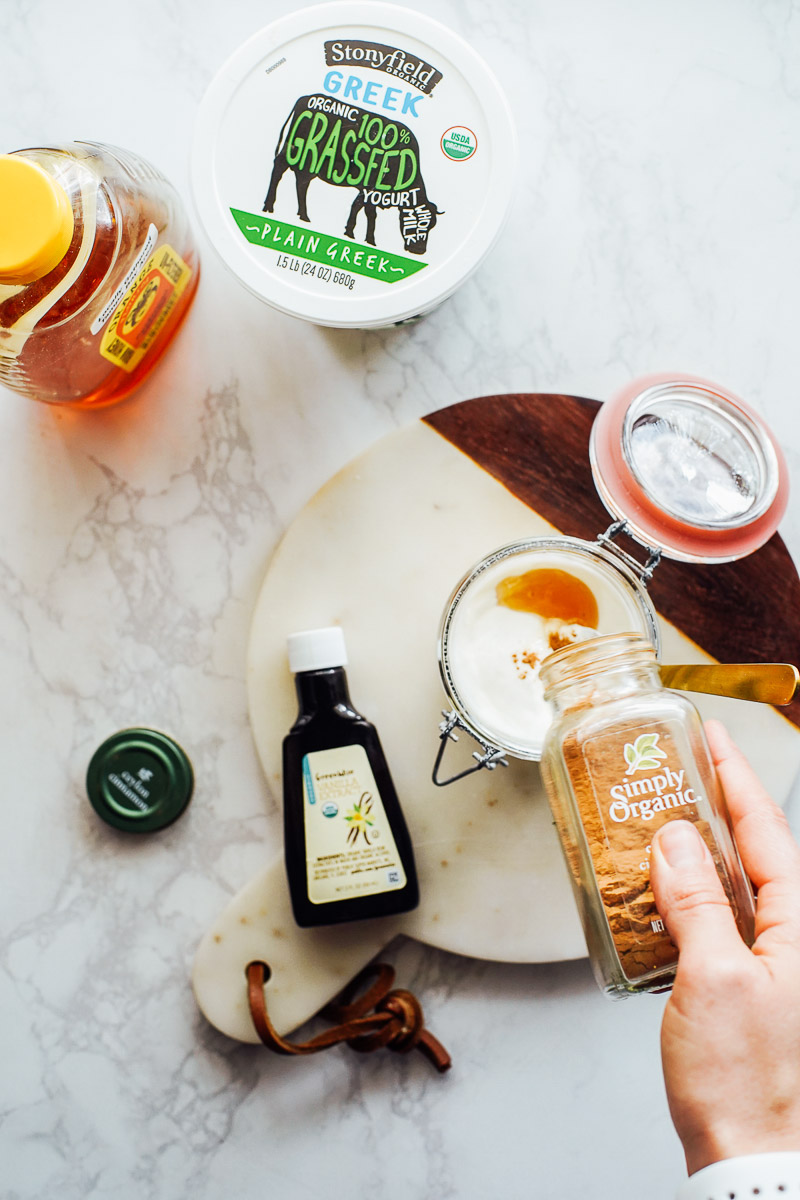 Ingredients
This easy fruit dip recipe only takes 2 minutes of total time to make. You'll need just 4 pantry staple ingredients, making this recipe budget-friendly and easy to throw together at any time.
Some recipes call for using cream cheese, brown sugar, vanilla pudding mix, or cool whip. For this recipe, I keep things super easy and healthy (cream cheese would be healthy, but yogurt is such a simple staple food).
What You'll Need:
1/2 cup plain Greek yogurt, whole milk yogurt, or dairy-free yogurt
1 TB honey, or to taste (or maple syrup)
1/4 tsp ground cinnamon
1/4 tsp pure vanilla extract
fresh fruit (such as apples, pineapple, berries), cut into bite-size pieces for dipping
What kind of yogurt?
The best yogurt to use for this creamy yogurt fruit dip recipe is a thick, plain yogurt. This will give you a thicker dip and a naturally flavored yogurt without loads of added sugars. Use regular yogurt or Greek yogurt. It's up to you and the thickness desired. You can even make your own yogurt easily in the slow-cooker or Instant Pot.
If you're dairy-free, choose a dairy-free plain yogurt.
If you use a vanilla Greek yogurt, skip the honey and vanilla extract as it should already be flavored and sweetened.
How to Make: Step-by-Step
To make the perfect dip with these simple ingredients…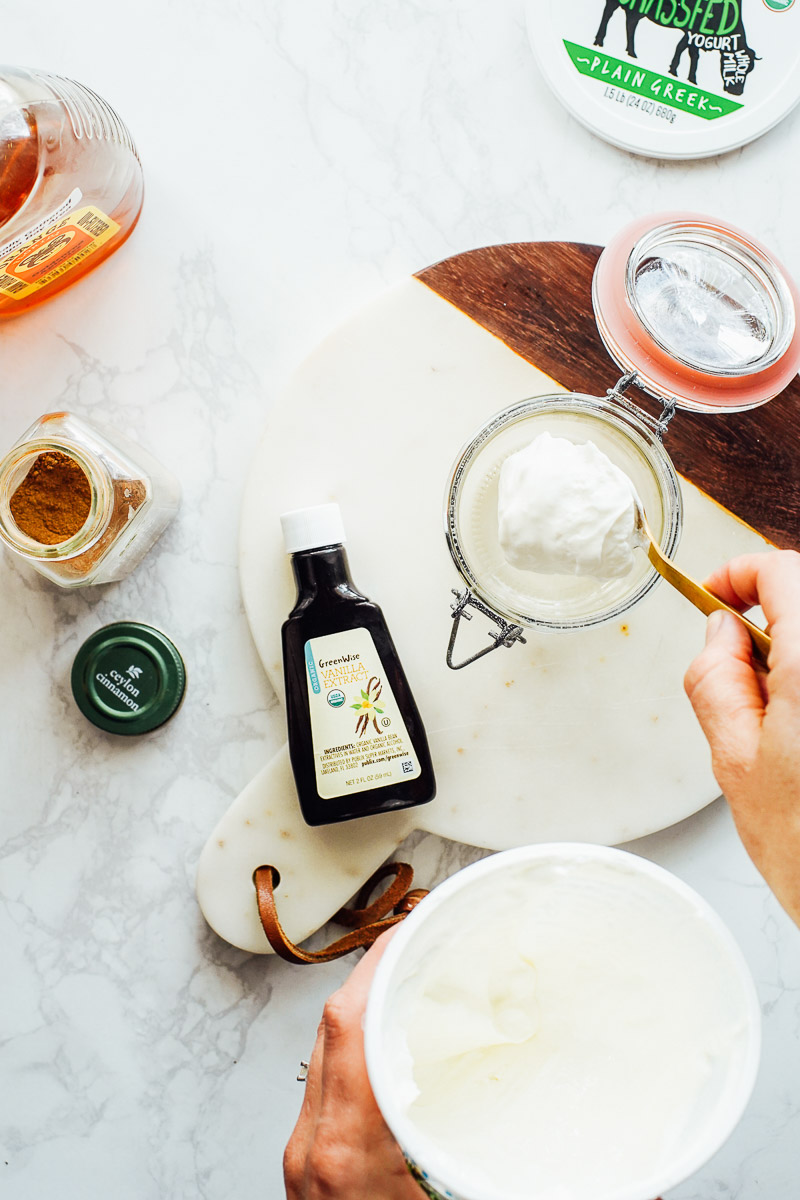 Step 1: Add Yogurt
First, spoon 1/2 cup of plain yogurt into a mixing bowl (or a storage container with a lid, if making for later).
Step 2: Add Honey and Spice
Add 1 tablespoon honey, cinnamon, and pure vanilla extract to the yogurt.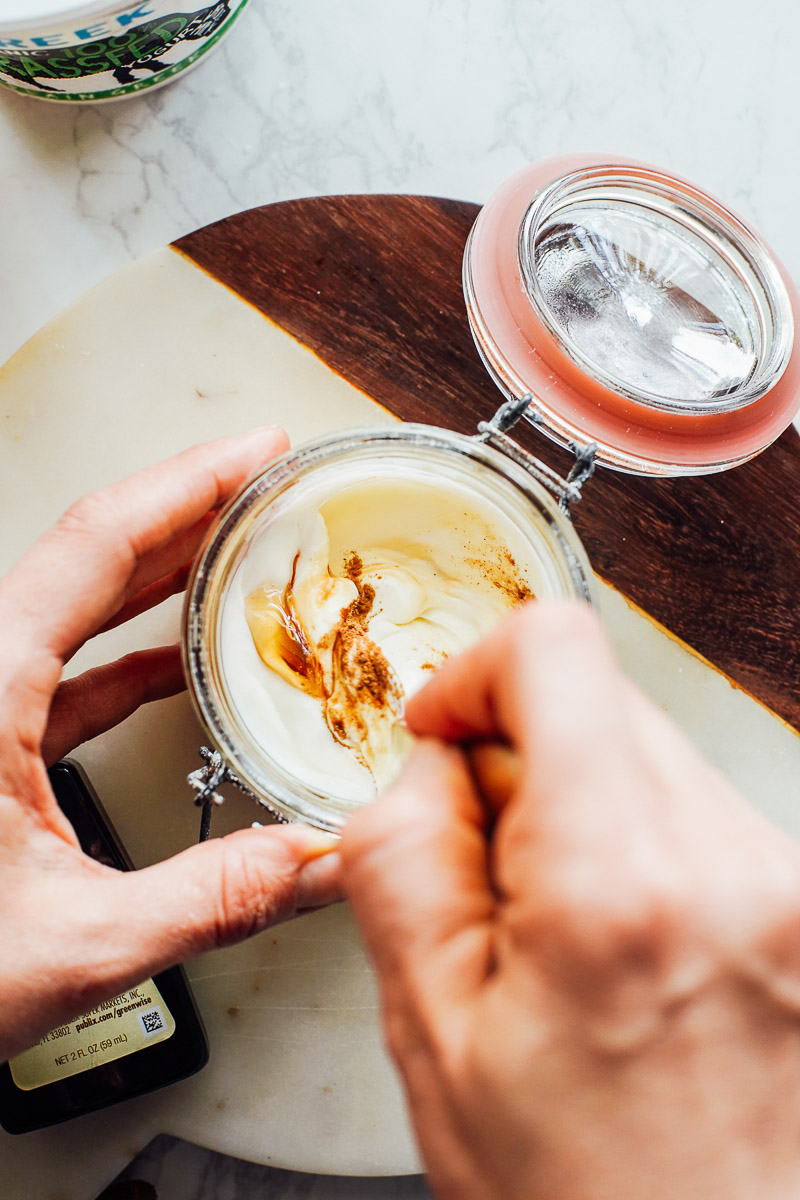 Step 3: Stir to Combine
Give everything a good stir or whisk to combine. Taste the dip and add a little extra honey or spices to your taste preference.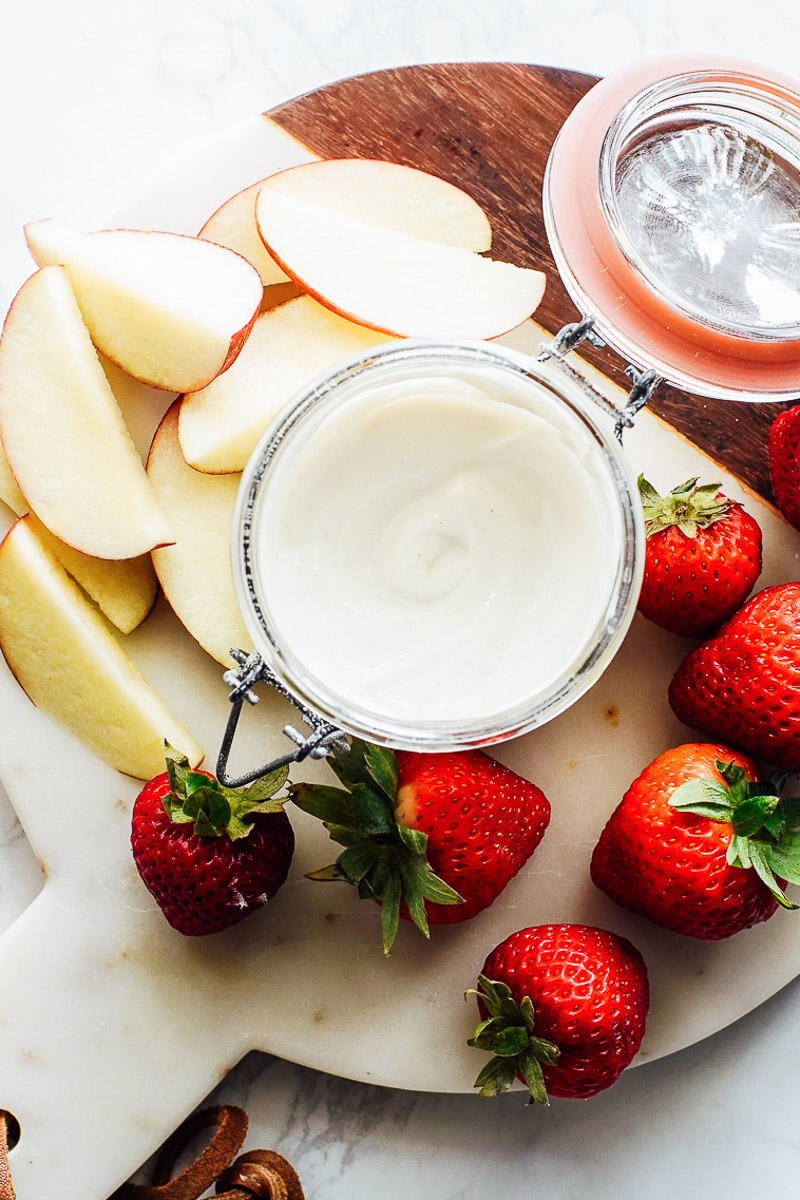 Step 4: Serve or Chill for Later
Serve the dip immeadiately, with one fruit or a plate of fruit, or place in an air-tight container and store in the fridge for later.
Variations
This sweet dip is such an easy recipe to customize and change up with different add-ins. Here are a few delicious options…
Peanut Butter: Add 1-2 tablespoons of peanut butter to the yogurt and honey mixture. If you love peanut butter as much as I do, this is a fun variation. (You should also make peanut butter chocolate overnight oats–amazing!) If you're nut-free, use a seed butter (like sunflower seed butter).
Lemon Zest or Orange Zest: Add the zest of an orange or lemon (or lime) to the yogurt sauce. This will add a bright fresh citrus flavor. You only need a small amount of zest (the grated peel) to get a ton of flavor. Alternatively, you could add a squeeze of lemon juice or a splash of orange juice.
Chopped Mint: I'm a huge mint and yogurt fan (see this homemade strawberry Froyo recipe for an example). Add about 1 tablespoon of finely chopped fresh mint to the yogurt, honey, and spices for a vibrant mint flavor.
Strawberry Preserves: For a strawberry yogurt dip, add 1-2 tablespoons of strawberry preserves (jam; not jelly) to the yogurt mixture.
Cocoa Powder: For a chocolate dip, add a couple teaspoons of cocoa powder to the yogurt dip, until you reach your desired level of chocolate flavor. Add a pinch or two of salt as well to enhance the chocolate flavor. Or, make my famous homemade chocolate yogurt (with 28 grams of protein!).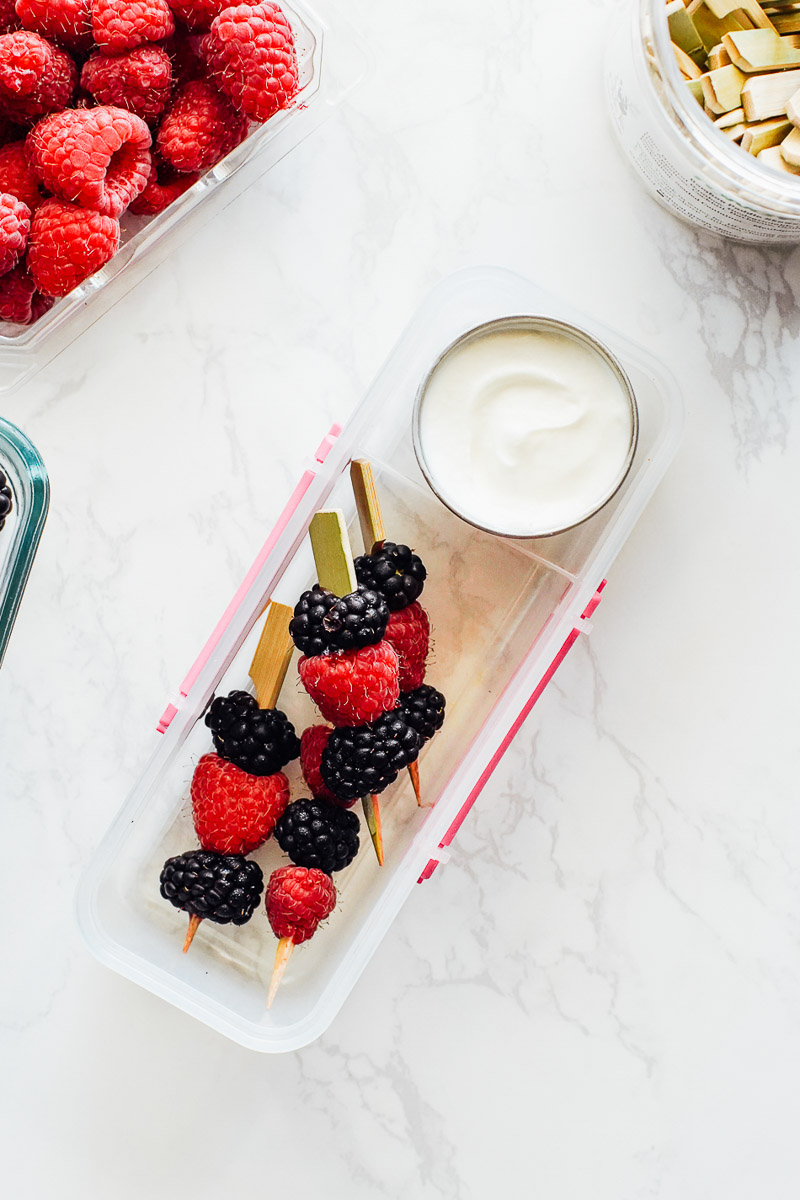 How to Serve
There are so many different fruits to serve alongside this naturally sweet yogurt dip. During the summer, berry kabobs (seen here in my 31 summer snack ideas list) are a favorite. During the fall months, pair this honey yogurt dip with pears and apples.
Fruits that are the perfect compliment to this yummy dip…
Strawberries (wash and store the berries properly so they don't go bad before you make this dip recipe)
Blackberries
Raspberries
Blueberries
Pineapple Chunks
Honeydew Slices
Cantaloupe Slices
Apple Slices
Pear Slices
Peach Slices
Cherries
Kiwi
Grapes
Bananas
For a party, serve the naturally sweet fruit dip with toothpicks on a fruit platter so guests can easily pick up fruit for dipping in the sauce.
For on-the-go snacking, spoon the yogurt dip in a dipper container and place your favorite fruit in a travel container. Or, spoon yogurt dip into a mason jar and top with berries (or your favorite fruit). Enjoy later as a fruit and yogurt parfait.
How Long Does it Last?
This fruit yogurt dip will keep for up to 1 week in the fridge, if stored in an air-tight container.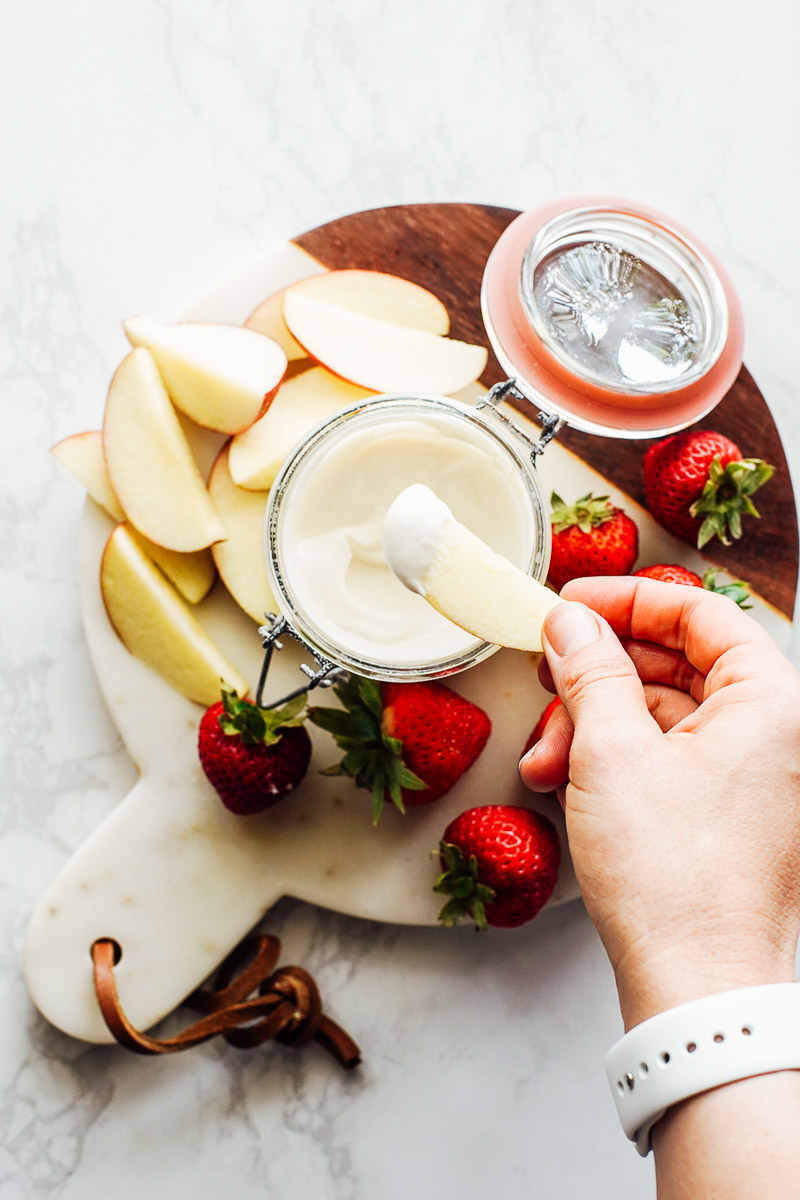 This is a great recipe to double or triple for a party, prep-ahead family snack, or multiple yogurt bowls.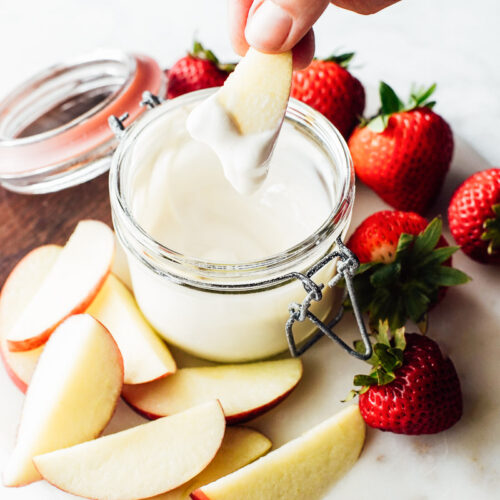 Easy Greek Yogurt Fruit Dip
This easy yogurt fruit dip is a great recipe for snacking, breakfast, or dessert. Made with simple & healthy ingredients in under 2 minutes!
Ingredients
1/2

cup

plain Greek yogurt

or regular whole milk yogurt or dairy-free yogurt

1

Tablespoon

honey

or to taste

1/4

teaspoon

ground cinnamon

or to taste

1/4

teaspoon

pure vanilla extract

or to taste
Instructions
Add the yogurt, honey, cinnamon, and vanilla extract to a small mixing bowl. Stir to combine the ingredients.

Serve immeadiately or store in an air-tight container in the fridge for up to 7 days. Serve as a dip (also delicious on its own for naturally-sweetened vanilla yogurt bowls) with fruit of choice. 
Notes
Double or triple the recipe for a party, prep-ahead family snack, or multiple
yogurt bowls
. 
See variations in the article above for ideas on adding peanut butter, making chocolate yogurt, or making strawberry yogurt dip with preserves (jam).
Nutrition
Calories:
32
kcal
Carbohydrates:
5
g
Protein:
3
g
Fat:
1
g
Saturated Fat:
1
g
Polyunsaturated Fat:
1
g
Monounsaturated Fat:
1
g
Trans Fat:
1
g
Cholesterol:
1
mg
Sodium:
9
mg
Potassium:
39
mg
Fiber:
1
g
Sugar:
5
g
Vitamin A:
1
IU
Vitamin C:
1
mg
Calcium:
29
mg
Iron:
1
mg
More Healthy Snack Ideas
This is one of many different snacks on rotation during the year in our home. During the summer, we snack a lot! Here are a few of our favorite easy and healthy snacks:
Take the Guess Work OUt of meal planning
Free 64 Rotational Meals Ideas Cheat Sheet
Breakfast, lunch, dinner, and snack recipes to rotate week after week. Put healthy meals on auto-pilot.