I promised to wait. But it's now September which means all-things pumpkin are here to stay for at least the next few months. So today, let's make a homemade pumpkin spice latte. I originally shared this recipe back in 2014, and today it's getting a refresh with new step-by-step photos.
What is a Pumpkin Spice Latte made of?
In order to make this famous fall drink that we've all come to know as the PSL (Pumpkin Spice Latte), we need to know how this latte is made.
Starbucks is the originator of this now-famous drink, which started back in 2003. This means that anyone younger than 18 has never known fall time without the PSL. According to the Starbucks website, here are the ingredients used to make the famous pumpkin spice latte…
Milk, Pumpkin Spice Sauce [Sugar, Condensed Skim Milk, Pumpkin Puree, Contains 2 Or Less Of Fruit And Vegetable Juice For Color, Natural Flavors, Annatto, Salt, Potassium Sorbate], Brewed Espresso, Whipped Cream [Cream (Cream, Mono And Diglycerides, Carageenan), Vanilla Syrup (Sugar, Water, Natural Flavors, Potassium Sorbate, Citric Acid)], Pumpkin Spice Topping [Cinnamon, Ginger, Nutmeg, Clove, Sulfiting Agents]
We keep things "real" around here, so we aim to avoid ultra-processed food. Taking a look at the ingredient list of the Starbucks PSL, I wouldn't say it's the worst list of ingredients (no artificial colors is a plus), but it's also not the best. A couple of concerning ingredients, include:
Natural flavors: A mystery ingredient that can be made up of many different ingredients. So it's unclear as to what goes into this product.
Loads of sugar: One pumpkin spice latte, according to Starbucks, contains over 50 grams of sugar (in a 16 ounce drink). That's A LOT, especially if you're indulging in this seasonal latte on a daily basis.
How do you make a pumpkin spice latte from scratch?
By looking at the ingredients in the OG (original) recipe, you can easily make your own.
That's exactly what I did 6 years ago, when I first shared this homemade pumpkin spice latte recipe on the blog. In order to make your own homemade pumpkin spice latte, you only need 6 ingredients.
Brewed Coffee: Brew 1/2 a cup of your favorite coffee. I love this coffee "maker" for individual cups of coffee.
Milk: This can be any milk, either cow or plant-based. I prefer whole milk. Read about the healthiest dairy options here.
Pumpkin Puree: Canned pumpkin puree is perfect (just make sure the only ingredient is pumpkin). You'll only need a few tablespoons, so toss the rest in a smoothie or save for a future pumpkin spice latte later in the week. You could also use butternut squash puree or sweet potato puree.
Maple Syrup: If you don't want a sweet latte, you're welcome to skip this ingredient. But I've found most of us are accustomed to the sweet taste of the OG latte. That's no surprise since the OG (original) contains 50 grams of SUGAR! In this homemade version, we're going to use just a touch of maple syrup for a classic fall flavor. Honey also works.
Vanilla Extract: Just a touch for flavor. Go with the real deal, not imitation stuff.
Pumpkin Pie Spice: Pumpkin puree is flavorless so the real flavor comes from this ingredient. You can make your own or buy a pre-mixed pumpkin pie spice from the spice section at the grocery store. This spice is also delicious to add to pumpkin muffins.
Once you have your ingredients, it's just a matter of heating the milk, pumpkin puree, maple syrup, vanilla extract, and pumpkin pie spice over the stove-top or you could use the microwave.
Once warm, use an immersion blender (or a milk frother) to froth the ingredients. An immersion blender is the perfect way to make a homemade latte without a fancy machine. Plus, you can also use an immersion blender to make creamed fall soups (like this butternut squash soup).
Pour the frothed pumpkin spiced milk into the brewed coffee and then top with a sprinkle or two of additional pumpkin pie spice. If you're feeling extra fancy, you could also add whipped cream (dairy or dairy-free).
And that's it…
The best and easiest homemade pumpkin spice latte you'll ever make!
Watch this video for a step-by-step of how to make a pumpkin spice latte. I promise, it's me in the video–I've gone through some hair color changes over the years.
More Pumpkin Recipes
Have extra pumpkin puree after making this latte? Here are a few ways to use it…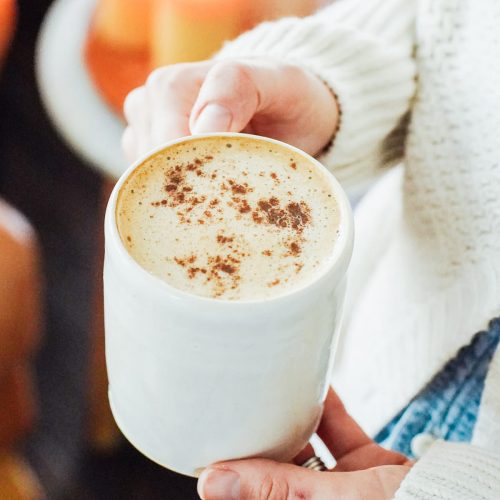 Best Homemade Pumpkin Spice Latte (With Dairy-Free Option)
The best homemade pumpkin spice latte you'll ever make. Made with basic pantry ingredients: pumpkin puree, brewed coffee, milk of choice, pumpkin pie spice, vanilla extract, and maple syrup.
Ingredients
1/2

cup

black coffee

your favorite brewed coffee

3/4

cup

whole milk

or milk of choice: almond, cashew, coconut, etc.

2-3

TB

pumpkin puree

1-3

TB

pure maple syrup

sweeten according to your taste preference

1/2

tsp

pumpkin pie spice

1/2

tsp

pure vanilla extract
Special Equipment:
coffee maker

I love this individual-size pour over

sauce pan
Instructions
Brew 1/2 cup of your favorite coffee. You may desire more coffee, so make a little extra if desired. Set the coffee aside and keep warm.

In a small saucepan, over medium heat, warm the milk, maple syrup, pumpkin pie spice, and pumpkin puree. Whisk the ingredients until the milk begins to bubble on the sides. Turn off the heat and add the vanilla extract.

Pour the warm milk in a large bowl or work in the saucepan. Use an immersion blender (or milk frother) to create the milk froth. This is the secret to creating a homemade latte without an expensive machine. If you don't have a immersion blender (or milk frother), vigorously whisk the milk in the saucepan as the bubbles begin to form (while heating the milk). This method won't create the same froth, but it will still create a tasty coffee drink.

Pour the frothy milk into a large coffee mug. Then carefully pour the coffee into the frothy milk.

If you'd like to serve your latte with whipped cream topping, use this recipe. Add the whipped topping directly to the top of the latte before serving.
Nutrition
Calories:
287
kcal
Carbohydrates:
35
g
Protein:
3
g
Fat:
14
g
Saturated Fat:
8
g
Cholesterol:
49
mg
Sodium:
56
mg
Potassium:
270
mg
Sugar:
32
g
Vitamin A:
2920
IU
Vitamin C:
0.7
mg
Calcium:
155
mg
Iron:
0.2
mg