This post may contain affiliate links. Affiliate links come at no extra cost to you. These links allow me to share the products I authentically recommend (and use) and support Live Simply by receiving a small commission.
Sometimes I find myself in a breakfast rut, particularly on the weekend. Routine is a good thing, but a rut? Not so much. A rut just feels meh.
During the week a meal routine is life-giving. I like to repeat the same breakfasts Monday through Friday: oatmeal (the cold, make-ahead version or the warm, soaked version), eggs and sourdough toast (or occasionally a baked good that's been prepared in advance on the weekend, such as: muffins, banana bread, pancakes, waffles, etc.), smoothies and sourdough toast, or granola with yogurt and fruit.
Keeping our morning meals consistent and routine has simplified our mornings, reduced my stress (because no one should ever be stressed about breakfast), and reduced the amount of time I spend planning meals.
The weekend, particularly Saturday morning when I'm not visiting the market to pick up my CSA goodies, is when we break our routine and make breakfast meals that require more time and effort to prepare.
FREE Real Food Crash Course
I get it, switching from processed food to a real food lifestyle can feel overwhelming and confusing. Friend, it doesn't have to be this way.
Here's what to expect: 
printable charts (real food defined, a seasonal produce guide, 

meal planning)

how to get started with a real food lifestyle

how to create a meal plan and stay within a budget

7 real food recipes

emails from me to help you enjoy real food
Bonus: Step-By-Step Guide to Real Food
This time brings our family together and help us reconnect in the kitchen and at the table. That, my friend, is why intentionally setting aside a day, or multiple days, to slow down and make good food in our own kitchen, is so valuable. Food becomes about more than just feeding our tummies. Food becomes an act of self-care (nourishing our bodies is the ultimate self-care), family-care (feeding the people we love is an act of care and love), and connection (the act of making and eating food brings us together)
A few of our favorite weekend breakfast meals include pancakes and waffles with sheet pan bacon and fruit on the side, french toast (and lately, french toast casserole — coming soon), sheet pan breakfast burritos, a frittata or a strata, and eggs with a potato hash.
I recently shared a photo of one of our weekend breakfast meals, a sheet pan-style potato, veggie, bacon, and egg hash, over on Instagram. A number of reader friends reached out asking for the recipe. I love that you all love good, simple food as much as I do! To honor the many requests, let's make some hash.
This sheet pan-style potato and egg hash is incredibly easy to make because everything is made, as the name implies, on a single sheet pan. The potatoes, veggies, and bacon roast on the sheet pan until soft and the potatoes are slightly crisp on the edges. The sheet pan is then removed from the oven for just a minute so the leafy greens (an optional ingredient) and eggs may be added. The hash is then returned to the hot oven for another 6-8 minutes, until the egg whites are cooked and set and the yolk is either runny or cooked through, your choice. Easy, right?
While the hash cooks, you'll have plenty of time to clean up the cutting board, make coffee, and sit and enjoy the weekend morning with your loves.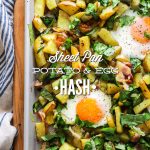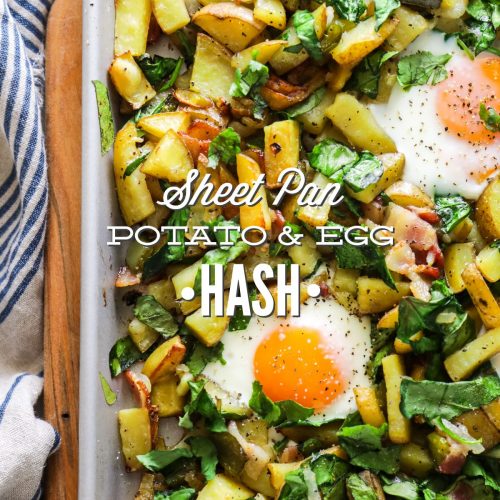 Sheet Pan Potato and Eggs Hash
Packed with real food veggies and protein, this homemade hash makes for a nutrient-dense breakfast, brunch, or even brinner (breakfast-for-dinner)!
Total Time
1
hour
15
minutes
Ingredients
1 1/2

lbs

Yukon Gold potatoes

(or other waxy potatoes) cubed

1/2

large

bell pepper

chopped, such as: red, yellow, or green

1/2

medium

white onion

chopped

3/4

tsp

salt

1/2

tsp

pepper

4

slices bacon

roughly chopped

1

cup

spinach or kale

roughly chopped (optional)

4-6

eggs
Special Equipment
Instructions
Preheat the oven to 425F.

Lightly grease a sheet pan so the potatoes won't stick (I use a spritz of avocado oil spray). Add the potatoes, pepper, and onion to a sheet pan, and toss to combine. Add the salt and pepper, and toss to coat the veggies with the seasoning. Spread the veggies on the sheet pan, and sprinkle the bacon throughout the veggie mixture. 

Roast the mixture in the oven for 15 minutes.

Quickly remove the sheet pan from the oven. Use a heavy spoon or spatula to toss the veggies and bacon together to evenly distribute the fat (from the bacon) with the veggies.

Roast the veggies for another 30 minutes, or until soft and slightly crisp. 

Quickly remove the sheet pan from oven. Add the spinach and stir in with a heavy spoon or spatula. The heat from the sheet pan will begin to wilt the greens. 

Make 4-6 wells/nests and crack the eggs in each spot. Reduce the oven to 400F. Return to oven.  

Cook the mixture for 7-10 minutes, or until the egg whites are firm and the yolks are slightly runny, or cook longer until the yolks are firm (depending on preference). I recommend keeping an eye on the eggs through the oven door window. Serve warm.
Recipe Notes
Alternatively, this recipe may be made with sweet potatoes, or a combo of sweet potatoes and white potatoes. 
For a vegetarian hash, skip the bacon and toss the veggies with about 2 tablespoons of olive or avocado oil before baking.