If you follow me over on Instagram, you know all about my obsession with making and eating homemade salsa. But this isn't just any homemade salsa; it's fermented salsa.
Salsa meets gut-loving probiotics and the most amazing flavor!
A few months ago, Sarah from St. Pete Ferments joined me on the podcast to talk about ferments. In the podcast episode, Sarah shares why consuming fermented food is important, particularly ferments that are made in your local area. You can listen to the episode below.
Since talking with Sarah, I have a renewed interest in making homemade ferments in my own kitchen. I've made sourdough on and off over the years (mainly off now because I have a wonderful local source) and just recently started making my own sauerkraut.
Since having Sarah on the podcast, I've also started following Hilary Boynton, Live Yum Yum on Instagram. Hilary is reforming the way schools cook and serve lunch. And she's on a mission to get back to real, traditional food. A month or so ago, Hilary made fermented salsa on her Instagram Stories. She made it look so easy. Naturally, I had to try making this fermented version of salsa.
And that I did.
I documented the initial process on Instagram. And then again on Instagram because the first attempt was such a success. And then again. Each time, friends on Instagram sent me messages requesting the recipe.
Fermented salsa is simply salsa (tomatoes, cilantro, garlic, pepper, onion, and salt) that's been left at room temperature to allow the good bacteria to populate the salsa.
In more technical terms, fermentation is the breakdown of sugars, by the enzymes of microorganisms, that turn into natural yeast and bacterial growth when oxygen isn't present. Veggies are naturally covered in lactic-acid bacteria, so when the veggies are submerged in a salted brine, the good bacteria naturally begins to ferment the food. This is the case with tomatoes and other veggies used to make fermented salsa.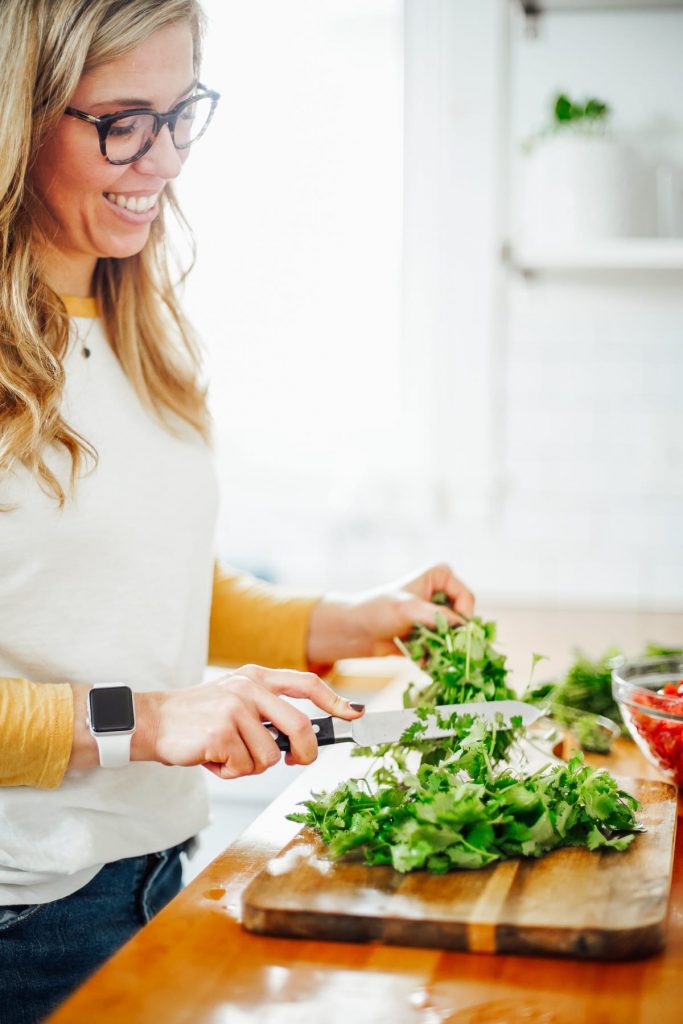 Now, I know you're probably thinking, "Wait, but won't the bad bacteria take over and produce awful, rotten salsa?" Let's talk about that…
Salt is added to the initial fermentation of the salsa to prevent the bad bacteria from growing before the good guys get to work on populating the salsa mixture. So there's no need to worry. Fermentation is a very natural and beautiful process. I know it sounds scary, but it's not.
So why not just make salsa? Why take the time to ferment the salsa? There are a few reasons…
1. Fermented salsa tastes amazing. 
Fermentation adds a deliciously tangy flavor to foods. That's all thanks to the bacteria and natural yeasts at work. Fermentation takes cabbage, in the case of sauerkraut, and turns it into a slightly sweet and tangy food. It takes tea and sugar, in the case of kombucha, and makes a bubbly, slightly sour (in the very best way) tea. In the case of salsa, fermentation lends a slightly tangy flavor that's hard to resist.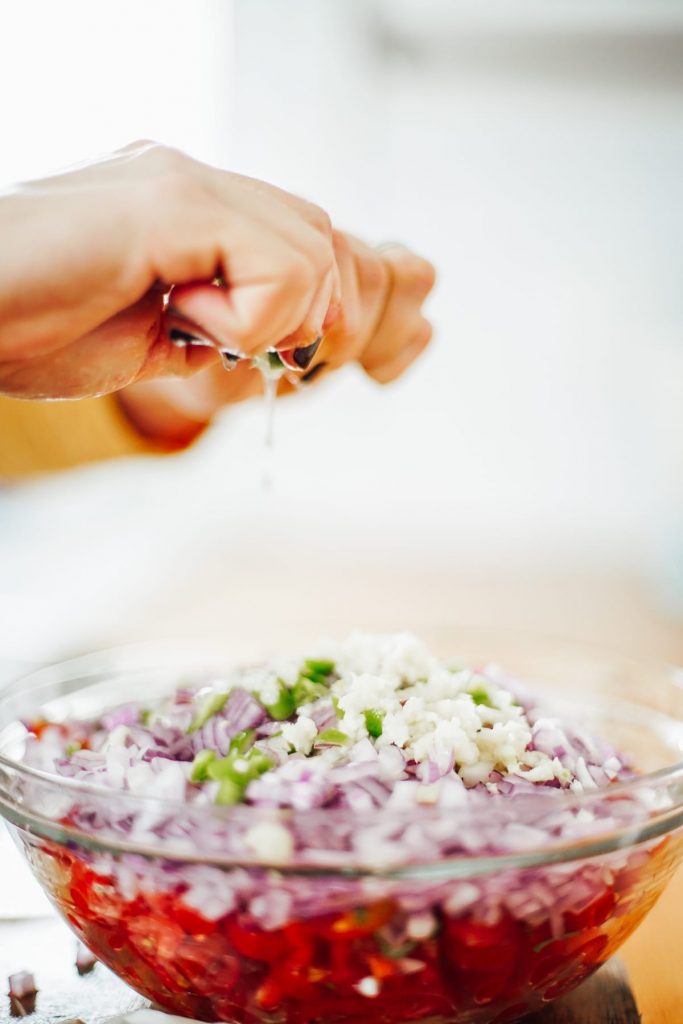 2. There's also the probiotic benefit.
When you ferment fresh salsa, you end up with a bacteria-rich food. And do you know what thrives on good bacteria? Your gut (and immune system).
Having a gut that's healthy and thriving is incredibly important. This is why people take probiotic pills today. And while I certainly think supplements have their time and place, I believe food should always be our #1 source when possible. Instead of instantly turning to a pill, we need to get back to consuming fermented foods, just like our ancestors did for thousands of years. An easy, natural, and budget-friendly way to populate your gut with good bacteria is to simply consume more fermented foods in your daily diet. This could include fermented cheese (real cheese, not a cheese product), yogurt, sauerkraut, salsa, kimchi, and kefir.
3. Fermentation preserves the salsa. 
For thousands of years, people have fermented foods. Before refrigeration, fermentation played a major role in preserving a bountiful harvest (from the garden) or a large amount of milk (which would be turned into cheese). Fermentation encourages the growth of good bacteria so the bad bacteria doesn't take over (causing food to spoil and rot). If you make regular salsa, it will likely go bad within a few days. When you ferment salsa, you extend the life of the salsa for up to a couple of months.
Making fermented salsa is a super easy process. If you can chop some tomatoes and onions, and mince some garlic, you can ferment salsa. You don't need any special fermentation tools, a culture or whey, or prior fermentation experience.
To begin, cut the tomatoes into small pieces, chop the onion and spicy pepper, mince the garlic, and chop the cilantro. Then add these ingredients to a large bowl, along with lime juice and salt. Mix the ingredients together and then add everything to an air-tight, glass storage container.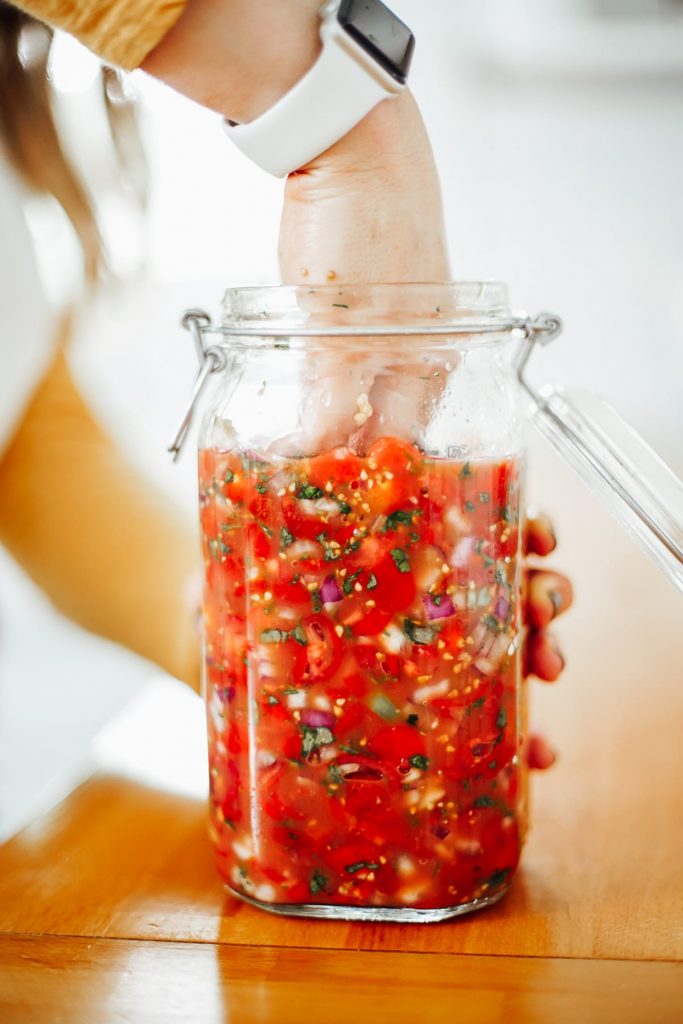 Now, here's the key. Once you get all the salsa in the jar, add the juice/brine found at the bottom of the bowl to the jar, and then push the salsa down with your hand (fist) to ensure the veggies are fully covered in the juice/brine. This takes some faith at first, because it doesn't seem like there's very much juice/brine compared to veggies. But, trust me, there's enough juice/brine to cover the veggies.
Once the veggies are fully submerged in the brine, add a weight on top. You can use half of a bell pepper, a clean rock, a cabbage leaf–anything that will keep the veggies underneath the juice/brine.
Your Family Will Love Fermented Salsa
Okay, that's a bold statement to make. I can't guarantee that your family will love fermented salsa, but I can say from experience that my family remains very apprehensive about fermented veggies but loves fermented salsa.
Cheese? They're down with.
Yogurt? Yes!
But sauerkraut, kimchi, or the fermented carrots that I purchase at market? Nope, they're skeptics.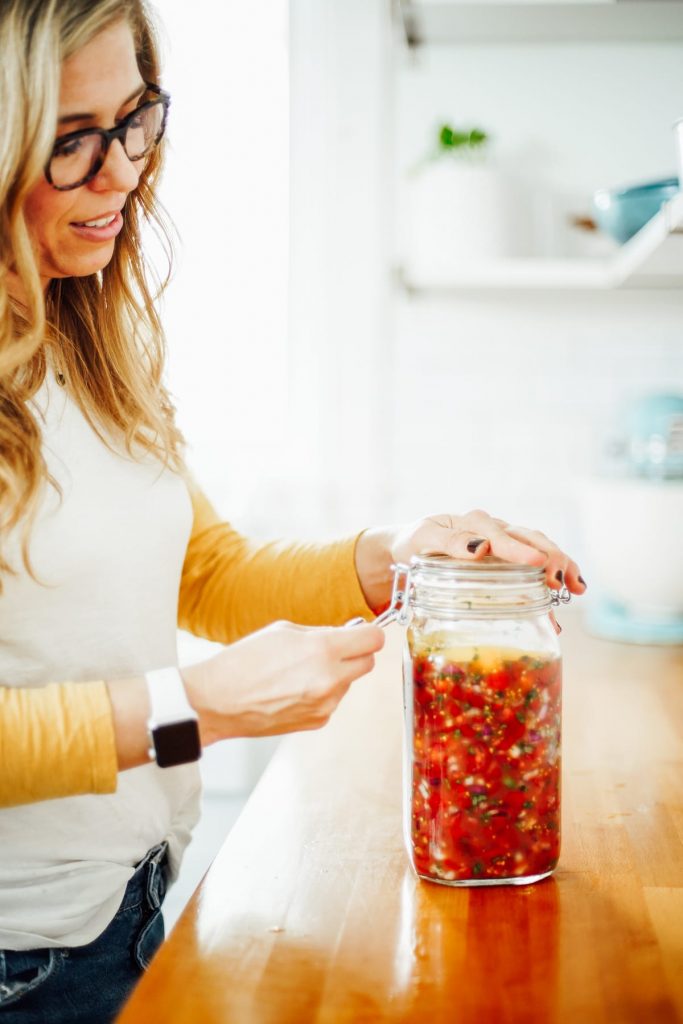 Salsa, on the other hand, has been the key to introducing fermented veggies into their diet. Even Dustin, the greatest fermented foods skeptic of all, loves this salsa and asks for second and third helpings.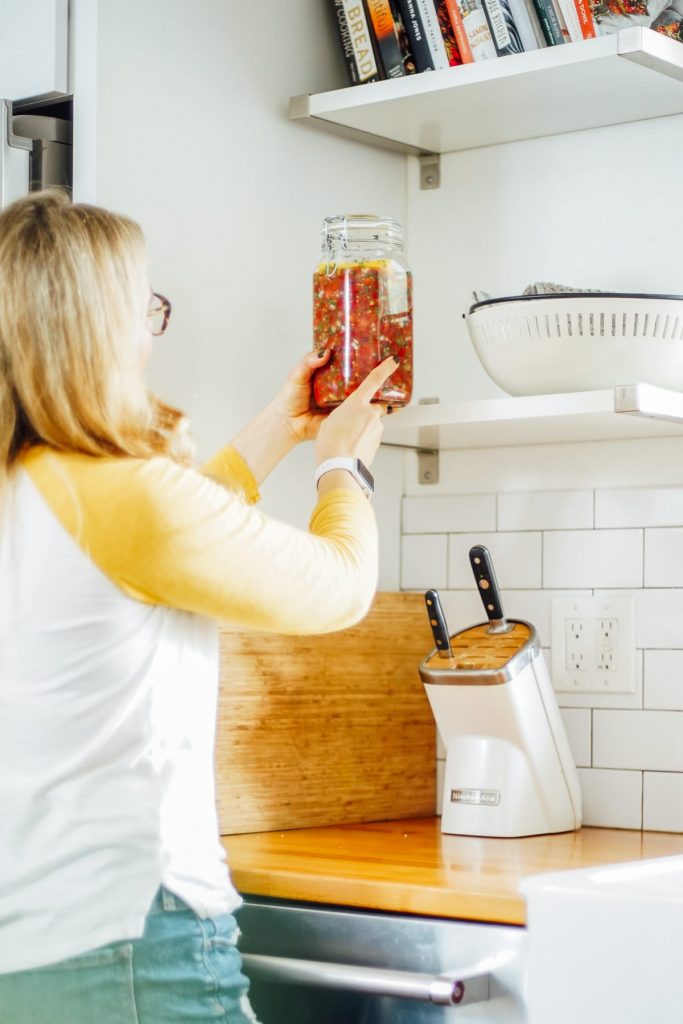 What Else Can You Ferment?
Once you make fermented salsa, and realize just how easy it is to make your own probiotic-rich, fermented foods, you may want to branch out and try making other ferments. I'm still in the branching out phase. I'm slowly learning how to do more, and with each success my fermentation confidence grows. Here are a few ideas for what else you can ferment…
Fermented Salsa
The best homemade salsa you'll ever make and eat, and it's full of probiotic goodness. Super easy! No prior fermentation skills or special equipment needed.
Ingredients
2

lbs

cherry or grape tomatoes

chopped

6

garlic cloves

minced, or to taste

1

jalapeño pepper

chopped, or a serrano pepper

2

cilantro bunches

chopped, just the leaves not the stems, depending on taste preference. I like a lot of cilantro. You could also skip the cilantro if desired.

1

medium

red onion

chopped (about 1-2 cups once chopped, depending on taste preference)

2

limes

juiced

1

TB

salt

I use a fine salt (meaning the grind is fine, not coarse). Use a mineral-rich salt, like Redmond's Real Salt.
Special Equipment:
2

liter

glass jar

with an air-tight lid

weight

such as: half a bell pepper, cabbage leaf, half an onion, a clean stone, or fermentation weight
Instructions
To a large bowl, add the chopped tomatoes, minced garlic cloves, jalapeño pepper, cilantro, red onion, lime juice, and salt. Toss to thoroughly combine.

Taste the salsa. It should be salty, but not overpowering. If you can't taste the salt at all, add a few more pinches. You don't want a super salty salsa, but you should taste the salt. The salt is key in aiding the fermentation process and keeping the "bad bacteria" from populating. I usually add a bit more salt, after the initial 1 tablespoon. Use your sense of taste as your guide.

Add the salsa to an air-tight glass jar. I use a 2 liter jar from Fido (pictured in this post). Ball Jars also work well. You may also divide the mixture between two jars, if needed.

Once all the salsa is added to the jar, add the brine/juice left at the bottom of the bowl to the jar.

Press the salsa down in the jar so the veggies are fully submerged in the juice/brine. Then add your weight of choice. I've been using half a bell pepper as a weight. This is used to keep the veggies fully submerged in the juice/brine. The weight, if perishable, will be tossed at the end of the fermentation process (unless you're using a stone).

Tightly seal the jar and place in a spot that's away from direct sunlight. Ferment the salsa at room temperature for 2 day (48 hours). You should notice, after about 24 hours, that bubbles begin to form in the salsa. This is part of the fermentation process as it comes "alive." The bubbles won't be super fizzy or aggressive, but should be apparent.

After 2 days, your salsa is ready to enjoy. At this point, you can immeadiately open the jar and eat the salsa or store the salsa in the fridge (it will keep for a couple of months). Either way, open the jar and remove the weight. If you choose to store the salsa in the fridge, the fermentation process slows down, but the flavor will continue to develop so keep this in mind.

Use this salsa just like any fresh salsa: topped on quesadillas or enchiladas, in tacos, with chips (Jacksons Honest's or Siete are our favorite brands), etc.
Notes
I've purposely adapted this recipe to make a large amount because...
1. we go through this salsa quickly 
2. it does take some time to chop the veggies and I want to use my time wisely (making enough to last multiple snacks and meals) 
3. it keeps in the fridge for a couple of months, so there's no need to use it up super fast 
Nutrition
Calories:
47
kcal
Carbohydrates:
11
g
Protein:
2
g
Fat:
1
g
Saturated Fat:
1
g
Sodium:
1181
mg
Potassium:
391
mg
Fiber:
2
g
Sugar:
5
g
Vitamin A:
820
IU
Vitamin C:
46.2
mg
Calcium:
34
mg
Iron:
1.3
mg