Confession: I feel sorta silly sharing any kind of post titled, "Healthy Dinner Recipes to Make This Winter" because as a native Floridian, I know very little about the true meaning of the word "winter."
Don't get me wrong, I know what winter is, and I've enjoyed (that's the key word that gives away the fact that I'm not from a place with freezing temperatures) my fair share of snow, but more in a tourist way.
That said, we try our best in the South to embrace winter. We would hate to be left out and feel like we don't have seasons.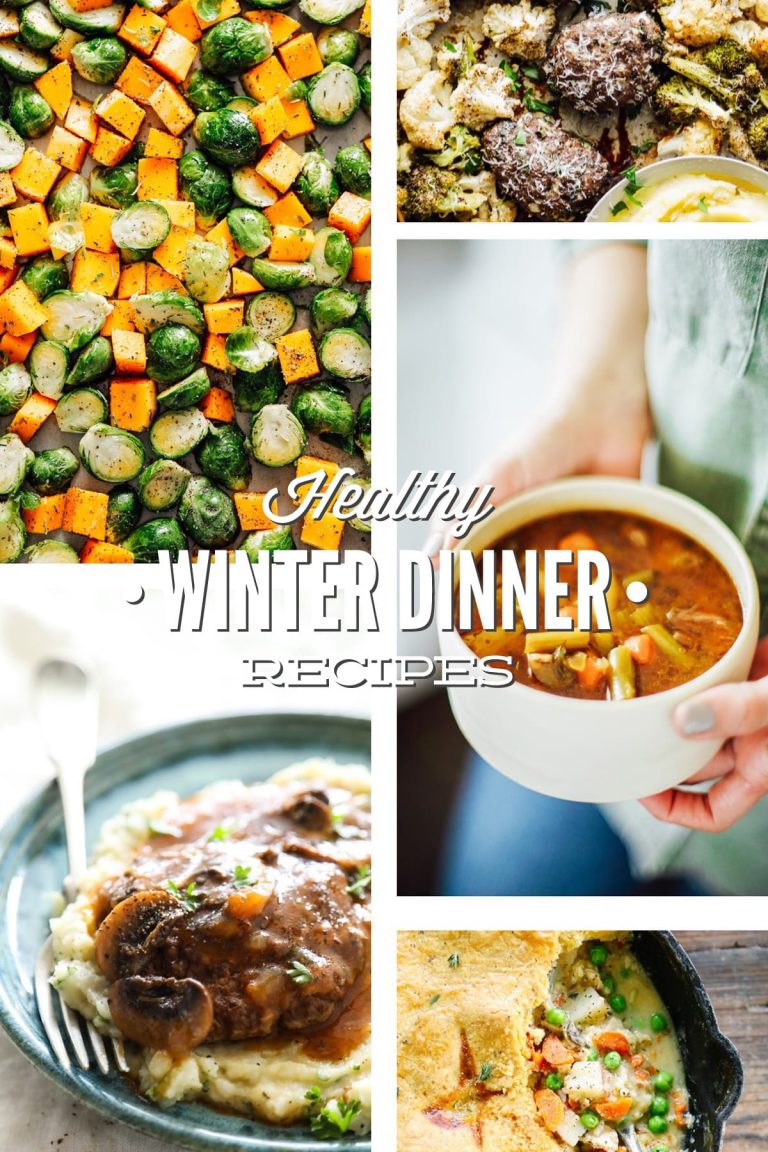 This means we break out the boots as soon as it hits 65 degrees and prepare winter dinner recipes. You know, soups and stews, comforting meals, and plenty of roasted meats and veggies.
Since we're still in the heart of "winter," I thought it would helpful to gather together my favorite healthy dinner recipes to have on rotation during the fall and winter months.
How to Simplify Planning for Dinnner
When I mention "my favorite healthy dinner recipes to have on rotation," I'm referring to how I simplify planning for and making healthy dinner meals. See, I love delicious, nourishing food. And I truly believe in the importance of slowing down to cook and enjoy food (in fact, this is key to properly digesting food and actually getting nutrients from your food–SLOW DOWN!), but I don't love spending hours planning for what we'll eat.
That said, I know it's incredibly important to think about what we'll eat in advance, because when I do, we're more likely to eat nourishing meals, our budget stays in check, and I don't feel stressed and drained about having to come up with an idea for dinner (or lunch or breakfast). Meal planning is essential.
Having a list of favorite recipes and developing themes (stir-fry night, Instant Pot night, soup night, pizza and popcorn night–which happens to be Friday when we enjoy a movie night, taco night), helps to sorta automate the planning process.
Instead of having to scratch my head and scour Pinterest for hours on a Sunday afternoon or feel stressed each day at 4pm with trying to come up with an idea, I can easily plug our favorite (rotated often) recipes into our weekly themes. There's no need to complicate planning dinner for the week.
I hope these recipes become part of your regular dinner rotation this winter  as they have mine.
What are Healthy and Easy Dinner Recipes?
All of the recipes are "healthy." I really hate this word because it's so subjective. I much prefer the term "real, traditional food." Because knowing what's healthy is very easy when we look at how healthy people for generations upon generations (before the age of ultra-processed food as we've seen rise in the last 80 years) prepared and consumed foods. If you want to learn more about what real, traditional food looks like, this post is a great place to start, along with this podcast episode.
The following recipes are also easy to make, meaning they don't take hours to prepare. I'm a mom, work full-time, and am conscientious about the fact that while I want to slow down at night and enjoy the process of making a nourishing meal, I don't have hours upon hours to spend in the kitchen every single night.
Finally, the recipes are not only comforting, but also include many veggies that are easy to find in the winter (like root veggies and kale), so you won't need to visit a speciality store to find the veggies or any of the spices, herbs, or seasonings called for in each recipe .
Easy Healthy Dinner Recipes to Make This Winter
Soups and Stews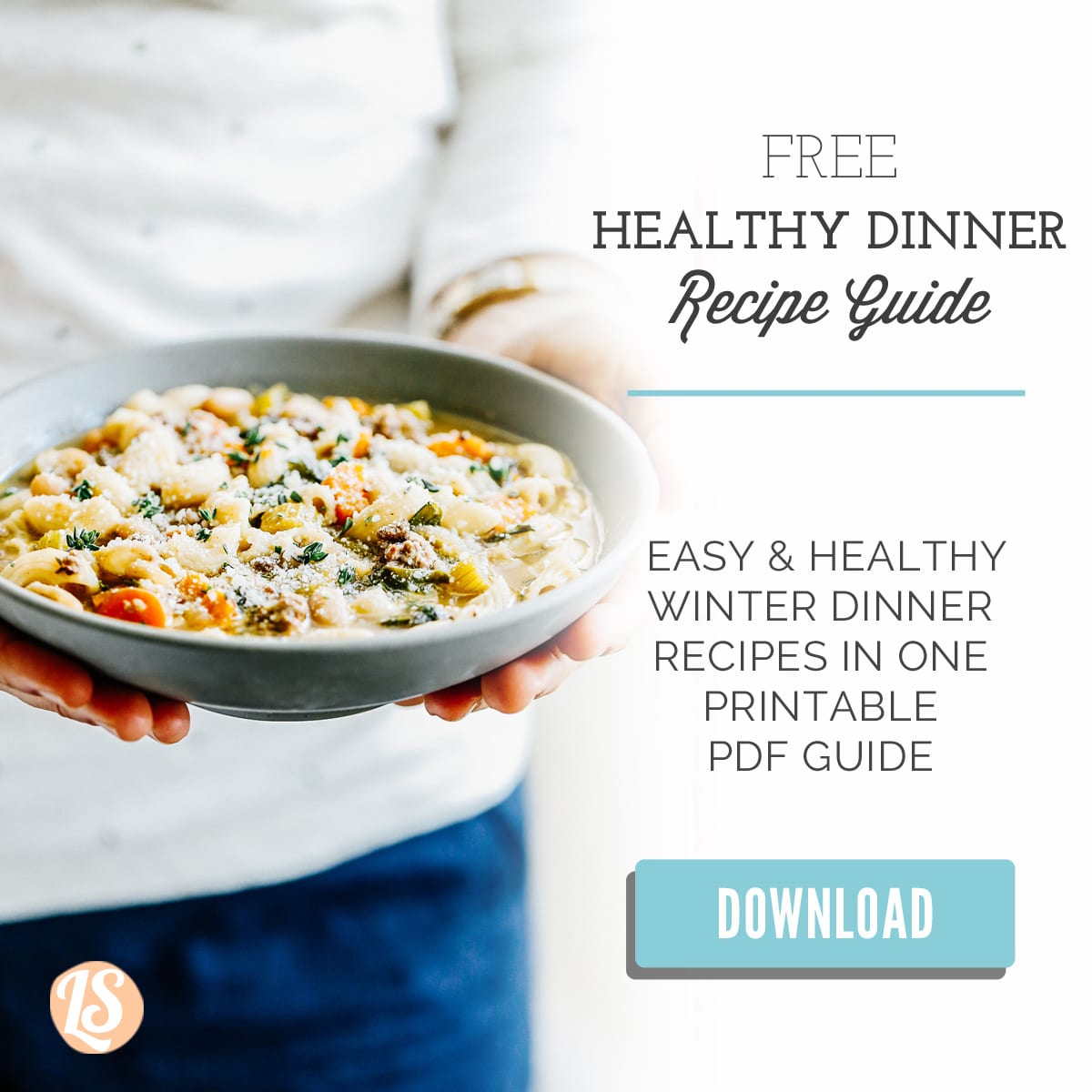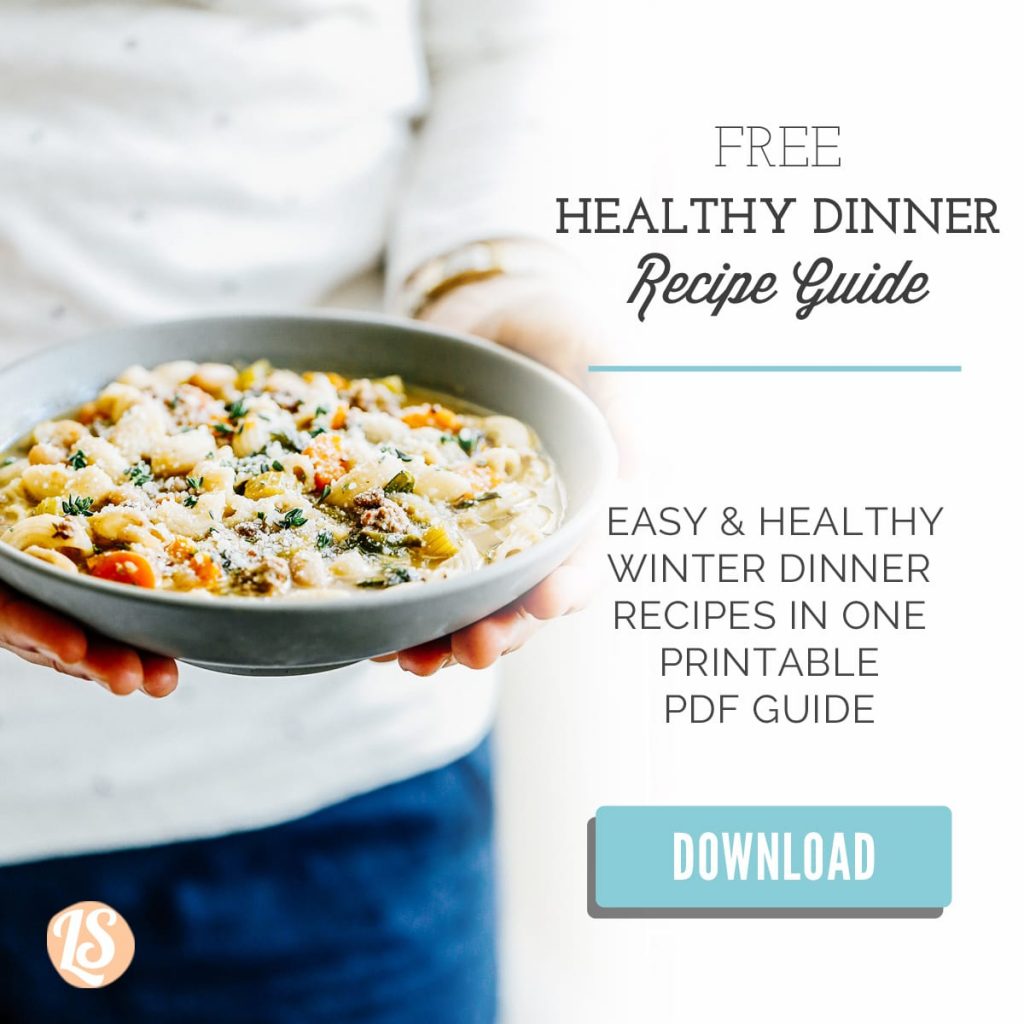 I serve soup once a week. Soup is the meal that just keeps on giving, as one recipe usually makes enough to enjoy leftovers the next day for lunch (or for days). Serve soup alone, or pair it with a grilled cheese (go with sourdough bread if possible), quesadillas, biscuits, crackers (I like Jovial's sourdough einkorn crackers or Simple Mills brand) or cornbread.
Instant Pot or Stove-Top Chili
Let's start with a classic! To me, winter is all about chili. I like bean-less chili made on the stove-top, but I get it, chili is a personal subject. If you're an Instant Pot person (trust me, I am, but for some reason I'm stuck on making chili with a Dutch Oven), this Instant Pot recipe is for you. If you're not a meat eater, this 3-bean chili recipe is for you.
Next to chili, this is my favorite winter soup. This soup is smooth, creamy, and rich. Top it with bacon, green onions, a dollop of sour cream, or serve the soup as-is without any toppings. Either way, it's delicious!
This soup is a nod to the classic chicken pot pie. The soup is made with turmeric, so it's particularly warming and even immune-boosting (thanks to the garlic, turmeric, and nourishing broth).
This vegetarian soup features kale which can easily be found in the winter when greens abound.
This creamed chicken and rice soup is all about comfort. Everything from the chicken to the rice is prepared in the Instant Pot so there's very little hands-on work required with this recipe.
This stove-top recipe is made with fresh herbs and ground sausage.
Instant Pot or Stove-Top Chicken Noodle Soup
For an easy weeknight dinner, turn leftover chicken into a nourishing soup using the Instant Pot. If you want to skip the noodles and use spiralized noodles, this stove-top recipe is for you.
A vegetarian soup (use veggie broth if you're a vegetarian) featuring two winter veggies: leeks and potatoes.
This hearty and comforting stew is a quick weeknight meal thanks to the Instant Pot. I love to serve this stew with einkorn biscuits (recipe below).
Easy Healthy Dinner Recipes to Make This Winter
Sheet Pan and One-Pot Meals
Sheet pan meals are all-in-one meals made on a sheet pan. Sheet pan meals are perfect for a busy weeknight since you don't need to fuss with making extra sides. One-pot meals are made all in one pot so, again, we're talking about a super easy all-in-one meal to make on a weeknight.
Mini meatloaves made with spinach and herbs and cooked with broccoli and cauliflower.
Don't forget about salmon during the winter! This recipe features salmon and winter veggies (Brussels sprouts and butternut squash) for a hearty salmon dinner.
I love crispy chicken thighs seasoned with herbs and served on a bed of roasted potatoes. So, naturally, I love this recipe! If you don't have a big enough sheet pan to fit all the ingredients, divide the recipe between two smaller sheet pans.
Fajitas may not be the first thing you think of when it comes to winter dinner ideas, but that's all about to change. This recipe is made entirely on a sheet pan, from the chicken to the veggies to the salsa. And since most people are buying tomatoes from the store right now (except if you live in Florida or California where farmers' markets are open), which aren't exactly the tastiest way to enjoy tomatoes, roasting the tomatoes and turning them into salsa is the way to go (amazing flavor!!).
Meet my favorite one-pot dinner recipe: braised short ribs. Succulent beef, perfect vegetables, and a flavor-packed sauce. The recipe is easy to follow and very hands-off, so it's the perfect prep-it-and-forget-it type of meal. This warm and comforting meal is on repeat during the cooler months of the year, when we all want something cozy, warm, and hearty.
Skillet Chicken in a creamy herb sauce is a quick solution to a busy weeknight. It's a meal that feels oh so fancy, but only takes about 25 minutes to make.
Of course, what winter meal collection would be complete without chicken pot pie? Making the homemade crust does require some time, so I recommend preparing the crust in advance and storing in the fridge or freezer until you're ready to make this dish (up to 2-3 days in the fridge).
I roast a whole chicken once a week during the cooler months. When the weather is too warm for roasting, I break out my Instant Pot.
Roast up a chicken and shred the meat. Use the meat to make chicken salad, serve as-is with roasted veggies, or make soup later (like the chicken noodle soup recipes above). If you have a large enough sheet pan, you can roast the veggies right on the tray alongside the chicken. Generally, veggies that require a longer roasting time (like carrots, potatoes, hard squash, cauliflower) work best. If your veggies are soft and require a shorter roasting time (broccoli, zucchini, carrots), add them during the last 20-25 minutes of roasting the chicken.
This homemade chicken Alfredo is a healthier, from-scratch take on the frozen or processed casserole sold in stores. Made with real ingredients, this recipe is perfect for the weekend when you have a bit more time to spend in the kitchen and want a comforting dinner without turning to processed food.
Easy Healthy Dinner Recipes to Make This Winter
Instant Pot Meals
Ah, the Instant Pot! My favorite appliance for simplifying dinner meals. During the week, we have at least one meal from the Instant Pot, whether that's a soup or one of the meals featured below. I wrote a post all about the Instant Pot and my best tips and tricks for using this appliance, here.
Classic, from-scratch beef stroganoff made in the Instant Pot. Serve this meal over egg noodles (I love Jovial's egg noodles), rice, or mashed potatoes.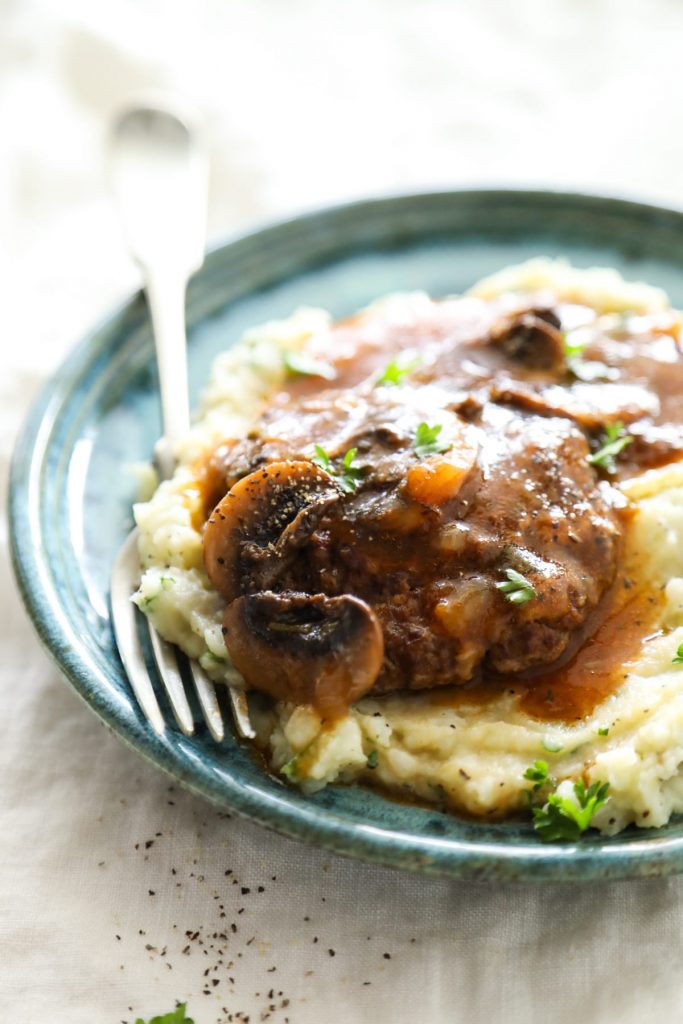 This recipe is one of the most popular Instant Pot meals on the blog. Transform ground beef into a delicious and hearty meal with gravy and mushrooms. Serve this meal with mashed potatoes<–not required, but highly recommended.
If I need a quick and easy, one-pot, no-fuss, nourishing meal, this is my go-to recipe.
The Instant Pot makes one amazing beef pot roast. Make this roast and accompanying root veggies on a Sunday afternoon and enjoy the leftovers for days to come.
Easy Healthy Dinner Recipes to Make This Winter
Sides
Here are a few sides to make alongside soups, stews, protein, or tacos during the winter.
Seriously, the BEST way to make sweet potatoes. Trust me, once you've tried this method, you'll never want to make them any other way. Serve sweet potatoes on the side of chicken or spoon chili over a sweet potato.
Another, you have to trust me recipe. Seriously, I can't imagine making mashed potatoes any other way since being introduced to the Instant Pot method. Make mashed potatoes in the Instant Pot and serve alongside Beef Stroganoff (see recipe above), Salisbury Steak (see recipe above), roasted chicken (see recipe above), or mini meatloaves (see recipe above), or as as topper for shepherd's pie.
We enjoy tacos (or a form of tacos) once a week (another theme in our rotation). During the winter, when veggies like radishes, carrots, kohlrabi, and cabbage abound in our area, I love to make this winter slaw for a topping option. You can enjoy this on top of tacos, in a bowl-style meal (with a protein and grain like rice or quinoa), or as a salad.
Kale abounds during the winter season so it's the perfect time to make a not-nasty kale salad. This homemade salad with homemade dressing is everything you want from a Caesar salad and more. Serve alongside any soup, chicken, a steak, or even as a main for dinner (with sweet potatoes!).
I generally don't have time to bake during the week, but occasionally (when we have soup), I'll get the urge to make cornbread or biscuits. In my opinion, there's nothing like bread or biscuits with a warm bowl of soup. This recipe is made with the ancient grain einkorn. Many times, I turn this recipe into muffins. To do this, simply fill the batter in a muffin pan and bake for 22ish minutes.
My go-to biscuit recipe to serve with soup. Drizzle the biscuits with honey and serve with grass-fed butter…perfection!