Last week, I shared dinner ideas taken from the pantry. Today, we're going to talk about pantry breakfast ideas made from basic and versatile real food ingredients.
When it comes to pantry ingredients, I like to think about what will make multiple meals. This is one reason why I recommend keeping a list of go-to meals and repeating them often. I'll provide you with my list of go-to breakfast ideas in a minute. With meals on rotation, you can stock your pantry in an intentional way according to your needs.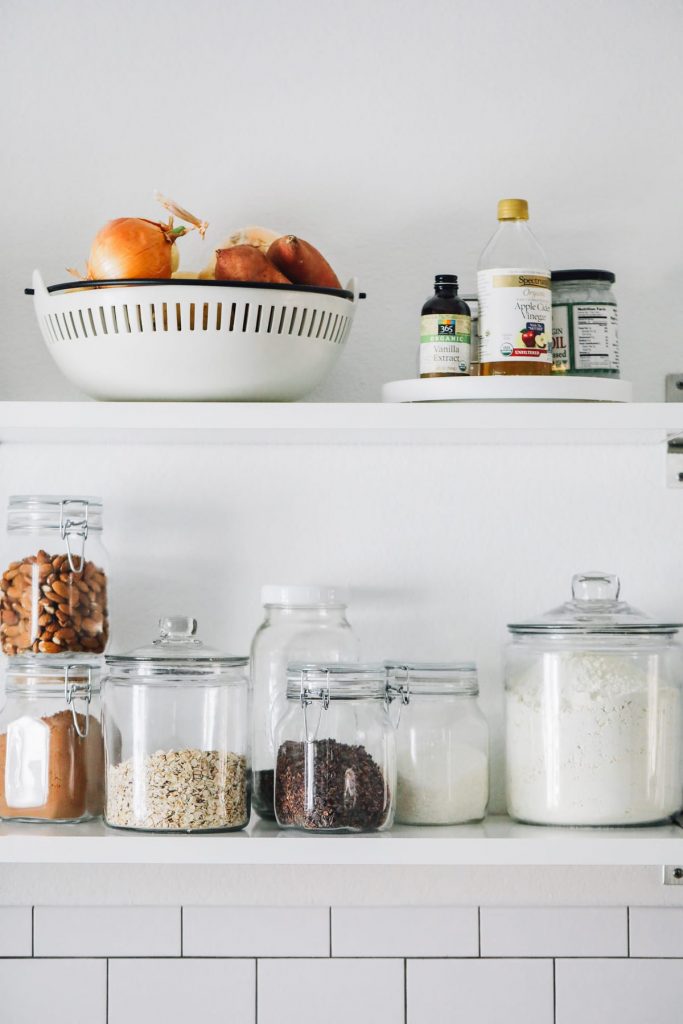 First, let's talk about ingredients to stock in your pantry (dry pantry, fridge, and freezer) that will make a variety of breakfasts, along with dinners, snacks, and lunches:
beans and lentils

rice

whole chicken and chicken thighs (love TrailBale Farm locally, find a local farm in your area at eatwild.com)

frozen and fresh veggies and fruit

leafy greens (including the tops of carrots and beets which are edible)

fresh herbs (now is a good time to grow a few of your own) and dried herbs

garlic

onions

canned tomatoes (I like Jovial brand)

pasta (again, partial to Jovial—just love their pantry items like tomatoes and pasta)

broth (I love Kettle & Fire Bone Broth and Bonafide Provisions and homemade)

flour (einkorn, spelt, and wheat)

tortillas (I like Siete Family Foods, Rudis Organic, or homemade)

tuna

oats

butter

extra virgin olive oil

cheese (always parmesan in block form and a cheddar)

milk of some sort or nuts to make milk if I can't get dairy milk (learn more about real food dairy here)
salt (I buy a large 10lb tub of Redmond salt and it lasts forever)

honey or maple syrup (preferably both)

eggs (love Trailbale Farm locally)
ground beef (love Providence Cattle Company locally)
bacon
bread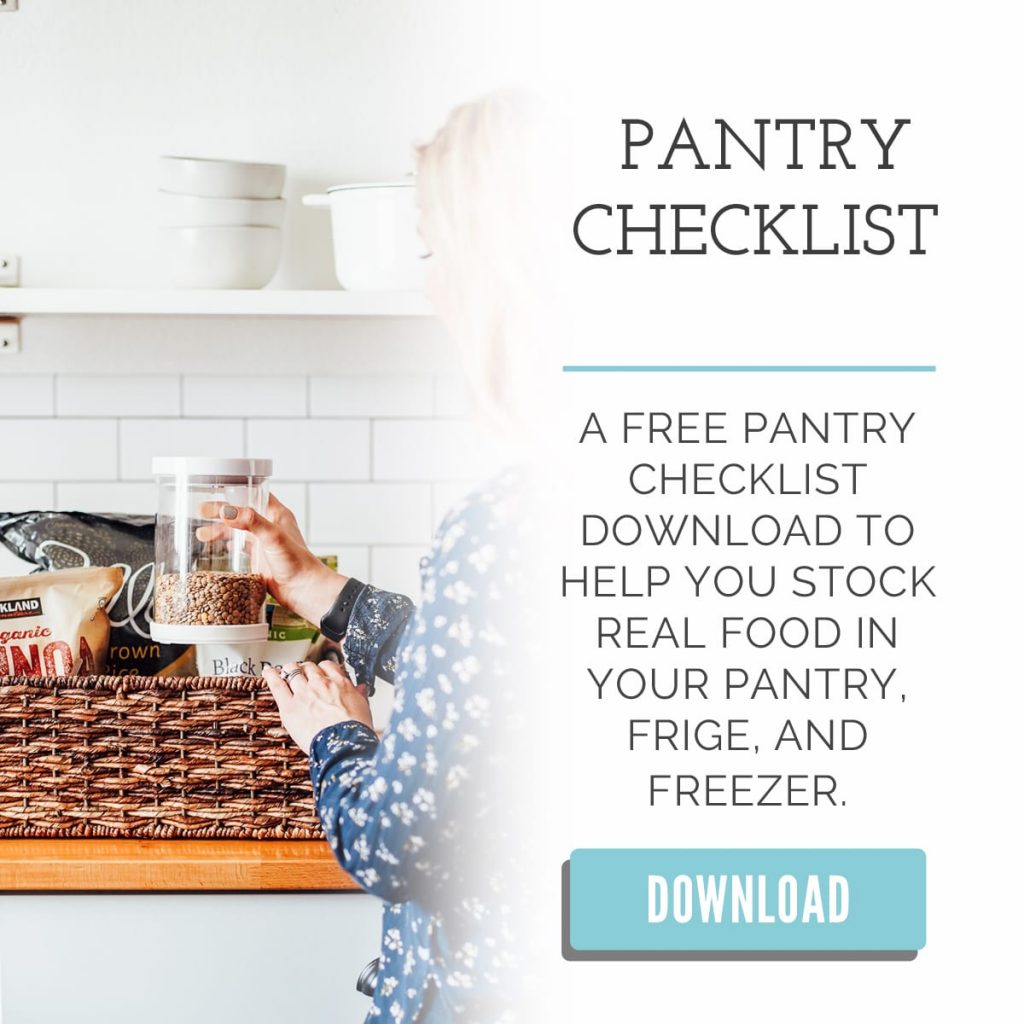 My Go-To Pantry Breakfast Ideas
As I mentioned, I keep a list of rotational breakfast ideas. This list makes meal planning easy and quick and also makes it easy to stock common pantry ingredients. Plus, there's a serious money-saving advantage to doing this.
I also use daily repeated themes to keep meal planning simple. I repeat these themes for at least a month or two. Within these themes there is a lot of variety that may be planned using my list of recipes/ideas (I keep breakfast ideas and dinner ideas on one list). Here are some theme ideas. Choose a theme for each day (or repeat a theme a few times in a week). Keep these themes going for a month or longer. Each week, sit down and plug in specific recipes to that day's theme. Meal planning made easy!
Oatmeal Theme: A broad theme that includes anything oat-based (traditional oatmeal, overnight oats, baked oatmeal, breakfast cookies, oatmeal cups, etc.)
Egg Theme: A broad theme that includes anything made with eggs
Smoothie Theme: Any smoothie
Casserole Theme: Anything casserole related such as: egg casserole, French toast casserole, oatmeal casserole
Muffin Theme: Any muffin, from savory to sweet muffins
Breakfast Bread Theme: quick breads, toast, fancy toasts like avocado toast
Yogurt Bar Theme: Yogurt with a variety of toppings (granola, seasonal fruit, nuts/seeds, chia jam, etc.)
Granola Theme: Any granola served with milk or yogurt
Pancake Theme: Any variety of pancakes
Waffle Theme: Any variety of waffles
French Toast Theme: Any variety of pancakes, from a baked French Toast to sticks to traditional French Toast
Hash Theme: Any variety of hash made with veggies, meats, and/or eggs
Scrambled Theme: Scrambled eggs made in a variety of ways with mix-ins like bacon, sausage, salsa, or veggies
Omelet Theme: Any omelet
Breakfast Cookie Theme: Any breakfast cookie
Frittata Theme: Any frittata
Egg Cup Theme: Any egg cup (like an egg muffin)
Porridge Theme: Any warm porridge-like breakfast, such as warm oatmeal, millet, einkorn, or quinoa bowls mixed with a variety of toppings from fruit to nuts and seeds to honey or maple syrup
Breakfast Taco Theme: Make breakfast tacos in a variety of ways using roasted veggies (hash), eggs, sausage or bacon, and toppings (salsa, sliced avocado, fermented veggies)
Cold Cereal Theme: There are companies making cereal with real ingredients (like One Degree brand). This is a fun theme that I occasionally add to our schedule. The kids love it when this theme is included in our month's rotation. If you don't want to use store-bought cereal, granola is a nice substitution.
Soup Theme: Yes, unusual but can be a nourishing breakfast theme and option.
Now let's talk specifically about breakfast ideas using pantry staples. Below, I'm breaking down in a pantry staple-by-staple format various recipes you can make with my core pantry ingredients.
Oats
Oats are one of the most versatile ingredients in my pantry. Oats contain phytic acid which makes them hard to digest. To break down the phytic acid, you can soak the oats overnight to make them easier to digest. I love sprouted oats from One Degree as there isn't a need to soak them overnight. That said, if you can't find sprouted oats, don't stress about it. You can use oats whole or grind them up to make oat flour for baked goods.
Warm Oatmeal: If you're using sprouted oats (One Degree brand), you don't need to soak the oatmeal overnight as called for in this recipe.
Granola: This is a master recipe so you can use it to make multiple granola variations.
Eggs
Eggs are a nutritional powerhouse and inexpensive when you factor in how many meals you can make with just a dozen eggs. When it comes to buying eggs, look for pastured eggs (meaning eggs from chickens raised on pasture) and avoid vegetarian eggs. Chickens eat bugs and all sorts of other "non-vegetarian" foods. Pasture-raised is the key importance here, even over organic. I go through a dozen eggs a week, sourced from a local farm. If you'd like to find local eggs in your area, check out Eatwild.com.
Most egg dishes may be prepped in advance. Of course, there's no need to do this for scrambled eggs or fried eggs but for a frittata or quiche, which require spending more time in the kitchen, you may want to make the recipe on the weekend and enjoy the leftovers for a few breakfasts early in the week.
Frittata: This frittata recipe calls for specific veggies, like mushrooms, but you can sub in any variety of veggies: try cherry tomatoes or chopped zucchini. If you don't have bacon, no worries, skip it. A frittata is a super versatile dish so experiment with what you have on hand.
Avocado and Egg Toast: One of my favorite easy breakfasts. Cook an egg, mash an avocado, toast up some bread and you have an amazing breakfast.
Egg Burritos: This is a great make-ahead recipe or try a "loaded" egg burrito. Feel free to use a variety of veggies and/or leafy greens with these burritos.
Scrambled Eggs: Basic but essential and a staple in our home. Add some fresh herbs, leafy greens, or cheese while cooking for something extra. Or, load up scrambled eggs on toast or focaccia for an egg sandwich.
Egg Muffins: Think egg omelet meets muffins. Use a variety of veggies or leafy greens to make these muffins.
Traditional Omelette
Breakfast Casserole: A hearty casserole you can make on the weekend and enjoy later as a "cook once, eat twice" breakfast.
Breakfast Sandwiches: I just made a bunch of these with homemade sourdough English muffins. They're perfect for the freezer and a morning breakfast that doesn't involve messing up the kitchen.
French Toast: If you want plain French Toast, just skip the banana in this recipe.
"Fried" Eggs: I shared how to cook the perfect "fried" egg in this Instagram Story tutorial.
Breakfast Tacos: Scramble eggs, add sautéed veggies and/or bacon, top with salsa, cheese, cilantro, sour cream, whatever you like.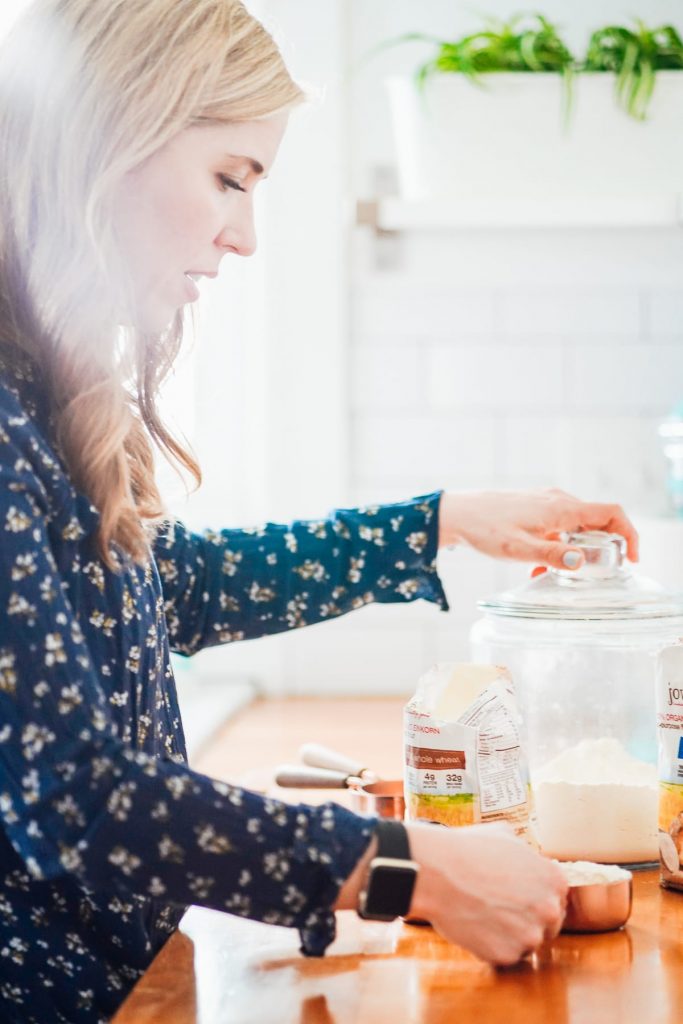 Flour
Flour is a staple that will make a multitude of foods: bread, pizza, cornbread, tortillas, biscuits, and more. I recommend creating a sourdough starter (using flour and water), which you can use to make sourdough bread, waffles, focaccia (for an amazing breakfast sandwich with some scrambled eggs), muffins, English muffins, and more. My favorite flours to keep on hand: einkorn, spelt, all-purpose flour, whole wheat, cornmeal, and almond flour.
Bread
As I mentioned above, you can use flour to make a sourdough starter and this will give you years worth of bread. A sourdough starter is a natural yeast and the way people made bread for many generations. A sourdough starter is a living organism, full of good bacteria, that makes grains (including grains that contain the gluten protein) easier to digest. I think most of the issues we see today with gluten sensitives is due to the type of bread (and other highly processed foods) we consume. That said, bread is a wholesome, nourishing ingredient to add to the breakfast table, particularly when it's made in the traditional way (sourdough).
French Toast: If you want plain French toast, just don't include the banana in this recipe.
Bacon, Egg, Cheese Sandwiches: Toast sourdough or your favorite bread, scramble an egg or two and top with some shredded or sliced cheese. Add a few avocado or tomato slices or sprouts if you're feeling extra.
Yogurt
Yogurt is a cultured, fermented food that's made from milk and good bacteria (cultures) that are added to the milk. Purchase plain yogurt and flavor it yourself with honey, maple syrup, cinnamon, vanilla extract, and/or fruits (frozen fruit will melt and create a fruit-on-the-bottom consistency similar to what you'll find in the store). I like Stonyfield, Organic Valley, and Maple Hill Creamery brands. I recommend whole milk yogurt or you can make your own.
If you're dairy-free, look for plain yogurt with ingredients you could purchase from the store and use in your kitchen. Many of the plant-based yogurts contain an ingredient list that rivals the ultra-processed foods. Just because it's plant-based or probiotic-rich (all yogurt should be probiotic rich since it's a fermented/cultured food and contains live bacteria) doesn't mean it's made with real ingredients.
Yogurt Bar: Set out a variety of ingredients for a DIY yogurt bar. This is a great one for the kids and the whole family.
Yogurt and Granola 
Yogurt and Seasonal Fruit or Frozen Fruit 
Add a fruit compote to your yogurt 
Leafy Greens
Leafy greens include lettuce and spinach, but I'm also talking about the more obscure greens that we might otherwise toss, like the greens on top of beets and carrots or Swiss Chard or bok choy or cabbages. When it comes to breakfast, leafy greens can be added to omelettes (just sauté the greens first), topped on toast (like an avocado toast with some sprouts or arugula) or added to a breakfast casserole or frittata or egg muffins.
Pesto Omelette: Blend up carrot tops (the leafy green tops of carrots), radish tops (the leafy tops of radishes), pea shoots, kale, or spinach with nuts, parmesan cheese, lemon juice, salt, and olive oil. Make an omelette and add a tablespoon of pesto and some cheese. Add some sautéed veggies if you want as well. Here's a good recipe just for the method. Use pesto for dinner another night (a pasta night or in place of tomato sauce on pizza) or as a sandwich spread or drizzle over roasted veggies or meat.
Omelette Cups: The recipe calls for spinach, but you can add any chopped green. Swiss Chard or kale work well.
Frittata: Use a variety of greens to make this egg dish.
Smoothies: Add kale, spinach, carrot tops, sprouts, or even lettuce to a smoothie.
Leafy Green Omelette: Sauté any leafy green (spinach, kale, Swiss Chard) with some veggies (tomatoes, zucchini, onion–anything like that). Then make an omelette and add the sautéed greens and veg along with cheese as the omelette filling.
Avocado Toast: I love the spicy addition of arugula on avocado toast with an egg.
Egg and Sausage Breakfast Casserole: This recipe calls for spinach, but yet again you can use whatever leafy green (such as kale or Swiss Chard) that you have on hand.
Sautéed Greens: Add sautéed greens to side of eggs.
Fresh Herbs
Fresh herbs aren't something I would buy just for breakfast, but they are an all-around amazing ingredient to keep in the fridge. When stored properly, they'll keep in the fridge for weeks. I love to use fresh herbs on breakfast meals. Here are a few ideas.
Mint: Sprinkle chopped mint on top of yogurt with fruit and granola, or just sprinkle on top of fruit for a fruit salad medley. So refreshing!
Cilantro: Add to a breakfast taco or burrito or top on eggs.
Parsley: Chop and add to an omelette or top on scrambled or fried eggs.
Rosemary: A favorite addition to a frittata or breakfast casserole. Whisk the herb with the egg mixture, then pour over veggies and bake. The rosemary adds just the right touch of extra flavor to a dish like this.
Veggies
I always have veggies in my fridge. From October to May, most of the veggies come from local farms via the farmers market. Learning how to cook a few basic meals that can include a variety of veggies has been key to being able to pick up anything and use it to make nourishing meals. For example, hash is a breakfast that can be made with a wide variety of veggies: white potatoes, sweet potatoes, beets, bell peppers, onions, etc. Just roast or sauté the veggies with some oil and salt (or add chopped bacon as well) until soft and crisp. Serve with eggs. Here are some of my favorite ways to use veggies to make breakfast meals.
Hash: Try this baked hash with eggs (use sweet potatoes or white potatoes) or this sausage and sweet potato hash.
Add to Smoothies: Sure, most of us picture smoothies as fruit-heavy drinks, but they can also include veggies. Freeze steamed zucchini, steamed cauliflower, steamed butternut squash or carrot chunks or beets, or raw avocado chunks and add to smoothies. Here are some veggie smoothie ideas. I also love this beet smoothie.
Frittata: Use any variety of veggies to make this veggie-heavy egg dish.
Sweet Potatoes: The best roasted sweet potatoes! I love to enjoy these for breakfast, topped with nut butter, cinnamon, and banana slices. So good!
Omelette Cups: Use any variety of veggies in omelette cups. Sauté peppers, broccoli, bacon, zucchini, onions–so many options. Add some cheese, if you want, and salt and pepper. Then bake.
Muffins: Stir shredded zucchini or carrots into this muffin batter or try this gluten-free carrot cake recipe.
Fresh or Frozen Fruit 
Fresh and frozen fruit is another staple to keep stocked for breakfast and snacking. I try to stick with seasonal produce, which is easy to spot even in the grocery store because seasonal produce (what's currently growing and being harvested nearest to you) is generally on sale. For example, strawberries, when in season, will cost $3-5 for a container (in our area), but out-of-season (when they're shipped from very far away), they'll cost $7+. Now, there are some things that won't ever be seasonal to my area, such as apples and pears. We just do the best we can and outsource as needed.
Bacon
Bacon gets a bad rap as an unhealthy food, but bacon is just another cut of the pig. When it comes to bacon, I recommend sourcing from a farm (large or small) that raises pigs on pasture, as they were intended. Niman Ranch is a great brand found in the store. Bacon can be enjoyed once cooked and eaten as-is or just use a few strips (chopped) as flavoring to make an egg dish or a hash. I keep a few bags of bacon in my freezer (usually from a local farm or Butcher)
Oven-Baked Bacon: When making strips of bacon to enjoy as-is, I prefer the oven method.
Frittata: Bacon can add amazing flavor to a frittata. You only need a couple of slices for this dish.
Bacon'n'Egg Bundles: Eggs baked in a bacon crust. This recipe calls for using a lot of eggs and bacon. You can reduce the recipe for a family-size version.
Bacon, Egg, Cheese Sandwiches: Toast up sourdough or your favorite bread, scramble an egg or two and top with some shredded or sliced cheese. Add a few avocado slices or tomato or sprouts if you're feeling extra. You can also do this with homemade biscuits or English Muffins.
Breakfast Tacos: scramble eggs and cook bacon, top with salsa, cheese, cilantro, sour cream–whatever you like.
Tortillas
Tortillas are a staple always found in my freezer. I like Siete brand, Rudi's Organic brand, or homemade tortillas. Tortillas can be used to make breakfast, lunch, or dinner meals.
Milk (yogurt)
Milk is a staple used to make many different dishes, from waffles to pancakes to biscuits. If I can't find dairy milk (read more about what to look for when buying dairy), I'll make my own with nuts (almonds and cashews are my preferred choices, but sunflower and pumpkin seeds also work.)
Cheese
Now, I'm not talking about a processed cheese product. What I am talking about is real cheese. This means cheese that is produced with real milk or cream through a culturing/fermentation process. Fake cheese is usually labeled as a "cheese product" and has a long ingredient list, such as: cheddar cheese, whey, water, protein concentrate, milk, sodium citrate, calcium phosphate, milkfat, gelatin, salt, sodium phosphate, lactic acid (as a preservative), annatto and paprika extract (for color), enzymes, Vitamin A palmitate, cheese culture, and Vitamin D3. Real cheese is made with, for example, just: milk, rennet, enzymes, salt.
I prefer to purchase cheese in block form and shred or slice it myself. I find this to be the most economical and versatile way to buy and use cheese. I keep parmesan cheese and cheddar on hand the majority of the time along with goat cheese for snacking.
Shred on Eggs: Top your eggs with cheese or stir into scrambled eggs.
Tacos: Make breakfast tacos (scrambled eggs and toppings of choice on a tortilla) and top with cheese
Frittata: Add cheese to your frittata during the last few minutes of cooking.
On the Side: When we were France last year, I had cheese every morning on the side of fruit, roasted tomatoes, eggs, hazelnuts, and a croissant. Serve a few slices of cheese on the side of your breakfast. Bon appétit!
Omelette: Cheese is what makes an omelette amazing. Sprinkle in some feta or shred some parmesan or cheddar during the last few minutes of cooking.
Egg and Sausage Breakfast Casserole: This recipe calls for spinach, but yet again you can use whatever leafy green (such as kale or Swiss Chard) that you have on hand.
Bacon, Egg, Cheese Sandwiches: Toast up sourdough or your favorite bread, scramble an egg or two and top with some shredded or sliced cheese. Add a few avocado slices or tomato or sprouts if you're feeling extra. You can also do this with homemade biscuits or English Muffins.
Butter
Butter is another staple to have on hand for making a wide variety of recipes, from sautéing veggies to making biscuits and cooking eggs. I even blend butter in my coffee every morning (using a blender).